AltAgency is Greg Hickman's training platform that helps you grow and scale your business regardless of its size. The AltAgency program will teach you how to stand out, use systems for growth, and automate your processes.
In this review, we'll cover the two programs offered by AltAgency, give you tips on which one is right for you, reveal the top 5 reasons people fail at digital marketing, and answer the question on everyone's mind: is starting a digital marketing agency worth it in 2023?
As a disclaimer, I'm not an affiliate of AltAgency, so you can be sure my words are genuine and unbiased.
At the end of this article, I'll also share with you a better alternative that has enabled me to make a full-time passive income.
Below is what I'll cover in the review of Greg Hickman and his AltAgency:
What are the two AltAgency Programs?
AltAgency Foundations
AltAgency Foundations is a program Greg put together for service providers, agency owners, consultants, experts, and more.
If you're a business owner who wants to purchase AltAgency, you might be facing these issues:
Overwhelmed and underpaid:

You might be taking on too much work and handling it all yourself, which can leave you feeling drained and making mistakes. It's scary to think about losing clients, and you might not have time to enjoy the profits or establish yourself as a true expert in your field.

Overcomplicating things:

Instead of focusing on a specific niche, you might be offering too many services, which can be confusing for both you and your clients.

Struggling to close deals:

Without a consistent stream of income, it can be hard to predict your earnings and make sure your business is successful.
This course will teach you how to:
Package your services in a way that makes them a no-brainer for potential clients

Effortlessly deliver your packaged services

Show off your products and services in a way that commands top dollar (think $5K+)

Increase your social media following and establish yourself as the go-to expert in your niche

Turn prospects into paying clients without the hassle of proposals

Cut down on your workload by automating tasks and hiring VAs
AltAgency Academy
AltAgency Academy is designed for agency owners who have already reached $10K in monthly revenue and completed the Foundations program. The goal? To help you turn your intellectual property into scalable solutions and build a six or seven-figure business.
You'll kick things off with a call with the AltAgency team, who will map out your next 12 months. From there, you'll have access to their extensive library of training covering everything from client acquisition to product delivery. Plus, you'll get weekly live Zoom coaching sessions, monthly check-ins with a success coach, and the opportunity to attend three, two-day workshops per year.
Not only that, but expert coaches will be invited throughout the year to help you in various aspects of your business.
This program is supposed to help you
Expand your revenue streams

Build a digital training/consulting program

Generate paid traffic

Install a business operating system to manage your team.
Recommendation: Here's The Best Alternative
5 Reasons Why People Fail in Digital Marketing
If you're looking to make it big in internet marketing, listen up! A lot of people tend to fail in this field because they're looking for shortcuts, want easy money, or just aren't willing to put in the work. But, don't worry! You can avoid these common pitfalls and set yourself up for success.
1. The wrong attitude
Your mindset is key in this game. If you don't believe in yourself or what you're doing, it's going to be tough to succeed. You need to be a go-getter, someone who takes initiative and has faith in their abilities. Without the right attitude, it doesn't matter what you do or where you come from – you won't make it in internet marketing or anything else for that matter.
2. Bad information
The internet is full of stories about people who became millionaires overnight through internet marketing. Don't believe the hype! Most of these stories are fake, and basing your strategy on them will only lead to failure. Instead, focus on having a solid plan, a clear direction, and a worthwhile product or service to market.
3. Buying a subpar email list
Email marketing can be a powerful tool, but only if you have a list of people who are actually interested in what you have to offer. Don't waste your time and money on a list of people who don't care about your product. Instead, invest in building a quality list of subscribers who can't wait for your next email.
4. Creating content for search engines, not people
Your content needs to be valuable and informative to your readers. Search engines follow the lead of people, not the other way around. So, make sure your content is shareable and engaging. If you provide value to your readers, they'll help your content go viral.
5. Lack of patience
Internet marketing is not a get-rich-quick scheme. It takes time to build up traffic and make money. Don't give up too soon! Have patience, build relationships with your customers, provide value, and watch your business grow. Only those with perseverance will ultimately become winners.
Recommendation: Here's The Best Alternative
Who is Greg Hickman?
Greg Hickman is the man behind AltAgency, the one-stop shop for scaling businesses. Greg's journey started after graduating from Skidmore College in New York with a degree in Science and Business Management. After college, he worked with big names like Walmart, American Express, and Huggies, and eventually, in 2015, he founded System.ly to help marketers create efficient marketing systems.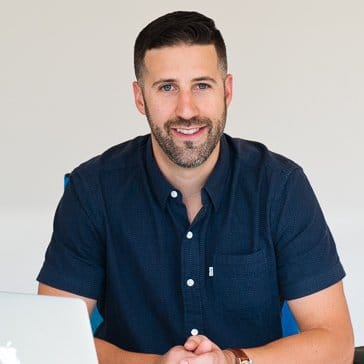 Two years later, Greg founded AltAgency with the mission to assist agency owners, freelancers, and service providers in scaling their businesses without burning out. And he's been doing just that! Greg has worked with over 150+ agency owners and has helped thousands of successful entrepreneurs along the way.
Want to learn from the best? Greg has got you covered. He started a YouTube channel with over 15k subscribers where he shares his strategies, tips, and tools for scaling businesses. And if that's not enough, he also has a podcast, The AltAgency Show, where he delves even deeper into the subject.
So, what can you expect from taking AltAgency's courses? For starters, you'll learn how to scale your business without overworking yourself. Greg and his team will teach you how to systemize and automate your processes to maximize profits and save time. Whether you're an agency owner, freelancer, or service provider, AltAgency has got you covered.
In conclusion, Greg Hickman is a true visionary in the world of marketing and business scaling. With his vast experience and wealth of knowledge, there's no one better to learn from.
Pros
Money-Making Mentor:

Greg's experience as a successful entrepreneur, earning over 8 figures, makes him a valuable asset to the team and a great mentor to learn from.

Top-Notch Support:

AltAgency offers exceptional support through email and chat, ensuring you have all the help you need during your journey.

Transform Your Workflow:

AltAgency's programs are designed to turn your outdated work systems into efficient frameworks for engaging with leads and clients.

Never Stop Learning:

Even after you scale past $10K per month, AltAgency's Academy Program provides continued education and support to help you keep growing.
Cons
Hidden Costs:

The course doesn't mention the extra costs involved in buying and participating in the programs.

Acceptance Hurdles:

You need to clear certain hurdles to be accepted into the program.

Income Uncertainty:

Starting a digital marketing agency won't provide a steady income unless you have some form of digital property.
Recommendation: Here's The Best Alternative
AltAgency Student Testimonials
Chris Baylis, a man from Ontario, Canada, has successfully hit $1 million in sales thanks to the guidance of Greg Hickman and the AltAgency team. After only 4 months of working with AltAgency and launching his signature service, Chris was able to bring in $30-35K in revenue. However, just 3-4 months later, that number skyrocketed to $100K for one service alone.
After a full year in the AltAgency Academy program, Chris hit the $1 million mark in sales. It's important to note that this $1 million is revenue and not profit. Running paid ads for clients typically has a profit margin of 10-20%, but Chris continues to scale his business by traveling 42 weeks out of the year and utilizing local lead generation with free traffic, which boasts 95% profit margins.
Emmanuel Lao, a LA-based biz owner, hit the jackpot with the Foundations program at AltAgency. After trying everything under the sun to grow his business, he joined the program with the goal of 10 wins and generated $40K in sales in just 90 days. Emmanuel credits the program for finally showing him how to structure his biz for effortless scaling.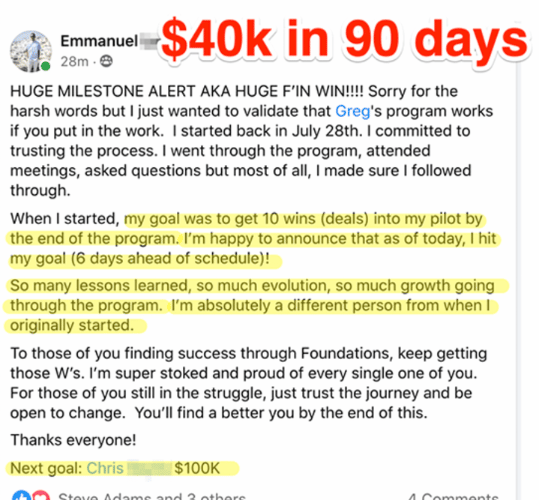 Is AltAgency a scam?
AltAgency is not a scam. They offer some great programs and strategies to help big agency owners and service providers grow and improve their businesses.
AltAgency knows that a lot of digital marketing agency owners struggle with moving forward, and that's why they provide constant support through their coaches and private community. They want to help you work smarter, not harder. By offering packaged services, they aim to save you time and energy on customizing packages for each client.
Now, I've got to say, the man behind AltAgency, Greg, has an impressive track record. He's helped some of the biggest brands in the world market themselves better. His success speaks for itself.
However, personally, I'm not convinced about starting a digital marketing agency in 2023. But, that doesn't mean AltAgency isn't a great resource for those who are!
Is starting a digital marketing agency worth it in 2023?
Starting a digital marketing agency sounds like a good idea on paper, but let's face it, it's not all sunshine and rainbows in 2023. First off, finding new clients is no easy feat. No one wants to be bombarded with sales pitches, so as an agency owner, you'll probably end up offering a free trial just to get your foot in the door, but then what? Nine times out of ten, they'll say no after the trial and you're left with no return on investment.
And let's talk about running PPC ads. That can get pricey, especially if you're just starting out and still learning the ropes of paid traffic. On top of that, you don't actually own any digital property as an agency owner, meaning all your hard work goes to waste if your client decides to go elsewhere. Then, it's back to square one with finding a new client.
Competition is also fiercer than ever. Other agencies are using the same tactics and strategies, which only drives up Facebook ad costs. In fact, Facebook advertising costs increase 90% each year, making it harder to justify charging your clients more. You may even end up cutting into your profits just to keep a client. Is that really worth it?
In conclusion, while a digital marketing agency can certainly bring in money, it may not be the best option compared to other online business models like affiliate marketing. Just something to think about before jumping into the world of digital marketing agencies.
Is there a better way to make money online?
If you are new to online business, you may ask if there is a better business model that can do it as a side-hustle.
Yes, I would suggest you getting started with affiliate marketing. It is far easier and less time consuming as you don't even need to handle customer service.
In affiliate marketing, you can run your business almost with zero cost. Most importantly, you don't need to invest in creating and developing any products.
But How Much Can You Earn with Wealthy Affiliate?
In affiliate marketing, you can run your business almost with zero cost. Most importantly, you don't need to invest in creating and developing any products or spending a lot of money on Facebook ads.

A 21-year-old student from this #1 recommended training platform of affiliate marketing was able to earn $7,395 in just 1 week, which means he made more than $1k a day…all while using free traffic methods.
Wealthy Affiliate has existed for more than 10 years and there are many success stories over the years.
To give you more examples, here are some of the other inspiring success stories of Wealthy Affiliate members.
Where to Join Wealthy Affiliate?
Wealthy Affiliate has a very simple pricing scheme. It has a free and premium membership.
If you want to feel about Wealthy Affiliate, you can sign up for the starter membership here (no credit card required). You can select to be a free member with no time limit.
And as a starter member, you can get instant access to the community, live chat, over 500 training modules, 2 classrooms, networking, commenting, 1 free website, and access to the keyword tool.
You can enjoy all these values without paying a penny.
So I strongly recommend you register a free account and see it yourself.
If you'd like to be the next success story and get the most out of Wealthy Affiliate, you can upgrade to the Premium Membership later.
After that, you can get access to everything without the bother of any upsells.