Is Fergal Downes Empire Coaching a scam? If you want to make money online, you may have heard of Fergal Downes. But since there are so many scams online, you may wonder if you can trust it or not.
According to Fergal Downes, his "free traffic system" coaching can get you $128+ per day in free traffic to your website in just 30 minutes per day.
Do you think this is just another scam or a legit program to help you make a lot of money online?
I have a passion to help people explore the best money-making opportunities online, so over the years, I have reviewed hundreds of similar online programs like Fergal Downes Empire Coaching.
In the past week, I have done thorough research about Fergal Downes Empire Coaching, so I can tell you everything you need to know about it.
Key Takeaways: Fergal Downes Empire Coaching Review
To help you decide whether Fergal Downes Empire Coaching is a scam, I'm going to cover the following in this review:
What Is Empire by Fergal Downes?
This internet marketing course is designed especially for beginners on a budget. The course has three modules. The first module covers using free traffic from Facebook, the second module is about using solo ads to build a list, and the third module is about scaling up and running campaigns to large numbers of people.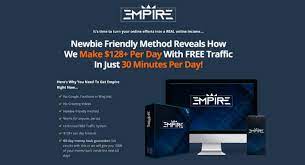 The Empire method itself, as well as the templates provided, work in any niche, but the focus is mainly on creating wealth.
You can use the method to promote different niches or your own business, if you sell goods or services.
Pros of Fergal Downes Empire Coaching
1. The Methods Taught in the Training Work
Facebook marketing strategy, landing pages, and funnels are proven to work.
Affiliate marketers have been using these methods for a long time, however. It was just a matter of presenting the method in a polished way in his Empire platform by Fergal.
2. Fergal Downes Cares About the Success of Students
Downes is polite, and he clearly cares about the members of his platform. Additionally, he holds a monthly meeting session for the members and updates their strategies on a regular basis. Before 24 hour Profits shut down, he even transferred members to Empire from his old platform.
3. Affiliate program
The platform can only be promoted by Empire members. As a member, you have the opportunity to earn affiliate revenue. Since the start-up fee is only $1, many people are interested in joining, and the monthly recurring fees will make you money.
Cons and Compaints of Fergal Downes Empire Coaching
1. False Claim
Whatever method you learn inside Empire Live, you may not earn $128+ per day as a beginner. This claim is not always correct. You may only earn money if you have a large network.
If you're a newbie, you might not have many Facebook friends who will buy your products. As a newbie, you have a lower chance of earning $128+ at the begining.
2. An extensive network of like-minded people is needed
This is also a similar point to the one above. Fergal's free methods all center around "spreading the news to a large audience".
Without an audience, who is going to buy your product?
In order to promote products, you must first create a list of at least 5000 audiences who are interested in them. Therefore, you should reach at least 5K friends on Facebook. This is not an easy task. If it were so easy, then everyone would have bought Empire for $1 and made $6K+ per month (~ $128 x 30). But if you are patient and put in the work, you will succeed one day.
3. The sudden closing of Fergal's previous product
"24 Hour Profits" was Fergal's previous product, which he claimed to be his biggest success. He closed it after only one year.
Then why did he shut it down rather than polish it better? Will he discontinue the current Empire platform in the future? I'm not sure.
4. High price
Empire live courses are nothing more than well-furnished representations of some old methods. Many other platforms exist on the market that teach similar topics.
For a platform like Empire, $37/month is too much. The recurring monthly system is not well suited to Empire, which should be a one-time payment program. Even if Fergal Downes requests a monthly payment, it is not to exceed $5/month.
Get A Special Offer And Instant Access Here
Does Fergal Downes Empire Coaching Really Work?
This program has helped many people in building up their own businesses and growing their companies. Students' implementation processes will determine the program's success. The program also works based on the percentage of teaching that the student has taken, and it's used in real-time.
Since each student learns at his or her own pace, he or she uses the learning in his or her own way, which results in a difference in the success rate from person to person. If you use all the steps, tricks, and strategies in the right way, you can achieve growth without much effort.
Positive and Negative Feedbacks by Real Users
Positive Feedback
A 14-day trial is cheap

Video tutorials that are beginner-friendly

Get a free traffic method every month

It comes with a Facebook group, live coaching, and email support

Money-back guarantee of 60 days

Affiliate marketing is a great business model
Negative Feedback
Your membership does not include any tools

There are some videos that are too short (Fergal needs to cover more ground, in my opinion).

During the 14-day trial period, you can only access the first traffic method/module – the rest need to be upgraded

Upsells are included

It is not suitable for those with "get-rich-quick" mentalities
Is Empire Course A Scam?
No, Empire Coaching is not a scam. Fergal Downes is a knowledgeable online marketer. I have gone through the training. Empire is a legit coaching program. The free traffic system really works.
However, there is still much to be improved. For example, Fergal Downes' training tutorials could be beefed up a bit by investing more time.
As long as you are willing to learn new skills and have a lot of elbow grease to go with, I believe you can still earn an income from affiliate marketing via his training. Don't expect fast results.
Pick a product that you're passionate about and promote it, and then wait for the commissions to start piling up.
What Do You Get When You Join The Empire System?
You will receive Empire Tutorial that includes step-by-step training in affiliate marketing through Empire Program. Additionally, this program includes a secret way to get free traffic to your marketing website to help you increase sales. If you choose to buy Fergal Downes Empire, you will be able to learn a lot of different tricks that will help you achieve the same traffic results on your websites while working less. In this Empire program, you will learn how to scale up your business fast through Empire Upsells.
The best thing about joining the empire system is that you can get free access to the Empire Facebook group, as well as free training from the creator personally.
As part of the Empire Bonus, you can continuously upgrade to the Empire System with just $37 monthly payment. It is also possible to take the fourteen day Empire Demo if you want.
Fergal Downes Empire Coaching Pricing
For just $1, you can try the system for 14 days before it costs $37 a month.
Unfortunately, during your 14-day trial you can only play around with method #1.
In order to start using method #2, #3, so on and so forth, you'll have to start paying $37/month.
Also, there are upsells that come with Empire:
'3 Done-For-You Traffic Machines' for making $ 5X quicker = $17.

'Free Traffic Bonanza' for generating free traffic faster than before = $17.

'Done-For-You Facebook Messenger Bot Funnel' for making high-ticket sales = $97.
These upgrades, however, are entirely optional.
The choice is yours because some free tools can still get the job done. They just have limitations.
Fergal Downes Empire Coaching Bonuses
There are three types of bonuses available to members of the empire program. They are as follows:
Monthly live training
Monthly live training sessions and question and answer sessions with Fergal Downes, the developer of Empire Review and Bonus. As a bonus, you'll be able to solve all your doubts and challenges that you may encounter while building your own affiliate marketing business online.
Facebook Mastermind Group
You can also join the Facebook mastermind group for free, and there are no additional costs associated with the $ 37 monthly subscription. Joining the group gives you the chance to ask anything for which you want an answer directly. You will be able to find answers to all your questions easily and quickly in this group.
Live help and support
Empire program members also have access to round-the-clock live help and support. You can directly contact the live help and support team of the empire program whenever you need help or have any questions.
Customer Support
The Facebook group is quite active and Fergal himself is always providing hands-on advice, so the simplest way to solve any problem you might have is to ask a question on Facebook. The best place to ask Fergal a question directly is on the live coaching call.
If you have any technical issues, The support desk is open Monday through Friday, 9-5, and closed on public holidays. The team will respond within 24-48 hours.
Who Is Fergal Downes?
He's an experienced internet marketer who was less skilled at the start but worked hard to gain expertise and make a lot of money online.
Take a look at this short video to learn more about Fergal Downes and what he does.
Empire by Fergal Downes Review: Final Verdict
I think it's worth paying a couple of dollars to watch the training videos and view what other Empire members are up to in the Facebook group if you're brand new to affiliate marketing.
I highly recommend giving Empire Coaching a try and learn from Fergal Downes on how to make money online.
Get A Special Offer And Instant Access Here
People Also Ask FAQs
Why should you choose the Empire program?
You should choose the Empire program because it provides you with Empire Walkthrough of all the steps and strategies quickly and in a simple way, and the best part is that there is no risk involved. All your problems can be analysed and you can find the complete solution for all of them.
What does this program contain?
It covers building your online affiliate marketing strategy, earning affiliate commission, creating recurring income streams, Empire Preview, and scaling UP and changing to grow your business efficiently.
What are the three steps that this program includes?
There are three steps in this program, and one of them includes training to get free traffic. The second goal is to create a passive income stream that allows you to work less and earn more. Scaling your income and business profits is the third goal.
What is the success rate of this program?
Due to individual learning capacities and implementing methods, the success rate of this empire program varies from student to student.
How can I become a member of this program?
For $37 a month, you can join the program directly on the official website.
The Best Empire Coaching Alternative
There are other affiliate marketing courses out there that are legitimate. I want you to have all the options and make an informed decision that is right for you.
Affiliate marketing is one of the best online business models. This is because in affiliate marketing, you can run your business at a low cost and achieve a steady passive income.

If you don't like using solo ads or email marketing to promote affiliate products, blogging is another great way. By using content marketing, you can save money on running paid ads. It is a free traffic method.
To learn how to use blogging to make money with affiliate marketing, I'd recommend you to get started with the most reputable platform: Wealthy Affiliate.

Wealthy Affiliate is an all-in-one platform for building your affiliate marketing business from scratch.
It offers you a free account (including a free website) with comprehensive training on SEO (free traffic methods), which enables you to get started with affiliate marketing right away without paying a penny.
But How Much Can You Earn with Wealthy Affiliate?

A 21-year old student from Wealthy Affiliate was able to earn $7,395 in just 1 week, which means he made more than $1k a day…all while using free traffic methods.
Wealthy Affiliate has existed for 15 years and there are many success stories in the past decade.

To give you more examples, here are some of the other inspiring success stories of Wealthy Affiliate members.

Where to Join Wealthy Affiliate?
Wealthy Affiliate has a very simple pricing scheme. It has free and premium membership.
If you want to feel about Wealthy Affiliate, you can sign up for the free starter membership here (no credit card required). You can select to be a free member with no time limit.
And as a starter member, you can get instant access to the community, live chat, over 500 training modules, 2 classrooms, networking, commenting, 1 free website, access to the keyword tool.

You can enjoy all these values without paying a penny.
So I strongly recommend you to register a free account and see it yourself.