Do you know who Ezra Firestone is? Are you looking to learn eCommerce? If so, you might be thinking of joining Ezra Firestone's eCommerce courses.
Ezra Firestone is very active on Facebook and YouTube, who positions himself as an eCommerce expert. But there are many fake gurus online, so you might want to know more about him first.
I have done thorough research about him, so I can tell you more and help you make a more informed decision.
To be transparent, I'm not an affiliate of Ezra Firestone. It means I'm not paid to write this review. So you can rest assured that my review of Ezra Firestone and his courses is unbiased.
Below is what I'll be covering in this review:
Who is Ezra Firestone?
Ezra Firestone is an eCommerce expert. He founded Smart Marketer where he sells his courses. He has created many online courses to teach people eCommerce.
He's also the founder of an eCommerce software, Zipify. Zipify is a sales funnel and landing page builder for Shopify stores. It allows people to create landing pages without knowing coding. It also provides some templates that you can copy and paste.
No doubt, Ezra Firestone is making a lot of money. He claims to have earned millions of dollars from eCommerce. However, since you can only find his courses online but not his eCommerce stores, it's unclear if a majority of his money comes from selling eCommerce courses instead of eCommerce itself.
Ezra Firestone is also active on social media. At the time of writing, he has around 50K followers on Facebook and 22.6K subscribers on YouTube.
Recommendation: Here's The Best Alternative
Ezra Firestone Courses Review
Ecommerce is growing year-on-year. Many people are entering this industry. So there are so many courses out there, teaching people how to make money in eCommerce.
Ezra Firestone has created a lot of courses. The courses are not cheap. It costs around $997 to $1497 for each course.
Here is the overview of each of Ezra Firestone's course:
Smart Email Marketing 2.0
Smart Email Marketing 2.0 has 6 modules. Ezra Firestone will teach you how to use email marketing in the eCommerce business. He claims to show you his email marketing strategy used in his $73 million eCommerce business.
In this course, you will learn how to get more email subscribers, engage and convert them into customers.
Smart Project Management
This course is about project management in the eCommerce business. Ezra Firestone will show you how to increase your productivity so that you can do more in less time.
You will learn how to organise your projects, manage your team and create scalable operating systems.
He claims to show you how he runs 4 brands with 47 employees for his eCommerce business.
Smart Google Traffic
This course has 5 modules. It is about using Google to promote your eCommerce business. Google is the largest search engine in the world. Most people like running Facebook ads for eCommerce business and ignore Google.
But if you want to take advantage of the power of Google, this course might be suitable for you.
Ezra Firestone will teach you how to use Google to increase brand awareness and acquire new customers. You will learn how to use Google AdWords, Search and Display Network, Shopping Ads and YouTube.
Smart Social
This course will teach you social media strategies and content funnels for your eCommerce business. You can use the strategies to build an eCommerce brand.
It is a 8-week training program. You will learn how to nurture loyal customers for your brand.
What I don't Like About Ezra Firestone's Courses
Ezra Firestone does not teach you everything about eCommerce in one course, but breaks every topic into separate courses. That means you need to pay thousands of dollars in order to learn all from him.
In my opinion, Ezra Firestone is not suitable for beginners. Since it is not one comprehensive and complete course, beginners may feel confused.
Actually, if you really want to learn eCommerce, there are other courses which can teach you everything with one single price. You don't need to spend so much money to learn from Ezra Firestone. It is really overpriced and not worth it.
Pros and Cons of Ezra Firestone Courses
Pros
Ezra Firestone's training includes useful information

You will learn solid methods to launch an eCommerce product

Era Firestone himself is a successful businessman
Cons
The course is too expensive. It is not worth it given that there are lots of other better and cheaper alternatives.

There are lots of upsells

The courses are not complete
Is Ezra Firestone a Scam?
Ezra Firestone is not a scam. Undeniably, he is a successful marketer. You can learn something new from his courses for sure.
However, I don't recommend Ezra Firestone's courses. His courses are too expensive. You need to spend thousands of dollars to purchase all his courses.
Moreover, eCommerce is not easy, especially if you are new to online business. eCommerce has become increasingly difficult because of the competition from Amazon. If you want to build a 6 figure eCommerce business, you need to shed some blood, sweat and tears to figure out how it works.
You also have to run Facebook ads to promote your store.
But Facebook ads seldom stay effective for too long. Once your ad has exhausted the audience, it becomes ineffective. Your total revenue will be much lower and even result in net loss.

According to Forbes, Facebook saw an increase in Ad costs of 90% year-on-year.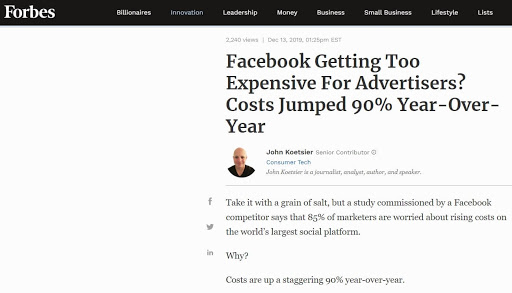 Worse still, the learning curve of Facebook ads is quite steep because Facebook changes its algorithm all the time. You have to invest a lot of time and money in learning and testing Facebook Ads.

If you run Facebook ads without any experience, your ad account will be banned for violating their strict policies.

If you want to make a steady stream of passive income, eCommerce might not be suitable for you. eCommerce is not as passive as you think. Most people who succeed in eCommerce are doing it full time because it requires you to keep finding new products, creating new stores, testing new ads and looking for new suppliers to make your income stable.
Is there an Easier & Better Alternative?
If you are new to online business, you may ask if there is a better business model that doesn't need Facebook ads and can do it as a side-hustle.

Yes, I would suggest you getting started with affiliate marketing. It is far easier and less time consuming as you don't even need to handle customer service.
In affiliate marketing, you can run your business almost with zero cost. Most importantly, you don't need to invest in creating and developing any products.
But How Much Can You Earn in Affiliate Marketing?
A 21-year old student from my #1 recommended training platform of affiliate marketing was able to earn $7,395 in just 1 week, which means he made more than $1k a day…all while using free traffic methods and affiliate marketing.
Wealthy Affiliate has existed for more than 10 years and there are many success stories over the years.
To give you more examples, here are some of the other inspiring success stories of Wealthy Affiliate members.

Where to Join Wealthy Affiliate?
Wealthy Affiliate has a very simple pricing scheme. It has free and premium membership.
If you want to feel about Wealthy Affiliate, you can sign up for the starter membership here (no credit card required). You can select to be a free member with no time limit.
And as a starter member, you can get instant access to the community, live chat, over 500 training modules, 2 classrooms, networking, commenting, 1 free website, access to the keyword tool.

You can enjoy all these values without paying a penny.
So I strongly recommend you to register a free account and see it yourself.