Are you intrigued by the world of high-ticket sales and the allure of remote closing? Imagine having the power to persuade potential clients to invest in premium products or services, all from the comfort of your own home. Elite Closers, a mentorship program created by the accomplished Gentry Chidester, promises to equip you with the skills and knowledge needed to excel in this competitive field.
In this review, we will explore what Elite Closers has to offer, who can benefit from it, the investment required, and most importantly, whether it lives up to the hype.
What Is Elite Closers?
Elite Closers is not your run-of-the-mill online sales course. It's a high-ticket sales mentorship program specifically designed for aspiring high-ticket remote closers.
Created by Gentry Chidester in March 2021, the program has quickly gained traction in the industry. The focus of Elite Closers is to provide intensive training, personalized coaching, and guaranteed job placement upon completion of the program.
Recommendation: Here's The Best Alternative
Who Is Gentry Chidester?
Gentry Chidester, the mastermind behind Elite Closers, is an experienced high-ticket closer and mentor from Friendswood, Texas. Before embarking on his journey in the world of sales, Gentry was studying molecular biology at Brigham Young University. However, life took an unexpected turn when he realized that pursuing a medical degree would put him in significant debt by the time he graduated.
Determined to secure a better financial future for his growing family, Gentry transitioned to a career in sales. He honed his skills by selling Comcast internet in a call center for long hours, and later ventured into door-to-door sales of solar products, which proved to be a lucrative and high-demand industry. Gentry's impressive track record includes over $25 million in remote closings and handling more than 5000 calls while working for The Elite CEOs company.
How Does Elite Closers Help You Make Money?
Elite Closers aims to unlock your full potential as a high-ticket remote closer, enabling you to generate substantial income. The program provides comprehensive training on effective communication, persuasion techniques, and handling objections to close sales with success.
By joining Elite Closers, you gain access to a 30-40 day intensive training program, designed to equip you with the skills to earn $5,000-$10,000+ per month. The program includes one-on-one coaching calls, ensuring personalized guidance to perfect your high-ticket sales skills.
The mentorship program also guarantees job placement with high-ticket companies, offering the potential to earn six to seven figures. This aspect of Elite Closers sets it apart from many other sales courses, as it gives you a direct pathway to starting your career as a remote closer.
Learn more: legit ways to make money online.
Recommendation: Here's The Best Alternative
Who is Elite Closers For?
Elite Closers caters to a diverse audience:
Aspiring Closers

: If you're new to high-ticket remote closing and want to learn the skills to become a high-earning professional, Elite Closers can be your launchpad.

Experienced Sales Reps

: Seasoned sales professionals seeking to take their career to new heights can benefit from the program. Elite Closers provides opportunities to earn substantial commissions, reaching up to $50,000-$60,000 per month.

Placement with Companies

: For individuals looking for employment as high-ticket closers, the program ensures in-house placements with reputable companies.

Companies Seeking Closers

: Businesses in need of highly trained high-ticket closers can collaborate with Elite Closers to find suitable candidates for their sales positions.
How Much Does Elite Closers Cost?
When it comes to the investment required to join Elite Closers, the program's pricing is not openly disclosed. Instead, you'll need to book a 1-hour discovery call to get detailed information about the program and its cost.
Additionally, Elite Closers does offer a 14-day refund policy, provided you meet specific requirements and have completed less than 25% of the program materials.
Recommendation: Here's The Best Alternative
Are Students of Elite Closers Getting Results?
The success of any mentorship program lies in the results achieved by its students. Elite Closers claims to have several success stories, with video interviews and screenshots available on their official website. These testimonials indicate that students have been able to significantly improve their closing rates and boost their earnings after completing the program.
Is Elite Closers a Scam?
As with any online program promising lucrative results, skepticism is understandable. However, based on the available information, Elite Closers does not appear to be a scam. The program is backed by Gentry Chidester's extensive experience and success in the high-ticket closing field.
Furthermore, the provision of personalized coaching and job placement services adds credibility to the program. However, as with any investment, it's essential to conduct thorough research, consider the pros and cons, and make an informed decision that aligns with your goals.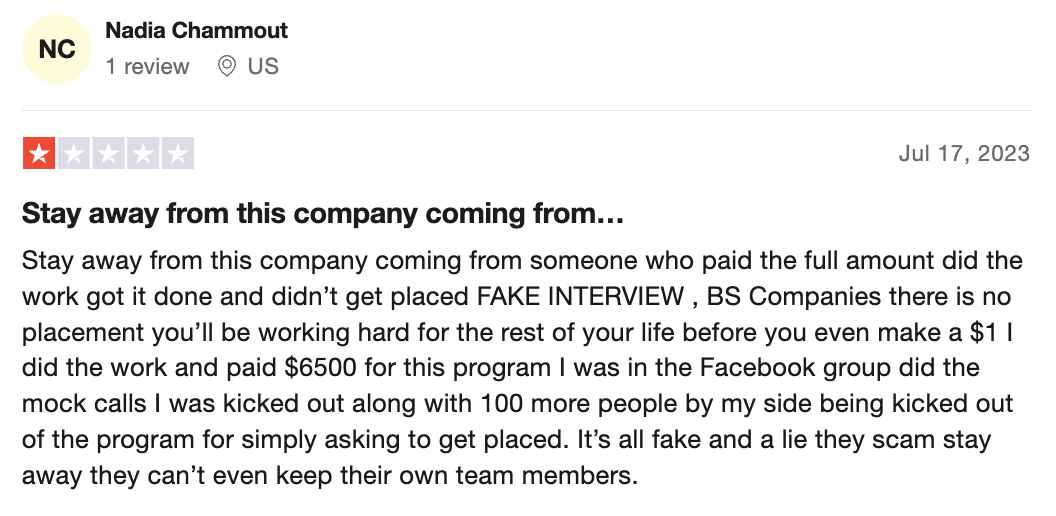 Recommendation: Here's The Best Alternative
Praises About Elite Closers
The positive aspects of Elite Closers include:
Proven Expertise

: Gentry Chidester's impressive track record as a high-ticket closer for The Elite CEOs company lends credibility to the program.

Personalized Coaching

: The one-on-one coaching approach ensures tailored guidance, helping students refine their skills effectively.

Job Placement Guarantee

: Elite Closers provides a clear pathway to employment with high-ticket companies, giving students the chance to earn substantial incomes.
Criticisms About Elite Closers
Critics of the program point out the following concerns:
Price Transparency

: The lack of upfront pricing information may make some prospective students hesitant to pursue the discovery call.

Full-Time Commitment

: Remote closing requires dedication and cannot be pursued as a passive income stream.

Dependence on Product Reputation

: The reputation of the high-ticket product or service can influence closing rates.
Recommendation: Here's The Best Alternative
Should You Join Elite Closers?
Deciding whether to join Elite Closers depends on your individual goals and aspirations. If you're eager to master the art of high-ticket remote closing and are willing to invest in personalized coaching and mentorship, Elite Closers may be a suitable choice.
However, it's essential to consider your commitment level, financial capacity, and the potential return on investment. Additionally, exploring alternative options and doing thorough research can help you make an informed decision that aligns with your long-term career objectives.
In conclusion, Elite Closers presents an opportunity for aspiring high-ticket closers to develop essential skills, receive personalized coaching, and secure potential employment with reputable companies. The program's success stories and Gentry Chidester's expertise in the field add credibility to its claims. As with any investment, due diligence is necessary to determine if Elite Closers is the right fit for your career ambitions in the world of high-ticket remote closing.