Are you looking for an eCom Babes review? This comprehensive review is going to answer all of your questions.
In the world of e-commerce, which is mostly run by men, eCom Babes is a breath of fresh air. It is not often that a woman develops a program for other women.
Since women are known for their love of shopping, it makes a lot of sense to involve them in e-commerce. It would be great if women could have their own online store where they can make money.
As someone who has started a dropshipping business, I'm in a good position to share with you everything I know about eCom Babes.
As a disclaimer, I'm not affiliated with eCom Babes, which means I'm not paid to write this review. So you can be sure that my words are unbiased.
At the end of this article, I'll share with you another alternative that has enabled me to generate a 5-figure passive income every month.
eCom Babes Review – Key Takeaways
Course Name:

eCom Babes

Website:

www.ecombabes.com

Founder:

Cortney Fletcher

Price:

$2,000

Pros:

Legit training on dropshipping; active community

Cons:

The course is expensive; very little information about Cortney; lack of success stories

Overall Rating:

2/5

Verdict:

The program offers some dropshipping training. But it is exclusively for women who are interested in eCommerce. Cortney needs to discuss the risks associated with dropshipping more.
In this eCom Babes review, I'm going to cover the following.
What is eCom Babes?
eCom Babes is an online course and community that's all about helping women like you start and grows their own online store.
The course is a 6-week video-based training program that's super easy to understand and follow. And the best part is, you'll have support from a group of like-minded women who are also on their eCommerce journey.
Whether you're a complete newbie to eCommerce or an experienced entrepreneur looking to take your businesses to the next level, eCom Babes has got you covered.
In just 4 weeks, they'll show you everything you need to know to launch your very own store on Shopify and start building your customer base.
Does that sound too good to be true? Read on to find it out.
Recommendation: Here's The Best Alternative
Who is Cortney Fletcher?
Cortney Fletcher is the boss lady behind eCom Babes. It's an online network for female entrepreneurs in the e-commerce game. Think tools, tips, and loads of education for women looking to start or grow their own online businesses.
Cortney's from New England and was always encouraged to pursue a career in business. But, as it turns out, she was better at sports than hitting the books.
And let's be real, she wasn't exactly thrilled about the idea of being stuck in a 9-5 job. So, she decided to take matters into her own hands and become a successful business owner.
According to her bio, she went from being a broke college dropout to founding a seven-figure store that apparently made her $24,000 every day (although, I couldn't find any info on this store).
Plus, she's got a YouTube channel where she interviews other eCom Babes, like Katherine, who she says makes over $100,000 each month using her tactics.
There is a lot of speculation about Cortney's net worth. It's a difficult question. I only know that most successful gurus teaching dropshipping are at least millionaires.
How does eCom Babes help you make money?
eCom Babes is a digital course that teaches you how to start a dropshipping business. It mainly covers the following topics:
With dropshipping, you can make money online by selling products without having to keep any stock. Instead, you sell the supplier's stock online.
When a customer makes a purchase on your online store, you receive the order and place an order with the supplier at a wholesale price. You keep the difference in cost, and the supplier ships the product directly to the customer.
Dropshipping businesses typically have low margins, with dropshippers usually making around 10-20% profit from each sale.
However, some of the top performers can earn up to $100,000 per year, which works out to be between $1,000 and $5,000 per month.
The remaining money goes towards purchasing the product from the supplier, dropshipping fees, hosting dropshipping websites, and marketing.
In the following section, let's take a look at the challenges of dropshipping business.
Problems with Dropshipping Business
1. Difficult to maintain quality
Dropshipping can be a bit tricky when it comes to making sure the products you're selling match up with their descriptions. Because you don't get to physically check the items yourself, it can be a challenge to make sure they're up to snuff.
Plus, if something goes wrong – like late delivery, broken product, or missing item – your customers will come to you, not the supplier.
So, if the supplier messes up, it could mean unhappy customers and lost sales for you. Just keep in mind that quality control is important when it comes to dropshipping.
2. Paid ads are very expensive
Advertising on platforms like Facebook, Google, and TikTok is getting pricey. According to Business Insider, the cost of ads on these platforms is going up every year. And get this, it's partly because of some recent changes Apple made to ad targeting.
Apparently, Facebook's CPM has gone up by 61%, Google's CPM has increased by 75%, and TikTok's CPM has skyrocketed by 185%.
Even though TikTok is a newer and cheaper platform, it's not looking like the ad cost is slowing down anytime soon.
The reason for this is that more and more marketers and businesses are running ads on these platforms, so the competition is getting fierce.
This means that as a beginner dropshipper, it might be harder for you to get started, and even if you've been dropshipping for a while, you might have to rethink your strategy.
3. Customer support is very time-consuming
In dropshipping, you have to spend a lot of time communicating with suppliers and dealing with customer service.
If your customer has any issues with the product, you have to wait for your supplier to help you. If your supplier is not helpful, you have to bear the loss yourself. Therefore, many dropshipping stores have poor customer reviews and no returning customers.
In the worst case, you would expect a lot of credit card chargebacks, which risk getting your payment gateway shut down.
4. A lot of work on product research
For your store to keep making money, you always have to find a product that has the momentum to go viral in order that the ad costs can be covered.
In dropshipping, most products reach their peak in 1-2 months or even weeks. This is because many competitors will steal your product and create a better ad. Or increase their budgets on Facebook ads to outbid you.
Therefore, you need to keep finding new replacements to keep generating cash flow.
You might see people post revenues online but they don't tell you the net revenue.
Some of them might be making money but it's not sustainable.
The dropshipping business model is not as passive as you think. Most people who succeed in dropshipping are doing it full-time because it requires you to keep finding new products, creating new stores, testing new ads, and looking for new suppliers to make your income stable.
Recommendation: Here's The Best Alternative
Who is eCom Babes for?
This course is designed for women who're looking to start their own online boutique and sell some awesome jewelry and clothing.
It covers the basics of starting and running a business, as well as some more advanced topics like advertising.
However, dropshipping might not be the easiest thing for beginners to jump into. From what I know, it can get pretty pricey with all the money you need to spend on ads to promote your products. It's definitely not a cheap endeavor, and there's a big risk when it comes to investing your capital.
Let's be real here if you don't shell out cash for ads, no one's gonna know about your brand. And if you're trying to dropship clothes or jewelry, you're in for a tough time, 'cause there are some big players in those markets.
The bottom line, starting a fashion brand through dropshipping is gonna cost you a pretty penny.
So, I wouldn't say eCom Babes is the best option for newbies just starting out to make money online.
How much does eCom Babes cost?
On the Ecom Babes website, the cost is not mentioned anywhere. This is because the cost will be discussed during your individual phone consultation if you want to learn more about the course.
In the United States of America, the Ecom Babes 3.0 course costs $2,000.
How is the course structured?
Let's now take a look at what this course is all about.
The training program is a 6-week online course with videos for all modules.
Both new and experienced entrepreneurs can benefit from the quality content.
Welcome Video + Mindset
In the welcome video, you'll learn what's in store for you and why you made the right decision.
According to eCom Babe, members can expect strong support from the community.
Week 1: Mindset And Foundations
The welcome video carries over into the videos because having the right mindset is so important in business.
In life, as well as in business, everything starts with a positive mindset.
In any training, that's a good place to start. Rather than simply doing something, it's important to know why you're doing it.
Why do you want to start your own online store? What kind of life would you like to live?
It will give you a foothold when things get tough and inspire you to keep going.
Week 2: New Age Of ECommerce
The topic changes from "Mindset Basics" last week to "Business Basics" this week.
In this week's e-commerce course, you will learn how to choose a niche, research products, find products that sell, and build an online boutique from scratch.
Week 3: 7-Figure Store Anatomy
There are many details to learn about marketing and sales this week, which can be boring to some people.
To build a strong eCom business, you must follow these steps
Buying a domain

Running ads

Promoting your online boutique

and much more.
Marketing is hard work in and of itself, but it's well worth it. Your online store's future depends on it.
Week 4: Setting Up Social
In this week's lesson, you will set up your Facebook and Instagram accounts and learn about online marketing. According to Cortney, these are the best ways to reach new customers.
Furthermore, you will learn how to collect, understand, and use customer data effectively.
Week 5: Connective ECommerce
This is the week of connective e-commerce. Here you will learn about Cortney's method, Connective eCommerce, which combines dropshipping and affiliate marketing.
This is a low-cost, low-risk way to start a business. Taking small steps is the best way to get started.
You can keep growing once you find your own path to success.
Week 6: Scaling To 6 And 7 Figures With Ads
Here you'll learn why Facebook ads are important and how to run them to increase your online sales.
Cortney also discusses how she runs ads across all of her social media accounts.
Check out what she does and how you can follow suit.
Bonus Video
The bonus videos provide you with the opportunity to build on what you've learned over the last six months.
You may want to include these in your business model as "extras."
Recommendation: Here's The Best Alternative
What else to know?
If you sign up for the eCom Babe course, you'll be able to join a Facebook group where you can ask Cortney (the main coach) and the other instructors any questions you have.
In addition, there are two weekly live Q&As (hosted by Cortney) every Tuesday and Thursday, as well as a Wednesday "affiliate training."
Plus, the member community is active with over 10k members, so you can expect quick responses to your questions.
Are eCom Babes students getting results?
I stumbled upon some pretty sweet testimonials from other successful students on eCom Babes' sales page.
But, let's be real, it's easy to make up some testimonials, especially in the world of dropshipping.
I mean, the store owner can manually create as many orders as they want, making it easy to manipulate the sales figures.
I did find a student's review on Courtney's YouTube channel, but let's be real, there's a conflict of interests there.
If you really want to know if the course is legit, you should check out third-party review sites like Trustpilot and Reddit.
But, unfortunately, there aren't any eCom Babes success stories on those sites either.
Green Lights
1. Regular updates
eCom Babes says they update their course frequently to keep it effective in today's fast-paced e-commerce environment.
2. Live coaching once a week
Cortney hosts live Q&A sessions on Tuesdays and Thursdays. If you have any questions about dropshipping, you can ask her.
3. Support
The Facebook coaching group is also a great place to learn from Courtney and other members of the community, as well as the training guides.
Red flags
1. eCom Babes isn't really a group for female students
eCom Babes said it is an exclusive club for women who want to open an online store. And honestly, that's cool and all, but what about the guys?
Like, if you're a dude who wants to start an online boutique store for women, can you even join?
Of course! The program is more than happy to accept you if you are willing to pay for the course.
It's just a gimmick to call it an exclusive club!
2. Limited information available about instructor Courtney
Another thing that bugs me is that there's not a ton of information about the instructor, Courtney. I mean, I get it, not everyone wants to put their whole life online.
But when you're thinking about investing in a course, you want to know a little bit more about the person who's teaching it.
And there's just not a lot out there about Courtney.
3. Pricing not specified on their website
Oh, and one more thing – the pricing. It's kind of a pain in the butt. They don't really give you a clear idea of how much the course costs on their website. You have to book a call with a rep to get the details.
Some people might like that personal touch, but I'd rather just know the price upfront and make my decision from there.
4. Students are only part of their private Facebook group
There are a ton of people in the eCom Babes Facebook group – like, over 10k members. So you might be thinking "Wow, this course must be super popular. People must be loving it."
But hold up, I found that anyone can join their Facebook group. You don't have to buy their courses to get admission. So, just because there are a lot of people in the group doesn't mean the course is actually any good.
It's just a tactic they're using to make you think it's more popular than it really is. Just wanted to give you a heads-up!
Recommendation: Here's The Best Alternative
Is eCom Babes a scam?
I can't say it's a total scam or anything, but don't let Cortney Fletcher make it sound like it's super easy to make money with this program. It's not. There's a lot of work that goes into it upfront, and there's no guarantee of success. Plus, you gotta make a ton of sales to actually see any money come in.
Now, don't get me wrong, I don't mind putting in some extra work upfront if it means getting paid later, but here's the thing: you're gonna have to spend a ton on ads, like $3,000 to $5,000, just to get started. And let's be real, that "getting in at $5 a day" stuff is a bunch of BS. All you're gonna end up with is a measly 15% profit on a $12 product, which is like $1.80. Not really worth it, if you ask me.
And here's something else to think about: if dropshipping was really that profitable, why would Cortney Fletcher be teaching you how to do it? I mean, why would she give away all his "secrets" and attract more people to compete with him? Doesn't that seem a little fishy to you?
The truth is, the profit margin in dropshipping is pretty small, and that's why Cortney Fletcher makes more money by teaching people how to do it than actually doing it herself.
She's selling you the dream of becoming a millionaire with dropshipping, but let's be real, only a tiny percentage of people actually make a positive net profit with it.
Should you join eCom Babes?
So, I checked out Ecom Babes and it looks like it's got a solid framework in place. It's easy to navigate, and has all the latest and most relevant info you need to open a successful e-boutique.
But, here's the thing – it's definitely on the pricey side compared to other dropshipping courses out there. And you know I'm not one to believe that a higher price automatically means a better product.
Now, if you're new to the game and have no prior experience, you might learn something from this course. But, if you already have a profitable store and are looking to take it to the next level, this course might not be the best fit for you. However, I can see how some women might find value in the community aspect of eCom Babes.
But, just to keep it real, it's not exactly a walk in the park to make money with this course.
You can make money online in a better way. In the next section, I will explain more.
Is there a better alternative to eCom Babes?
If you aren't interested in wasting your time or money on eCom Babes, you may wonder if there is an alternative business model that doesn't require Facebook ads.
Yes, I would suggest you get started with affiliate marketing. It is far easier and less time-consuming as you don't even need to handle customer service.
In affiliate marketing, you can run your business almost with zero cost. Most importantly, you don't need to invest in creating and developing any products.
But How Much Can You Earn in Affiliate Marketing?
A 21-year-old student from my #1 recommended training platform of affiliate marketing was able to earn $7,395 in just 1 week, which means he made more than $1k a day…all while using free traffic methods and affiliate marketing.
Wealthy Affiliate has existed for more than 10 years and there are many success stories over the years.
To give you more examples, here are some of the other inspiring success stories of Wealthy Affiliate members.
You can also visit Trustpilot where Wealthy Affiliate has a 4.8/5 rating.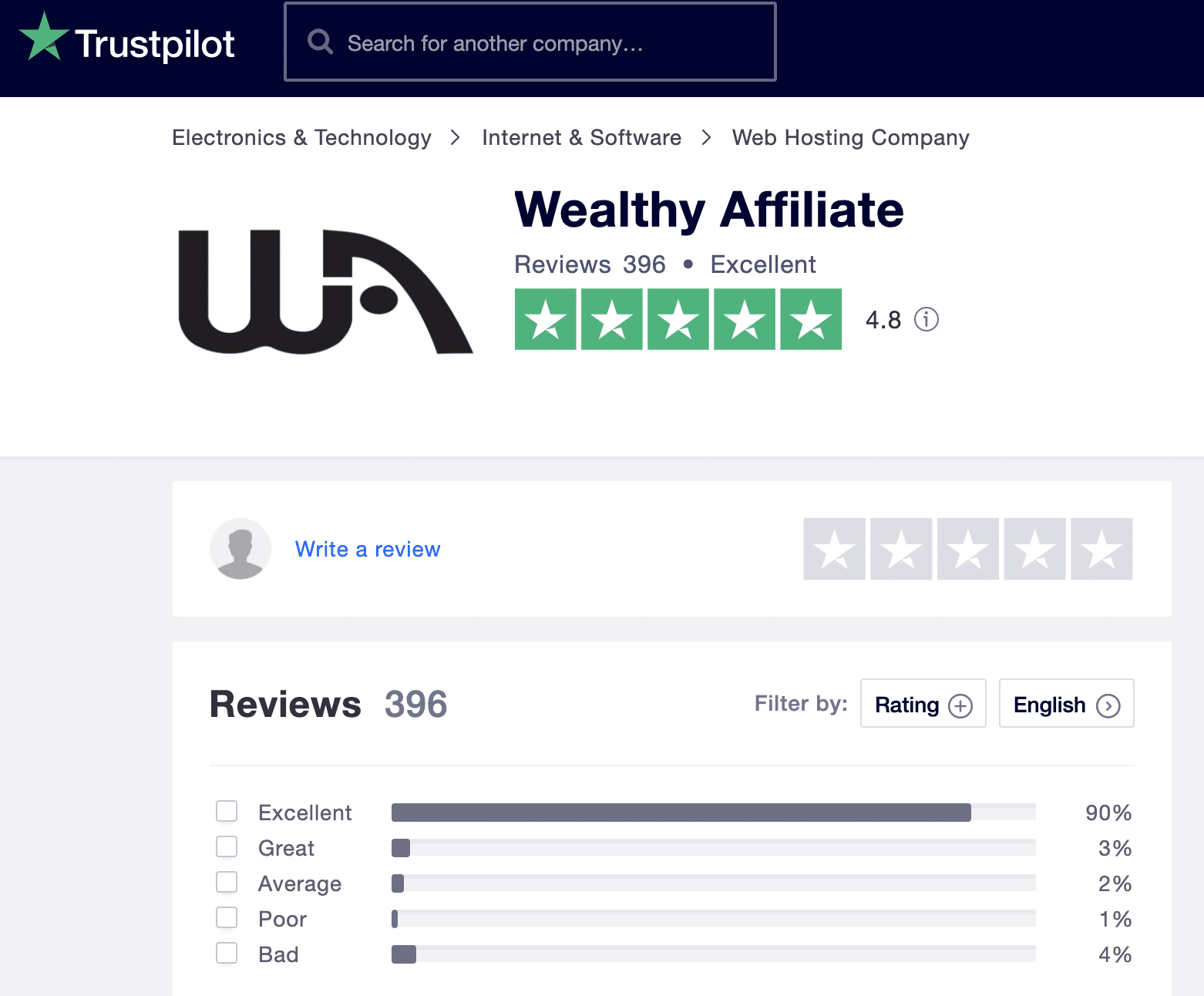 Where to Join Wealthy Affiliate?
Wealthy Affiliate has a very simple pricing scheme. It has a free and premium membership.
If you want to feel about Wealthy Affiliate, you can sign up for the starter membership here (no credit card required). You can select to be a free member with no time limit.
And as a starter member, you can get instant access to the community, live chat, over 500 training modules, 2 classrooms, networking, commenting, 1 free website, and access to the keyword tool.
You can enjoy all these values without paying a penny.
So I strongly recommend you register a free account and see it yourself.