Are you wondering if ClickEarners.com is legit or just another scam website? I've got your back! A lot of people have asked me to share my thoughts on this website since they are considering joining. With so many online scams out there, it's always good to do some research beforehand.
As an online entrepreneur, I've written hundreds of reviews to help people avoid getting ripped off. So, if you want to know if ClickEarners.com is worth your time and money, let me share everything I've found after doing thorough research for the past week.
But hey, I don't want to leave you hanging at the end of this review without offering a better alternative. I'll also share with you the platform that has helped me make a 4-5 figure passive income every month.
Key Takeaways: Clickearners.com Review
Below is what I'll cover in this Clickearners.com review.
What is Clickearners.com?
If you're interested in working as a virtual assistant, you may be interested in Clickearners.com. It's similar to other freelance platforms like Fiverr and Upwork, but specifically focused on virtual assistant work.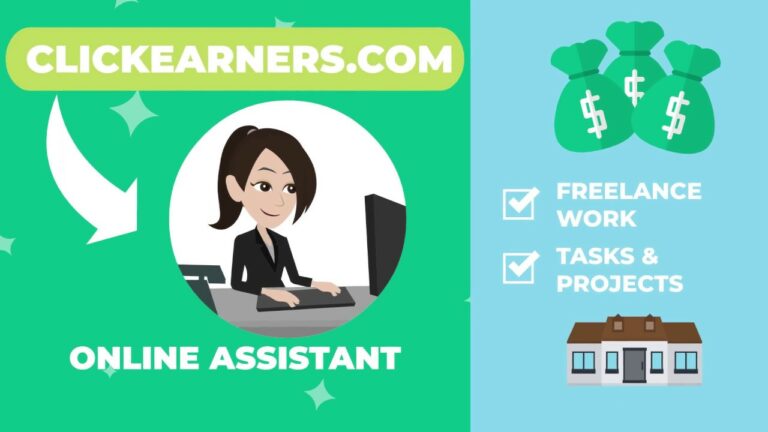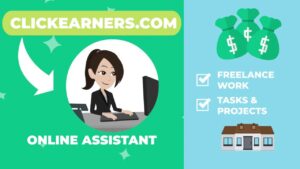 As a virtual assistant on Clickearners.com, you'll be responsible for a range of tasks, such as data entry, surveys, graphic design, and social media management. And if you're new to the field, the website also claims to offer training on how to become a virtual assistant.
One of the big advantages of being a virtual assistant is that you can work from home with flexible hours. So if that kind of lifestyle appeals to you, Clickearners.com might be a good fit.
However, it's worth noting that there is a fee to join Clickearners.com, unlike other platforms where becoming a virtual assistant is free. We'll go into more detail on this below.
Learn more: Companies That Hire Remote Workers
Recommendation: Here's The Best Alternative
Who are the Creators of ClickEarners.com?
Are you curious about the masterminds behind ClickEarners.com? I was too, so I did some digging and found some interesting information. First off, ClickEarners.com has been around since 2017, registered on December 29th to be precise. This means that the site has been operating for quite some time now.
After some more sleuthing, I discovered that the founders of ClickEarners.com are unknown. Yes, you heard that right – the creators of the site have not revealed their identities. This may raise some concerns, but it doesn't necessarily mean that the site is a scam.
However, there is one lead that we can follow. ClickEarners.com is associated with a company called ClickFunnels, which is a well-known software company founded by Russell Brunson and Todd Dickerson. It's possible that the founders of ClickEarners.com are somehow connected to these two individuals or the company itself.
So, while we may not know for sure who created ClickEarners.com, we can assume that it's affiliated with ClickFunnels. As with any online opportunity, it's always best to proceed with caution and do your own research before committing your time or money.
Recommendation: Here's The Best Alternative
How Does Clickearners.com Help You Make Money?
If you're interested in becoming a virtual assistant and making money online, Clickearners.com might catch your eye. Here's how it works:
Sign Up: The first step is to register for an account on their website. Once you've registered, activate your account and log in to the members' area.

Explore Job Opportunities: There are many different jobs available, including product testing, surveys, typing and writing, data entry, online research, social media management, and more. You can browse the available job opportunities and choose the ones that interest you.

Access Guides and Instructions: Clickearners.com provides a few guides to help you work as a virtual assistant. This can be useful if you're new to this type of work.

Apply for Jobs: When you find a job that interests you, click on it to learn more. However, be aware that Clickearners.com doesn't actually have any jobs listed on its website. Instead, when you click on a job, you'll be redirected to another freelance website where you can apply for the job.

Avoid Fees: Since Clickearners.com is simply a directory that redirects you to external websites, there's no reason to pay them a fee. You can apply for jobs for free on the external freelancing websites that Clickearners.com directs you to.
It's important to note that paying a fee to access jobs is a red flag. In the case of Clickearners.com, it's best to apply for jobs for free on the external freelancing websites that they redirect you to.
Learn more: Legit Ways To Make Money Online
Recommendation: Here's The Best Alternative
What's Inside ClickEarners?
If you're considering signing up for ClickEarners, there are a few things you should know before diving in. First off, let's be clear – ClickEarners doesn't actually offer job opportunities. Instead, they provide manuals, guides, and links to other sites where you can find legitimate job openings.
So, what exactly can you expect to find in the ClickEarners members area? Here's a breakdown:
Basic information on Virtual Assistance, Data Entry, and Social Media. While these PDFs may hold some value, I personally don't think they're worth the $27 price tag. You can easily find similar information for free with a quick Google search.

A list of credible online job platforms. This includes well-known and trusted sites like Upwork and Fiverr. However, you can access these platforms directly for free without having to pay for ClickEarners.

Short descriptions of various online jobs. Again, these descriptions are similar to what you can find with a quick Google search.

Resume and cover letter templates. While these may be helpful, there are better options available for free on sites like Canva.com.

Links to Facebook groups related to virtual assistance. While these groups can be useful, you can easily find them on Facebook without having to pay for ClickEarners.

Upsells. ClickEarners offers various upsells, but I can't speak to their quality or value. Since I found ClickEarners to be a low-quality product overall, I assume their upsells are of similar quality.
In conclusion, while there are some useful resources available in the ClickEarners members area, I don't believe they're worth the $27 fee. You can easily find similar information and resources for free with a quick Google search or by accessing legitimate job platforms directly.
Recommendation: Here's The Best Alternative
Available Jobs on ClickEarners.com
Working from home is becoming an increasingly popular option for those who are tired of the daily commute, and fortunately, there are now many job opportunities available for those who are interested in this type of work. Some of the popular work-from-home jobs include data entry, customer service, virtual assistance, admin/secretarial work, typing/writing, online research, envelope filling, social media management, sales and marketing, surveys, mystery shopping, and product testing.
While ClickEarners Site lists these job types on their official site, it's important to note that they don't actually offer any of these jobs on their website. However, there are many freelancer platforms available where you can find these types of jobs without paying a fee. You can also check out hundreds of work-at-home jobs lists or visit remote work opportunity sites like Smith.ai, which hires virtual assistants.
Learn more: Most Popular Freelance Marketplaces
Who is ClickEarners for?
ClickEarners.com is a potential solution for those who are interested in starting a career as a virtual assistant online but are unsure of where to begin. They say that it doesn't matter what your skills or background are, as long as you're willing to put in the effort.
However, it's important to note that the owner of the website is anonymous, which could be a red flag for some. Some people might view this as a sign of a scam, so it's important to proceed with caution.
Praises For Clickearners.com
As someone who's tried it out, I can tell you that there is actually one thing I liked about it: the money-back guarantee.
However, aside from that, I have to admit that Clickearners.com didn't really appeal to me. In fact, I found most of it to be suspicious and geared towards making you spend more money.
I didn't see any significant benefits to signing up, and I felt like the site was more focused on trying to convince you to buy add-ons and upgrades rather than actually helping you make money.
Overall, while the money-back guarantee is a nice touch, I personally don't think Clickearners.com is worth the investment. There are other, more reputable ways to make money online that don't feel quite as shady.
Recommendation: Here's The Best Alternative
Criticisms For Clickearners.com
Unethical Tactics and Fake Urgency
Clickearners.com uses geo-targeted messages to make you feel like they need you. However, this message will appear to anyone who visits the website, making it seem like you're in demand. They also create a phony sense of urgency to extract your money quickly. Beware of this tactic and don't fall for it.
Making Money Requires a Fee
Ironically, legit job sites make money when you get paid, not before. Some even allow you to create an account and upload a resume without paying a cent. Clickearners.com charges you before you even start making any money.
Useless Member's Area
The information they provide in the member's area can easily be found for free through a simple Google search. Don't waste your money on information that's readily available.
Many Upsells
Clickearners.com preys on people with no experience online and bombards them with schemes designed to squeeze their money out of them. This behavior is incredibly annoying and can make people cynical about making money online.
Unreasonable Disclaimers and Income Claims
Clickearners.com quickly backs out of responsibility by saying they're only providing resources, not helping you find a job. They also describe ridiculous rates of $25 to $50 per hour for stuffing envelopes and completing surveys, which is untrue.
No Support Provided
You'll be left to figure out the hard stuff on your own. Instead of real training, you just get generic information that you can find for free.
Not a Real Online Job Board
Clickearners.com claims to be an online job board, but they only provide links to other platforms where you can find real jobs. Don't waste your time and money here.
Many Complaints
Users have complained a lot about the poor quality of Clickearners.com. When there are many complaints about a site, it's a clear sign that something fishy is going on.
How Much Does Clickearners.com Cost?
If you're considering joining Clickearners.com, it's important to note that membership isn't free. You'll be charged a membership fee, with options for either 12 months of access for $27 or lifetime access for $57.
While some people may find it unusual to pay for access to a freelancing website, it's not entirely uncommon. Unlike other freelancing platforms, which may only charge a transaction fee upon the completion of a project, Clickearners.com operates on a different model.
Recommendation: Here's The Best Alternative
How to Get a Refund From Clickearners.com?
If you're thinking of requesting a refund from ClickEarners.com, here's what you should know. Recently, there was a complaint on the Better Business Bureau website regarding ClickEarners' failure to respond to a refund request. However, it was later discovered that ClickEarners had responded, but the customer did not reply back.
If you find yourself in a similar situation, there are a few things you can do to increase your chances of receiving a refund. First, ensure that you request your refund within the guarantee period. ClickBank's money-back guarantee is valid for only 60 days, so don't wait too long.
Secondly, when asking for a refund, always contact ClickBank directly rather than the product creator/vendor. Since ClickBank handles all payment and refund transactions, they are in a better position to process your request.
It's important to remember that receiving a refund does not necessarily indicate that the product is a scam.
In conclusion, if you want a refund after purchasing a ClickBank product, make sure you act promptly and go straight to ClickBank for help. With their strong refund policy, you can be confident that your request will be handled professionally.
Is Clickearners.com a Scam?
While I can't say for sure whether Clickearners is a complete scam or not, there are certainly some red flags to be aware of.
For one, it's strange that Clickearners.com charges you a fee just to sign up as a virtual assistant. Most freelancing platforms don't charge a fee upfront, and instead take a commission from any transactions you make with clients. Plus, even if you do pay the fee to join, there aren't many job opportunities available on the platform anyway.
In fact, Clickearners.com isn't even really a freelancing platform – it's just a directory that redirects you to other websites. And when I looked for reviews of the site, I found a lot of negative feedback from customers who were disappointed with their experience.
But even beyond the issues with Clickearners.com specifically, working as a virtual assistant may not be the best way to make money online. After all, you're essentially just trading your time for money, and there's only so much time in a day.
Instead, I'd recommend looking for ways to make passive income – that is, money you can earn without actively working for it. And luckily, there are plenty of options out there.
Learn more: Make Money Online Scams: How to Avoid Them?
Recommendation: Here's The Best Alternative
Clickearners.com Alternative
If you're looking for a better alternative to Clickearners.com to make money, have you considered starting your own online business? It might sound daunting, but affiliate marketing is a risk-free business model that can be done as a side-hustle without any initial capital.
So, how much can you earn through affiliate marketing? The earning potential is huge, with some full-time affiliates earning seven-figure incomes annually. In fact, affiliate marketing is the easiest and most rewarding online business model, making it perfect for beginners.
My top recommended platform for building an affiliate marketing business from scratch is Wealthy Affiliate. This internet community has been around for over a decade and has helped members achieve a steady passive income, allowing them to quit their 9 to 5 jobs and travel the world.
You can check out my full review of Wealthy Affiliate here.
Wealthy Affiliate offers free and premium membership options, so you can sign up for the starter membership with no credit card required to experience it for yourself. As a starter member, you'll get instant access to the community, live chat, over 500 training modules, two classrooms, networking opportunities, the ability to comment, and even build one free website.
If you decide that affiliate marketing is a good fit for you, you can upgrade to the Premium Membership and get the most out of Wealthy Affiliate. So why not register for a free account and see for yourself? If you have any questions, feel free to comment below and I'll respond as soon as possible.