Are you looking for an honest review of Clickearners.com? Do you wonder if it is a scam?
Some people ask me to review Clickearners.com because they are considering joining. There are many scams online, so it's always a good practice to do some research first.
I have a passion to help people explore the best money-making opportunities online. I write hundreds of reviews to help people avoid scams online.
So if you want to know if you should join Clickearners.com, let me tell you everything you need to know to make an informed decision. I have done thorough research about it in the past week.
At the end of this review, I'll also tell you a much better alternative that enables me to make a 4-5 figure passive income every month.
Key Takeaways: Clickearners.com Review
Below is what I'll cover in this Clickearners.com review.
What is Clickearners.com?
Clickearners.com is a website for finding virtual assistant jobs. It is similar to other platforms like Fiverr, Upwork etc.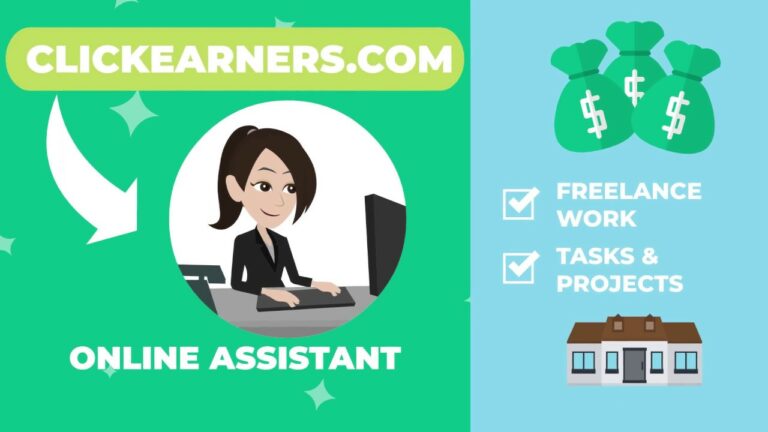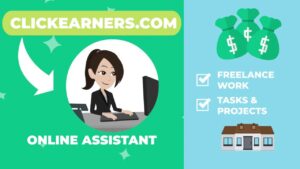 As a virtual assistant, you will have to perform various tasks such as data entry, surveys or graphic design, social media management etc.
Clickearners.com also claims to teach you how to become a virtual assistant.
Being a virtual assistant means you can work from home with flexible working hours. So if you prefer this kind of lifestyle, it might be suitable for you.
However, to join Clickearners.com, you have to pay a fee. It is different from other platforms where becoming a virtual assistant is free. I will explain this in detail in the later section.
Recommendation: Here's The Best Alternative
How Does Clickearners.com Actually Work?
To make money as a virtual assistant on Clickearners.com, you have to do the following:
First, you have to register an account with them. Activate your account and login to the members area. Then follow the instructions to start working and earning.
There are a variety of jobs to choose from such as product testing, surveys, typing and writing, data entry, online research, social media management and others.
They will provide a few guides for you to work as a virtual assistant. Then when you want to apply for a job and click on it, it will redirect you to other freelance sites.
That means Clickearners.com actually doesn't have jobs listed on the website, it's simply a directory.
So there is no reason to pay them a fee. You can apply for those jobs on the external freelancing websites for free. Clickearners.com is simply redirecting you to those websites.
This should be a red flag as you are paying a fee for nothing.
Who is ClickEarners for?
Clickearners.com claims to be suitable for anyone looking to be a virtual assistant online. If you will work hard, it doesn't matter what skills or background you have.
I believe Clickearners.com to be the best for the owner to make money. The owner, by the way, is anonymous, which is a sign of a scam.
Clickearners.com Pros
I cannot see any pros for Clickearners.com. Clickearners.com does not appeal to me at all, as far as I'm concerned. Except for the money-back guarantee.
All the rest is, in my opinion, suspicious, designed to get you to spend money.
Recommendation: Here's The Best Alternative
Clickearners.com Cons and Complaints
1. Unethical tactics to attract people
To make you feel like they need you, ClickEarners targets you with geo-targeted messages. In reality, this message will appear to anyone who visits this website, making it appear as if you are in demand for a specific service.
2. Fake urgency
If they tell you there are only a few spaces left, you'll be tempted to grab it right away. Scammers, however, take advantage of this phony sense of urgency to extract your money quickly.
3. Making money requires a fee
That's ironic, isn't it? I mentioned earlier that some legit job sites make money once you're paid, not before. There are even services that allow you to create an account and upload a resume without paying a cent.
4. Member's area is useless
Google is a great source for finding free content on the Internet. In light of this, you do not have to pay for access to this information.
A sample of what you will receive in PDF format is shown below:
5. Many Upsells
ClickEarners is most popular with people that have no experience online. Hence, they are more susceptible to being hoodwinked with anything that looks like it's a fantastic deal.
I find this incredibly annoying because people are genuinely interested in making money and scammers are exploiting this by bombarding them with schemes designed to squeeze their money out of them.
As a result, they will become hopeless and cynical instead of looking at online money-making positively.
6. Unreasonable disclaimers
After they make you believe they will help you find a job, they will quickly back out of responsibility by saying they are only providing you with resources and not really helping you find a job.
Scammers frequently use this method. While they make you believe in one thing making you hopeful, they leave out any blame written in disclaimers you won't see until it's too late.
7. Unjustified income claims
You'll hear them describe ridiculous rates of $25 to $50 per hour for stuffing envelopes and completing surveys.
However, if you go on to legit sites, you won't get paid more than $5 per hour for such tasks.
8. Support is not provided
It is their job to provide you with a few PDFs and links. It's not all about making money, you'll really be left to figure out the hard stuff on your own. Rather than real training, you just get generic information that you can easily find for free.
9. Not a real online job board
They'll completely slaughter you here. You will only be given links to real online job platforms after being told you can expect to find jobs on the platform.
You won't find any real jobs here, so save yourself and leave. ClickEarners isn't what it claims to be.
10. There were a lot of complaints about the site
Users have complained a lot about Clickearners.com's poor quality.
If something like this occurs, we can be 100% sure that something is fishy and the offer is most likely a scam.
Recommendation: Here's The Best Alternative
Clickearners.com Pricing
Clickearners.com is not free to join. It will charge you a membership fee. 12 months access is $27 while lifetime access is $57.
It is weird that you need to pay a membership fee to get access to a freelancing website. All other freelancing websites are free to join.
Those platforms only charge a transaction fee when a deal is completed.
So I don't think it makes sense to pay Clickearners.com.
Recommendation: Here's The Best Alternative
Is Clickearners.com a Scam?
I cannot say Clickearners.com is 100% a scam. There is no sufficient evidence to say so. However, it doesn't mean I recommend Clickearners.com. In fact, I don't recommend joining it because of so many red flags.
It doesn't make sense for Clickearners.com to charge you a fee to join the website as a virtual assistant. There are many other websites that you can join for free.
Normally, freelancing platforms only charge a fee for processing a transaction between the freelancer and the hirer.
Moreover, while Clickearners.com charges you to get access to freelancing job opportunities, there are very few jobs opportunities available on the platform. So it's not worth the membership fee.
I found that Clickearners.com is not like other freelancing platforms, but a digital product from ClickBank.com. Their so-called service is simply redirecting you to other freelancing websites. So Clickearners.com works like a directory only.
Also, when I searched for some customer reviews of Clickearners.com, I found that there are many complaints about it. I couldn't find one positive review. So be careful if you want to join Clickearners.com.
Actually, working as a virtual assistant is like selling your time for money. Everyone has 24 hours a day only. The earning potential is limited by your time. So you can only make a little amount of money to be a virtual assistant.
Therefore, I don't recommend Clickearners.com and working as a virtual assistant if you want to make money online.
Instead, I have a better recommendation for you, which has enabled me to make a 4-5 figure passive income. Why I call it passive income is that I can make money while sleeping.
Working as a virtual assistant is not passive income, meaning you cannot earn money while you are not working.
Warren Buffett said, 'If you don't find a way to make money while you sleep, you will work until you die.'
So let me tell you more about this better alternative so that you can make passive income online.
Is There Any Better Alternative to Clickearners.com to Make Money?
Yes! Did you ever consider starting a side-hustle by building a business online?
If you're new to online business, you may think it's difficult to start a business on your own. But actually that's not true.
There's a risk-free online business model that doesn't need initial capital and can be done as a side-hustle. It is called "affiliate marketing".
But How Much Can You Earn in Affiliate Marketing?
Actually the earning potential of affiliate marketing is huge. There're people who are doing it full-time and earn a 7-figure income a year.
This is a 21-year-old student from my #1 recommended training platform of affiliate marketing. He was able to earn $7395 in just a week. That means more than $1K a day. It's nearly impossible for you to find a part-time job that can pay you $1K a day. But affiliate marketing can.
In fact, of all the online business models I've tried, affiliate marketing is the easiest and most rewarding one. If you're a beginner in online business, affiliate marketing is perfect for you because it's simple but lucrative.
And Wealthy Affiliate is my #1 top recommended platform for building an affiliate marketing business from scratch.
If you don't know Wealthy Affiliate, it has existed for more than a decade and is now one of the largest internet communities of affiliate marketing.
Many members of Wealthy Affiliate are able to enjoy a steady passive income, which allows them to quit their 9 to 5 job and travel around the world.
Here are some of the inspiring success stories of Wealthy Affiliate members.
Where to Join Wealthy Affiliate?
Wealthy Affiliate is a membership platform. It has free and premium membership.
You can sign up for the starter membership here (no credit card required) to experience yourself. There's no time limit for the free membership.
And as a starter member, you can get instant access to the community, live chat, over 500 training modules, 2 classrooms, networking, commenting, build 1 free website, access to the keyword tool. There're lots of free values you can get.
So I strongly recommend you to register a free account and see it yourself.
Later, if you think affiliate marketing is a good fit for you, you can upgrade to the Premium Membership and get the most out of Wealthy Affiliate.
If you have any questions, feel free to comment below and I'll respond as soon as possible.