If you own a local business, you might have come across Chad Kimball's Google Map course.
On his sales page, Chad Kimball claims that his SEO strategies can help local businesses get more traffic from Google Maps.
This business model is called local lead generation, and many experts teach the same thing. So, is Chad Kimball the best choice?
As an internet entrepreneur interested in online marketing opportunities, I've joined numerous digital programs and reviewed online courses.
Just to clarify, I'm not associated with Chad Kimball in any way, so you can trust that my words are impartial.
Towards the end of this review, I'll also share a better alternative that has allowed me to generate a full-time income using Google.
In this Chad Kimball review, here's what I'll cover.
Who is Chad Kimball?
Chad Kimball is a well-known digital marketer, famous for his Google Maps lead generation model for local businesses. He specializes in SEO and is highly respected for his expertise in this field.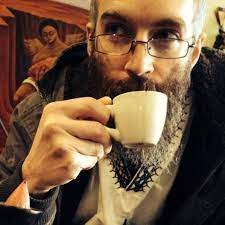 Since 1999, Chad has been self-employed, running his online business. He left his job due to workplace issues.
In 2011, he founded an online marketing agency that assists local small businesses in attracting more customers.
Kimball claims that his Google Maps Advertising strategy, which he developed and used for The Arbor Academy, generated over $2 million in revenue in 2020.
What's appealing about this approach is that it's not widely adopted by major players in marketing. This means smaller companies, startups, and entrepreneurs can benefit and increase their profits.
Chad Kimball actively uses social media to promote his digital programs. At the moment, he has approximately 8,000 followers on Facebook and runs a YouTube channel with around 10.7k subscribers.
It's worth noting that many of his YouTube videos are primarily focused on pitching his courses.
If you want to get a taste of his teaching style, you can watch the video below:
Chad Kimball's Local AutoPilot (Arbor Academy) Review
Chad Kimball offers a Google Maps course through his training platform, Local AutoPilot, priced at $997. However, there's information suggesting that there might be different pricing tiers, with claims of a $6,800 cost on Quora.
Local AutoPilot was previously known as The Arbor Academy, Easy Local Cash, and the Google Maps Elite program. It's important to note that name changes like this can be a red flag, as they often happen when a course has received numerous complaints and negative reviews, possibly indicating issues.
The course itself covers topics such as how to identify suitable businesses, writing effective listings, creating pricing structures, automating your business processes, and optimizing your listings for local search terms. The ultimate goal is to generate leads for local business owners and receive consistent monthly payments on autopilot.
This course is regularly updated, and Chad actively engages with students in a private community, conducting live coaching calls to provide ongoing support.
Learn more: Best Ways to Make Money Online
What is Arbor Academy?
Arbor Academy is a course that teaches you how to use Google's Local Ranking Algorithm to get your business listed on the first page of Google Maps. Once you're there, you can rent out this prime spot to local businesses. This business model is known as "rank and rent" or local lead generation.
In simpler terms, you can get small local businesses to pay you for sending them leads (potential customers). Here's a nine-step example to explain how it works:
You start by entering a search term, like "electrician," along with a location on an online tool. If there's a consistent monthly search volume for phrases like "electrician near me," it indicates a demand for local electrician services.

Next, you check Google for the most recent results by searching for "electrician" in your local area, similar to looking in the Yellow Pages. This step helps you identify potential businesses to target.

Your next move is to approach electricians in your area who aren't effectively promoting themselves online and convince them to hire you.

Arbor Academy's courses teach you how to create a Google My Business page specifically tailored to that business, essentially giving them an online presence.

You can earn a commission for each customer you bring to the business if you agree on a payment arrangement.

In some cases, you can act as a middleman, connecting local businesses with digital marketing services, especially those not ranking well on Google Maps. Once you've demonstrated your ability to attract customers through your efforts, you can negotiate a fixed fee with them.

This approach isn't limited to just "electrician." You can apply it to various keywords for different types of businesses, such as "car rental," "lawyers," "plumbers," and "roofers." Many offline businesses specialize in these areas.

Consider exploring the potential of finding offline businesses in your area. Suppose you're interested in becoming a Search Engine Results Page (SERP) marketer. In that case, you can approach businesses that aren't advertising online and discuss compensation for directing paying customers to their services or products.

Keep searching for local businesses that need an online presence to boost their sales. By connecting them with the services they require, you're providing them with a valuable service.
Recommendation: Here's The Best Alternative
What's Inside Chad Kimball's Google Maps Course?
This training is comprehensive and covers every facet of the Google Maps app revenue model.
An online video course series, "Google Maps Elite," teaches users how to get the most out of Google Maps.
Some examples of the type of video tutorials found in the archives of the private Facebook group are listed below.
Intro and Overview

The Google Local Ranking Algorithm

White Hat Techniques

Website Authority and The Local Algorithm

Backlinking Resources

Creating Content

Local Keyword Research

Why Keywords Do / Do Not Return Local Results

Category Keywords

Problems? Try Phone Support!

Google's Local Pack

Local Knowledge Panel Changes

Local Prospecting With Mechanical Turk

Keep Multiple Locations Safe

Ranking Outside Your Locale

Create and Optimize Your GMB

Pidgeon Update

Google My Business Guidelines

Local VS Brand Pages

How To Set Up Your Business Page

White Hat Reviews

Basic Places Page Optimization

The Importance of Reviews

GMB Posts

Make Starts Appear In Google

Listing Attributes

Show Social Media Icons

Changing Bad Review Snippets

Reinstating a Disabled Local Listing

Google Trusted Photographer

Add Local Structured Data to your Website

Courting Authority Reviewers

Citations: What, Why, & How

Listings On Local Websites

White Hat Backlinks

Facebook Pages

Citations Using Image Sharing Websites

Imitate Competitor Citations

Wikipedia Citations

Sponsorship and Testimonial Citations

Using Your Building/Home/Office to Get Additional Citations

Whitespark and Get Listed Citation Tools

Local Guides Program

Secret Local Guides Levels

How to Moderate Your Own Maps

Edits Through Local Guides

Major Local Guides Points Update

Choosing Addresses

Obtaining Phone Numbers

Scrape Box

Press Releases

Yelp Ranking Algorithm

Selling Leads

Important Information: Google and Service Area Businesses/ LeadGen

Direct Mail Prospecting Method

Optimize For Local Keywords

Software
Does Chad Kimball's Google Maps Strategy Work?
Chad Kimball offers courses that all share a common theme: they claim to teach you how to achieve a high ranking on Google Maps and generate leads for local businesses.
On Google, there are countless customer listings that haven't been optimized. With some adjustments, you can enhance these listings and start getting more phone calls for the businesses.
Selling leads through Google Maps can actually bring more visitors and calls to small companies compared to regular organic search.
In essence, Chad Kimball's teachings revolve around the concept of ranking and renting Google Business Profiles.
The idea is to generate leads for local businesses by getting their websites to appear on Google Maps in search results. This way, you can have a consistent stream of leads without the need for additional spending on ads (as you might with SEO clients) or improving someone else's website.
However, it's important to note that this approach is not a scam. It's indeed possible for a non-local business website to rank on Google Maps.
Google 3-Pack results are location-specific, meaning they vary depending on where the searcher is located. To secure a spot on Google Maps, you need to provide accurate information like phone number, website, business hours, and the precise location of the business profile. Google will then send a verification code to your local business address.
As long as a local business maintains an up-to-date website and ensures that its Google Business profile is complete, it has the potential to rank on Google Maps.
Local business owners don't necessarily need assistance from agencies to achieve this. However, Chad Kimball's courses can still provide valuable insights and strategies for those looking to improve their local online presence.
Recommendation: Here's The Best Alternative
Are Chad Kimball's Students Getting Results?
On Chad Kimball's YouTube channel, you can find some success stories. Interestingly, he even used his daughter as a testimonial to demonstrate how his training can help people earn money.
In the YouTube testimonial, Chad Kimball's daughter shares that she made $980 in the past year through an online business taught by her dad, Chad Kimball. She explains that the course teaches how to use the Maps app on people's phones to make money from local businesses.
However, she doesn't reveal how she made the money. So, the video only serves as a sales pitch for Chad's training course.
On the other hand, there are very few testimonials on third-party review sites. However, I found a negative review on Reddit, which seems to be genuine…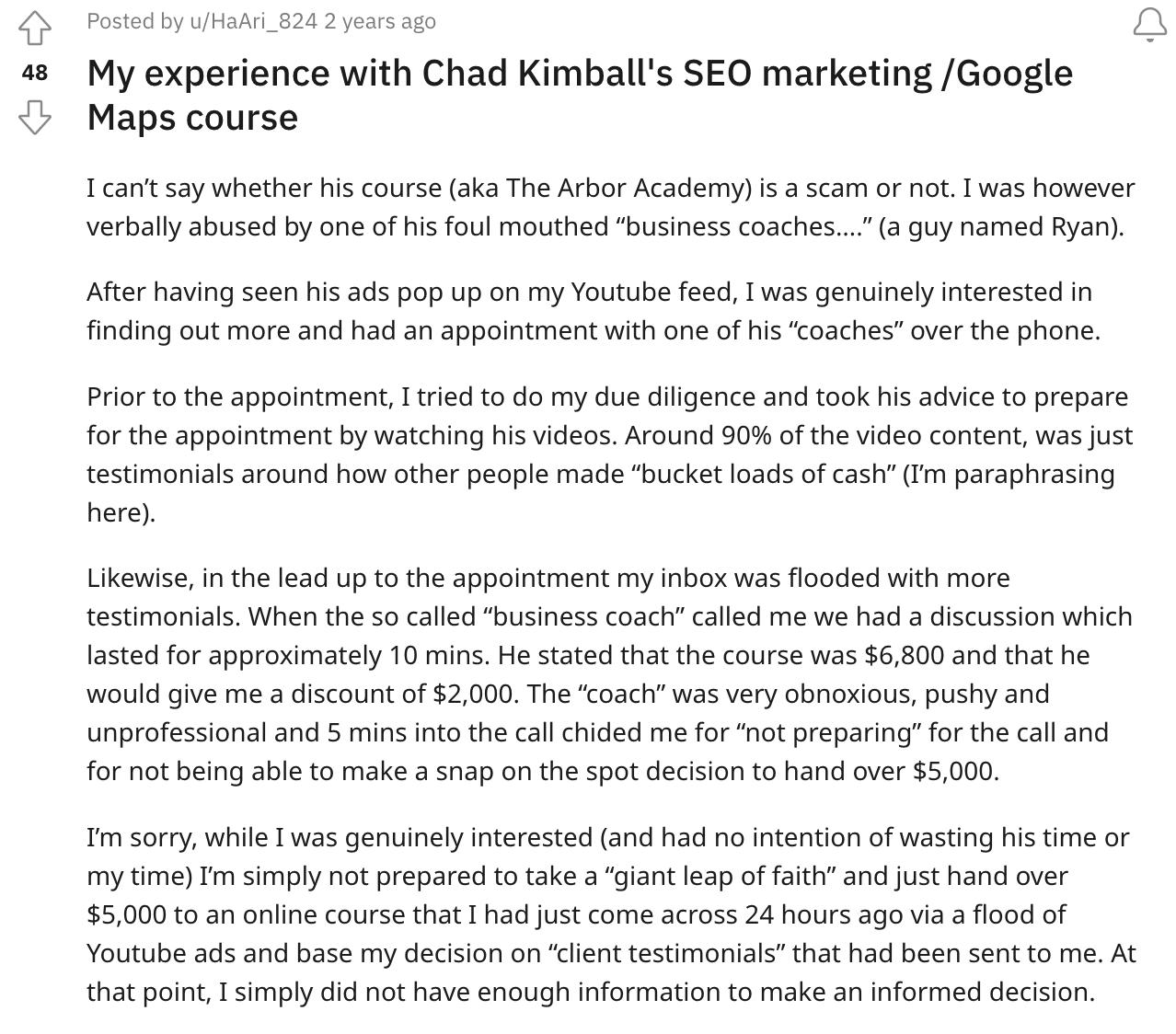 The first call he made to one of Chad's coaches was a disaster for him. The trainer was hostile, aggressive, and condescending. Another confusing aspect of the pricing of the course is that they say it costs about $5,000. This could indicate that there are actually different price levels.
One Reddit user confirmed to another that Chad teaches unethical strategies to improve a company's position on Google Maps. This likely refers to unethical SEO (search engine optimization) practices.
Recommendation: Here's The Best Alternative
How Much Does The Arbor Academy Cost?
The Arbor Academy program comes with a hefty price tag, so it's important to be fully committed before scheduling your breakout coaching session.
If you're located outside of North America, breakout coaching calls can be conducted via Skype or Zoom.
For a single payment, you get an unlimited, lifelong membership to Arbor Academy.
The total cost for access to all Arbor Academy resources is approximately $1,000.
While this might seem like a substantial amount, you may have room to negotiate a lower fee with your advertising agency.
Pros and Cons of Chad Kimball's Course
Pros
Chad has been successful with Google Maps since the early 2000s.
He conducts weekly live coaching calls within his coaching program.
Chad Kimball is well-known in the lead generation community.
Cons
There are few success stories from students.
The price of Chad's course is not clear or transparent.
The frequent name changes of Chad's platform (from The Arbor Academy to Google Maps Elite to Local AutoPilot) may raise concerns about its credibility.
Is Chad Kimball a Scam?
No, Chad Kimball is not a scam. He is a legitimate expert with knowledge in local lead generation.
Chad Kimball claims that he can teach valuable skills to help your website rank in Google Maps' 3-Pack. The 3-Pack displays the top results for local business searches, featuring three businesses that Google deems relevant, well-known, and close to the user. This includes a map and three Google Business Profile listings.
However, the real concern is whether you can make a profit after taking his course and if it's worth the investment.
As previously mentioned, the idea of creating a non-local business website to place it on Google Maps and rent it out to local business owners is not a viable strategy. This is not a legitimate approach.
In December 2021, Google made a significant update to its 3-Pack results, emphasizing three key ranking factors: Proximity, Relevance, and Prominence. As long as small business owners have a website and complete their business profile, their website can appear on Google Maps when customers search in their vicinity. It primarily depends on proximity and relevance, without requiring advanced SEO tactics.
Given this, it's not recommended to pursue Chad Kimball's course, as there are better alternatives available, which will be discussed later in the article.
Is There A Better Way to Make Money Online?
If you want to make a full-time passive income, I'd suggest you to start an affiliate marketing business online.
In affiliate marketing, you can run your business almost at zero cost without any trouble from sourcing products or managing inventory.
Also, since you don't need to spend hours after hours selling things over the phone, it can save you a lot of time.
If you want to learn affiliate marketing, I'd recommend you to get started with the most reputable platform for affiliate marketing: Wealthy Affiliate.
Wealthy Affiliate is an all-in-one platform for building your affiliate marketing business from scratch. It offers you a free account (including a free website) with comprehensive training on SEO (free traffic methods), which enables you to get started with affiliate marketing right away without paying a penny.
But How Much Can You Earn with Wealthy Affiliate?
A 21-year old student from Wealthy Affiliate was able to earn $7,395 in just 1 week, which means he made more than $1k a day…all while using free traffic methods.
For more information, you can check out our full review of Wealthy Affiliate.