If you're a local business owner, you might have heard about Chad Kimball's Google Map course.
On the sales page, Chad Kimball claims that his SEO strategies can help local businesses get more traffic from Google Maps.
The business model is known as local lead generation. There are many gurus teaching the same thing. So is Chad Kimball the best choice?
As an Internet entrepreneur, I'm interested in online marketing business opportunities. I have joined many digital programs over the years and have written many reviews of online courses.
As a disclaimer, I'm not affiliated with Chad Kimball, so you can be sure that my words are unbiased.
At the end of this review, I'll also tell you a better alternative that has enabled me to use Google to make a full-time income.
In this Chad Kimball review, here's what I'm going to cover.
Who is Chad Kimball?
Chad Kimball is a digital online marketer best know for his Google Maps business model which generates leads for local businesses. He specializes in SEO and is highly recognized as a thought leader in this field for his knowledge and experience.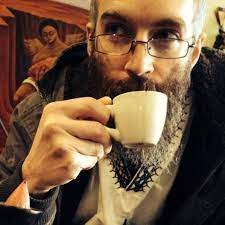 Chad Kimball has been self-employed as the owner of a web-based business since 1999. He was forced to quit his job because there were too many problems in the office.
In 2011, Chad founded his online marketing agency that helps local small businesses find more customers.
Kimball claims that a Google Maps Advertising marketing model he devised and implemented for The Arbor Academy generated more than $2 million in revenue in 2020.
That's what Chad really liked about it – no big players are seeing it in their marketing strategy.
Thus, smaller companies, startups, and entrepreneurs are able to swoop in and increase profits.
Chad Kimball is active on social media to promote his digital programs. At the time of writing, he has around 8K followers on Facebook. He also owns a YouTube channel that has around 2K subscribers.
I've watched his Youtube videos but most are just pitching you to join his course.
Recommendation: Here's The Best Alternative
Chad Kimball's Local AutoPilot (Arbor Academy) Review
Chad Kimball's Google Maps course is available for $997 at his training platform, Local AutoPilot. According to a Quora post, the course costs $6,800, which means there are different price tiers.
Local AutoPilot is a Chicago, Illinois-based company previously known as The Arbor Academy, Easy Local Cash, and the Google Maps Elite program. This is a warning sign as most scammers tend to change their course name after receiving too many complaints and bad reviews.
The course teaches you how to identify businesses that are a good match, how to write listings, how to create a pricing structure, how to automate your business, and how to optimize your listings for local search terms.
All with the goal of sending leads to a local business owner and getting paid on autopilot every month. This course is updated regularly and Chad stays active in the private community where he holds live coaching calls to support his students.
What is Arbor Academy?
This course will show you how to use the Google Local Ranking Algorithm to get listed on the first page of Google Maps and then rent it out to local businesses.
To put it another way, you want these small stores to pay you to market their businesses.
Here is a nine-step example to see this in action:
The online tool asks you for a search term, which you then enter the term "electrician" and the site address. There is a consistent monthly search volume for "electrician near me" that suggests a need for local electrician services.

To review the most recent results, perform another search on Google. Searching for "electrician" in your local Yellow Pages should yield results. All of this can be summed up in that one sentence! Your next step is to approach unadvertised electrical contractors in your area and convince them to hire you.

There are many electrical companies in the area, but not all of them were started by the actual owners. That's why Arbor Academy's courses teach you how to create a Google My Business page for a local business that is not currently prominently featured on the search engine results page.

You start from scratch and create a page that is specific to the business. It is possible to earn a commission on each sale if a specific payment rate is agreed upon.

You could act as an intermediary in this situation. Your digital marketing agency can help you connect with businesses in your area that don't show up in Google Maps' top results. After you've shown the local business how many customers you've been able to attract through your planning efforts, you can negotiate with them for the remaining fixed fee.

Let's assume you're ready to get to work. If that's the case, you've the potential to serve as a traffic generator for a variety of unpublished businesses in different parts of the world.

The advantage of this approach goes far beyond the keyword "electrician," as it can be used for a wide range of keywords for many different types of businesses. Take the terms "car rental," "lawyers," "plumbers," and "roofers" as examples. There are quite a few offline businesses that specialize specifically in these keywords.

Explore the possibility of discovering offline businesses in your area. Let's say you're interested in a career as a search engine results page (SERP) marketer. In this case, you can approach the non-advertised companies in your area and talk to them about a fee. You'll learn how to direct paying customers to the service or merchandise they need.

The search should continue for local businesses that need an online presence to increase their sales. By bridging the gap between them and the services they need, you're doing them a tremendous service.
Recommendation: Here's The Best Alternative
What's Inside Chad Kimball's Google Maps Course?
This training is comprehensive and covers every facet of the Google Maps app revenue model.
An online video course series, "Google Maps Elite," teaches users how to get the most out of Google Maps.
Some examples of the type of video tutorials found in the archives of the private Facebook group are listed below.
Intro and Overview

The Google Local Ranking Algorithm

White Hat Techniques

Website Authority and The Local Algorithm

Backlinking Resources

Creating Content

Local Keyword Research

Why Keywords Do / Do Not Return Local Results

Category Keywords

Problems? Try Phone Support!

Google's Local Pack

Local Knowledge Panel Changes

Local Prospecting With Mechanical Turk

Keep Multiple Locations Safe

Ranking Outside Your Locale

Create and Optimize Your GMB

Pidgeon Update

Google My Business Guidelines

Local VS Brand Pages

How To Set Up Your Business Page

White Hat Reviews

Basic Places Page Optimization

The Importance of Reviews

GMB Posts

Make Starts Appear In Google

Listing Attributes

Show Social Media Icons

Changing Bad Review Snippets

Reinstating a Disabled Local Listing

Google Trusted Photographer

Add Local Structured Data to your Website

Courting Authority Reviewers

Citations: What, Why, & How

Listings On Local Websites

White Hat Backlinks

Facebook Pages

Citations Using Image Sharing Websites

Imitate Competitor Citations

Wikipedia Citations

Sponsorship and Testimonial Citations

Using Your Building/Home/Office to Get Additional Citations

Whitespark and Get Listed Citation Tools

Local Guides Program

Secret Local Guides Levels

How to Moderate Your Own Maps

Edits Through Local Guides

Major Local Guides Points Update

Choosing Addresses

Obtaining Phone Numbers

Scrape Box

Press Releases

Yelp Ranking Algorithm

Selling Leads

Important Information: Google and Service Area Businesses/ LeadGen

Direct Mail Prospecting Method

Optimize For Local Keywords

Software
Recommendation: Here's The Best Alternative
Why Easy Local Cash Using Advanced GMB Techniques Doesn't Work?
Chad Kimball's Easy Local Cash course claims to teach you everything to achieve a high ranking on Google Maps and drive leads to local businesses.
There are millions of non-optimized customer listings on Google. With a few tweaks, you might spice up a customer's listing and see their phone ring.
If you sell leads, Google Maps can bring small companies more visitors and calls than regular organic search.
In other words, you'll be learning from Chad Kimball how to rank and rent Google Business Profiles.
The idea is to generate leads for local businesses by ranking websites on Google Maps of search results.
By doing so, you can get leads "on tap" without spending additional time or money on ads (like you do with SEO clients) or improving someone else's website.
However, this is just a scam. In reality, it is impossible for a non-local business website to rank on Google Maps.
Because the businesses that appear on Google 3-Pack are location-specific, you cannot optimize specifically for Google 3-Pack. In other words, the local SEO results vary depending on where the searcher is.
To get approval for a place on Google Maps, you need to provide the correct information such as phone number, website, opening hours, and the correct location of the business profile.
Google will then send you a mail containing a verification code to your local business address.
As long as a local business has a website and makes sure its Google Business profile is filled out and up to date, it can rank on Google Maps.
Local business owners do not need help from agencies to rank on Google Maps.
Recommendation: Here's The Best Alternative
Pros and Cons of Chad Kimball's Course
Pros
Since the early 2000s, Chad seems to have made some money with Google maps

Within his coaching program, he holds weekly live coaching calls
The lead generation community knows Chad Kimball well
Cons
Student success stories are rare and far between.

The price of Chad's course is not transparent

As Chad and his team keep changing the name of their platform (The Arbor Academy, Google Maps Elite, Local AutoPilot), some people may wonder if they're up to anything.
Chad Kimball Negative Reviews
Here is a negative review I found on Reddit.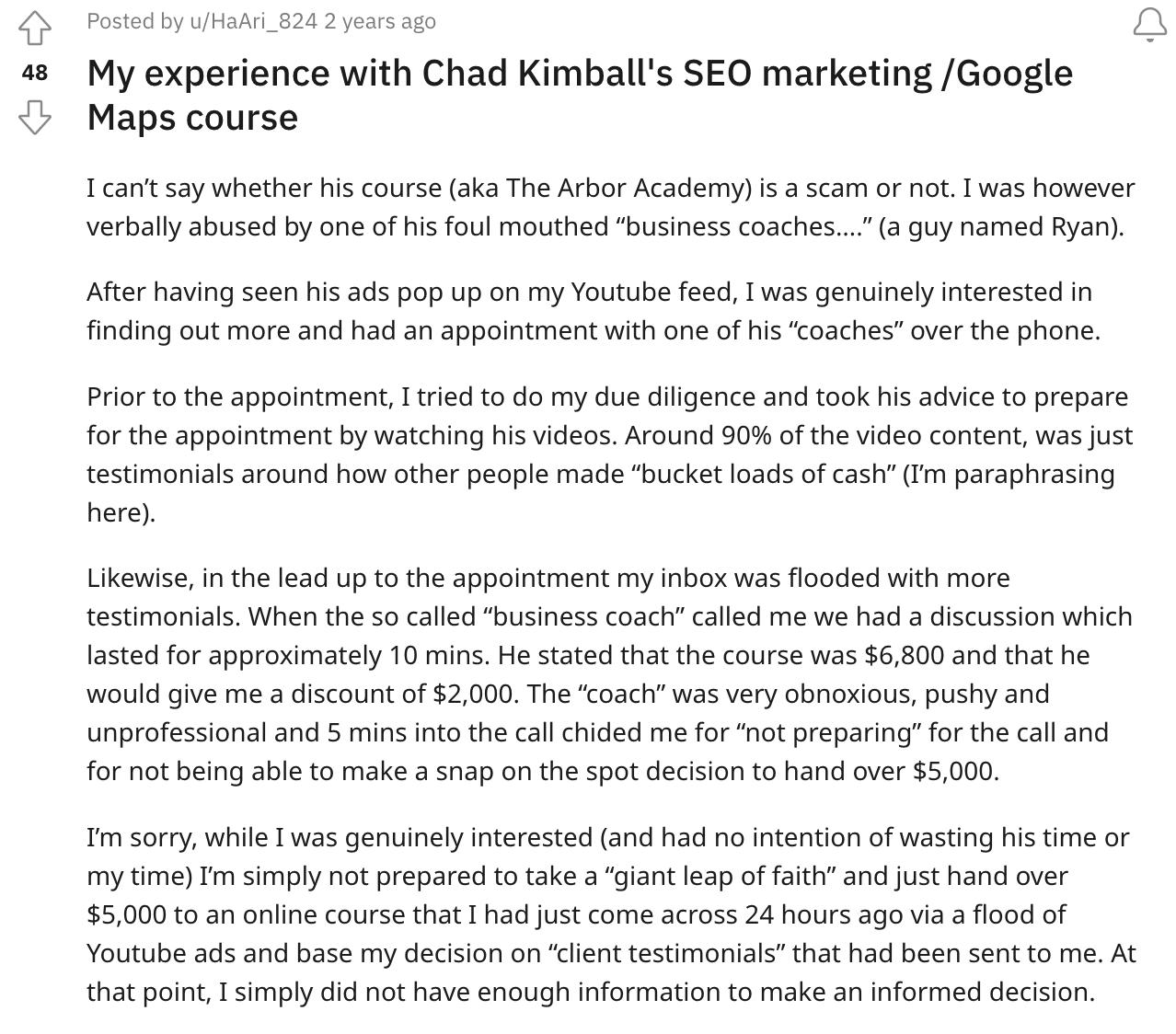 The first call he made to one of Chad's coaches was a disaster for him. The trainer was hostile, aggressive, and condescending. Another confusing aspect of the pricing of the course is that they say it costs about $5,000. This could indicate that there are actually different price levels.
One Reddit user confirmed to another that Chad teaches unethical strategies to improve a company's position on Google Maps. This likely refers to unethical SEO (search engine optimization) practices.
Recommendation: Here's The Best Alternative
The Arbor Academy Pricing
This is an expensive program. Before you schedule your breakout coaching session, make sure you have given it your all.
Breakout coaching calls can be done via Skype or Zoom if you are outside of North America.
For a one-time payment, you will receive an unlimited, permanent membership to Arbor Academy.
The total cost to use all Arbor Academy resources is about $1,000.
This is undoubtedly a tremendous amount of money. However, you should be able to negotiate a lower fee with your advertising agency.
Is Chad Kimball a Scam or Legit?
Chad Kimball is not a scam. He is a legit guru who is knowledgeable about local lead generation.
Chad Kimbal said he can teach you some useful skills to rank your site in the Google Maps 3 Pack.
Google's 3-Pack is how it displays the top results for a local business search. It includes three local businesses that Google considers to be sufficiently relevant, well-known, and close to the user. The results include a map of the three results and the three Google Business Profile listings.
But the problem is whether you can make money after joining the course. Can you get back what you paid for the course?
As mentioned earlier, it is impossible to create a non-local business website in order to place it on Google Maps and rent it out to local business owners. This is a complete scam.
In December 2021, Google 3-Pack received another major update. Google described the update as a rebalancing of the three most important ranking factors for 3-Pack results: Proximity, Relevance, and Prominence.
As long as the small business owner has a website and fills out the business profile, their website can show up on Google Maps when customers approach their business. It's all about proximity and relevance. They don't have to know any SEO tactics.
Therefore, I wouldn't recommend Chad Kimball's course as there are better alternatives that I will cover in the later section.
Chad Kimball Review: Final Verdict
If you are currently unemployed, in financial hardship, or looking for a new opportunity, I don't recommend Arbor Academy program to make money.
As mentioned, this business model sounds great but doesn't work in reality.
If you really want to make passive income online, I can tell you a better alternative in the next section.
Best Alternative to Chad Kimball's Course to Make Passive Income
If you don't want to waste your money on Chad Kimball's course, you might consider Wealthy Affiliate. You can learn everything about SEO in Wealthy Affiliate, not limited to Google Maps listing.
Moreover, if you are just doing a marketing agent for a local business, you can learn a new business model to make more money, which is called "affiliate marketing.
Wealthy Affiliate is my #1 recommended training platform of affiliate marketing, which allows you to build a website and get access to comprehensive training.
But How Much Can You Earn in Affiliate Marketing?

A 21-year old student from Wealthy Affiliate was able to earn $7,395 in just 1 week, which means he made more than $1k a day…all while using free traffic methods, i.e. SEO.

Wealthy Affiliate has existed for 15 years and there are many success stories over the years.

To give you more examples, here are some of the other inspiring success stories of Wealthy Affiliate members.

Where to Join Wealthy Affiliate?
Wealthy Affiliate has a very simple pricing scheme. It has free and premium membership.

If you want to feel about Wealthy Affiliate, you can sign up for the starter membership here (no credit card required). You can select to be a free member with no time limit.

And as a starter member, you can get instant access to the community, live chat, over 500 training modules, 2 classrooms, networking, commenting, 1 free website, access to the keyword tool.

You can enjoy all these values without paying a penny.

So I strongly recommend you to register a free account and see it yourself.