Are you looking for an Affilorama review? If you want to make money online, you might have heard of Affilorama. But you may wonder if it is a scam.
As someone who is experienced with affiliate marketing, I'm in a good position to share with you everything I know about Affilorama.
As a disclaimer, I'm not affiliated with Affilorama. It means I'm not paid to write this review. So you can be sure that my words are unbiased.
At the end of this review, I'll also tell you a better alternative that has enabled me to make a full-time passive income online.
Affilorama Review – Key Takeaways
Course Name:

Affilorama

Course Instructors:

Mark Ling & Simon Slade

Price:

Free for the basic membership; $1 for the premium membership

Pros:

Quite decent free/cheap training

;

60-day money-back guarantee.

Cons:

Course content is relatively outdated; questionable testimonials; lack of practical examples

Overall Rating:

2/5

Verdict:

Affilorama's training and tools are outdated. The chances of their students building a successful affiliate marketing business are slim.
In this Affilorama review, I'm going to cover the following.
What is Affilorama?
Affilorama is a company started by a guy named Mark Ling back in 2005/2006. They're based in New Zealand and they've got all kinds of tools and training courses for people who want to get into affiliate marketing.
And the best part? You can join for free! They've got a ton of resources for both newbies and experts, like blog posts, articles, and video tutorials.
With the tools Mark's created, it's totally possible to earn a passive income from scratch.
Right now, Affilorama's got a huge community of over 900,000 people and affiliate marketing is only getting more popular, so it's definitely worth checking out.
Plus, they say that more than 60 people sign up for the free training every day! If you end up loving the Affilorama network, there are also some upsells you can take advantage of.
Learn more: Best Affiliate Marketing Courses
Recommendation: Here's The Best Alternative
Who created Affilorama?
Affilorama was created by two dudes from New Zealand, Mark Ling, and Simon Slade.
Mark Ling
Mark is kind of a mystery, there's not much info about him online. He does have a Twitter, but it hasn't been updated since 2015.
But apparently, he's been making money online since 1999.
Simon Slade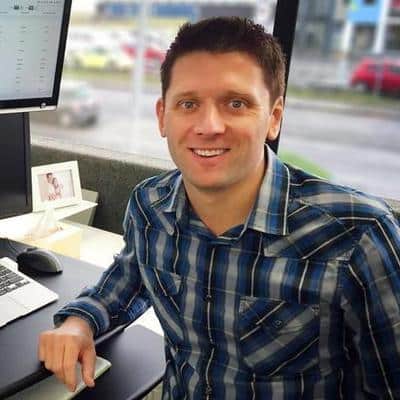 Simon is the other co-founder of Affilorama and he's also a bit of a mystery.
He has a Twitter but it hasn't been updated since January 2018.
From his website and LinkedIn, you can see that Simon is involved in a bunch of companies like Affilorama, SaleHoo, Smtp2Go, and SwiftMed.
All of these companies have amazing reviews on TrustPilot, like seriously good reviews, over 99% were excellent. But it's strange because it's unusual to see so many good reviews on Trustpilot.
Simon has also been featured in a bunch of publications like Success.com, GoDaddy, NZ Business, and Inc.
You can find a full list of Simon's media appearances on Affilorama's website.
But you won't hear much from Simon within Affilorama, Mark and the staff are the ones creating the bulk of the content.
Recommendation: Here's The Best Alternative
How does Affilorama help you make money?
Affilorama doesn't directly help you earn money. It only offers affiliate marketing courses that teach you how to make money with affiliate marketing, along with some tools and software.
Through detailed instruction and hands-on practice, you will learn to build an affiliate website that targets some specific keywords, drive targeted traffic to your site, and convert that traffic into lucrative affiliate sales.
Learn more:
What's inside Affilorama?
As of the time of this review, the site offered five packages, including its much-discussed Free Membership.
In the AffiloBlueprint package, Affilotheme, a premium WordPress theme, has been absorbed into the AffiloBlueprint package.
Free Membership
When you sign up, you get instant access to the following:
The Affiliate Marketing Quick Start Guide: Discover the basics of affiliate marketing and avoid the traps you'll need to watch out for.

Roadmap to Success: It might help you to understand affiliate marketing with this downloadable roadmap. It's in infographic form, so it's easier to digest.

Video Lessons:

There are more than 120 video lessons that explain how to build your affiliate marketing business.
The total amount of free content is over 20 hours.
It's great to get lots of free information, but I'm surprised by how out-of-date a lot of it seems. What you pay for is what you get.
Affilorama Premium
This membership might be considered Affilorama's flagship product. It costs $67 a month after a free 30-day trial.
You can see that there is a 60-day money-back guarantee.
Affilorama Premium includes, among other things, the following:
Detailed monthly web magazine covering affiliate marketing topics. This information may be useful for marketers who choose a niche and stick to it.

Learn from webinars and interviews with successful affiliate marketers.

Web hosting for 15 domains.

AffiloTools

30 premium quality articles a month

2GB Disk Space

75GB monthly traffic bandwidth

10 FTP Accounts and 10 MySQL Databases.
Affilotools
AffiloTools is a standalone product that can help you boost your search engine ranking in addition to being part of your Premium Membership.
It is not recommended to use AffiloTools unless you are a very experienced marketer who already has a website up and running.
AffiloTools can connect to a Google Analytics account and provide the following information:
Rankings for each keyword

Ranks on various search engines and regions

Earnings from ClickBank

Check the number of retweets and likes you receive on Twitter and Facebook.

Check the number of indexed pages.

Find out how your competitors are performing in key areas.
There are four options from the free 'Basic' account to the $97 'Gold' package.
AffiloJetpack
A Jetpack option can "easily earn you an income on autopilot" according to the site. It costs $997 upfront. Mark Ling offers two guarantees:
60-day money-back guarantee.

An extra $100 refund if you do not make any money in 60 days using Ling's Jetpack instructions.
Jetpack provides a variety of tools, including:
Create hundreds of blog posts and unique articles quickly and easily with these content creation cheat sheets.

AffiloTheme and free hosting setup for a WordPress website.

Free reports for increasing email opt-in rates.

Email templates

eBook Graphics
In addition, Ling offers users the opportunity to choose five websites from five niche categories.
Ling may say that Jetpack makes it easier to run a business, but it still takes a lot of effort. Despite being a good tool, it isn't the 'magic bullet' Ling claims.
Affiloblueprint
This blueprint should be used to build 'foolproof' affiliate marketing websites.
The product is backed by a refund policy of 60 days. The $197 fee gives you lifetime access to hundreds of videos on creating, writing excellent content, and ensuring your site ranks well.
Recommendation: Here's The Best Alternative
Praise for Affilorama
1. A quick beginner guide to affiliate marketing
Affilorama has this free training thing going on and one of the standout features is this PDF guide called "Quick Start Guide To Affiliate Marketing." You can grab it as soon as you sign up for a free account.
I have to say, even though it's not perfect, I think it's a pretty solid intro to affiliate marketing. I'd definitely recommend it to friends or family who are curious about the topic and just want a quick rundown. It covers all the important stuff without all the fluff and hype.
If I'm being honest, Affilorama's free training would be way better if they just focused on this PDF guide and got rid of everything else. Just sayin'.
2. A variety of options
Another plus with Affilorama's free training is that they don't try to force you to buy certain affiliate products or services.
Instead, they just give you some options to choose from and don't include any affiliate links.
Even better, they often mention other tools that you can use instead of theirs. For example, they once said that a free keyword tool called Ubersuggest was better than their own freemium tool.
After taking other affiliate marketing courses where you were only given one recommendation, it's refreshing to see that Affilorama is more unbiased.
Criticism of Affilorama
1 The course content is outdated
Most of the issues with Affilorama's free training have to do with the fact that it's outdated.
You will find that many of the videos were recorded as far back as 2008 if you look at the source code for Affilorama's free training materials.
From 2006-2014, a lot of the lessons and recommendations they offered may have been effective, but they are unlikely to work now. In fact, you could damage your site by following Affilorama's free training.
In the lesson on "how to build a website," Adobe Dreamweaver & HTML are suggested.
Though this method may have been great in 2005, WordPress has proven to be a better choice in 2020.
The WordPress plugins and themes make your website more user-friendly and faster, as well as easier to design.
Taking this one piece of terrible advice could waste months of your time.
If you check the source code for the free Affilorama lessons, you'll find that many of the videos were recorded back in 2008.
2. Expensive upsells
The free training available on Affilorama is outdated. That's all you get if you choose not to buy the upsell.
However, if you want to start an affiliate site, you will need web hosting, keyword research tools, and other software or plugins to add the necessary functionality to your website.
At the end of the day, you will be urged to buy these upsells:
Upsell 1. Pathway to Passive- $37

Upsell 2. AffiloTheme- $97

Upsell 3. AffiloBlueprint- $199 Total

Upsell 4. AffiloTools- $17-$97 per month

Upsell 5. AffiloJetpack- $997
Using Affilorama to build an affiliate site from scratch would be so expensive if all these upsells were added.
In contrast, a better alternative that I will talk about later is much cheaper. You will get comprehensive training, domain registration, web hosting, writing tools, etc with a low subscription fee (the first month is just $19!)
It's much cheaper and easier to get started when compared with Affilorama.
3. Lack of practical examples
The Affilorama free training is mostly a bunch of theory with very few practical examples. It's more like a list of things to keep in mind than a step-by-step guide to affiliate marketing.
For example, in the lesson on Writing Product Reviews, you'd expect to see some really great examples of product reviews.
But all you get is a few small screenshots and one old link to a basic review on their website.
Also, there are no detailed case studies or data to back up the claims and recommendations in the Affilorama training.
Like, they have this 8-step process for making money online: create a website, get people to subscribe, connect it to an autoresponder, etc.
But how do we know it actually works? Are there any real-world examples or proof of this process being successful? Nope, nothing like that.
4. Insufficient community support
If you join Affilorama's course, there is a forum. However, most of the time, the members aren't helpful and your questions will be ignored and remain unresolved. You may feel helpless especially if you are just a beginner.
In the paid area inside Affilorama, you can see some questions taking days to answer, even months.
There's sometimes a little question you will need answering straight away and a good support network is crucial for this.
However, Mark Ling is no longer active in the community or inside Affilorama.
5. Too much emphasis on Clickbank
Affilorama's free training focuses a lot on ClickBank, which is a marketplace that's been around for a while but has a bit of a controversial reputation.
They even have a lesson on how to choose an affiliate program that mainly talks about ClickBank. But here's the thing – it looks like ClickBank is on the decline.
A lot of the products on there are questionable at best and some have even been called scams. While Affilorama does mention other affiliate programs and marketplaces, it kind of gives off the vibe that ClickBank is the best choice.
And it's not just Affilorama's free training – another resource called Pathway To Passive also primarily recommends using ClickBank.
6. Some training has no videos
Affilorama's free training may not be the best, but it does offer a ton of videos to help explain concepts and guide you through everything.
On the flip side, Pathway To Passive doesn't have any video training.
While some of the teachings in Pathway To Passive work well as text and screenshots, a few of them would definitely be better in video format.
For instance, the lesson on keyword research is a whopping 2,700 words long and comes with eight screenshots.
A short 10-minute video walking people through the keyword research process would have been way more helpful.
7. Obsolete tools
The tools offered by Affilorama are largely obsolete and of no use.
Let's use AffiloTools as an example. It is a tool that's supposed to help you with your backlink analysis. But, unfortunately, it might not be the best option out there.
I recently checked out affilorama.com's backlinks using AffiloTools and it only showed me around 1,050 links. But when I checked with other tools like Ubersuggest and Ahrefs, they showed way more – like 300,000 links from over 5,000 different domains.
And that's not all, the free version of AffiloTools has some limitations too. You can only run one backlink report per day, and it doesn't show you the full picture of your backlinks.
Plus, their Rankings Checker isn't that great either – it only updates once a month.
On the other hand, Ubersuggest offers a free version that lets you check any website's search ranks and track up to 25 keywords.
So if you're looking for a more comprehensive backlink analysis, you might want to skip AffiloTools and give Ubersuggest a try.
Also, it's worth noting that AffiloTools hasn't changed much since 2013 and it's still classified as "beta" software.
Looks like Affilorama might have launched it around that time and hasn't done much to improve it since.
8. Questionable success stories
From what I've seen, it doesn't seem like their students have had much success. And, get this, some of the "success stories" they have on their website may not even be real people.
I did some digging and out of the 19 students I looked into, 7 of them couldn't be verified as actual people. Even some of the ones with unique names couldn't be found anywhere else online. Kinda sketchy, right?
Recommendation: Here's The Best Alternative
Are students getting results?
I've seen that Affilorama is getting a lot of sign-ups every day, with around 60 people creating a free account. But from what I've seen, it doesn't seem like the program is actually producing successful students.
Now, I know there are a ton of great reviews for Affilorama out there on TrustPilot and Facebook.
But here's the thing, most of those reviews are pretty generic and don't really give any information about actual results people have achieved.
For example, this customer Rajesh S only said that Affilorama is informative:
I'm not saying that the reviews for Affilorama are fake or anything, but they don't really make me confident that the program is actually helping people make money through affiliate marketing.
Overall, it makes me a bit skeptical about the program's effectiveness.
How much does Affilorama cost?
Here are the pricing options for Affilorama:
Free Membership: it's totally free, with no monthly fee

Premium Membership: costs $67 per month

AffiloTheme: one-time payment of $97 (not recommended though)

AffiloBlueprint: one-time payment of $197 (also not recommended)

AffiloJetpack: one-time payment of $497 (yep, not recommended either)
Refund Policy
From what I've found, it looks like Affilorama is pretty good about giving refunds. In fact, they even advertise a 60-day money-back guarantee on all their products.
And from what I can tell, they actually follow through with that guarantee – I haven't seen any complaints about people having trouble getting their money back.
Is Affilorama a scam or legit?
Affilorama isn't a scam, but it's not exactly a shining star in the world of affiliate marketing either. The course does offer some value, and you can definitely learn about affiliate marketing if you buy it. However, the tools and training aren't all that useful.
It seems like the co-founders, Mark Ling and Simon Slade, don't really care about Affilorama anymore.
The training hasn't been updated in ages, the forums are a ghost town, and it's hard to find any success stories from students. It's safe to say that Affilorama has been abandoned.
If you're looking to learn about affiliate marketing, you might be better off looking for a more current and active course.
Back in 2014, Affilorama might have been a decent choice, but now it's not really worth your time or money.
Is there a better alternative to Affilorama?
So what's the best alternative to Affilorama? My #1 recommended platform is called Wealthy Affiliate.
Wealthy Affiliate is an all-in-one platform for building your affiliate marketing business from scratch.
When you join Wealthy Affiliate, you can get access to the first-class web hosting service, keyword research tools, community support, comprehensive training, writing tools, and other software to help you build an online business step-by-step.
You can register a free account with Wealthy Affiliate, which enables you to get started with affiliate marketing right away without paying a penny.
If you like the platform, you can then upgrade to the premium membership to get access to everything on the platform. There are no upsells afterward.
But How Much Can You Earn with Wealthy Affiliate?
A 21-year-old student from Wealthy Affiliate was able to earn $7,395 in just 1 week, which means he made more than $1k a day…all while applying what is taught inside Wealthy Affiliate.
Compared with Affilorama, Wealthy Affiliate has a much longer history, which has been established for 15 years and there are many success stories in the past decade.
Actually, Wealthy Affiliate has more than a million members so far, so you can see how popular this platform is.
To give you more examples, here are some of the other inspiring success stories of Wealthy Affiliate members.
If you don't trust my words, you can go to Trustpilot to see what the members have to say: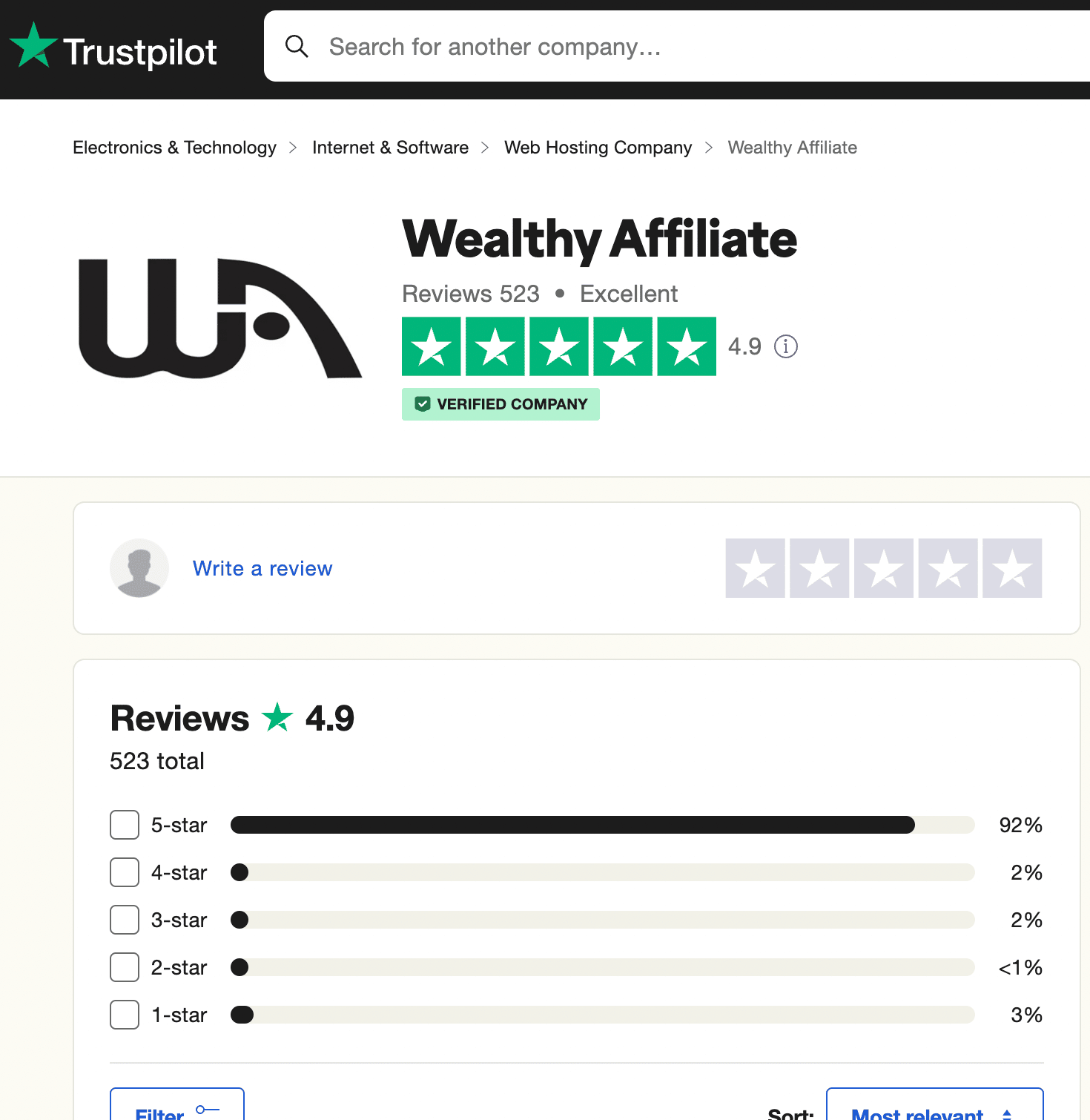 At the time of writing, Wealthy Affiliate is rated 4.9 out of 5, which is excellent. It's incredible to get such a high rating with more than 400 reviews.
If there are only two or three good reviews, you may say they are fake reviews. But you cannot fake it when there are more than 400 reviews there.
Remember, Trustpilot has a very intelligent system to detect fake reviews.
Where to Join Wealthy Affiliate?
Wealthy Affiliate has a very simple pricing scheme. It has a free and premium membership. The premium membership only costs $49/month or $395/year.
If you want to feel about Wealthy Affiliate, you can sign up for the free starter membership here (no credit card required). You can select to be a free member with no time limit.
And as a starter member, you can get instant access to the community, live chat, over 500 training modules, 2 classrooms, networking, commenting, 1 free website, and access to the keyword tool.
You can enjoy all these values without paying a penny.
So I strongly recommend you register a free account and see it yourself.