If you're looking to make money online, you've probably heard of ClickFunnels. And if you've heard of ClickFunnels, you've probably heard of Spencer Mecham. His success with the platform has made him a household name in the world of affiliate marketing.
Affiliate Secrets 3.0 is Mecham's flagship course, promising to teach you how to promote other people's products using ClickFunnels. But with so many scams and shady courses out there, it's natural to wonder: is Affiliate Secrets legit?
As someone who's been around the online marketing block a few times, I'm here to give you an honest, no-holds-barred review of Affiliate Secrets 3.0.
By the end of this article, you'll know whether it's worth your time and money.
Affiliate Secrets 3.0 Review – Key Takeaways
About

: A top-notch course for affiliate marketing

Website: https://go.buildapreneur.com/
Special Offer

:

Get A Special Offer Here
Creator

: Spencer Mecham

Overall Rank

: 4/5

Pros: Comprehensive course content; valuable resources; evergreen strategies
Cons: Expensive; no free trial; results take time
Verdict

: This course provides all the necessary information for building a thriving affiliate marketing business, making it an all-inclusive guide.
In this Affiliate Secrets review, I'm going to cover the following topics.
What is Affiliate Secrets Course?
Affiliate Secrets 3.0 is a complete affiliate marketing course offered by Spencer Mecham.
Throughout the course, you'll get to see real-life examples based on Mecham's own portfolio of affiliate businesses. With the recent release of Affiliate Secrets 3.0, there are some notable differences from the previous version.
Mecham has updated all of the lessons to make sure the advice is as current as possible, while also using new traffic sources like Facebook groups, Tik Tok, and blogging to get results. Traffic sources that were removed from the 2.0 version include solo ads, Pinterest, Instagram, and Quora.
The course is split into two parts: core training content and generating traffic. The generating traffic section is now more comprehensive than in the old 2.0 version. If you have previously purchased Affiliate Secrets 2.0, you can still access it through your Thinkific account.
Ready to learn more about Affiliate Secrets 3.0? Check out the course to gain valuable insights and strategies for your affiliate business.
Also, don't miss the opportunity to watch Spencer Mecham being interviewed by ClickFunnels for becoming one of the Top ClickFunnels affiliates in the world:
Get A Special Offer And Instant Access Here
Who is Spencer Mecham?
Spencer Mecham is one of the most successful affiliate marketers out there, and what sets him apart from the rest is that he actually practices what he preaches. He's not just some guru who talks the talk, but he walks the walk too.
Spencer's success in online entrepreneurship is a result of his ability to acquire all the skills needed to achieve his goals. His affiliate marketing business is booming, with ClickFunnels affiliate commissions being the fastest-growing part of it. He even holds the record for being the first affiliate to reach the million-dollar commission mark and become a member of the ClickFunnels 2 Comma Club.
But ClickFunnels is not the only program he's had success with. He's also an affiliate with Legendary Marketer, won the BuilderAll Dream Car, and has done well with several other affiliate programs.
What's impressive is that Spencer achieved all of this in less than three years. However, being successful at affiliate marketing is one thing, but being able to teach it to others is another. So, is Spencer Mecham a good teacher?
The answer is a resounding yes! Since launching his course, Affiliate Secrets, Spencer has helped more than ten ClickFunnels Dream Car winners qualify, with many of them crediting him for their success. And the best part? Spencer is a genuinely nice and humble person.
He's been through his fair share of rough times, but as he puts it, he's just an ordinary guy who spent the best part of his life learning all the things he knows.
Now, he's a successful entrepreneur who earns seven figures every year.
How does Affiliate Secrets 3.0 help you make money?
This course focuses on promoting other people's products or services to earn a commission.
The process can be broken down into four steps:
Decide on a niche for your business: This will help you identify your target audience and the products or services to promote.
Build your website or funnel: Showcase the products or services you're promoting and provide valuable content to attract potential customers.
Drive traffic to your website: This can be done through social media, SEO, or paid advertising.
Make money from referrals: Earn a commission as customers click on your affiliate links and make purchases.
With the comprehensive training provided by Affiliate Secrets, you can learn all the essential aspects of affiliate marketing in an easy-to-understand manner.
How is the training structured?
Part 1: Affiliate Secrets (Core Training)
Here's part one of Affiliate Secrets 3.0 on setting up an affiliate business.
We'll go through the process step-by-step, starting with selecting a niche, deciding on which products to promote, and building an email list to send promotional messages.
To give you an idea of what to expect, here's a breakdown of each module:
Module 1: Niche
Choosing the right niche is crucial to the success of your affiliate business. In this module, Spencer explains how to research and select a profitable niche, as well as how to capitalize on subniches and position yourself as an authority in your industry.
Lessons included in this module:
Choosing a good niche
Module 2: Products
Once you have your niche in mind, it's time to select the products you want to promote. Spencer emphasizes the importance of carefully choosing products and maintaining trust with your audience. He also shares his strategies for promoting high-ticket, recurring products to maximize profits.
Lessons included in this module:
How to pick products
Module 3: Lead Magnets
In Affiliate Secrets 3.0, building a website isn't a requirement. Instead, Spencer teaches you how to build a long-term email list of subscribers and the value of using emails in your marketing strategy. This module focuses on creating lead magnets that provide value upfront and incentivize people to subscribe to your email list.
Lessons included in this module:
What makes a good lead magnet?
Designing and delivering your lead magnet
Module 4: Landing Pages
A landing page is the first step in the marketing process and is crucial to promoting your lead magnet and building your email list. In this module, Spencer provides an in-depth look at landing pages, including recommendations for landing page builders and split-testing strategies.
Lessons included in this module:
Builders
What makes a good landing page?
Intro to bridge pages
Split-testing and popups
Building bridge pages
Module 5: Email Marketing
Email marketing is one of the crucial components of online marketing, and this module focuses on how to improve your email marketing strategy to boost your sales. Spencer Mecham, a highly successful affiliate marketer, shares his experience in designing an email campaign on Clickfunnels that made him well over five figures.
In this comprehensive module, you will learn how to effectively nurture your email list, keep your subscribers engaged, and use modern email marketing platforms to automate everything from start to finish. With lessons ranging from capturing emails to creating soap opera sequences, you'll be able to design emails that convert.
Lessons included in this module:
Intro to email marketing
Setting up Gsuite
Email marketing terms
Capturing emails
Building email automations
Soap opera sequences
Shotgun sequences
Anatomy of an affiliate sequence
Email examples part 1
Email examples part 2
+6 more lessons
Module 6: Bonuses
Bonuses are a great way to incentivize customers to use your affiliate links instead of your competitors'. This module takes you through all the steps involved in creating bonuses, including what kinds of products they are best designed to promote, what types of bonuses to create, and where to advertise them.
By creating a sense of urgency through time-limited bonuses and adding additional value to an offer, you can increase your sales and stand out from other affiliates.
Lessons included in this module:
When to use bonuses
Best kinds of bonuses
Bonuses landing pages
Module 7: JV Launches
Joint ventures between vendors and affiliates can benefit both parties and are especially useful during product launches. This module discusses how to identify and take part in profitable joint ventures, as well as the ethical considerations involved.
Spencer shares his experience with a failed joint venture and offers tips on avoiding the same pitfalls. You'll learn how to promote products that will benefit your audience and how to research the people you'll be working with.
Lessons included in this module:
JV launches
Launches big picture
Pre-launch
Live-day/post-launch
Module 8: Pro Tip/Access
This module is optional, but it covers a topic rarely discussed in affiliate marketing courses: giving your audience direct access to you. Spencer explains how providing access is a great way to build a connection and increase your affiliate sales.
You'll learn how to choose the right channels to use and manage your time to get the most out of this approach.
Lessons included in this module:
Pro tip/access
Module 9: Adwords
The final module covers how to make money using paid advertisements through Google. While this can be a straightforward method of making money, Spencer warns that it's not for the faint of heart.
You'll learn how to find the right affiliate program, run auctions, and select keywords. The module also includes an insider's look at advanced tactics for maximizing your return on ad spend.
Lessons included in this module:
Overview
Finding programs
Auction
Keywords
Campaigns and ad groups
On screen demo
Callouts and extensions
Advanced techniques part 1
Advanced techniques part 2
Reports
Important info
Part 2: Affiliate Secrets (Traffic Edition)
This is the second part of the Affiliate Secrets 3.0 training course! In case you missed the first part, it laid the groundwork for building the assets needed for a successful affiliate business.
Now, let's dive into the nitty-gritty of this second part. Here, you'll explore the various platforms available to drive traffic to your assets, ultimately leading to increased sales and leads.
With each module, we'll delve into the specifics, so you can get a better understanding of how each platform can work for you.
Module 1: Facebook Organic
If you've spent any amount of time on Facebook, you know that affiliate marketers use it to promote their products and services. In this module, Spencer explains why Facebook is still the best way to connect with your audience on a more personal level and establish yourself as an expert in your space.
With this Facebook training, you'll be able to create an effective affiliate marketing strategy without being flagged for spam. Spencer even shows you how to offer Affiliate Secrets 3.0 to potential members using this very strategy to recoup your membership fee.
This module includes eight lessons that cover the big picture, optimizing your profile, making friends, daily posts, valuable post examples, conversation starters, and selling.
Module 2: YouTube
Spencer Mecham's favorite way to drive traffic is through YouTube, and for a good reason. Video content ranks better on YouTube than written content on Google, making it a much faster source of traffic. In this module, you'll learn how to create your channel, brainstorm viable content ideas, and optimize your videos for the YouTube algorithm.
This module includes 24 lessons, including big picture concepts, types of videos, content ideas, tools for creating videos, batching, outlines, algorithms, on-page optimization, and video metrics.
Module 3: TikTok
TikTok might not be the first platform that comes to mind when you think of affiliate marketing, but Spencer argues that most people are misinformed. TikTok's viral aspect works incredibly well for content-centric businesses like affiliate marketing.
In this module, you'll learn how to create and optimize your TikTok account for the most reach, including leveraging live streaming for the best results. Spencer highlights some of the successes he's achieved with TikTok, including selling $3,000 worth of real estate packages and 15-20 packages as a Legendary Marketer.
This module includes ten lessons covering engagement, content ideas, the algorithm, watch time, random tips, call-to-action, duets, stitches, responses, and going live.
Module 4: Facebook Groups
In this module, Spencer Mecham shows you how to use Facebook Groups to build and grow your business. Facebook Groups are a great way to create a community around your brand and establish a closer relationship with your audience.
You'll learn how to create a new group from scratch, pull new members to your group, share posts, and make affiliate sales in the best way possible.
This module includes 13 lessons that cover creating groups, group funnels, growing your group, post formatting, comment ladders, lives, moderation, analytics, ecosystem, and an assignment.
Module 5: Blogging
This module is the most extensive one in the course, with 61 lessons organized in a 4-week challenge format. Nate McCallister, a 7-figure blogger, is the instructor for most of the lessons. He'll take you through a step-by-step explanation of how to start a blog, including choosing the right hosting, installing WordPress, and creating your first posts.
Nate specializes in all things related to SEO, including keywords, competitor analysis, and backlinks. Spencer also shows some of the strategies he's used on his own blog that complement Nate's lessons.
This module includes lessons on critical terminology, email, hosting, and theme recommendations, choosing a niche, finding affiliate products, choosing a domain name, installing Thrive Themes Product Manager, and many more.
Get A Special Offer And Instant Access Here
Affiliate Secrets Testimonials
Are you unsure if you should invest almost a thousand dollars in the Affiliate Secrets 3.0 course?
Hearing what other people have to say about Spencer Mecham's course in that area could be beneficial for you.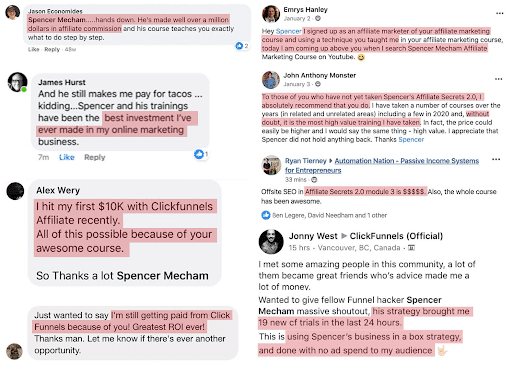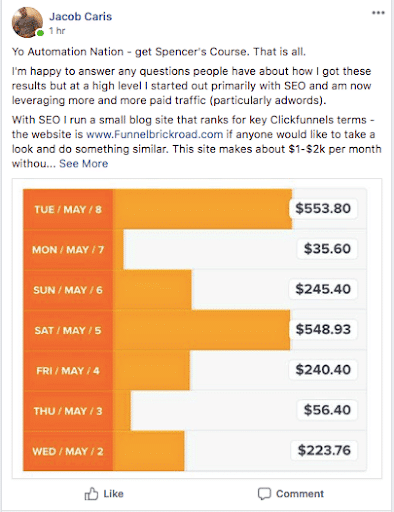 How much does Affiliate Secrets cost?
Affiliate Secrets is a course that can be a bit pricey. Every time a new version comes out, the price goes up. The latest version, Affiliate Secrets 3.0, costs $1,497, which is more than the previous version.
However, I think it's worth it because Spencer has added a lot of new content to the course, making it one of the most comprehensive affiliate marketing courses available.
One great thing about buying the course now is that you'll receive updates for life, so it's a good investment. If you can't afford the course, Spencer offers a free course that can give you some useful insights.
Refund Policy
Spencer offers a 15-day money-back guarantee, so you have no risk in trying the course.
If you are not satisfied with it, you can request a refund.
Praise for Affiliate Secrets 3.0
1. Comprehensive Course Content
The course covers everything you need to know about running a successful online business, including finding great niches, selecting proven products, creating websites, engaging target markets, using automation, and much more.
2. Spencer Mecham's Reveals His Secrets
As one of the highest-paid affiliates with ClickFunnel, Spencer shares all his real-life examples and tactics, including his complete affiliate marketing system, which is usually not disclosed by other gurus.
3. Learn Blogging from an Expert
The blogging module in Affiliate Secrets is taught by Nate McCallister, a highly experienced blogger and former ClickFunnels Dream Car winner, who shares his in-depth knowledge to help you succeed in blogging.
4. Spencer Mecham is a Proven Marketing Expert
Spencer Mecham is one of the top affiliate marketers out there, and his knowledge and expertise in affiliate marketing are unmatched.
5. Long Term Business
The course is designed to help you create a business that lasts for the long term. It teaches you to select products that will remain relevant for years to come and avoid promoting products that will soon go out of business.
6. Traffic Generation in Detail
Traffic is the lifeblood of any online business, and Spencer Mecham knows that well. His course teaches various ways to drive traffic to your website and how to convert them into paying customers.
7. Valuable Resources & Bonuses
Affiliate Secrets offers a ton of free bonuses and resources, including email swipes, funnel templates, and business classes. This adds more value to the already expensive course.
8. Evergreen Strategies Taught
The strategies taught in Affiliate Secrets are evergreen, which means that they don't get outdated with time. These are the strategies that you can apply to any online business and get results.
9. Suitable for Both Beginners and Advanced Marketers
Affiliate Secrets is a course that is suitable for both beginners and advanced marketers. Beginners can learn everything about affiliate marketing, while advanced marketers can use the course to scale their efforts to higher levels.
​Criticism of Affiliate Secrets 3.0
1. Some Course Videos Need Better Editing for a Smoother Experience
Affiliate Secrets is a comprehensive course with dozens of lessons that cover a lot of ground. However, some videos can be quite long, up to 30 minutes or more, and could benefit from more efficient editing. Spencer sometimes spends too much time looking for information across multiple tabs, which can make the content feel repetitive. While this is a minor issue, it can affect the overall user experience.
2. Affiliate Secrets is Expensive
While the course provides a lot of value, its cost may be prohibitive for some people. Beginners on a tight budget may find it hard to justify the expense, which could limit the course's audience.
3. No Free Trial
Unfortunately, Affiliate Secrets doesn't offer a free trial, which means people can't test the course before committing to it. This could be a disadvantage for those who are unsure whether the course is right for them.
4. Results Take Time
Affiliate Secrets is not a get-rich-quick scheme, and it takes time and effort to see results. Some students may become frustrated if they don't see immediate financial gains, but building an online business is a long-term process. If you're willing to put in the work, you'll gradually see success, but it won't happen overnight.
Get A Special Offer And Instant Access Here
Who is Affiliate Secrets for?
If you're someone who wants to learn Spencer's affiliate marketing system and apply it to your business, then Affiliate Secrets 3.0 is for you. This is the exact system that helped Spencer become the most successful affiliate of ClickFunnels worldwide, and he's used it to achieve success with Legendary Marketer and other affiliate products.
Keep in mind that the course is not cheap and has actually become more expensive over time. So, if you're looking for free marketing resources, you should check out Spencer's free courses or YouTube videos.
However, if you're serious about learning proven and actionable strategies that have worked for Spencer and others he's educated, then Affiliate Secrets 3.0 is definitely worth the investment.
Who is Affiliate Secrets not for?
If you're thinking of getting rich quick with minimal effort, Affiliate Secrets may not be the right fit for you. Although Affiliate Secrets is a great course for affiliate marketing, it won't make you wealthy overnight.
After completing the course, you'll need to spend significant time and effort implementing the strategies taught. As with any business venture, patience and consistency are essential for success.
Therefore, if you're not willing to dedicate your time and effort to this, and are only interested in making some quick cash, it's best to avoid this course.
Is Affiliate Secrets 3.0 legit?
Affiliate Secrets is a legit course created by a successful affiliate marketer, Spencer Mecham, who has years of experience under his belt.
In fact, out of all the affiliate marketing courses I've reviewed, Affiliate Secrets is one of the best. But keep in mind that success isn't just handed to you on a silver platter – you need to be serious and committed to seeing results.
It's not a get-rich-quick scheme, and if you're looking for someone else to do the hard work for you, you're better off not investing your time or money in this course.
That being said, if you're ready to take control of your financial situation and become the master of your life, Affiliate Secrets is definitely a course worth considering.
Finding a good mentor is crucial when starting a business, and Spencer Mecham is someone you can trust and rely on to help you build your affiliate marketing business.
Final Verdict
Affiliate Secrets 3.0 is a top-notch course for affiliate marketing. The course provides all the necessary information for building a thriving affiliate marketing business, making it an all-inclusive guide.
While the price of Affiliate Secrets may seem steep, I believe it is a worthwhile investment to learn one of the most popular affiliate systems available.
If you're still unsure, Spencer offers a free webinar that I highly recommend. It's packed with valuable information and can provide a lot of benefits to you.
If you are ready to start building your affiliate marketing business, join now before the price increases again. It's risk-free given the 15-day money-back guarantee.
Get A Special Offer And Instant Access Here
Is there a better alternative to Affiliate Secrets?
If you're interested in learning more about affiliate marketing and building a business from scratch, I highly recommend checking out Wealthy Affiliate. It's a reputable platform that offers a free account, including a free website, and comprehensive training on SEO (which is a free traffic method). This means you can get started with affiliate marketing right away without spending a single penny.
But you're probably wondering how much you can actually earn with Wealthy Affiliate, right? Well, let me tell you about a 21-year-old student who was able to earn $7,395 in just one week using free traffic methods. That's more than $1k a day!
You can read our full review of Wealthy Affiliate here.
And if you want even more success stories, there are plenty of inspiring examples from other Wealthy Affiliate members over the past decade.
So, where do you sign up? Wealthy Affiliate has a simple pricing scheme with free and premium memberships available. As a starter member, you'll have access to the community, live chat, over 500 training modules, 2 classrooms, networking, commenting, 1 free website, and access to the keyword tool. And the best part? You can enjoy all of these benefits without spending a penny.
So what are you waiting for? Register for a free account at Wealthy Affiliate and see for yourself just how easy and rewarding affiliate marketing can be!