If you're looking to make some serious cash online, there's a good chance you've come across Jordan Mackey's Tube Monetization And Automation Program. He claims that his course can help you build a successful Youtube channel that will bring in steady profits. But let's be real – with so many scams out there, it's hard to know what's legit and what's not.
That's where I come in. As an experienced Internet entrepreneur, I've seen it all – from sketchy MLMs to shady software programs. So, I've decided to put Tube Monetization And Automation Program to the test and give you my honest opinion.
Before we dive in, I want to make it clear that I'm not affiliated with Jordan Mackey or his program in any way. I'm simply here to provide an unbiased review and give you my honest feedback.
At the end of this review, I'll also share a better alternative that's helped me create a full-time passive income online.
What is Tube Monetization And Automation Program?
Tube Monetization And Automation Program is a course that offers tips and strategies on how to make money on YouTube, covering topics like advertising, affiliate marketing, and even methods to earn money without showing your face.
By signing up for the course, you'll get access to 20 core training modules, a private Facebook Group where you can ask questions, and several bonuses, including 200 profitable niches, 20+ hours of live Q&A, additional affiliate marketing tips, a personal branding masterclass, a dropshipping masterclass, and Jordan's previous YouTube course.
While YouTube can be a great source of income, it's not for everyone. Some people love it and are doing really well on the platform, while others prefer different ways to earn money. There is a lot of clickbait on YouTube, and the most profitable niches may not align with your interests.
Who is Jordan Mackey?
Jordan Mackey is a guy who's into making money. I don't know much about him, but I've reviewed two of his courses. The first was called "Bye To 9 To 5," which was all about dropshipping and Shopify. The second course, which I'm reviewing now, is called the "Tube Monetization And Automation Program," and it's all about making money on YouTube.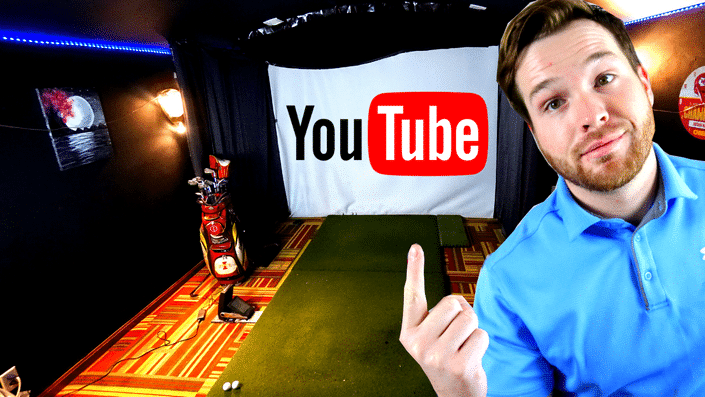 One thing I do know is that Jordan has over 46.8k subscribers on his YouTube channel, where he talks about how to make money on YouTube. I'm not sure how successful he is on the platform, or how many channels he manages, but the fact that he's got a following is a good sign.
Overall, Jordan's YouTube channel isn't exactly blowing up, but it's clear that he knows what he's talking about when it comes to making money on the platform.
If you're looking to monetize your YouTube channel, his "Tube Monetization And Automation Program" might be worth checking out.
How is the training structured?
The course takes you through all the steps necessary to start a YouTube channel.
In total, there are 20 modules and 20 hours of training.
Let's take a look at each module:
Module 1 – Welcome and Overview
In this module, you'll get to know Jordan, the course instructor, and learn more about his online journey. You'll also get an overview of the course and how it works. Plus, you'll gain access to a private Facebook group where you can ask questions.
Module 2 – Choosing Your Perfect Niche
In Module 2, you'll learn how to pick the right niche for your YouTube channel. You'll get ideas for niches and see which ones have the highest ad revenue.
Module 3 – YouTube Basics
Module 3 teaches you how to set up your YouTube account, navigate the dashboard, and integrate Google AdSense. It's the foundation you'll need to build your channel on.
Module 4 – Passing Monetization Review
Before you can start making money from your channel, you need to meet YouTube's requirements, and that includes reaching a certain number of subscribers. Module 4 shows you how to achieve this goal and pass the monetization review.
Module 5 – Instant Monetization
Monetizing your YouTube channel with ads is not the only way to make money. In Module 5, you'll learn about other ways to monetize your channel.
Module 6 – Video Topic Research
Keyword research is critical for YouTube success. Module 6 covers how to find good keywords and come up with ideas for videos that will generate traffic.
Module 7 – Creating and Editing Your Videos
In Module 7, you'll learn how to create and edit your videos. You'll find out where to get royalty-free pictures and music to use in your videos.
Module 8 – SEO Secrets for Truly Going Viral
SEO is the art of ranking high in search engine results. In Module 8, you'll learn how to improve your YouTube search ranking and get more views.
Module 9 – Advanced Monetization Techniques
Module 9 shows you how and where to monetize your videos, even without ads. You'll learn about sponsorships, memberships, and other ways to make money.
Module 10 – My Three Niche Case Studies
In Module 10, Jordan shares three niche case studies to give you ideas for your own channel.
Module 11 – Outsourcing and Automation
In Module 11, you'll learn how to outsource and automate tasks for your channel, so you can focus on creating content.
Module 12 – Affiliate Marketing on YouTube
Affiliate marketing is a great way to make money online, and you can do it on YouTube too. Module 12 shows you how to promote other people's products without getting reviewed by YouTube.
Module 13 – Affiliate Marketing Networks
In Module 13, you'll learn how to find affiliate products to promote.
Module 14 – Affiliate Marketing Strategies
Module 14 covers various affiliate marketing strategies you can use on YouTube to boost your earnings.
Module 15 – Affiliate Marketing Without a Channel
Module 15 goes into more detail about affiliate marketing and builds on what you learned previously.
Module 16 – High Ticket Offers
There are affiliate products with high commissions, and Module 16 shows you how to promote them effectively.
Module 17 – Non-YouTube Affiliate Marketing Strategies
In Module 17, you'll learn about affiliate marketing strategies you can use off of YouTube, such as blogging and Facebook ads.
Module 18 – Affiliate Marketing Mindset
Module 18 is all about mindset training to help you stay motivated and focused on your goals.
Module 19 and 20 – Affiliate Marketing Resources and Conclusion
In the final modules, you'll find resources to help you with affiliate marketing and a conclusion to wrap up the course.
How much does Tube Monetization And Automation Program cost?
The cost of Tube Monetization and Automation is $297, which is a fair price for the valuable content you'll receive in the course. Jordan, the instructor, shares his personal tips and tricks with you.
There is no payment plan, but it offers a 60-day money-back guarantee.
Praise for Tube Monetization And Automation Program
1. Loads of Training
First up, let's talk about the training. There's a lot of it, so be prepared to spend some time working through it all. But hey, that's not necessarily a bad thing – more training means more knowledge, right? And with this program, you'll learn all about how to monetize your channel, optimize your videos, and automate some of the tasks involved. Pretty handy stuff if you're serious about growing your channel.
2. Fair Price Point
Now, let's talk dollars and cents. Similar programs out there can cost a pretty penny – we're talking close to $1000 in some cases. But the Tube Monetization And Automation Program is priced at $247, which I reckon is pretty fair for what you get.
3. Generous Refund Policy
Yep, you heard that right – there's a refund policy in place. If you decide within 60 days that this program isn't for you, you can get your money back, no questions asked. That's a pretty sweet deal, if you ask me. It
Criticism of Tube Monetization And Automation Program
1. Time and Effort Required
Creating content for YouTube takes a lot of time. Sure, you can outsource video production and editing, but that can get expensive pretty quickly. So if you're working with a tight budget, you'll likely have to create and edit all your videos yourself.
And let's be real – that can be exhausting. It's important to be realistic about the time and energy involved in creating quality content for YouTube, especially if you're just starting out.
Is Tube Monetization And Automation Program a scam?
The answer is no, it's not a scam. But before you get too excited, let me explain why it might not be the best option for you.
The program promises to help you make money on YouTube without putting in a lot of effort. However, making money on YouTube is not as easy as it sounds. Creating videos takes a lot of time and effort, from writing a script to sourcing images and videos, recording a voiceover, and editing everything together. Even if you outsource your videos, it can be expensive and still requires a lot of coordination.
Furthermore, YouTube has strict policies that, if violated, can result in your account being banned, and all your efforts will be for nothing. This makes building an asset on YouTube risky and not as sustainable as other business models.
That being said, there are better business models out there that can provide you with a more sustainable and passive income stream. I have personally found an alternative business model that has enabled me to make a full-time passive income, and I'm happy to share it with you.
Is there a better way to make money online?
If you really want to make a stable and secure stream of passive income, I would suggest you starting an affiliate marketing business.
Affiliate marketing is perfect for anyone who is new to online business.
In fact, of all the online business models I've tried, affiliate marketing is the easiest and most rewarding so far.
In affiliate marketing, you can actually run your business almost with zero cost and achieve a steady and sustainable passive income to pay for your bills. You don't need any initial capital and can even do it as a side hustle.
And if you really want to learn affiliate marketing and build a business from scratch, I'd recommend you to get started with the most reputable platform for affiliate marketing: Wealthy Affiliate.

Wealthy Affiliate is an all-in-one platform for building your affiliate marketing business from scratch. It offers you a free account (including a free website) with comprehensive training on SEO (free traffic methods), which enables you to get started with affiliate marketing right away without paying a penny.
But How Much Can You Earn with Wealthy Affiliate?
A 21-year old student from Wealthy Affiliate was able to earn $7,395 in just 1 week, which means he made more than $1k a day…all while using free traffic methods.
For more information, you can check out my full review of Wealthy Affiliate.
Where to Join Wealthy Affiliate?
Wealthy Affiliate has a very simple pricing scheme. It has free and premium membership.
If you want to feel about Wealthy Affiliate, you can sign up for the free starter membership here (no credit card required). You can select to be a free member with no time limit.
And as a starter member, you can get instant access to the community, live chat, over 500 training modules, 2 classrooms, networking, commenting, 1 free website, access to the keyword tool.
You can enjoy all these values without paying a penny.
So I strongly recommend you to register a free account and see it yourself.