Are you looking for a review of the Simplified Dropshipping course by Scott Hilse?
If you want to start an eCommerce business, you might have come across Scott Hilse's ads or videos on social media. But you may wonder if it really works.
There are many gurus teaching people how to make money online, but most are making unrealistic claims.
I have done thorough research about Scott Hilse's course, so I can tell you everything you need to know.
At the end of this article, I'll also tell you a much better alternative that has enabled me to make a full-time passive income online.
As a disclaimer, I'm not affiliated with Scott Hilse. That means I'm not paid to write this review for him. So you can trust my words are unbiased.
Here's what I'm going to cover in this Simplified Dropshipping course review.
Who is Scott Hilse?
Scott is probably best known for his YouTube channel and being featured on some of Oberlo's tutorial videos. At the time of writing, he has around 89.9K subscribers on YouTube.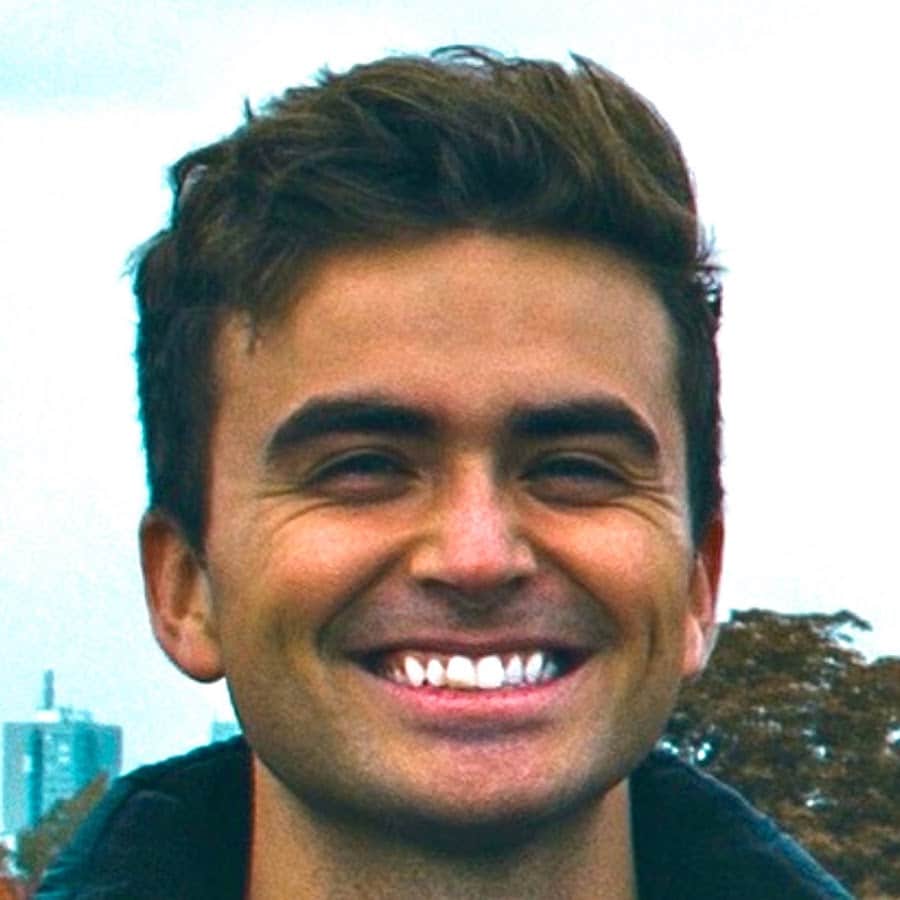 On his LinkedIn page, Scott claims to be endorsed by Oberlo, Shopify, and Tai Lopez.
The Oberlo 101 Dropshipping Course features Scott, who also participates in the Tai Lopez 300 Group. (The Tai Lopez 300 Group costs $697 to join).
Recommendation: Here's The Best Alternative
What is Simplified Dropshipping Course?
Scott Hilse is an expert in dropshipping, where he claims to make his fortune in dropshipping. Now he is teaching people how to make money online with dropshipping. His course is called Simplified Dropshipping.
Scott Hilse's Simplified Dropshipping is just that simplified. The introduction and outro videos along with the entire course clock in just under 3 hours.
If you're looking for a short course geared towards getting you started, then this might be the one.
Unlike many other dropshippers, Scott Hilse advocates for creating a dropshipping store that focuses on a single item.
An Overview of Simplified Dropshipping
There are 28 different video lessons in this course, with a total of 2 hours and 49 minutes of viewing time.
Lesson 1: One Product Store $1600/day Template
In this lesson, Scott Hilse dives straight in and shows you how he came up with $1,600 in a single day. But he does not mention that it was a result in 2017. And it was only one day after all, not every day. Averaging out the earnings, it appears that less than $300 was made per day.
When I try to look for Scott Hilse's Shopify store: everything-summer.myshopify.com and 1dealatatime.com, they are already closed down.
It's possible that Scott Hilse no longer has any stores. Like most gurus, he is likely making most of his money from selling courses instead of dropshipping. That's why he can only show you the old stats.
Lesson 2: Inner Store Set-Up
During this lesson, Scott Hilse goes over setting up a Shopify store. He covers setting up:
General Store setup

Checkout settings

Refund Policy, Terms of Service, Privacy Policy

Adding Pages (Policies, Contact pages)

Adding Menu items

Shipping Zones

Payment Providers

Picking a Plan for your store.
You expect the pro to impart some insider tips to you, but unfortunately, Scott just regurgitates knowledge you can get for free on YouTube. If you are just starting out, you will of course find this helpful, but I wouldn't bother paying for it just yet.
Lesson 3: Buying & Connecting a Domain
In this lesson, Scott Hilse suggests using Google Domains. He demonstrates how to find a domain name, register it, and then connect it to a Shopify store.
Lesson 4: Setting Up Your Facebook Page
In this lesson, Scott Hilse presents how to set up your Facebook Business Page, including using Canva to design a logo (cover photo), banner, and a button to send people to your website.
Lesson 5: Business Ad Account + Pixel Setup
In this lesson, you will be guided through the process of opening a Facebook Business account from scratch by Scott Hilse.
Lesson 6: Product Research
During this lesson, Scott Hilse shows you how he finds products using Facebook, Google Trends, AliExpress, Google.
Lesson 7: Importing Your First Product
In this lesson, Scott Hilse demonstrates how to import your first product using Oberlo into your Shopify store.
Lesson 8: Testing Your Pixel
Going into Shopify Payment Providers, Scott demonstrates how to use Test Mode. You can get this information for free elsewhere.
Lesson 9: The Freedom Funnel
The so-called freedom funnel is nothing but a bunch of free apps Scott installed on his site to improve his conversions. Scott explains how to set up Abandoned Cart apps and Countdown Timer apps.
Lesson 10: Getting Tons of FREE Page Likes in Seconds
If you want tons of free Facebook page likes, Scott's advice is to invite all your Facebook friends to like the page. This doesn't work in reality.
Lesson 11: Understand This Before Proceeding to Facebook Ads
Scott Hilse starts this lesson with a disclaimer. Before you begin with the Facebook Ads training, Scott Hilse warns you that you must be open to the potential of losing money. This may seem like somewhat of a paradox, but it is actually quite sound advice.
The pros also make mistakes from time to time when it comes to running ads. They may spend more than $1k on ads in a six-week period, yet only get $100 in sales.
Lesson 12: Launching Your First Facebook Ad – Method #1
The video in this lesson shows you how to create a Facebook ad using Video. Scott Hilse does it very fast, so beginners may find it difficult to grasp his steps. Once you have made it, Scott Hilse shows you how to launch it in Ads Manager on Facebook.
Lesson 13: Launching Your First Facebook Ad – Method #2
Again Scott Hilse teaches you how to use a video to drive interest in your product/store. This time he uses humor, hoping to gain a lot of shares/make the video go viral. He finds a funny niche-specific YouTube video and reposts it.
Lesson 14: Getting Tons of Facebook Targeted Page Likes From Your Ads
Scott Hilse shows you how to find out who liked your ads on Facebook. Then you invite them to your Facebook Page/store.
Lesson 15: Order Fulfillment
In this lesson, you will learn how to use Oberlo to place orders with your suppliers quickly and easily with Scott Hilse's guidance
Lesson 16: From 0 to 100 Orders: Facebook Ads Strategy
In this lesson, Scott Hilse explains how to target specific areas for your video ads based on what you learned from your video ad's interactions.
Lesson 17: When to Form an LLC
In this lesson, Scott Hilse provides guidance on when to form an LLC. He also suggests a company you should use to register an LLC.
Lesson 18: When & How To Outsource
In this lesson, Scott Hilse tells you what tasks you should outsource and what sites you can use to find a Virtual Assistant.
Lesson 19: From 100 to 10,000+ Orders: Advanced FB Ads Strategy (LAAs)
In this lesson, as soon as you hit 100 orders, Scott Hilse recommends creating Lookalike Audiences and introduces you to his scaling method. Scott Hilse hopes that you will then exceed 10k in orders.
Lesson 20: Manual Bidding
How Scott Hilse manually bids on ads: Scott Hilse shows you his bid-manual method.
Lesson 21: Converting To A Niche Store
Scott Hilse suggests that you transition your Shopify store into a niche store as soon as your product is no longer selling well. Scott Hilse shows you how to acquire a new domain and setup a Shopify store, and you need to create a FB business page.
Lesson 22: When & How to Sell Your Store
Scott Hilse teaches you about the Shopify Exchange Market and when it's a good time to sell your store. However, he does not show you exactly how to go about it.
Lesson 23: What You Can Do With Results To Take On Clients (Extra Passive Income!)
Sales prove your Facebook ads and methods work. In this lesson, Scott Hilse suggests that you can then coach small businesses to run ads for them or run their own. This lesson is only 2 minutes long, so there is no help or insight for people wanting to profit from this business model.
Lesson 24: Sam Walton's Price/Steve Jobs Method
In this lesson, Scott Hilse explains his pricing strategy, which combines knowledge from Sam Walton, Steve Jobs and Jeff Bezos. However, it does not explain how to price your product exactly.
Lesson 25: Multiple Product Method
This lesson doesn't make much sense to me. Scott Hilse has only dealt with single product stores to date, and now there are multiple products. He does not suggest when or how to incorporate multiple products into your store.
Lesson 26: Managing Online Reputation
This lesson shows you a pretty easy way to manage your reputation on your phone. You basically keep an eye on all the comments in your Facebook feeds and delete anything negative.
Lesson 27: How to Get FREE Targeted Traffic
In this lesson, Scott Hilse suggests joining niche-specific forums and referring to your product when you don't have a huge ad budget, or when you want to test products. But in reality, this method doesn't work at all.
Lesson 28: Outro
In this final lesson, Scott Hilse thanks you for your participation in the course, wishes you luck and encourages you to keep studying. Scott Hilse also gives you some advice for using certain phone apps to simplify your life.
Bonus
You have access to Scott's Mentorship Facebook Group where he promises to personally guide and answer all your questions. You can also attend Weekly Q&A Live Calls.
Recommendation: Here's The Best Alternative
Simplified Dropshipping Pricing
Simplified Dropshipping is not cheap. It costs $497. I think it is overpriced because there are other cheaper alternatives on the market.
Also, a lot of the information in this course can be found online for free. So I wouldn't invest $497 into this course.
Simplified Dropshipping Pros and Cons
Pros
The course can teach you the basics of dropshipping

It covers how to run Facebook ads, although they are very basic
Cons
Scott Hilse doesn't explain clearly some important concepts and tends to rush

Most of the content can be found for free on YouTube

Scott Hilse makes a lot of bold claims that are not realistic

The course is overpriced given the basic content

No insider tips are taught in this course

Scott Hilse tends to show outdated stats
Is Scott Hilse a Scam?
I cannot say Scott Hilse is a scam. At least, I don't have evidence to say so. However, it doesn't mean I endorse this course.
It's possible he's a successful dropshipper. However, his course is very basic and most of the content can be found for free on the internet.
Moreover, dropshipping is not easy at all. There are still many people who think dropshipping is easy, and Scott Hilse perpetuates this false impression.
You may see a lot of sales screenshots posted by people as testimonials, but they don't show you the costs. So you don't actually know the actual net profit.
Although you might be able to double or even triple the cost of an item, you still need to deduct all your expenses, of which advertising is the most significant.
I know dropshippers who make as little as 5% profit some months. Do the math. You'll see the numbers aren't that impressive even at 20% profit. With the cost of social media advertising, some dropshippers even lose money with their marketing campaigns.
In the next section, I will tell you more about the problems of dropshipping that Scott Hilse tends not to tell you as he is selling his course.
Recommendation: Here's The Best Alternative
Is Dropshipping Still A Viable Option In 2021?
I did dropshipping before, so what I can tell you is that dropshipping has become increasingly difficult. If you want to build a 6 figure dropshipping business, you need to shed some blood, sweat and tears to figure out how it works.

Here are a few points why I would not recommend dropshipping:

1. Financial Risk
Your dropshipping store won't sell ANYTHING if you don't ADVERTISE. But Facebook ads costs are skyrocketing and will eat away your PROFITS. You might need weeks or even months to just break even, before seeing any profit.

In another word, you have to take a huge FINANCIAL RISK in dropshipping.
2. Facebook ads are Pricey and Difficult
After observing most dropshippers' results, at best, the total Facebook ad cost will account for at least 30% of your total sales.

But Facebook ads seldom stay effective for too long. Once your ad has exhausted the audience, it becomes ineffective. Your total revenue will be much lower and even result in a net loss.

According to Forbes, Facebook saw an increase in Ad costs of 90% year-on-year.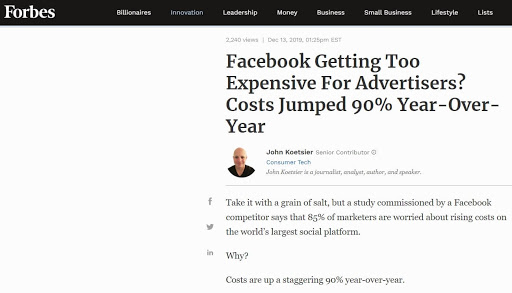 Worse still, the learning curve of Facebook ads is quite steep because Facebook changes its algorithm all the time. You have to invest a lot of time and money in learning and testing Facebook Ads.

If you run Facebook ads without any experience, your ad account will be banned for violating their strict policies.
3. Customer Support
In dropshipping, you have to spend a lot of time communicating with suppliers and dealing with customer service.

If your customer has any issues with the product, you have to wait for your supplier to help you. If your supplier is not helpful, you have to bear the loss yourself. Therefore, many dropshipping stores have poor customer review and have no returning customers.

In the worst case, you would expect a lot of credit card chargebacks, which risk getting your payment gateway shut down.
4. A lot of work on product research
For your store to keep making money, you always have to find a product that has the momentum to go viral in order that the ads costs can be covered.
In dropshipping, most products reach their peak in 1-2 months or even weeks. This is because many competitors will steal your product and create a better ad. Or increase their budgets on Facebook ads to outbid you.
Therefore, you need to keep finding new replacements to keep generating cash flow.
You might see people post revenues online but they don't tell you the net revenue.

Some of them might be making money but it's not sustainable.
The dropshipping business model is not as passive as you think. Most people who succeed in dropshipping are doing it full time because it requires you to keep finding new products, creating new stores, testing new ads and looking for new suppliers to make your income stable.
Is There an Easier & Better Alternative to Scott Hilse's Simplified Dropshipping?
If you don't want to waste your time or risk your hard-earned money, you might wonder if there is a better business model that doesn't need Facebook ads and can do it as a side-hustle.

Yes, I would suggest you get started with affiliate marketing. It is far easier and less time consuming as you don't even need to handle customer service.
In affiliate marketing, you can run your business almost with zero cost. Most importantly, you don't need to invest in creating and developing any products.
But How Much Can You Earn in Affiliate Marketing?

A 21-year old student from my #1 recommended training platform of affiliate marketing was able to earn $7,395 in just 1 week, which means he made more than $1k a day…all while using free traffic methods and affiliate marketing.
Wealthy Affiliate has existed for more than 10 years and there are many success stories over the years.
To give you more examples, here are some of the other inspiring success stories of Wealthy Affiliate members.
Where to Join Wealthy Affiliate?
Wealthy Affiliate has a very simple pricing scheme. It has free and premium membership.

If you want to feel about Wealthy Affiliate, you can sign up for the starter membership here (no credit card required). You can select to be a free member with no time limit.

And as a starter member, you can get instant access to the community, live chat, over 500 training modules, 2 classrooms, networking, commenting, 1 free website, access to the keyword tool.

You can enjoy all these values without paying a penny.
So I strongly recommend you to register a free account and see it yourself.