Are you looking for a review of Peng Joon's book or course? Peng Joon is very active on social media and he seems to be a successful online entrepreneur, but you may wonder if his book or course is a worthwhile investment.
I have done thorough research about Peng Joon's book Million Dollar Ads in the past week, so I can tell you more about it before you buy it.
I have a passion to help people explore the best money-making opportunities. So far, I have written hundreds of reviews of online courses or books.
As a disclaimer, I'm not affiliated with Peng Joon, so you can be sure that my words are unbiased.
At the end of this article, I'll also tell you a much better alternative that has enabled me to build a full-time online marketing business.
In this review of Peng Joon and his books, I'm going to cover the following.
Who is Peng Joon?
Peng Joon is a young online entrepreneur from Malaysia. He has made a lot of money from selling his online courses. He mainly teaches people how to do social media marketing.
Peng Joon has a large following on social media. On Facebook, he has around 2.2 million followers. On YouTube, he has about 92K subscribers.
Peng Joon dropped out of college. After he finished high school, he started exploring other opportunities online. He found the potential of making money online and hence quit the school before completion.
He started his online business by making online games guides like World of Warcraft and Farmville. He gained some success in selling those guides.
After that, he started creating courses and taught people how he marketed and sold those online game guides. That's how he began to become an online business guru and sell courses.
Peng Joon created a lot of online courses over the years. Here's a list of his products:
Million Dollar Ads

Video Challenge

Content Formula Multiplier

Platform Closing

Event Codex

Internet Income Intensive

FB Secrets

Proven Presentations
In this review, I'm going to talk about his Million Dollar Ads.
Recommendation: Here's The Best Alternative
What is Peng Joon's Net Worth?
Peng Joon didn't publicly disclose his exact net worth. But according to the online sources, it's estimated that his net worth is around 25 million.
What is Million Dollar Ads?
Million Dollar Ads is a book that teaches you how to run social media ads, in particular Facebook ads.
In the book, Peng Joon shows you some of his Facebook ads. It is a way to demonstrate how to write his ad copy. You can analyse his ad copy and see how he promotes his products.
However, in the book, Peng Joon doesn't explain in detail but just shows you the examples. You have to do the analysis by yourself, which is not good.
If you are a beginner at Facebook ads, you might feel very confused and cannot learn much from this book. It's not very beginner-friendly.
Million Dollar Ads Chapters:
Chapter 1:

Journey Thru Symptoms Ads

Chapter 2:

Story Bender Ads

Chapter 3:

Blockbuster Ads

Chapter 4

: Yadda Yadda Yadda Ads

Chapter 5:

Objection Based Retargeting Ads

Chapter 6:

Red Ocean Strategy

Chapter 7

: Background Image Trigger Ads

Chapter 8:

Feel, Felt, Found Ads

Chapter 9

: Dream 100 Bridge Ads

Chapter 10

: Reluctant Hero Ads

Chapter 11

: Troll Yourself First Ads

Chapter 12

: Hater Ads

Chapter 13

: Viral Meme Ads

Chapter 14

: Hilarious Images Ads

Chapter 15

: Timely, Relevant, Unique Ads
Million Dollar Ads Pricing
Million Dollar Ads is a book that costs $14.95. But there are some upsells after you purchase the book. So if you take the upsells, it's gonna add up to a hundred dollars.
The book is not very cheap. The cons is that it doesn't have a digital version available on Amazon Kindle. So you have to pay the shipping for the hard copy.
Actually, many gurus use this strategy of not providing a digital copy in order to earn some money from the expensive "shipping fee".
Million Dollar Ads Pros and Cons
Million Dollar Ads Pros
The writing style of Peng Joon is very simple

Brainstorm a lot of ad strategies.
Million Dollar Ads Cons
No digital Kindle version

Lots of blank pages. The amount of content is very little

Only one example is given for each ad type

Cannot learn much about running ads

A lot of upsells after buying the book

The shipping fee is quite expensive

Not suitable for beginners
Is Peng Joon a Scam?
Peng Joon is not a scam. At least I don't have evidence to say so.
Peng Joon does know a lot about online marketing. Some of his strategies are sold and work. However, it doesn't mean I recommend Peng Joon's books or courses.
I found that Million Dollar Ads has many bad reviews. On Goodreads, people are saying that it is a waste of money and the book has very thin content. Some people say that the strategies taught in the book are illegal as it infringes copyrights.
It's not a surprise as most gurus only use the books as lead magnets to upsell you some other products which cost hundreds of dollars. So you cannot expect to learn a lot from a book that is selling at $14.95, not to mention becoming an expert in running Facebook ads.
Therefore, I don't recommend anyone to buy this book if you expect to learn how to run ads.
Actually, running ads on Facebook has become more and more expensive.
According to Forbes, Facebook ad cost has increased by 90% year-on-year.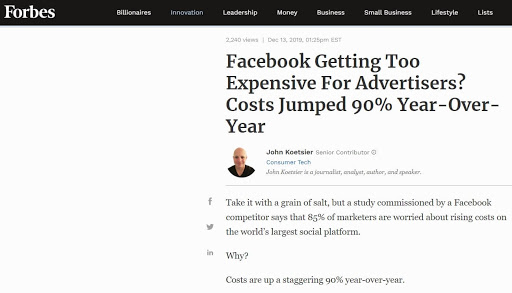 After seeing the results of many online marketers, I find that the total Facebook ad cost will at least account for 30% of your sales revenue.

Deducting the product cost and other transaction costs, your net profit margin will be at most 20% or even less.

Moreover, although you will get sales when the Facebook pixel has more data, the hot audience will be exhausted very soon. And you will see a declining conversion rate and higher Facebook ad cost as a result.

Gradually you will start to get net loss again. So it's not a sustainable business.

Worse still, the learning curve of Facebook ads is quite steep. And Facebook always changes its algorithm without any prior notice. So sometimes the ads that perform well will suddenly lose money. You then have to do testing again and again in order to get back on track. In the process, you'll have to burn a lot of money, further eating away your net profit.

What's more, Facebook's advertising policy is difficult to understand. And their system makes mistakes quite often and disables your account without reason. Even if you succeed in appealing against the decision, you would have to invest more money and go through the algorithm learning process again.

Therefore, many online marketers fail to cover their Facebook ad cost and cannot earn a penny after doing so many things.
Recommendation: Here's The Best Alternative
Is There a Better Alternative to Running Social Media Ads?
Facebook advertising is pricey and difficult.

So why don't you focus on learning the SEO (Search Engine Optimization) skills?

If you can master the skills to generate free traffic to your website, you can get recurring income every month at zero costs!

So is there a platform that teaches you everything you need to know about SEO (search engine optimization) and helps you scale your business to 6 figures monthly?

Yes, I'd recommend you to consider Wealthy Affiliate which allows you to start a website and get access to the training videos for free!
But How Much Can You Earn with Wealthy Affiliate?
Students on Wealthy Affiliate focus their businesses on affiliate marketing.

In affiliate marketing, you can run your business almost with zero cost. Most importantly, you don't need to invest in creating and developing any products or spending a lot of money on Facebook ads.

A 21-year old student from this #1 recommended training platform of affiliate marketing was able to earn $7,395 in just 1 week, which means he made more than $1k a day…all while using free traffic methods.
Wealthy Affiliate has existed for more than 10 years and there are many success stories over the years.
To give you more examples, here are some of the other inspiring success stories of Wealthy Affiliate members.
Where to Join Wealthy Affiliate?
Wealthy Affiliate has a very simple pricing scheme. It has free and premium membership.
If you want to feel about Wealthy Affiliate, you can sign up for the starter membership here (no credit card required). You can select to be a free member with no time limit.
And as a starter member, you can get instant access to the community, live chat, over 500 training modules, 2 classrooms, networking, commenting, 1 free website, access to the keyword tool.
You can enjoy all these values without paying a penny.
So I strongly recommend you to register a free account and see it yourself.
If you'd like to be the next success story and get the most out of Wealthy Affiliate, you can upgrade to the Premium Membership later.
After that, you can get access to everything without the bother from any upsells.