Are you looking for a review of Kevin Talbot's Ebay course? Should you join his course to learn how to sell on Ebay?
I have a passion to help people explore money-making opportunities online. Over the years, I have reviewed many programs like Kevin Talbot's course.
In the past week, I have done thorough research about Kevin Talbot so I can tell you more about it.
As a disclaimer, I'm not affiliated with Kevin Talbot . It means I'm not paid to write this review. So you can be sure that my words are unbiased.
At the end of this review, I'll also tell you a better alternative that has enabled me to make a full-time passive income online.
In this Kevin Talbot review, I'm going to cover the following.
Who Is Kevin Talbot?
Kevin Talbot is a popular YouTuber. He is not just a money-making guru.
When I go to his YouTube channel, I don't see lots of content about Ebay. His YouTube channel is about remote control toy trucks. At the time of writing, his YouTube channel has around 984K subscribers, which is amazing. He uploads YouTube videos frequently.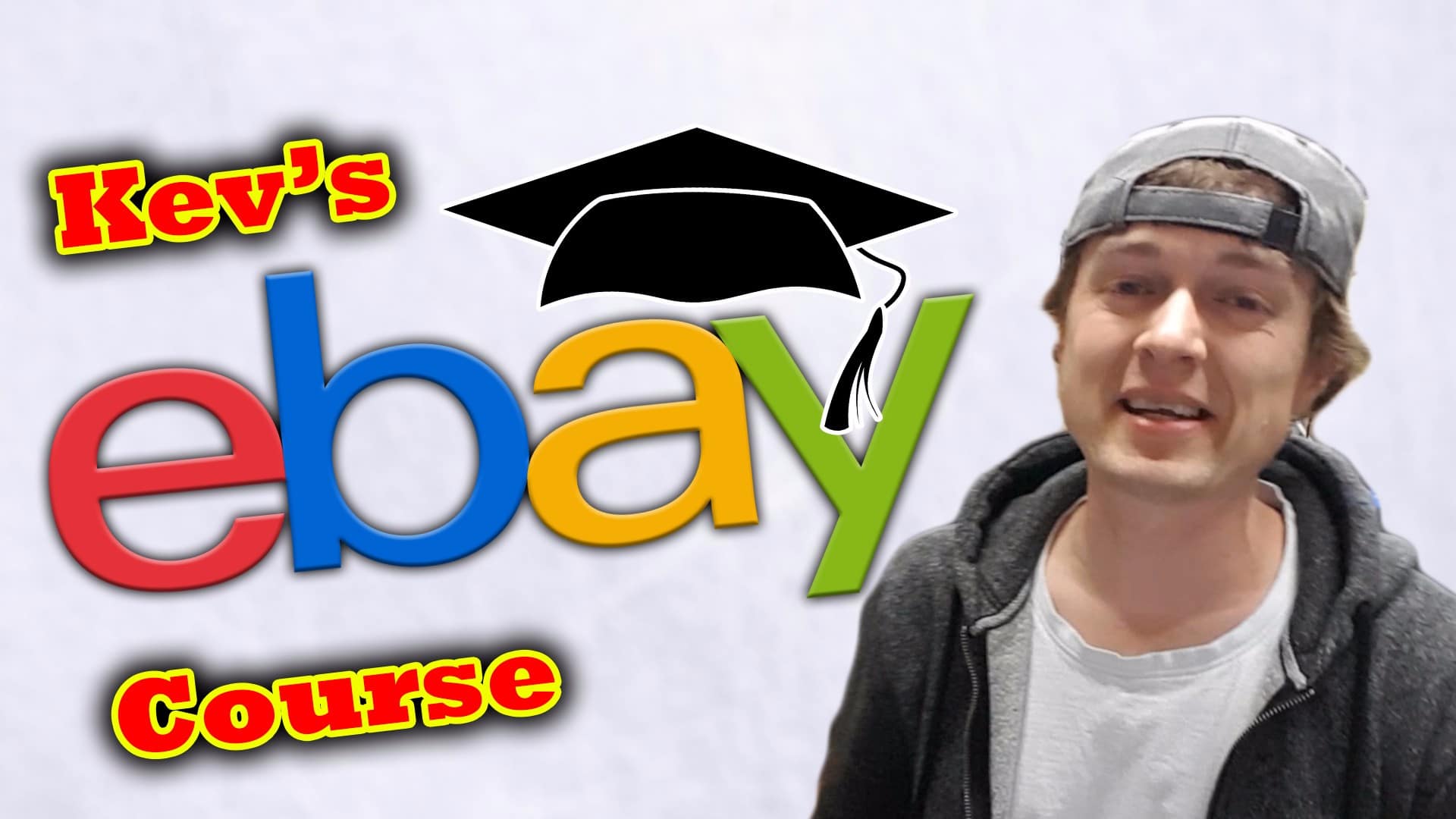 Kevin Talbot has another YouTube channel dedicated to money-making. But that channel is less popular. It has only 24.8K subscribers. I watched some of the videos, which talk about how to sell on Ebay. Some videos are about a rich mindset.
So what can you exactly learn from Kevin Talbot regarding Ebay? Let's look into it in the next section.
Recommendation: Here's The Best Alternative
Kevin Talbot Ebay Course Overview
Kevin Talbot's Ebay course is not very comprehensive. There are only 11 modules.
Let me give you a brief overview of the course content.
​Introduction
This is just an introduction of what you can learn from the course. Kevin Talbot doesn't teach you anything in this module.
Step 1 – Getting Started
Step 1 is about the legal stuff about selling on eBay. There are two video tutorials explaining this.
Step 2 – Accounts To Set Up
This section provides information on how to create different accounts necessary to sell on Ebay, including creating an email, a bank account, an Ebay account, a Paypal account, and an AliExpress and Alibaba account.
Step 3 – Ebay Store
This section is very short with only one video, which is just over 2 minutes in length.
Kevin Talbot will talk about how Ebay works.
Step 4 – Feedback
Another short one with only one 4 minute video. This section focuses on getting the feedback to build trust with potential customers.
Step 5 – Finding Products​
There are two sections in this module. Finding products is extremely important so Kevin Talbot does over the process in detail.
There are 13 videos covering the following topics:
Looking for China products on AliExpress and Alibaba

Spying on eBay competition

Brande products

Different product research tools

Markup ideas

Take a look into Lego
Step 6 – Taking Photos
There is only one video about taking product photos. This video briefly discusses how to take high-quality photos of your products to make them sell more.
Step 7 – Edit Pictures
There is only one video in this section on how to edit your photos to make them look as good as possible.
Step 8 – Keyword Research
In this section you will find out how to get free traffic in Ebay.
It works like this: you target keywords and when people look for those keywords on Ebay, your store will appear.
Step 9 – List Creation
You'll learn how to make your listing as attractive as possible in this section, which will lead to more sales.
This module will teach you:
Adding images

How to list an item

A method you can use to sell products at a higher price than your competition

Creating urgency

Differentiating yourself

Selling your items: 11 things to watch out for
Step 10 – Postage
You will find two videos regarding shipping in Step 10.
Step 11 – Customer Service And Template Email Responses
The final section provides a quick overview of how to deal with customer service and email templates.
Kevin Talbot Ebay Course Pricing
This course is short but it's not cheap. You have to pay $397 for it. It's definitely overpriced because similar courses are only selling at around $100. So I don't recommend this course at all.
Moreover, I don't think you can make money back by simply following the training because the training is just mediocre and too short. You may have to buy an additional course in order to succeed.
Kevin Talbot Ebay Course Pros And Cons
Pros
Kevin Talbot is a successful seller on eBay, but I reckon it's because he has a huge YouTube channel. If you don't have a channel like him, it's hard to drive traffic to your eBay store.

There is a 30-day money-back guarantee. Kevin Talbot claims to be no-questions-asked. But I doubt if it is true in reality.
Cons
This course is very short and not comprehensive enough. Many steps are briefly mentioned, so you may feel confused if you are just a beginner.

This is course is too expensive given that the course is very short.

Ebay is hard to do nowadays. There are better online business models.

Some information in the course can be found online for free

No verified success stories of students
Is This Course A Scam?
Kevin Talbot is not a scam. It's a legit course that teaches you how to sell on Ebay.
But I don't recommend this course because the training is not comprehensive enough to help you succeed. It skips a lot of topics like taxes, dealing with returns, scaling etc.
Also, if you want to become a successful Ebay seller after enrolling in his course, you might not realise your dream. The reason is that Kevin Talbot only tells you the bright side of selling on Ebay but not the problems with it.
In fact, selling on Ebay is more challenging than you think. Here are some of the critical issues you have to overcome to start an Ebay business.
Recommendation: Here's The Best Alternative
Problems With Selling On Ebay
Ebay business needs a large upfront cost
To launch a business on Ebay, you will need $15-20k, at least.

Moreover, you have to spend money on testing a number of products in order to find out that winning product. This means you have to create listings for different products and filter out best selling products from the unremarkable ones.

This process is time-consuming and costs a lot of money. So, you must think carefully if you really want to risk your hard-earned money.
Ebay Business is sophisticated
You have to face a lot of challenges in Ebay. For instance, you'll have to negotiate with suppliers, make comparisons on shipping companies, freight forwarders and comply with the regulations of Ebay and local governments, etc.
This process is too sophisticated for beginners who might be just looking for a side hustle or a source of passive income that requires little time and investment.
There is no quick cash flow
Cash flow is the lifeblood of a business. However, in the Ebay business model, mostly sellers have to invest a considerable amount of money to purchase inventories from suppliers in China.

If you want to create a unique private label product, the costs will be even higher. For example, most manufacturers in China charge you a few hundred dollars just for creating a prototype. If you don't trust me, you can ask for a price on Alibaba.com.

In most cases, production may take 1-2 months depending on the nature of the products and quantity. Afterwards, it takes 2 weeks in shipment and customs clearance before arriving at the warehouse.

This process indicates that it can take up to months before you're paid for the inventory you bought.
Price war reduces profitability
Price war is ubiquitous on Ebay. Whenever a seller tries to attract more customers by lowering the prices, other sellers will be forced to cut their prices as well.
To avoid a net loss, you might have to cut the product costs. This results in lower product quality, negative feedback from customers and hence a drop in sales.
Apart from the intense competition, you have to deal with changing sales tax laws, category restrictions and Ebay policies.
In the worst case, Ebay might even ban your account permanently if you mistakenly violate some rules.
Is There An Easier and Better Alternative to Make Money Online?
If you're new to online business, you might wonder if there's a better business model that doesn't need initial capital and can do it as a side-hustle.

Of all the business models I've tried, affiliate marketing is the easiest and most rewarding so far. It is less time consuming since you don't have to manage inventory or handle customer service.

It can help you to generate a steady stream of passive income while going on vacation or working a full-time job.

Since the world is full of uncertainty, I'd always choose a business model that has the lowest risk.

But How Much Can You Earn in Affiliate Marketing?

A 21-year old student from my #1 recommended training platform of affiliate marketing was able to earn $7,395 in just 1 week, which means he made more than $1k a day…all while using free traffic methods and affiliate marketing.
Wealthy Affiliate has existed for more than 10 years and there are many success stories over the years.
To give you more examples, here are some of the other inspiring success stories of Wealthy Affiliate members.

Where to Join Wealthy Affiliate?
Wealthy Affiliate has a very simple pricing scheme. It has free and premium membership.
If you want to feel about Wealthy Affiliate, you can sign up for the starter membership here (no credit card required). You can select to be a free member with no time limit.
And as a starter member, you can get instant access to the community, live chat, over 500 training modules, 2 classrooms, networking, commenting, 1 free website, access to the keyword tool.

You can enjoy all these values without paying a penny.
So I strongly recommend you to register a free account and see it yourself.
If you'd like to be the next success story and get the most out of Wealthy Affiliate, you can upgrade to the Premium Membership later.
After that, you can get access to everything without the bother from any upsells.