So, you're thinking about joining Kevin Talbot's eBay course to learn how to sell on eBay? But is he a scam? Don't worry, I got you covered.
As someone who's sold on eBay before, I can share my experiences with you. Let's start with the course itself. I'll go over the content, the cost, and whether eBay is still a good platform to sell on.
And just to be clear, I'm not sponsored by Kevin Talbot. So you can trust that my review is honest and unbiased.
In this Kevin Talbot review, I'm going to cover the following.
Who is Kevin Talbot?
Kevin Talbot is a popular YouTuber. But he's not just your average money-making guru.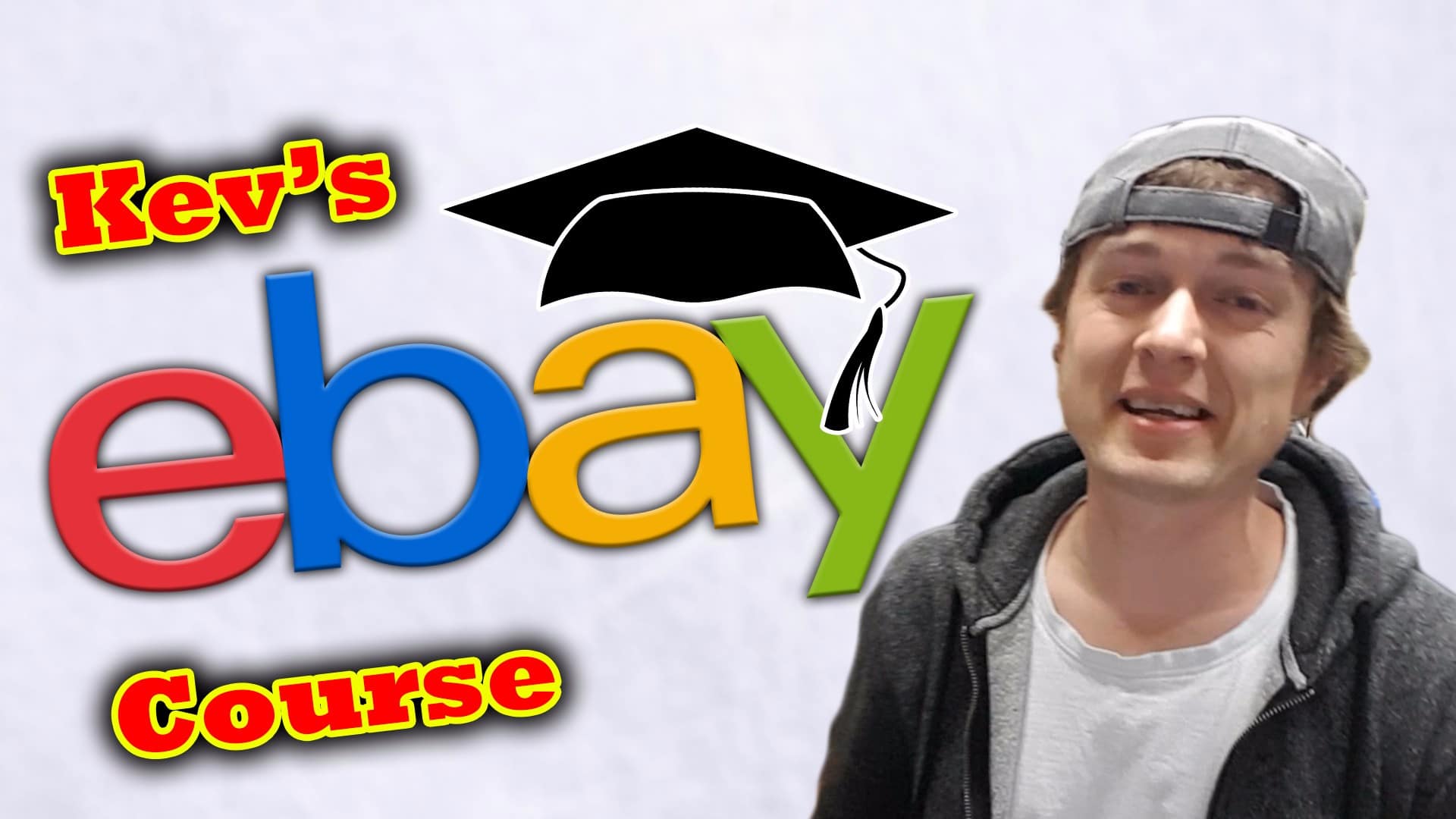 When you check out his main channel, you'll see that it's all about remote control toy trucks. And can you believe it? He's got almost 2 million subscribers! He's always posting new videos, too.
Now, Kevin does have a separate channel dedicated to making money, but it's not as big of a hit as his toy truck channel. Only 43.5K subscribers, you know? But, I checked it out and he's got some great tips on how to sell on eBay and mindset stuff too.
So, what can you expect to learn from Kevin when it comes to eBay? Let's dive in and find out!
Recommendation: Here's The Best Alternative
Kevin Talbot eBay Course Overview
The eBay course offered by Kevin Talbot is not very comprehensive. There are only 11 modules.
Here is a brief overview of the course.
​
Introduction
This is just an overview to what you can learn from the course. Kevin Talbot doesn't teach you anything in this module.
Step 1 – Getting Started
The first step is about eBay's legal requirements. There are two video tutorials explaining this.
Step 2 – Accounts To Set Up
In this section, you will learn how to create the different accounts necessary to sell on eBay, including an email, a bank account, an eBay account, a Paypal account, and an AliExpress or Alibaba account.
Step 3 – eBay Store
There is only one video in this section, which lasts just over 2 minutes.
Kevin Talbot will talk about how eBay works.
Step 4 – Feedback
This is another short video with only one 4-minute clip. The purpose of this section is to get feedback from potential customers so that we can build trust.
Step 5 – Finding Products​
There are two sections in this module. As finding products is extremely important, Kevin Talbot goes over the entire process in detail.
There are 13 videos covering the following topics:
Looking for China products on AliExpress and Alibaba

Spying on eBay competition

Brande products

Different product research tools

Markup ideas

Take a look at Lego
Step 6 – Taking Photos
Only one video is available about taking product photos. This video briefly discusses how to take high-quality photos of your products to make them sell more.
Step 7 – Edit Pictures
In this section, there is only one video explaining how to edit your photos.
Step 8 – Keyword Research
This section explains how to get free eBay traffic.
It works like this: you target keywords and when people look for those keywords on eBay, your store will appear.
Step 9 – List Creation
You'll learn how to make your listing as attractive as possible in this section, which will lead to more sales.
This module will teach you:
Adding images

How to list an item

A method you can use to sell products at a higher price than your competition

Creating urgency

Differentiating yourself

Selling your items: 11 things to watch out for
Step 10 – Postage
In step 10, you will find two videos regarding shipping.
Step 11 – Customer Service And Template Email Responses
This final section provides a quick overview of customer service and email templates.
Recommendation: Here's The Best Alternative
Kevin Talbot eBay Course Pricing
It's a short course, but it's not cheap. It costs $397. Similar courses are selling for around $100, so it's definitely overpriced. Therefore, I do not recommend this course.
Moreover, the training is only mediocre and too short for you to make money back following it. In order to succeed, you may need to purchase an additional course.
Pros
1. Kevin is a real deal
Kevin Talbot is killing it on eBay, but a big part of that is thanks to his massive YouTube following. If you don't have a channel like his, it'll be hard to get traffic for your eBay store.
2. 30-Day Money-Back Guarantee
Kevin Talbot promises a no-questions-asked 30-day money-back guarantee for his eBay course. So even if you're not completely satisfied, you can get your money back with no hassle.
Cons
1. Lack of Comprehensive Content
The Kevin Talbot eBay course may leave you feeling a bit confused if you're just starting out. The content is brief, so many steps are only briefly mentioned, which might not provide enough information for someone new to the game.
2. Expensive for What You Get
For the price, you'd expect more comprehensive information, but that's not the case with this eBay course. It's much pricier than other similar courses on the market, yet it doesn't delve into crucial details, such as using social media and email marketing to drive traffic to your store. Furthermore, a lot of the information covered in the course can be found for free online.
3. eBay Is a Challenging Market
eBay's market share among retail e-commerce companies in the US is only 3.5%, which makes it a tough platform to build a profitable store on. You might be better off exploring other online business models that have a higher market share.
4. No Verified Success Stories
You won't find any positive reviews or verified success stories of students who have completed the course. Third-party review sites such as Trustpilot don't have any testimonials from satisfied customers.
Recommendation: Here's The Best Alternative
Why sellers fail at eBay?
1. Rule and Policy Restrictions
On eBay, there's not much room for flexibility when it comes to the rules and policies. You have to operate within the systems that eBay has in place for things like returns, refunds, customer service, and so on. So, when you're selling on eBay, you're basically playing in their sandbox, so you have to abide by their rules.
4. Seller Fees
Seller fees can be a big hurdle for eCommerce sellers who are looking to expand their business to eBay. If your profit margins are already slim, you might not be able to sell certain products, especially if there's a lot of competition. It's essential to have a good understanding of the fees you'll incur when selling on eBay.
3. Intense Competition
With millions of active users, eBay can be a highly competitive marketplace, particularly when it comes to popular products. Before listing your items, it's a good idea to research your competition and see if you can beat their prices or offer a better deal.
4. Inventory Management
Managing your inventory when selling on multiple marketplaces can be a challenge. If you sell 9 items through your online store, 3 on eBay, 5 on another marketplace, and so on, you need to centralize these numbers to ensure you're not over-selling. This way, you can avoid unhappy customers and provide a positive experience for everyone involved.
Is Kevin Talbot's eBay course a scam or legit?
It's a real course, no scam here. But, personally, I wouldn't recommend it. The training just isn't comprehensive enough to really set you up for success. It misses important topics like taxes, returns, and scaling.
And, if you're hoping to become a big-time eBay seller after taking the course, you might be disappointed. Kevin only paints a rosy picture of selling on eBay but doesn't mention any of the challenges.
Trust me,
starting an eBay business
can be tough – there are a lot of critical hurdles to overcome.
Is there a better way to make money online?
If you're new to online business, you might wonder if there's a better business model that doesn't need initial capital and can do it as a side hustle.

Of all the business models I've tried, affiliate marketing is the easiest and most rewarding so far. It is less time-consuming since you don't have to manage inventory or handle customer service.

It can help you to generate a steady stream of passive income while going on vacation or working a full-time job.

Since the world is full of uncertainty, I'd always choose a business model that has the lowest risk.

But How Much Can You Earn in Affiliate Marketing?

A 21-year-old student from my #1 recommended training platform of affiliate marketing was able to earn $7,395 in just 1 week, which means he made more than $1k a day…all while using free traffic methods and affiliate marketing.
Wealthy Affiliate has existed for more than 10 years and there are many success stories over the years.
To give you more examples, here are some of the other inspiring success stories of Wealthy Affiliate members.

Where to Join Wealthy Affiliate?
Wealthy Affiliate has a very simple pricing scheme. It has a free and premium membership.
If you want to feel about Wealthy Affiliate, you can sign up for the starter membership here (no credit card required). You can select to be a free member with no time limit.
And as a starter member, you can get instant access to the community, live chat, over 500 training modules, 2 classrooms, networking, commenting, 1 free website, and access to the keyword tool.

You can enjoy all these values without paying a penny.
So I strongly recommend you register a free account and see it yourself.
If you'd like to be the next success story and get the most out of Wealthy Affiliate, you can upgrade to the Premium Membership later.
After that, you can get access to everything without the bother of any upsells.