Who is Ken Wat (屈沛傑)? Is Ken Wat a scam?
If you are from Hong Kong, you probably know Ken Wat, who runs Facebook Ads intensively targeting Hong Kong audiences. You may wonder if he is a scam or not.
He claims to teach you how to become financially free by setting up an eCommerce store.
There are so many scams online, so it's a good practice to do some research online before investing your hard-earned money into a course.
I have a passion to help people explore money-making opportunities online. Over the years, I have reviewed many programs like Ken Wat's eCommerce course.
In the past week, I have done thorough research about Ken Wat and his course so I can tell you more about it.
As a disclaimer, I'm not affiliated with Ken Wat. It means I'm not paid to write this review. So you can be sure that my words are unbiased.
In this Ken Wat (屈沛傑) Course Review, I'm going to cover the following:
Who is Ken Wat (屈沛傑)?
Although Ken Wat runs Facebook ads intensively in Hong Kong, there is not much information about him on Wiki. So we may only know more about him via his ads, personal Facebook account and his own introduction of himself.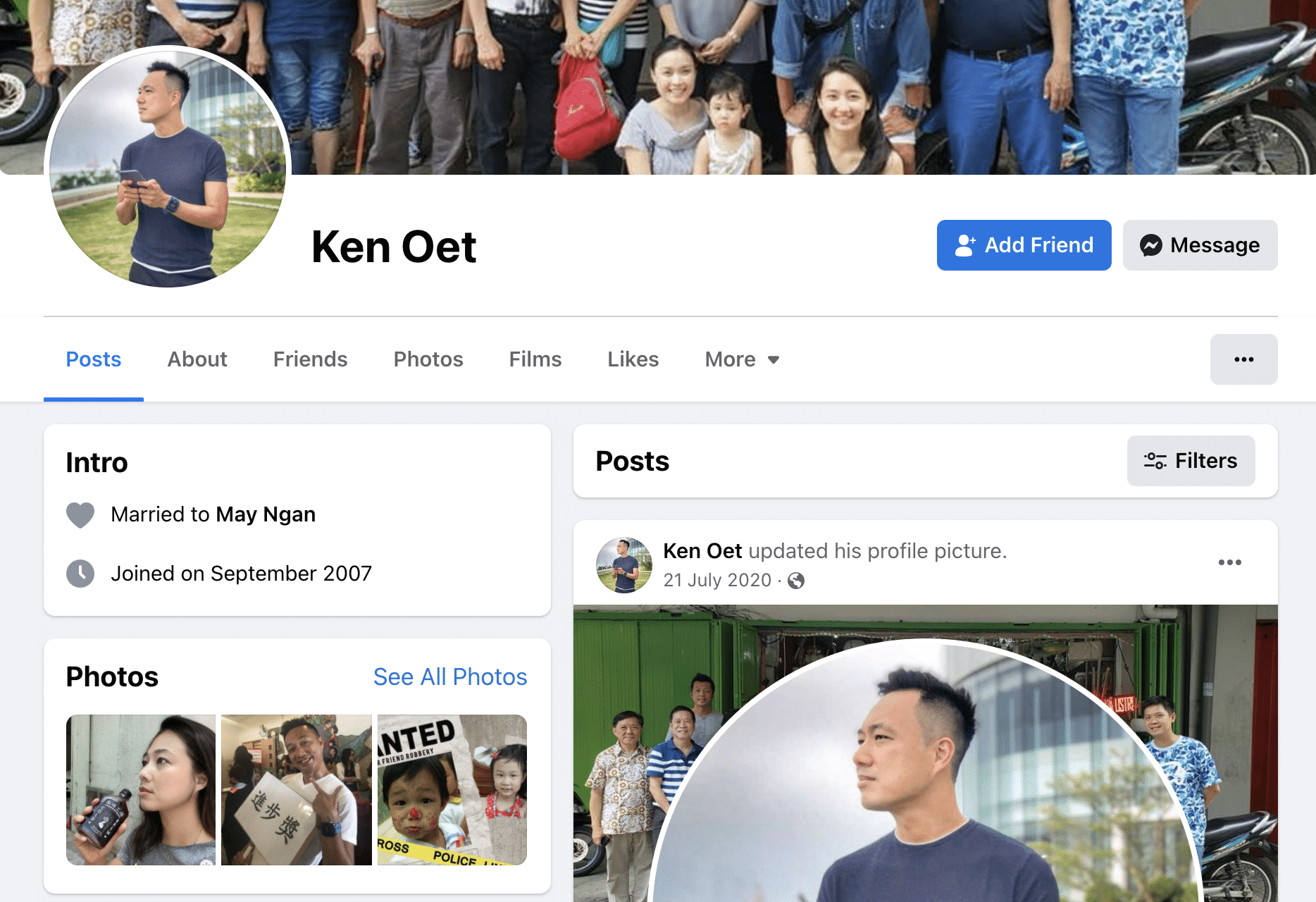 According to Ken Wat, he worked in the advertising industry for more than 20 years and has over 10 years of experience in digital marketing.
He founded Lokomotive multimedia creation company in 2005, leveraging his experience in advertising.
Ken Wat claims that the company partnered with a number of large companies over the past twelve years, including: Swire Group, JP Morgan, China Life, etc. Nearly 60 people were employed by the company at its height. In spite of this, the income is barely above the average wage earner's. This sounds a bit weird to me.
Later, Ken Wat invested all his savings in building a brand of coffee and opened a physical store. However, it only lasted three months before closing. I wonder why he gave up so early,
After that, Ken Wat saw the right time to start my own online business. With the experience he gained from advertising projects,
Ken Wat claims to have created two local online stores: dearsoulmates.com and wonamobile.com.
Ken Wat claims to have recruited 1,500 students as of the third quarter of 2021. He said that some successful students have gone overseas and created their own brands based on their knowledge of operating websites.
Ken Wat believes that technology and new retail have opened up a lot of opportunities for people to fulfill their entrepreneurial dreams, get reasonable returns, and work happily with dignity while achieving a work-life balance.
Here's his YouTube video promoting his course:
Recommendation: Here's The Best Alternative
What is Ken Wat's Dear Soulmate?
Dear Soulmate is a local online store targeting the Hong Kong market. It sells all kinds of products online.
At the time of writing, the online store is still in operation. I can see that they are running Facebook ads.
So it might indicate that the store is generating a certain amount of profits. However, there is no clue to verify how much the store makes.
Ken Wat claims the store is making a 6-figure profit, but I doubt it. The local market in Hong Kong is small but competitive. There are many eCommerce platforms such as HKTVmall, Taobao, Big Big Shop, not to mention many physical stores and shopping malls.
Recommendation: Here's The Best Alternative
What is Ken Wat's Wonda Mobile?
Wonda Mobile is an online store targeting the international market. Ken Wat disclosed this online store in his ads promoting his dropshipping course.
The new course was launched because Ken Wat sees the trend of emigration in Hong Kong in recent years. So he introduces the opportunity to open an online store when people emigrate to other countries such as the UK.
Wonda Mobile seems to be a very established store. It has a great Trustpilot rating of 4.9/5, which is incredible.
However, while Ken Wat teaches students to use Shopify to build an online store, Wonda Mobile was built with Magento.
Moreover, Ken Wat teaches students to do dropshipping from Aliexpress, but Wonda Mobile is not a dropshipping store. You cannot find the products of Wonda Mobile on Aliexpress.
So that makes Ken Wat's dropshipping course not very convincing. It seems that Ken Wat doesn't have actual experience of doing Shopify dropshipping from Aliexpress.
Actually, there is no way to verify if Ken Wat really owns Wonda Mobile.
Recommendation: Here's The Best Alternative
Ken Wat Bad Reviews Online
When I tried to search for some red flags about Ken Wat, I found some online comments about him. You may take a look and see if you should trust them or trust Ken Wat.
Here's the Facebook page calling Ken Wat a scam: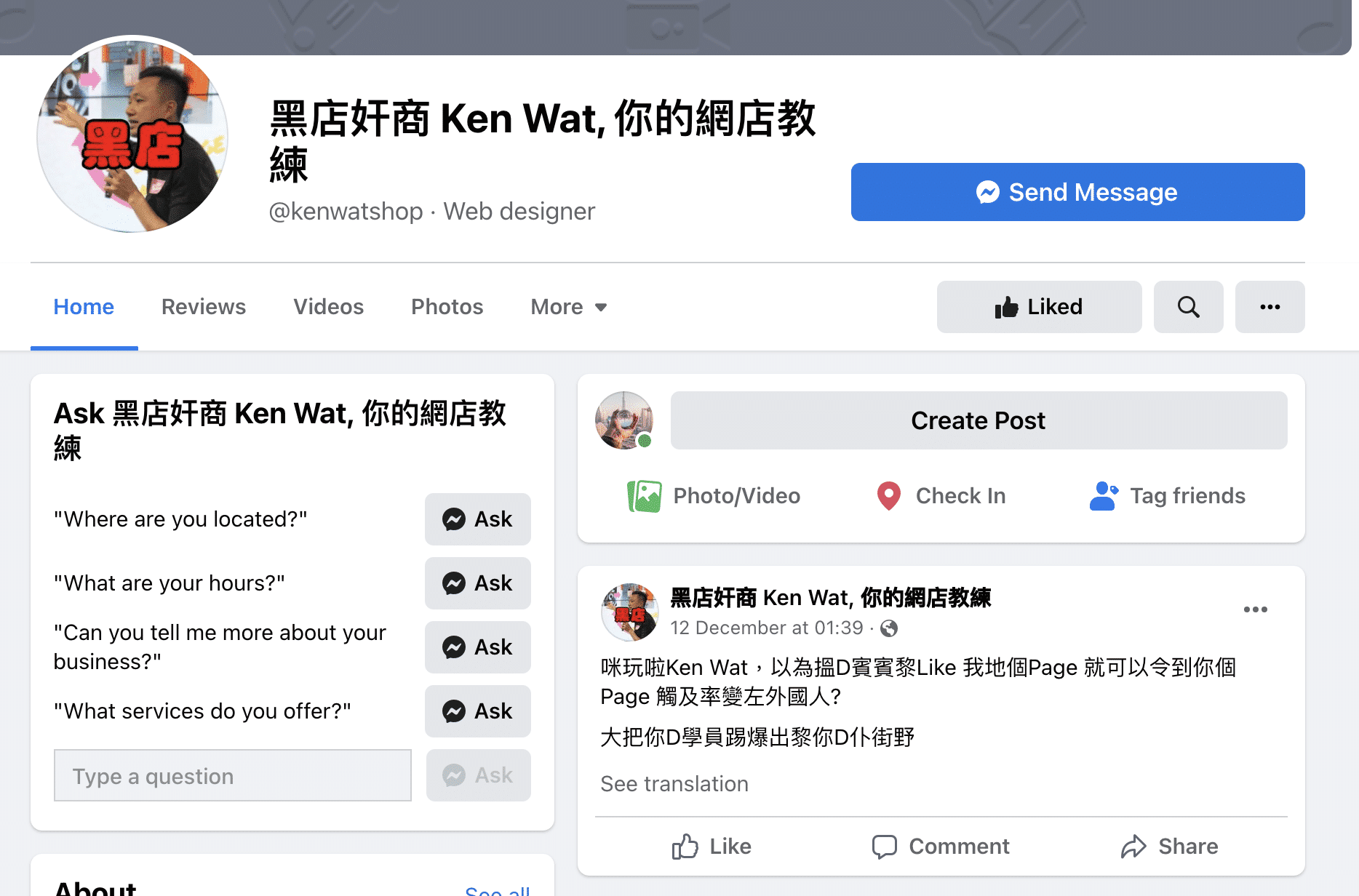 Why I Don't Recommend Ken Wat Courses (網購課程)?
Ken Wat does not offer a free trial. To get started, you have to pay thousands of dollars. If you do not like the course or do not feel comfortable with it, the risk is much higher.
1. Suspicious Testimonials
There may be screenshots posted as proof of success in some of Ken Wat's ads. However, the results cannot be verified to be accurate. Most of the time, it's just a sales tactic.
2. Ken Wat Makes Most of His Money From Selling Courses
Think about it, if dropshipping or eCommerce is very profitable, why would Ken Wat teach you how to do it? Why does he tell you the "secrets" and attract more people to compete with him? Isn't there a conflict of interest?
There is only one reason to justify this. Ken Wat cannot make much money from eCommerce because the profit margin of local eCommerce is very small.
Ken Wat can make much more money in teaching people how to do local eCommerce. They make much more money by selling you the dream to become a millionaire with local eCommerce. Yes, it's a dream because only a very small percentage of people can make a positive net profit in eCommerce in Hong Kong.
Therefore, I don't recommend investing in Ken Wat's course.
3. Facebook ads are Pricey and Difficult
After observing most dropshippers' results, at best, the total Facebook ad cost will account for at least 30% of your total sales.
But Facebook ads seldom stay effective for too long. Once your ad has exhausted the audience, it becomes ineffective. Your total revenue will be much lower and even result in net loss.
According to Forbes, Facebook saw an increase in Ad costs of 90% year-on-year.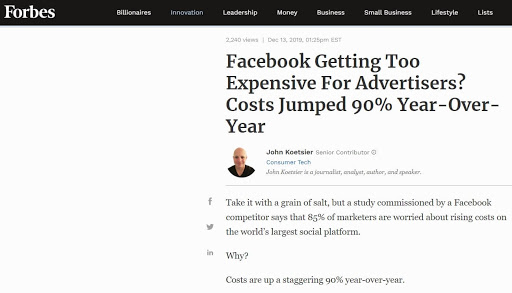 Worse still, the learning curve of Facebook ads is quite steep because Facebook changes its algorithm all the time. You have to invest a lot of time and money in learning and testing Facebook Ads.
If you run Facebook ads without any experience, your ad account will be banned for violating their strict policies.
4. High Financial Risk
Your eCommerce store won't sell ANYTHING if you don't ADVERTISE. But Facebook ads costs are skyrocketing and will eat away your PROFITS. You might need weeks or even months to just break even, before seeing any profit.
In another word, you have to take a huge FINANCIAL RISK in eCommerce.
5. Ken Wat Courses are Overpriced
Ken Wat sells his online course at a price of around US$2,000, which is too expensive when compared with other eCommerce course like Start and Scale course.
There are many better and cheaper alternatives when it comes to eCommerce or Shopify dropshipping. A lot of information inside Ken Wat's course can be found online for free, such as YouTube.
4. Ken Wat Only Teaches You Paid Traffic Method
Ken Wat only teaches you how to run Facebook ads to drive traffic to your online store. He doesn't use the free traffic method himself. So if you don't have enough capital for running paid ads, you won't make any sales.
Is Ken Wat a Scam (呃人)?
I cannot say Ken Wat is a scam for legal reasons. He does teach you how to start an eCommerce business from scratch.
However, given the price of Ken Wat's course, it is much more expensive than other eCommerce or Shopify dropshipping courses.
Moreover, from my personal experience, you'll blow off a few thousand dollars easily in testing Facebook ads. It's hard for you to earn back the money you invested in the course.
I think that's the reason why Ken Wat shifted his focus into selling online courses instead of his online stores. Only very few people can succeed in making a 6-figure income from eCommerce.
If you want to make money online and do it as a side hustle, I have a better recommendation for you. This better alternative does not' require a lot of capital like eCommerce and you don't have to pay thousands of dollars to learn. Let me tell you more in detail in the next section.
Recommendation: Here's The Best Alternative
Are There Any Better Alternatives to Ken Wat's Course To Make Passive Income Online?
If you don't want to waste your time or risk your hard-earned money on Ken Wat's eCommerce course, you might wonder if there is a better business model that doesn't need Facebook ads and can do it as a side-hustle.
Yes, I would suggest you get started with affiliate marketing. It is far easier and less time consuming as you don't even need to handle customer service.
In affiliate marketing, you can run your business almost with zero cost. Most importantly, you don't need to invest in creating and developing any products.
But How Much Can You Earn in Affiliate Marketing?
A 21-year old student from my #1 recommended training platform of affiliate marketing was able to earn $7,395 in just 1 week, which means he made more than $1k a day…all while using free traffic methods and affiliate marketing.
Wealthy Affiliate has existed for more than 10 years and there are many success stories over the years.
To give you more examples, here are some of the other inspiring success stories of Wealthy Affiliate members.
You can also visit Trustpilot where Wealthy Affiliate has 4.8/5 rating.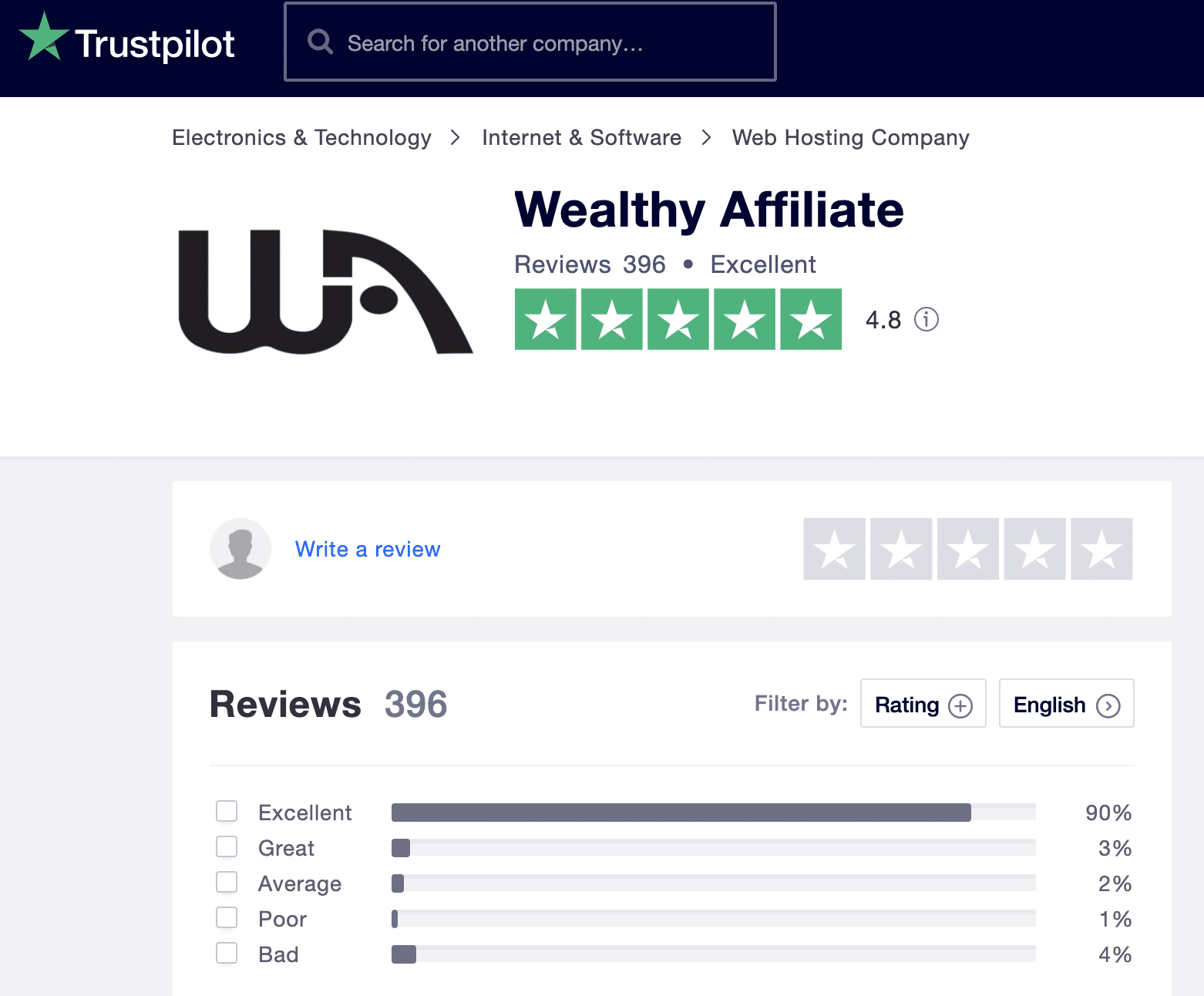 Where to Join Wealthy Affiliate?
Wealthy Affiliate has a very simple pricing scheme. It has free and premium membership.
If you want to feel about Wealthy Affiliate, you can sign up for the starter membership here (no credit card required). You can select to be a free member with no time limit.
And as a starter member, you can get instant access to the community, live chat, over 500 training modules, 2 classrooms, networking, commenting, 1 free website, access to the keyword tool.
You can enjoy all these values without paying a penny.
So I strongly recommend you to register a free account and see it yourself.