Are you considering starting an online business but feeling a bit lost? Well, let me tell you about Jim McKelvey's "How to Build an Unbeatable Business" course, which might be exactly what you need to kickstart your venture.
This course spills all of Jim McKelvey's business secrets, offering you a complete roadmap to building a successful online business. You'll get access to step-by-step training videos, workbooks, and templates that will save you heaps of time and money.
I actually took the course myself and launched my own online business, so I can give you all the juicy details. In this review, I'll dish out the truth about how the course works and what I absolutely loved about it. But let's be real, nothing's perfect, so I'll also share some areas I think could be improved.
By the end of this review, you'll have a solid idea of whether Jim's course is the right fit for you. So, stay tuned!
How To Build An Unbeatable Business Review – Key Takeaways
| | |
| --- | --- |
| Product Name: | How To Build An Unbeatable Business |
| Website: | https://foundr.com/unbeatable-business |
| Price: | Get A Special Offer Here |
| Pros: | Jim McKelvey's success is real; no theories, just practical steps; regularly updated |
| Cons: | The course is expensive; building a business requires some cash upfront; can't achieve success quickly |
| Instructor | Jim McKelvey |
| Overall Rank: | 4.8/5 |
| Verdict: | This course is suitable for aspiring entrepreneurs who want to build a sustainable business that can't be easily copied or undercut by price. |
Below is what I'll cover in this How To Build An Unbeatable Business review:
What is How To Build An Unbeatable Business?
Developed in partnership with Foundr, McKelvey's How to Build an Unbeatable Business course can help you stand out from your competitors.
Jim McKelvey, a former glassblower turned billionaire entrepreneur, has competed against Amazon and won. He did it by thinking differently and creating his own "innovation stack". Now, he's sharing his exact playbook with you.
The course includes 14 lessons and a free exclusive Q&A call with Jim McKelvey himself. It's a step-by-step, repeatable process that will help you unlock groundbreaking, innovative, and competition-proof entrepreneurship within yourself and your company.
And the best part? You don't need a big budget to succeed. All you need is sweat equity and an unbeatable desire to win. With Jim's help, you'll create a company designed around value, a true dream business.
Don't wait to imitate your competitors when it's already too late. Instead, innovate and always stay ahead of the game. With Jim's guidance, you'll be able to create an unbeatable business that doesn't rely on the economy or competition.
What is Foundr?
Foundr is an awesome online publication that's helping business owners become successful on the internet. Founded by Nathan Chan, this publication is a must-visit for anyone who wants to learn from successful entrepreneurs.
What's great about Foundr is that it's a hub for all kinds of great strategies and insights. You'll find articles and interviews from Nathan and other successful entrepreneurs who have built businesses ranging from seven to even 100 figures. They share everything from the early struggles of starting a business to the eventual triumphs.
The best part? Foundr was built from scratch without any outside investors. That means you're getting authentic, practical advice that has been tried and tested by real entrepreneurs.
Who is Jim McKelevy?
Jim McKelevy is the co-founder of Square (now Block) and chairman of the St. Louis Federal Reserve. Jim is not your typical billionaire. Before he became a successful entrepreneur, he was a passionate glassblowing artist. But his art didn't pay the bills, and he lost a much-needed $2,000 sale because he couldn't accept American Express.
Instead of giving up, Jim threw himself into solving the problem, and Square was born. But not long after the launch, Amazon copied their product and undercut their price. Jim was out-funded and out-staffed, and for most people, this would have spelled the end. But not for Jim.
Within a year, Amazon was in full retreat, and Square emerged as the winner. How did Jim do it? It wasn't just having more capital or the right connections. Instead, Jim had one key strategy: his Innovation Stack.
In the video below, Jim shares some tips on how to build an unbeatable business.
Get A Special Offer and Instant Access Here
How To Build An Unbeatable Business Course Breakdown
Lesson 1: What is an Innovation Stack?
An Innovation Stack is an interlocking mechanism that's impossible to copy. It's a unique set of solutions that you create to solve a specific problem. Jim emphasizes the power of new ideas and teaches you how to use principles like anchoring and conservatism to build an unbeatable Innovation Stack.
Lesson 2: Finding Winning Innovation Stacks
Jim shows you exactly what kind of Innovation Stacks to look for. He stresses the importance of being customer-focused rather than competitor-focused. This means that you should always put your customers' needs first, and create products or services that solve their problems.
Lesson 3: Historical Innovation Stacks
Jim uses the example of Square, a payment processing company he co-founded, to explain how he used their Innovation Stack to beat Amazon. He also walks us through other game-changing stacks in history, like the assembly line and the modern hotel industry.
Lesson 4: Finding Perfect Problems
A perfect problem is one that currently doesn't have a solution. Jim suggests that the best opportunities for entrepreneurs lie in finding perfect problems and coming up with innovative solutions to solve them. To find these perfect problems, you need to be passionate about the problem you want to solve. Jim emphasizes that caring more about the problem than anyone else is your biggest unfair advantage.
Lesson 5: Total Addressable Market
Jim believes that the most interesting part of any market is the end. That's where the biggest opportunities lie. To determine the size of the market, you need to identify the total addressable market (TAM). The TAM is the portion of the market that you can realistically target with your product or service. However, the most significant growth opportunities lie just past the bottom of the TAM, where no one else is fighting for market share.
Lesson 6: Copy Like a Pro
Jim advises entrepreneurs to copy as much as possible when starting a business. However, it's essential to know when and what to copy. Jim suggests copying the business model of successful companies that are similar to your own. You can also partner with other businesses for mutual growth opportunities. Innovation and copying can work together to create explosive growth.
Lesson 7: Mistakes to Avoid
As an entrepreneur, it's crucial to avoid common pitfalls when innovating inside your own business. Jim McKelvey's course reveals the top mistakes to steer clear of. By avoiding a deficit mindset, you can overcome one of the most crippling mindsets that can hold you back.
Lesson 8: Your Innovation Timeline
Jim McKelvey always advises businesses to start innovating now, rather than later. In this lesson, he explains why 'when' beats 'how' when it comes to innovation. By optimizing for speed, you can use innovation to generate profit before your competitors copy you.
Lesson 9: Wow Innovation Moments
Innovation doesn't have to happen all at once. Instead, Jim McKelvey suggests building one innovation at a time. By focusing on simple solutions, you can create a framework for innovation that keeps it happening.
Lesson 10: Pricing
Pricing is an important factor in the success of any business. However, Jim advises against setting the lowest price in the market. Instead, focus on building customer trust and offering value for money. Customers will be willing to pay a fair price for a quality product or service they trust.
Lesson 11: Harnessing Fear
Fear is a natural part of starting and running a business. Jim recommends accepting it as a part of the process and using it to your advantage. Embrace the fear and use it to drive you forward. Additionally, Jim shares his best practices for handling attacks from your competitors and overcoming self-doubt.
Lesson 12: Dangers to Your Stack
The way your customers perceive your product or service can greatly impact your success. Jim stresses the importance of understanding linguistic gravity – the power of words to shape people's perceptions. He advises businesses to take control of their message and work to overcome any misperceptions.
Lesson 13: Insights from Square
As co-founder of Square, Jim has a wealth of knowledge to share. He emphasizes the advantages of being a small or new business and how to leverage them. Additionally, he encourages businesses to focus on doing what's right for the product, even if it goes against industry norms.
Exclusive Bonuses
Special Q&A with Jim McKelvey
As a student in the course, you'll get access to a recorded Q&A session with Jim McKelvey and the first cohort of students. This session offers a unique opportunity to learn from a legendary business leader and billionaire. In this Q&A, you will see students ask specific questions and receive priceless personalized advice from Jim McKelvey.
Growth Hacking Playbook ($297)
The Growth Hacking Playbook is an online course that teaches you how to grow your business quickly and efficiently. Bronson Taylor, the creator of this course, has growth-hacked virtually every type of business to millions in revenue – from SaaS products, services, ebooks, and even shoelaces. He breaks down his battle-tested tactics in this course, which is an excellent resource for anyone looking to take their business to the next level.
Productivity Machine ($297)
Ari Meisel, a serial entrepreneur, has created a course called the Productivity Machine. He teaches you how to reprogram your life and increase productivity with one simple framework. Ari has used this framework to dig himself out of $3MM in debt, start and scale an outsourcing business overnight, and find a way to maximize time with his family. This course is an excellent resource for anyone looking to increase their productivity and efficiency.
Triple Your Business ($297)
Steve McLeod, author of "Courage for Profit" and founder who grew his own business from zero to $20M, has created an online course called Triple Your Business. This course teaches you how to scale your business to 2x, 3x or even 10x your revenue. Steve coaches companies of all sizes – from $100K to $100M – and unpacks his battle-tested business growth framework in this online course.
How Does Jim's Course Help You Make Money?
1. Launch Unbeatable Products
One of the keys to success in business is to create solutions to problems that people didn't even know they had. Jim McKelvey will teach you how to identify these "perfect problems" and create innovative products that are unbeatable. Instead of copying others, you'll be able to create solutions that no one else has even thought of yet.
2. Thrive in Uncertainty
It's no secret that businesses without innovation are more likely to fail in tough times. But by using the framework provided in this course, you'll be able to set your business up for success no matter what's going on in the world. Jim McKelvey will teach you how to embrace uncertainty and use it to your advantage.
3. Fight Off Attacks
With an unbeatable innovation stack, it's impossible for your competitors to copy your entire business model. Jim McKelvey will show you how to use your innovation stack to defend your business and win even against the biggest competitors. By learning these skills, you'll be able to stay ahead of the competition and keep your business thriving.
4. Increase Profit Margins
One of the key takeaways from the course is that superior solutions command higher prices. By offering a better product or service than your competitors, you can increase your profit margins and protect your business through uncertain times. This is a great way to boost your bottom line and create a sustainable business model.
5. Easily Scale Faster
Another benefit of having the best product, service, and operations is that you can scale your business faster. You'll be able to innovate at every step of the way, from ideation to fulfillment. This means you can expand your business without compromising on quality or customer service, which is essential for long-term success.
6. Outsell Your Competition
Finally, innovation is key to staying ahead of the competition. By being the first to market with new products or services, you can establish yourself as a leader in your industry. This gives you an unfair advantage that will help you outserve and outsell your fiercest competitors. By learning how to innovate like Jim McKelvey, you can take your business to the next level.
Get A Special Offer and Instant Access Here
Does Jim McKelvey Have A Good Reputation?
Jim McKelvey is well-regarded in the business world. He's a billionaire businessman from the United States who co-founded Block, Inc. and helped create Square with Jack Dorsey back in 2009. According to estimates from November 2021, his net worth is around $4 billion.
One interesting fact about McKelvey is that he came up with the idea for Square after struggling to sell a $2,000 art piece from his studio. That experience inspired him to create a new way for small businesses to accept credit card payments, which eventually became Square. Today, he still sits on Square's board, but he's also started a new company called Invisibly, which powers micropayments for journalism and publishing.
McKelvey is a serial entrepreneur, having started at least seven companies over the course of his career. These have included everything from a CD cabinet maker to a glass-blowing studio. He's clearly someone who enjoys taking risks and trying out new ideas.
Aside from his business ventures, McKelvey is also involved in various nonprofit and community initiatives. He sits on the board of the Federal Reserve Bank of St. Louis and started a nonprofit called LaunchCode, which helps people learn how to program.
Additionally, his philanthropic work suggests that he's committed to making a positive impact in the world.
Are Foundr's Students Getting Results?
Foundr has been a game-changer for so many students who have followed their training and ended up building a successful 6-figure eCommerce business. It's crazy, right? But it's true.
And let me tell you, people just like you who have taken the leap and achieved their dreams with Foundr's help. It's proof that if so many others can do it, you can too!
Here are some success stories: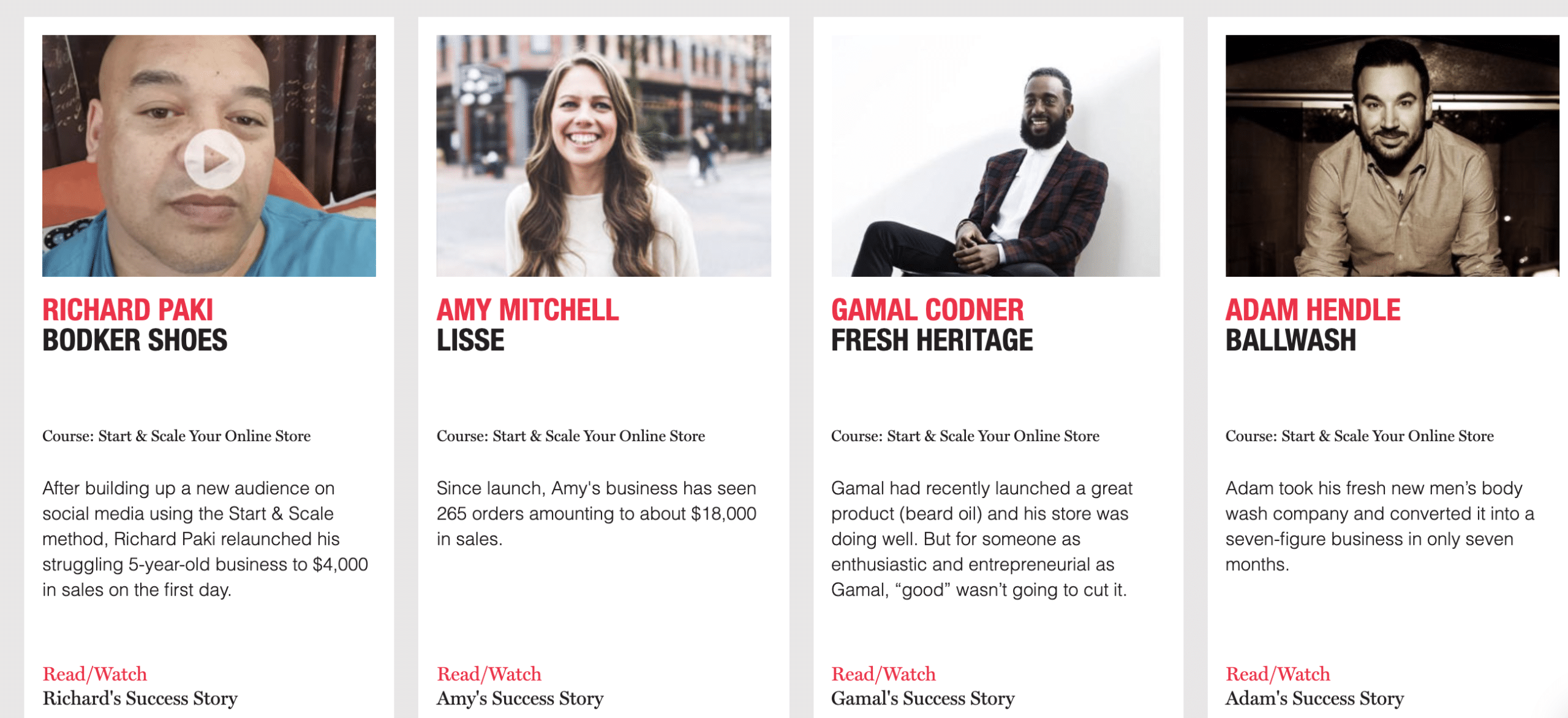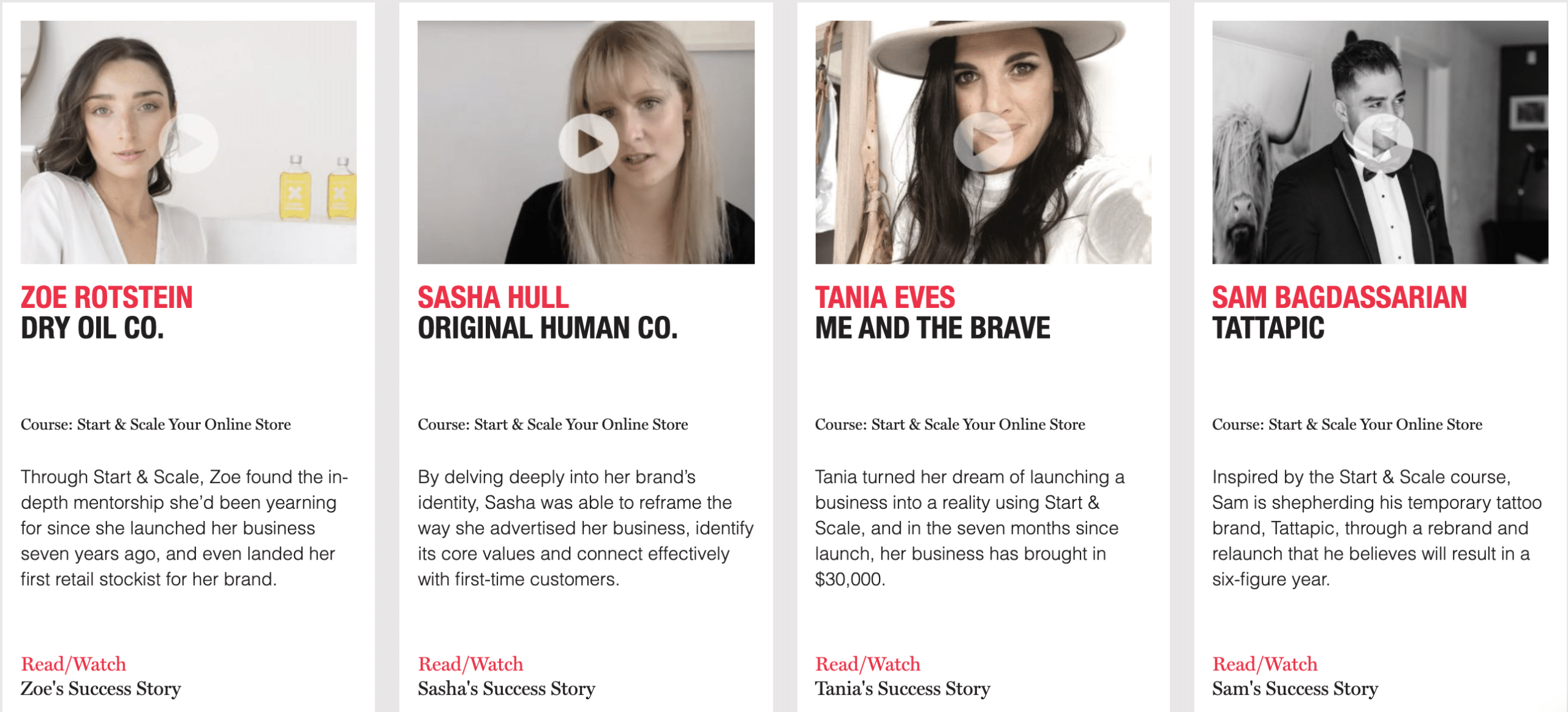 How Much Does ​​It Cost?
The price for the "How To Build An Unbeatable Business" is now $997.
If you don't want to make a lump sum of $997, you can pay 3 installments of $397.
Get A Special Offer and Instant Access Here
Praise For Jim's Course
1. Jim McKelvey: The Real Deal
The fact that Jim McKelvey is a billionaire businessman, well-known for creating Square, makes him the perfect person to teach us about building an unbeatable business. Unlike other so-called "gurus," Jim has succeeded multiple times in the business world and has a proven system to share. Knowing that he's the real deal gives me the confidence to follow his training and make it big in business.
2. Lifetime Access and Updates
When investing in a course, it's important to know that you're getting your money's worth. That's why I appreciate the fact that students have lifetime access to the course, as well as any future updates. This means that you can always go back to the course whenever you need to brush up on your skills, and that you'll be kept up-to-date with the latest trends and strategies in the business world.
3. Active Facebook Group
Building a business can be tough, especially when you're doing it alone. That's why the Foundr Facebook group that comes with the course is such a great resource. The group is filled with business owners who are always willing to help and give advice. Jim McKelvey himself is also available to answer any questions you may have. Being a part of this community can really help you validate your ideas and get the support you need to succeed.
4. Actionable Steps
Unlike a typical lecture at a university, this course is designed to help you take action and get results. Each lesson includes actionable tasks that will guide you through building your business step by step.
From finding reliable suppliers to building email lists, this course covers all the important aspects of building a profitable and sustainable eCom business. Plus, you won't find any impractical theories here – everything you learn is something you can implement right away.
5. Workbooks
As an entrepreneur myself, I know how effective it is to learn by doing. That's why I love that "How To Build An Unbeatable Business" includes workbooks to help you become familiar with the various steps to building a sustainable business.
The Foundr team knows that simply listening to Jim McKelvey's talk without taking action won't lead to significant progress. The workbooks will guide you through the course material and help you apply what you learn to your own business. Plus, you can even take a quiz after each module to test your understanding.
Criticism of Jim's Course
1. The Price Tag
Let's face it, Jim McKelvey's How To Build An Unbeatable Business course isn't cheap. It's true that the value you get from the course exceeds the price, but not everyone can afford it. However, if you're willing to make some sacrifices to invest in the course, it's worth considering. And if you can't afford the one-time payment, there's a payment plan available.
It's important to note that Foundr and Jim McKelvey have put in a lot of hard work to create a high-quality training program that actually works. Although there are cheaper business courses available online, many of them are created by gurus who have never had success in business. They have no problem selling you secrets that won't generate revenue.
2. Upfront Cash Required
Building a successful business requires some cash upfront. While Jim McKelvey's course will teach you how to build an unbeatable business, you'll need some money to start with. This is something to keep in mind before signing up for the course.
3. No Get-Rich-Quick Scheme
It's common for gurus to sell courses that promise to make you rich in a month or so. But Jim McKelvey's How To Build An Unbeatable Business course is not a get-rich-quick scheme. If you sign up for the course, you won't get rich overnight. Jim McKelvey himself worked really hard to build the brands that made him a billionaire today. If you follow his advice and work hard, you too can be successful. Just remember that building a successful business takes time and effort.
Is How To Build An Unbeatable Business a Scam?
The answer is no. In fact, this course is a proven, step-by-step framework for unlocking groundbreaking innovation and entrepreneurship within yourself and your company.
Jim McKelvey is no stranger to success, having beaten Amazon with his own company. And he wants to help you do the same. With his course, you'll learn how to turn your "crazy ideas" into unrivaled new products and services that can sell in any economy.
Of course, success isn't guaranteed. Not every student of this course has become a millionaire overnight. But that's to be expected. After all, not every graduate of a world-class business school becomes rich either.
Building a successful brand takes hard work, ingenuity, and patience. In most cases, people give up too soon. But with the right strategies and techniques for marketing, you'll have a much better chance of success.
So, while there are no guarantees that you will become the next success story, taking Jim McKelvey's course will certainly give you an edge. In fact, if you start an online business without any proven strategies or techniques for marketing, you'll be taking on a much higher risk.
In short, Jim McKelvey's course is not a scam. It's a proven framework for building an unbeatable business, and it's up to you to put in the hard work and ingenuity to make it succeed.
Should You Join The Course?
This course is not your average business training. Instead of starting from scratch, this course gives you the opportunity to follow Jim McKelvey's complete blueprint for building a billionaire business. By doing so, you can duplicate his success and learn how to create an unbeatable business of your own.
With a proven blueprint and guidance from Jim, you can be confident that success is only a matter of time. Jim's "innovation stack" has been worth billions, and either you can be the first to use it as an unfair advantage for your business, or your competitors will.
For less than $2.7 a day, you can't afford not to act and risk leaving your company vulnerable. Therefore, I highly recommend Jim McKelvey's How To Build An Unbeatable Business course. It is by far the best business course that teaches you how to build an unbeatable business.
However, it's important to note that this course won't make you rich overnight. It's not a get-rich-quick scheme. While other gurus may claim that you can copy and paste their methods to become rich, Jim McKelvey emphasizes the importance of hard work and creativity to build a successful business.
According to Jim, he worked very hard to build the brands that have made him a billionaire today. So, if you're willing to put in the work and follow his guidance, you too can succeed.
Get A Special Offer and Instant Access Here
FAQs
What can you expect to accomplish from this course?
Well, it's all about helping you innovate in a smart way so that your business can become more resilient, profitable, and fast-growing. By following the same blueprint that Jim used to beat Amazon, you'll be building your own "innovation stack" that will make you virtually unbeatable in your industry.
What kind of business is this course for?
Actually, it's helpful for all sorts of businesses in all industries. Whether you're running an ecommerce store, a software startup, or a digital marketing service-provider, innovation is key to staying ahead of the competition. And even if you haven't started your business yet, this course will teach you how to innovate like Jim did with Square!
Do you need to have a business already to take this course?
Nope! The course is designed to help you start with an idea that's impossible to copy right from the start. Instead of doing what everyone else is doing, you'll learn how to solve "perfect problems" where there are no existing solutions.
How soon can you start the course once you have access?
As soon as you purchase the course, Foundr will send you your login details so that you can access everything right away.
What if you need extra support beyond the course?
No problem! Foundr's support staff is available 24/7 to answer any additional questions or provide technical support if needed.
Best Alternative
If you just want to start build an ecom business, you might consider Start and Scale, a course created by Gretta Van Riel and Foundr.
In contrast to other eCommerce courses on the market, this course teaches you how to build a sustainable eCommerce brand. In other words, your online store will provide you with passive income for years to come.
What makes this course so special? You'll be learning from Gretta, a serial young entrepreneur in Australia, who has built many eCommerce brands such as SkinnyMe Tea, the 5th, Dropbottle, and many more. She is also the winner of Shopify Build A Business Award, which is an award for a Shopify Store that has the highest-grossing sales in a six-month period.
It's the best ecommerce course I've ever seen. You'll be getting insights that you just can't find anywhere else.
If you want to learn more about the Ecommerce Masters course, be sure to check out this detailed review.