Do you want to learn financing to grow your wealth? If yes, you may have heard of Jeff Sekinger. He is a financial consultant and founded 0percent.com. He teaches people how to leverage financing to make more money.
However, since there are many fake gurus, you may wonder if Jeff Sekinger is a scam. To help make a more informed decision, I have done thorough research about him and can tell you more.
At the end of this article, I'll also tell you a better alternative to make more passive income.
To be transparent, I'm not affiliated with Jeff Sekinger, meaning I'm not paid to write this review, so you can trust my words.
Here's what I'll cover in this review of Jeff Sekinger and his 0percent.com:
Who is Jeff Sekinger?
Jeff Sekinger owns a financial consulting company called 0percent.com. He helps people to leverage credit to make money or grow long-term wealth. His goal is to help his clients make more money to achieve financial freedom.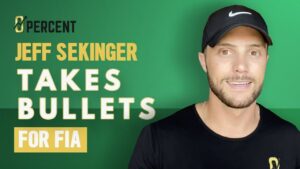 Jeff Sekinger started doing investment when he was just 16 years old. He studied finance and worked for several banks. His first job after graduation was in private wealth management. He didn't like the corporate job and decided to start his own business. This is how his company 0percent.com started.
Right now, Jeff Sekinger is very active on social media, marketing his consulting service and programs. At the time of writing, he has around 10.3K subscribers on YouTube and 2293 followers on Facebook.
Recommendation: Here's The Best Alternative
What is 0 percent?
0 percent is a company that believes in leveraging other people's money to invest in new businesses, scale the current business or even invest in real estate. Now it has around 20 employees.
They help entrepreneurs, start-ups, small business owners and real estate investors to secure funding. Since most banks are only willing to lend to an individual with a high credit score, they will teach you how to increase your credit score.
So if you want to leverage funding to create income streams, invest in estate and grow your wealth, they have coaching and consulting programs for you to join, which I will talk about in the next section.
0 percent Courses or Programs Review
Financial Independence Accelerator
This is a 4-week program. It is made for people who want to become an entrepreneur or business owners having under $10 million a year in revenue.
This course teaches what they call "unsecured strategic 0% financing". It basically means it allows you to leverage capital without paying interest. They claim to help their clients get between $50,000 and $150,000 of low-interest capital for doing business with a credit score.
They claim that even if your credit score is bad at the moment, they will give you direct connections to their relationship at banks.
Here are the three parts of the program: Credit, Income and Wealth.
For the credit part, they claim to help you get $50K – $150K business and personal 0% credit. You will learn how to optimise the fico scores for funding. And you can apply for the credit through their connections.
For the income part, you will learn how to leverage the new credit for investing into real estate and business.
For the wealth part, you will learn how to manage personal finance with the software systems. You will be able to set up investment accounts and craft an investment portfolio.
So if you want to learn about credit, finance and business, this program might be suitable for you.
Corporate Credit Accelerator
This is a 3-hour course, which aims to teach you how to build a business credit. There are also 2 group coaching calls per month.
This course is not for receiving quick financing, but for those who want to learn how to build business credit without using their personal credit.
So this course might be suitable for you if you understand personal and some business credit but want to learn more about business credit.
0 Percent Mastermind
This is a 6 months coaching. By joining this program, you will be able to network with other business owners, get financial statement preparation services, access to real estate and crypto investment funds etc.
If you want to learn how to invest in real estate and want more business credit, this program might be able to help you.
Is Jeff Sekinger a Scam?
There is no evidence to show that Jeff Sekinger is a scam. He does offer a lot of useful financing advice for you if you join his coaching programs.
However, the price is not cheap and not everyone can afford it. Actually, Jeff Sekinger seems to target high-end customers. So if you don't have a business or just have a normal job, I wouldn't recommend Jeff Sekinger's program or services.
Also, borrowing money from banks still entails credit risk, and if you don't manage it well, you may go bankrupt.
Do you know the world has changed a lot because of the internet? I mean there are many money-making opportunities online that you can take advantage of.
Actually, you can start an online business very easily nowadays, which not only can pay for your bills but also generate a stable stream of passive income for you.
Warren Buffet said, "If you don't find a way to make money while you sleep, you will work until you die."
Therefore, you should start building a digital asset that can make you money while you sleep.
In the next section, I will introduce the easiest and most profitable online business model you can start today!
Is There Any Better Alternative to Jeff Sekinger's 0 Percent?
If you're new to online business, you may think it's difficult to start a business on your own. But actually that's not true.
There's a risk-free online business model that doesn't need initial capital and can be done as a side-hustle. It is called "affiliate marketing".
So you may wonder, "how much can you earn in affiliate marketing?"
Actually the earning potential of affiliate marketing is huge. There're people who are doing it full-time and earn a 7-figure income a year.
This is a 21-year-old student from my #1 recommended training platform of affiliate marketing. He was able to earn $7395 in just a week. That means more than $1K a day. It's nearly impossible for you to find a part-time job that can pay you $1K a day. But affiliate marketing can.
In fact, of all the online business models I've tried, affiliate marketing is the easiest and most rewarding one. If you're a beginner in online business, affiliate marketing is perfect for you because it's simple but lucrative.
And Wealthy Affiliate is my #1 top recommended platform for building an affiliate marketing business from scratch.
If you don't know Wealthy Affiliate, it has existed for more than a decade and is now one of the largest internet communities of affiliate marketing.
Many members of Wealthy Affiliate are able to enjoy a steady passive income, which allows them to quit their 9 to 5 job and travel around the world.
Here are some of the inspiring success stories of Wealthy Affiliate members.
Where to Join Wealthy Affiliate?
Wealthy Affiliate is a membership platform. It has free and premium membership.
You can sign up for the starter membership here (no credit card required) to experience yourself. There's no time limit for the free membership.
And as a starter member, you can get instant access to the community, live chat, over 500 training modules, 2 classrooms, networking, commenting, build 1 free website, access to the keyword tool. There're lots of free values you can get.
So I strongly recommend you to register a free account and see it yourself.
Later, if you think affiliate marketing is a good fit for you, you can upgrade to the Premium Membership and get the most out of Wealthy Affiliate.
If you have any questions, feel free to comment below and I'll respond as soon as possible.