Are you looking to make fortunes through dropshipping? If so, you might have watched Fred Lam's Youtube videos or Facebook ads. But you may ask, "Is Fred Lam a scam?"
A few years back, I purchased Fred Lam's Zero Up in order to learn about dropshipping in depth. Zero Up offers lifetime access which enables me to share with you the most updated information.
Simply put, it is a package which contains a software to help you streamline the process of Shopify dropshipping and a complete training program on dropshipping.
Since I'm not an affiliate of Zero Up, you can rest assured that my reviews on Fred Lam's Zero Up is unbiased.
At the end of this Fred Lam's Zero Up review, I'll tell you a better alternative that has enabled to make a full-time passive income online.
Below is what I'll be covering in this article:
Who is Fred Lam?
Fred Lam is a serial entrepreneur who once shared the stage with Robert Kiyosaki, Grant Cardone, Jack Canfield and others.
Some years back, Fred was the youngest Marketing Manager of the BMW Group Canada. He quickly climbed up the ladder, from a dishwasher to the CEO of several multi-million dollar businesses.
By virtue of his achievements, Fred has received a number of awards as a marketer and entrepreneur (according to his Facebook Page) including INC 5000 Award, Startup 50 Award, Canadian Business Excellence Awards for Private Businesses etc.
The thing is I still couldn't find out any of Fred's stores or brands other than the business programs he is now offering to you.
Recommendation: Here's The Best Alternative
What is Zero Up?

Zero Up is a dropshipping course. It offers you an introduction on dropshipping and software to help you set up and optimize your Shopify store.
As software, Zero Up offers you the following functions (as listed on their website):
Integrated with AliExpress – Access millions of products plus automatically fulfilling and tracking product orders
Synchronize with over 11 email Autoresponders and allows you to segment your lists to create email marketing campaigns
A built-in, drag and drop landing page and sales funnel builder
A profit multiplier function to increase average order value per sale
But you have to be cautious of the automatic order fulfilment function.
Instead of allowing Zero Up to place an order on AliExpress without your instruction, you should check if there's any fraudulent order.
Zero Up has a lot of bugs that it malfunctions from time to time. You may feel very frustrated by that because when the software goes down, you cannot place your orders and hence lose a lot of money.
Also, you should always check on AliExpress to see if there's any change in the product price and shipping cost. The idea of auto-fulfilment in Zero Up is not practical in reality.
In one word, Zero Up can't really help you completely automate the process of order fulfilment. You might also risk losing a lot of money because of the software bugs.
Therefore, I switched to use Oberlo instead of Zero Up after a while. Since Oberlo is owned by Shopify, the system is more optimized and well-maintained. Oberlo has a large team of developers monitoring the apps while Zero Up is simply a primitive software developed by Fred Lam.
An Overview of the Zero Up Course

The Zero Up course includes 10 different modules, with videos and additional resources.
Module 1 – Store Creation
Duration: 12 videos with a total length of 2 hours and 4 minutes.
In this module, Fred introduces to you some basic concepts of dropshipping and how to select a niche that is hot-selling.
After that, Fred goes over the process of setting up a business within the legal framework of the US and purchasing a domain.
This is followed by a quick run-down of setting your Shopify store, including shipping, email, checkout and linking Google Analytics.
Fred concludes this chapter with an introduction to the Zero Up software that has the function of installing a Shopify Theme and customizing store settings.
Module 2 – Inventory Arbitrage
Duration: 6 videos with a total length of 1 hour and 28 minutes.
In this module, Fred begins with the concept of "inventory arbitrage". It is a fancy term for not keeping any physical stock i.e. dropshipping itself.
This is followed by a demonstration to use his Zero Up software to look for ads that are selling products similar to what you intend to promote.
However, Facebook actually has a function that allows you to type in a product name and find out relevant ads.
After the walkthrough on his Zero Up software, Fred will tell you how to increase perceived value, approach different pricing strategies and write product descriptions.
You can also find in this module the 100 "top-selling" product documents that you can use on your Shopify Store.
But you can actually Google "best selling dropshipping products" to get similar results.
Module 3 – Turbocharging Your Store
Duration: 9 videos with a total length of 1 hour and 38 minutes
In this module, Fred teaches you how to use apps that allow everything from creating coupons, testimonials to automated email marketing.
However, Fred doesn't tell you to caution against the prices. Some of the apps he recommends can add up to $160 a month.
Worse still, he doesn't warn you that if you don't have a sizable email list, it's redundant to buy any expensive apps for email marketing.
Module 4 – Creating A Sales Funnel
Duration: 5 videos with a total length of 1 hour and 5 minutes
In this module, Fred shows you how to create a sales funnel and introduces you to some of the tools provided by the Zero Up software, including:
The Funnel Builder – it helps you to create and launch a sales funnel.
The Profit Multiplier – it allows you to create 4 different types of pop-ups
Fred also teaches how to raise your average order value.
Module 5 – Advertising Your Store
Duration: 16 videos with a total length of 3 hours and 27 minutes.
In this module, Fred teaches his students how to make good use of Facebook ads to sell products. He will show you how to create different types of ads, instal Facebook pixel and scale your ads.
Module 6 – Store Management
Duration: 9 videos with a total length of 2 hours and 8 minutes.
In this module, Fred teaches you the daily routine of running a Shopify store e.g. how to deal with some customer issues and credit card chargebacks.
But he doesn't teach you how to read the data generated from your Shopify Store and Google Analytics, or how to hire virtual assistants to give you more time on scaling your business.
Apart from that, neither does he mention anything about setting up automated email or doing your own split testing.
Module 7 – Traffic Genius
Duration: a total of 28 videos with a length of 5 hours and 52 minutes.
In this module, Fred introduces to you both Bing and Google ads.
First, he walks you through the Bing Ads setup and shows you how to create and launch ads.
After that, Fred goes on with the steps to set up Google ads campaigns.
Module 8 – Zero Up Jewels
This module teaches you how to customize your own jewelry and sell it on your E-commerce store.
Module 9 – Weekly Bootcamp
Duration: a total of 20 videos with a length of 26 hours and 17 minutes.
Fred hosts a "Bootcamp" session with Zero Up students on a weekly basis, where they can get more tips from Fred or ask him questions via email.
Sometimes Fred might spend some time looking into a student's website or advertisement campaign and provide some ways to make improvement.
Module 10 – Bonus Trainings
Duration: a total of 7 videos with a total length of 1 hour and 50 minutes.
Fred passes off this bonus section with only two subjects i.e. email marketing and managing influencers. It is full of great theories without any practical steps.
Recommendation: Here's The Best Alternative
Is Fred Lam A Scam? Is Zero Up a Worthwhile Course?
If you follow Fred's methods and advice, apart from paying $1,497 for Zero Up, you have to fork out about $170 a month for your apps. These add up to a considerable amount of "investment" without any guaranteed returns.
To be honest, the course is just an introduction to dropshipping. You can get access to those contents on Youtube videos or blog posts without spending a penny.
Most of the time, Fred is showing you how to use Zero Up's software and other add-on apps to automate your store. But he seldom teaches you any proven marketing strategies that can boost sales. And if no one buys things from your store, why bother about automation?
Worse still, all the tools in the Zero Up software can be found in the Shopify app store. And for a lot less than the suggested $170 package of apps per month. With a bit of time, you can find out the apps that best suit your store or niche for half the price of what Fred recommended.
Also, as mentioned earlier, it is impossible to completely automate your dropshipping business, even Fred pointed out that you need a daily routine to become successful.
Recommendation: Here's The Best Alternative
Is Dropshipping still Profitable in 2020?

As an experienced dropshipper, what I can tell you is that dropshipping has become increasingly difficult.
Here are a few points why I would not recommend dropshipping:
1. Financial Risk
Your dropshipping store won't sell ANYTHING if you don't ADVERTISE. But the marketing costs from social media marketing such as Facebook ads will eat away your PROFITS. There is also the start-up cost of investing $1,497 in the Zero Up course.
You might need weeks or even months to just break even, before showing any profit.
In another word, it is a huge FINANCIAL RISK to start dropshipping.
2. Facebook ads are Pricey and Difficult
After observing most dropshippers' results, at best, the total Facebook ad cost will account for at least 30% of your total sales.
But Facebook ads seldom stay effective for too long. After your targeted audience is exhausted, you will see a much lower conversion rate. This might force you to increase the marketing budget.
According to Forbes, Facebook saw an increase in Ad costs of 90% year-on-year.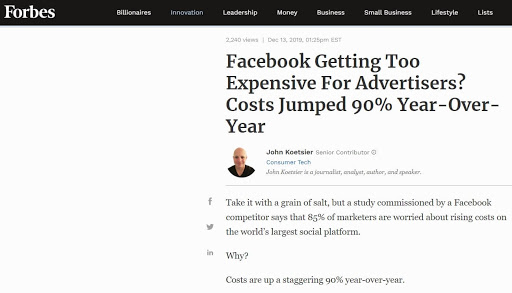 Worse still, the learning curve of Facebook ads is quite steep because Facebook changes its algorithm all the time. You have to invest a lot of time and money in learning and testing Facebook Ads.
If you run Facebook ads without any experience, your ad account will be easily banned for violating their strict policies.
Many dropshippers fail to cover their Facebook ad cost and result in net loss.
3. Customer Support is Time Consuming

Even though you don't have to manage inventory and logistics, you do have to spend a lot of time communicating with suppliers and dealing with customer service.
If your customer has any issues with the product, you have to wait for your supplier to help you. If your supplier is not helpful, you have to bear the loss yourself. Therefore, many dropshipping stores have poor customer review and have no returning customers. That's why it's not easy to build a sustainable dropshipping brand.
In the worst case, you would expect a lot of credit card chargebacks, which risk getting your payment gateway shut down.
4. A lot of work on product research
For your store to keep making money, you always have to look for a new winning product by testing products with Facebook ads.
In dropshipping, most products reach their peak in 1-2 months or even weeks. This is because many competitors will start selling the exact same product once it becomes popular.
Therefore, you need to keep finding new replacements to keep generating profits.
Most people who succeed in dropshipping are doing it full-time because it requires dedication, consistency, hard work and a lot of patience.
In fact, managing Facebook ads alone can take up your whole day.
Recommendation: Here's The Best Alternative
Is There A Better Alternative to Fred Lam Course?

If you are new to online business, you may ask if there is a better business model that doesn't need Facebook ads and can do it as a side-hustle.
Yes, I would suggest you getting started with affiliate marketing. It is far easier and less time consuming as you don't even need to handle customer service.
In affiliate marketing, you can run your business almost with zero cost. Most importantly, you don't need to invest in creating and developing any products.
But How Much Can You Earn in Affiliate Marketing?
A 21-year old student from my #1 recommended training platform of affiliate marketing was able to earn $7,395 in just 1 week, which means he made more than $1k a day…all while using free traffic methods and affiliate marketing.
Wealthy Affiliate has existed for more than 10 years and there are many success stories over the years.
To give you more examples, here are some of the other inspiring success stories of Wealthy Affiliate members.
Where to Join Wealthy Affiliate?
Wealthy Affiliate has a very simple pricing scheme. It has free and premium membership.
If you want to feel about Wealthy Affiliate, you can sign up for the starter membership here (no credit card required). You can select to be a free member with no time limit.
And as a starter member, you can get instant access to the community, live chat, over 500 training modules, 2 classrooms, networking, commenting, 1 free website, access to the keyword tool.
You can enjoy all these values without paying a penny.
So I strongly recommend you to register a free account and see it yourself.