There are so many gurus online, each one of them has an epic story to tell. You may wonder, "Is Caleb Maddix a scam?"
Caleb Maddix has a course called YTA Method. If you consider to join this course, this YTA Method review will help you to make the decision.
With full disclosure, I'm NOT an affiliate of Caleb Maddix.
In this review of Caleb Maddix, I will cover the following:
Who is Caleb Maddix?
Caleb Maddix is a very young entrepreneur born on December 13, 2001. He is the founder of the motivational brand Kids4Success. He has a very business-focused mindset.
At age of 13, he already published his first book, "Keys to Success for Kids". He appeared at many events as a motivational speaker around the world.
Many people are impressed by his accomplishments at such a young age. He was featured by mainstream media like Inc. Magazine, Forbes, Huffington Post, ABC news, and Entrepreneur Magazine.
But even if he is successful, it does not mean his course, YTA Method is for everyone. Let's take a look at what YTA Method is.
What is YTA Method?
YTA stands for YouTube Automation. YTA Method by Caleb Maddix is an 8 week online course that aims to teach you how to make passive income from YouTube. Caleb Maddix teaches the course with a partner, Devon. The course price is not cheap, you have to invest $997 upfront or make 2 instalments of $597.
The YTA Method claims to be suitable for anyone who wants to make money online, even if you are not tech-savvy or don't have any expertise about YouTube functions.
And with the YTA Method, it's alleged that you don't have to perform any kind of movie editing or on-camera functions.
The method teaches you how to create "automated" YouTube channels by modeling other channels that have rich content and views in certain niches. You just have to slightly change them and automate them with a team of virtual assistants.
If you are an advocate of originality, then this course is not for you, as the whole concept taught in this course is to make quick cash by modeling other people's ideas, work and channels.
Is Caleb Maddix a Scam? What are the Problems with YTA Method?
I wouldn't say Caleb Maddix is a scam. Undeniably he is very successful given his age. And YTA Method's idea sounds great to get rich quick. But here are the problems you have to bear in mind:
Caleb Maddix's YouTube Channel does not have outstanding number of subscribers
Although Caleb Maddix's course teaches people how to grow a YouTube channel, and monetise, his own YouTube Channel does not have a large number of subscribers. At the time of writing, his channel only has 27.6K subscribers, which is not very impressive.
So if you are mentored by him and use his method, you won't expect to grow a larger channel than him.
The method is controversial
The YTA Method teaches you to just model other people's videos. And you're not really creating any valuable content on YouTube, but just piggybacking on other people's videos.
That is not very legitimate. And you may receive complaints from the original creator to take down your video.
YouTube also tightens its policy all the time, so using this method entails the risk of being banned from YouTube. And in fact, when you apply for YouTube Partner Program to monetise your channel, your channel will be reviewed and there is no guarantee that YouTube will approve your channel if they consider your content is spammy.
Huge upfront investment
Apart from the expensive course price, if you use the YTA Method, you would need to hire a team of virtual assistants to work for you. This is how you can automate the process.
However, that means your success will rely on a quality team of virtual assistants. Your virtual assistants will be responsible for finding some viral videos and modeling the content for you. The cost involved in this can be high and you may not be able to earn the money back.
Ad revenue from YouTube is minimal
It's hard to generate a lot of ad revenue from YouTube. On average, you will only be paid $18 per 1000 ad views. That is equal to $3 – $5 per 1000 video views. If you have some experience with YouTube, you will know getting 1000 video views is not that easy given there are tons of videos on YouTube uploaded every day.
You may get some clicks but if you want to have more than a thousand views, your video has to stand out. If your content simply copies other people's videos, it's not very likely that your video will be more popular than the original one.
And even if you got a thousand video views, you only got $3-$5, which may not be able to cover your cost.
Reasons Why I Do not Recommend Youtube to Beginners
YouTube is a platform for building a brand or attracting traffic to your website. If you want to directly use YouTube to earn ad revenue, it's hard to get it to work.
There are countless videos uploaded on YouTube. If you want to generate hundreds of thousands of video views on YouTube, you need to make many videos in order to generate a little bit of ad revenue.
And the cost of creating a video is not cheap. It takes a lot of time to write the scripts, do the video editing, analyse the SEO for ranking etc. If you are not tech-savvy, you would have to hire someone to manage the softwares for you.
Therefore, if you're just a beginner of online business, I would not recommend you to go for YouTube.
Is There an Easier and Better Alternative to YTA Method?
If you are new to online business, I have an easier and better alternative for you.
It is called affiliate marketing. It is easier and less time consuming so that it's perfect for beginners. Many people also do it as a side hustle and make enough money to pay for their bills.
And the most important thing is that affiliate marketing is absolutely legitimate. At the same time, you don't have to create your own products and deal with after-sale service.
To start an affiliate marketing business, you also don't have to run paid ads on social media. So you don't need large initial capital. What you need is to devote some time to write some content for attracting potential customers.
How Much Can You Earn Affiliate Marketing?
So you may ask how much you can earn in affiliate marketing.
Let me show you a young kid's successful story. Below is a 21-year old student from my #1 recommended training platform of affiliate marketing. He made $7,395 in just 1 week. That is more than $1K a day. And he did not pay a penny on creating products or advertising.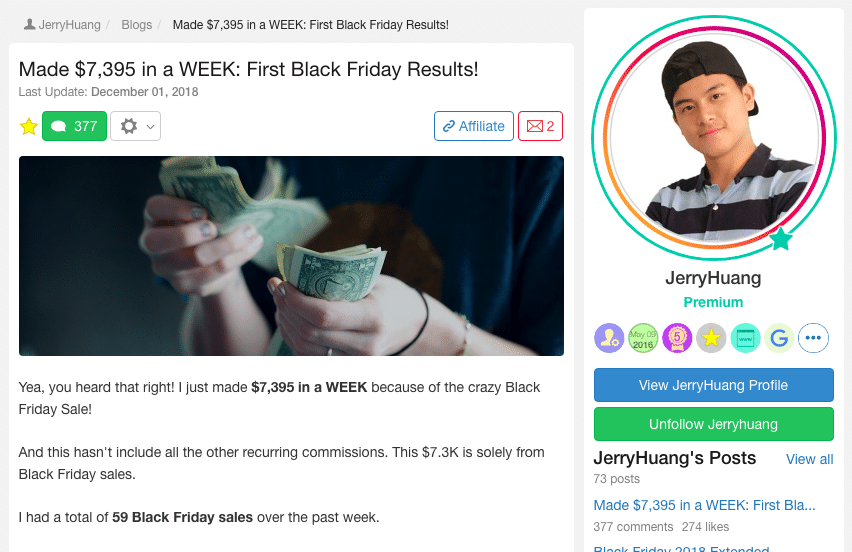 This #1 platform is called Wealthy Affiliate. It has existed for more than a decade. Many members at Wealthy Affiliate have succeeded in making passive income.
Here here are some other inspiring success stories of Wealthy Affiliate members.
Where to Join Wealthy Affiliate?
Wealthy Affiliate is an all-in-one platform for building an affiliate marketing business. You can join it for free or upgrade to the premium membership to access all the features.
If you want to take a look inside Wealthy Affiliate, you can sign up for the free starter membership here (no credit card required). You can stay as a free member if you want.
And as a free member, you can access the community, live chat, over 500 training modules, 2 classrooms, keyword research tool and building 1 free website.
So I highly recommend you to register a free account and see if it is a good fit for you.
Comment below if you have any questions.