There are so many gurus online, and each one of them has an epic story to tell.
Therefore, you might wonder if Caleb Maddix is just a scam.
Caleb Maddix has a course called YTA Method. Before you spend a thousand dollars on this program, it's worth your time to do some research.
As an Internet entrepreneur, I'm in a good position to share with you everything I know about the program.
With full disclosure, I'm NOT an affiliate of Caleb Maddix. So you can rest assured that my review is not biased.
At the end of this article, I'll also share with you a better alternative that has enabled me to make a full-time income online.
Key Takeaways: YTA Method Review
Name

: YTA Method

Owner

: Caleb Maddix

Overall Rating

: 1/5

Pros:

30-day money-back guarantee

Cons:

Outdated information; misleading claims; bad marketing advice

Verdict

: A Youtube marketing course only suitable for Caleb Maddix fans.
In this review of Caleb Maddix's YTA Method, I will cover the following:
Who is Caleb Maddix?
Caleb Maddix is a young entrepreneur who's already making waves in the business world. Born in 2001, he's the founder of the motivational brand Kids4Success and has a serious business mindset.
At just 13 years old, he published his first book, "Keys to Success for Kids," and has since traveled the world as a motivational speaker.
He's been featured in major publications like Inc. Magazine, Forbes, Huffington Post, ABC News, and Entrepreneur Magazine.
But just because he's successful doesn't mean his YTA Method is for everyone.
Caleb pitches the YTA Method as "the greatest online training you'll ever see" that will reveal "the greatest opportunity of our era."
But before you jump on board, check out the video below to hear why Coffeezilla thinks the YTA Method might not be the best money-making opportunity out there.
Recommendation: Here's The Best Alternative
What is YTA Method?
YTA stands for YouTube Automation. YTA Method by Caleb Maddix is basically an 8-week online course that promises to teach you how to make passive income from YouTube. It's run by Caleb and his partner Devon, and it ain't cheap – you'll have to fork over $997 upfront or make 2 payments of $597.
The thing is, the YTA Method is supposed to be for anyone, even if you're not tech-savvy or don't know much about YouTube. And the best part? They claim you don't even have to do any video editing or on-camera work.
Basically, the method is all about creating "automated" YouTube channels by copying other successful channels in certain niches. You just tweak them a bit and then use a team of virtual assistants to run them for you.
Now, if you're all about originality, this course might not be for you.
The whole idea is to make quick cash by copying other people's ideas, work, and channels.
How does YTA Method work?
So, you want to make some easy cash on YouTube? Caleb's got a hack for you. It's called the OPC Hack (Other People's Content) which can be broken down into 5 steps:
Find a YouTube channel that's doing well. Like, it has received millions of views.

Copy their niche and start your own channel.

Hire a virtual team from overseas using sites like

OnlineJobs.ph

to make all your videos, edit them, and make the thumbnails.

Sit back and make passive income without ever showing your face or using your voice. How? By using text-to-speech software and ripping content from Reddit forums for faceless videos.

Scale it up by making more channels and repeating the process. Before you know it, you'll have a whole network of channels raking in the views and cash from YouTube ads.
Recommendation: Here's The Best Alternative
What's inside YTA Method Course?
Below is an overview of the 8-week training program:
Week 1: Home
In Week 1, Caleb breaks down the YTA Method for you.
He'll show you how to avoid being in front of the camera, how to avoid working crazy hours, and how to be yourself without feeling like you have to have some wild personality.
Plus, you don't have to worry about editing videos or hiding behind a microphone.
And the best part? You don't have to be a tech nerd or have any fancy equipment.
Even creating thumbnails is a breeze, no graphic design skills needed.
Week 2: The Foundation of YTA
One of the first things you'll learn in the YTA Masterclass (or any other online business course, really) is how to pick a niche for your YouTube channel. The class is set up in a really practical way and encourages you to complete each step before moving on to the next.
Choosing a niche is a big deal because it can make or break your success as a YouTube entrepreneur. But don't worry, the class gives you a list of super profitable niches and even tells you how much money you can make once your channel is monetized.
Here are a few of the top-performing niches:
Tech

Movies

Making money online

Beauty

Travel

Yoga

Flight & Airline reviews

Toys
So, pick a niche that you're interested in and let's get started!
Week 3: The Science of Virality
In this module, Caleb talks about how it's super important to be able to predict which videos the YouTube algorithm will favor if you want to make money from your channel.
The idea that a video's popularity is just luck doesn't sit well with Caleb. He's learned the science behind it and explains it all in a way that's easy to understand. Once you get the hang of it, you'll be able to see YouTube like Neo in The Matrix – you'll know what's really happening behind the scenes.
Week 4: Setting up Your Channel
So you're ready to launch your YouTube channel, but before you do, make sure you read up on the policies.
To make it easy, Caleb breaks the policies into five main categories: best practices for creators, spam and dishonest tactics, sensitive material, harmful or violent content, and regulated products.
Once you've got that all squared away, your next step should be thinking about monetization. I know we all want to make some money off our channel, but you can't do that without monetization.
There are two ways to monetize your channel: once you have 4000 hours of watch time and 1000 subs, or if you purchase an already-monetized website. But, I personally wouldn't recommend the latter.
Once your first videos meet the criteria organically, you can simply turn on monetization.
But, if you're new to the monetization game, I suggest starting off organically to get a feel for the system.
Plus, the initial followers you gain will stick around and leave more comments, which will increase activity in the comment section.
Week 5: Automating Your Channel
Are you tired of needing expensive tools, fancy copywriting skills, or Photoshop abilities to make YouTube videos? Well, have no fear because Caleb's got you covered with his new YouTube automation training module.
This method involves outsourcing your video production process to a team of experts. You can put together a team that includes a thumbnail artist, scriptwriter, video editor, and voice-over artist. And to keep costs low, you'll want to hire your team from abroad, train them up, and make sure they understand your niche.
You can start by putting all your ideas on a shareable platform like Trello, which will act as a blueprint for your outsourced team.
From there, the scriptwriter will put your ideas on paper, the voice-over artist will record their lines, the video editor will add the audio to the video, and the thumbnail maker will create a killer image to help your video go viral.
Caleb also recommends using onlinejobs.ph, based in the Philippines, to find and hire your team members at a more affordable rate than hiring in the US. Plus, he provides templates for the four different jobs and even has his acquisition manager, Noah Lenz, walk you through the hiring process.
While the logistics of hiring workers abroad can be a bit dull, the end result of having an affordable, efficient team to help you create killer YouTube videos is well worth it.
Week 6: Upload Your First Video
So you've got your first video ready to go and you're itching to share it with the world. But hold up, buddy. Before you hit that upload button, you gotta make sure you've got a few more videos ready to go. That way, you can release one video a day without your team having to work their butts off and without making you feel like you're constantly rushing.
Now, when should you actually release your videos? Well, it depends on who you're trying to reach. If you're targeting people who work 9-5 jobs, drop your video at 8 PM so they can watch it on YouTube when they get home.
But, if you're trying to reach kids, you'll want to release it an hour after school. And, to really make sure you're hitting the sweet spot, check Google Analytics to see when your videos are getting the most views.
Another tip: Once you've got a fan base, get them to turn on notifications for your channel so they never miss one of your videos.
So you've got your first video out there, but now what? How do you get people to actually watch it? Well, the most dedicated fans will be the first ones to check it out. But, you can also find ways to win over new viewers.
The YTA community is a great place to start. There are tons of people in the community who will watch your video from start to finish, leave comments, share it, and chat about it. Plus, you'll get some valuable feedback from other creators. Overall, it's a pretty solid strategy that can help you get your first few views.
Week 7: SOPS to Scale
Scaling up your YouTube channel is a great sign that you're on the right track. But before you jump into it, there are a few things to keep in mind. Timing is everything when it comes to scaling. Once your channel is churning out viral videos like a well-oiled machine, it's time to think about scaling up.
The goal is to have one channel that's making you money and running smoothly without your constant intervention. That way, you can focus on developing new channels and sources of income. The key is to hire the right people.
A YTA manager is a must-have for any growing YouTube business. This person will step into your shoes and take care of all the day-to-day stuff, leaving you free to focus on new ideas and developing new channels.
The YTA manager will be responsible for monitoring your team's commitment, making sure the final product is top-quality, and doing research to improve in your niche.
They'll also be obsessed with your niche, which is crucial for maintaining the morale and standards of your team.
You'll need to trust this person completely, as you'll be outsourcing your ideas and market research to them. But with a good YTA manager in place, you can sit back and watch your channel continue to grow.
Week 8: The Maximum Wage Mentality
So, before the whole YTA thing even came around, the last part of the course was available on its own. And the thing is, getting the right mindset is crucial if you want to become a millionaire.
Caleb breaks down how to shift from living paycheck to paycheck to living large, and it's all about fixing your mindset. He's not just talking about how much you make, it's about how you can grow and make more money.
Bonuses
In addition to the training, Caleb offers numerous bonuses with a YTA Method membership:
Devon Will Train Your YTA Team For You

Fund For Free

Tripling Through Translation

Monetizing Outside Of Monetization

YouTube Advertising Mastery

YTA Investing

YTA Channel Flipping Secrets

Celebrity Automation

How To Get Your Channel Monetized
YTA Method Community
In Q&A Friday, Caleb answers every member's question.
In addition, he will review member videos and comments. Therefore, members will know what adjustments to make and what's needed to make their videos popular.
Recommendation: Here's The Best Alternative
How much does YTA Method cost?
YTA Method course is sold for $997 or two payments of $597.
But before you jump on buying it, just a heads up that it comes with a 30-day money-back guarantee in case you try it out and it's not for you.
However, I can't vouch for the credibility of the seller's word on that.
And they might also try to sell you on an upsell called the YTA Mastermind, which will cost a whopping $10,000. Yeah, you read that right – ten thousand bucks! So, just keep that in mind before making any decisions.
4 Major YTA Method Red Flags Exposed!
1. Caleb Maddix's YouTube Channel doesn't have an outstanding number of subscribers
Although Caleb Maddix's course teaches people how to grow a YouTube channel, and monetize, his own YouTube Channel doesn't have a large number of subscribers.
At the time of writing, his channel only has 26.4K subscribers, which is not very impressive.
If you are mentored by him and use his method, could you expect to grow a larger channel than him?
2. The method is controversial
The YTA Method teaches you to just model other people's videos. And you're not really creating any valuable content on YouTube, but just piggybacking on other people's videos.
That is not very legitimate. And you may receive complaints from the original creator to take down your video.
YouTube also tightens its policy all the time, so using this method entails the risk of being banned from YouTube.
And in fact, when you apply for YouTube Partner Program to monetize your channel, your channel will be reviewed and there is no guarantee that YouTube will approve your channel if they consider your content spammy.
3. Huge upfront investment
Apart from the expensive course price, if you use the YTA Method, you would need to hire a team of virtual assistants to work for you. This is how you can automate the process.
However, that means your success will rely on a quality team of virtual assistants. Your virtual assistants will be responsible for finding some viral videos and modeling the content for you. The cost involved in this can be high and you may not be able to earn the money back.
4. Ad revenue from YouTube is minimal
It's hard to generate a lot of ad revenue from YouTube. On average, you will only be paid $18 per 1000 ad views. That is equal to $3 – $5 per 1000 video views. If you have some experience with YouTube, you will know getting 1000 video views is not that easy given there are tons of videos on YouTube uploaded every day.
You may get some clicks but if you want to have more than a thousand views, your video has to stand out. If your content simply copies other people's videos, it's not very likely that your video will be more popular than the original one.
And even if you got a thousand video views, you only got $3-$5, which may not be able to cover your cost.
Is YTA Method a scam or legit?
I know some people are saying YTA Method is a scam, but I wouldn't go that far. I've definitely seen Caleb Maddix use some sketchy scarcity tactics and hyped-up language to sell the product, but I guess that's just good marketing, right?
Personally, I don't think the YTA Method is a scam, but whether it's actually worth your money is another question. Honestly, I don't think it's going to deliver on everything it promises.
YouTube updated their terms of service in 2019, so you can't use automated channels to earn ad revenue anymore. So, using YouTube to make money is pretty tough.
If you're looking to use YouTube to build a brand or drive traffic to your website, that's one thing, but if you want to make money directly through YouTube, it's going to take a lot of work. You need to upload a ton of videos to even start making a little bit of ad revenue.
Plus, creating videos isn't cheap – you need to write scripts, edit videos, and analyze SEO. If you're not tech-savvy, you'll probably need to hire someone to manage the software for you.
All in all, I wouldn't recommend the YTA Method, especially if you're just starting out in the online business world. YouTube is a tough platform to make money on, and there are other ways to build an online business that might be easier for beginners.
Is there a better alternative to YTA Method?
If you are new to online business, I have an easier and better alternative for you.
It is called affiliate marketing. It is easier and less time-consuming so it's perfect for beginners. Many people also do it as a side hustle and make enough money to pay their bills.
And the most important thing is that affiliate marketing is absolutely legitimate. At the same time, you don't have to create your own products and deal with after-sale service.
To start an affiliate marketing business, you also don't have to run paid ads on social media. So you don't need large initial capital. What you need is to devote some time to write some content for attracting potential customers.
How much can you earn from affiliate marketing?
So you may ask how much you can earn in affiliate marketing.
Let me show you a young kid's success story. Below is a 21-year-old student from my #1 recommended training platform of affiliate marketing. He made $7,395 in just 1 week. That is more than $1K a day. And he did not pay a penny on creating products or advertising.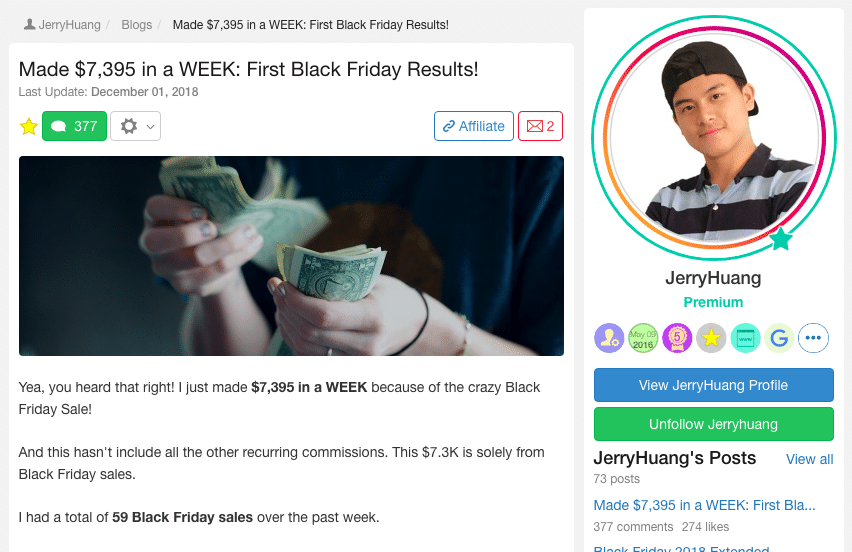 This #1 platform is called Wealthy Affiliate. It has existed for more than a decade. Many members at Wealthy Affiliate have succeeded in making passive income.
Here here are some other inspiring success stories of Wealthy Affiliate members.
Where to Join Wealthy Affiliate?
Wealthy Affiliate is an all-in-one platform for building an affiliate marketing business. You can join it for free or upgrade to the premium membership to access all the features.
If you want to take a look inside Wealthy Affiliate, you can sign up for the free starter membership here (no credit card required). You can stay as a free member if you want.
And as a free member, you can access the community, live chat, over 500 training modules, 2 classrooms, keyword research tools, and build 1 free website.
So I highly recommend you register a free account and see if it is a good fit for you.
Comment below if you have any questions.