If you're looking for a comprehensive affiliate marketing training program, you might have come across Invincible Marketer by Aaron Chen. It's a step-by-step course that promises to teach you how to become a profitable affiliate marketer by establishing authority in a niche and making your audience want to buy from you.
But with so many online programs out there, you might be wondering if Invincible Marketer is too good to be true. As someone who's been in the internet entrepreneurship game for a while, I've reviewed my fair share of programs – and I'm here to give you my honest take on Invincible Marketer.
Before we dive in, let me make it clear that I'm not affiliated with Invincible Marketer in any way. This means that you can trust my review to be unbiased and objective.
And just to sweeten the deal, I'll also be sharing with you the best alternative to Invincible Marketer that's helped me make a full-time passive income online. So, let's get started!
What is Invincible Marketer?
Invincible Marketer is a training course created by Aaron Chen, a legit online marketer and YouTube coach.
Divided into two parts – The Core Training and Essential Mindset – this course offers 17 sessions of specialized lessons that teach you how to start an online business using Aaron Chen's "Sell Without Selling" method. What's more, the course includes bonus resources and access to a private support group.
One thing that sets Invincible Marketer apart is its focus on mindset training, a critical factor for success in any online venture.
With Invincible Marketer, you'll receive:
Step-by-step core training modules

Bi-monthly coaching calls

Done-for-you blueprints, templates, and handouts

Expert mentoring

Community support.
Who is Aaron Chen?
Aaron Chen started out marketing on the Internet like many others, but he quickly realized that there was a lot of bad advice out there. That's why he created Invincible Marketer, a course that shows real ways to make money online.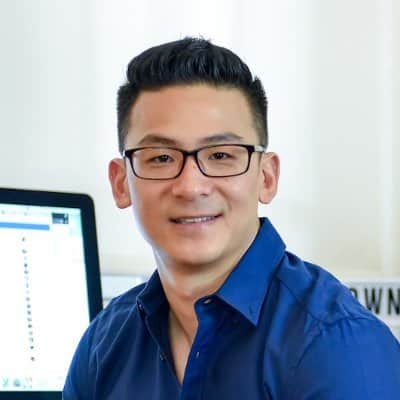 Now, he's built up a large following on YouTube, where he reviews digital marketing products and talks about everything from making money online to cryptocurrencies. His self-titled channel has just over 26.7k subscribers, and his videos cover a range of topics, including how to be successful in online business.
What sets Aaron apart is his willingness to share his own struggles and failures. He's spent up to $100,000 on so-called "scam" courses, but he's learned from those mistakes and used that knowledge to create a successful business. His channel is full of success stories and clients he works with, and he's always eager to share his insights and tips with his audience.
We don't know exactly how much money Aaron makes, but we do know that affiliate marketing can be a very profitable business.
Recommendation: Here's The Best Alternative
How does Invincible Marketer help you make money?
Invincible Marketer is a course that can teach you how to earn money through affiliate marketing.
The course covers everything you need to know, from picking the right niche and products to promoting them through your website, blog, YouTube channel, and more.
It also shows you how to drive traffic to your promotions, whether it's through paid or free methods.
How is the training structured?
Here are some of the things you'll learn over the 17 training sessions with Aaron:
Choose the right niche

Pick the best affiliate products to promote

Identify your target audience's needs

Create a high-converting sales funnel

Develop a successful mindset

Write compelling headlines and capture pages

Build an email list

Run profitable email marketing campaigns

Drive traffic from various sources

Manage your time effectively

Build an authority website

Create a successful YouTube channel

Optimize for maximum conversions
Invincible Marketer's main goal is to teach you how to start earning money online through affiliate marketing. By promoting other people's products, you'll learn how to create a successful business for yourself.
What's inside the Invincible Marketer?
The Invincible Marketer program consists of four parts, two of which are the core training and mindset training, and two more that are bonus content. Here's what you can expect from each of them:
Core Training
The core training is where you'll learn the fundamentals of affiliate marketing. This includes how to make money through affiliate marketing, how to build your assets, and drive traffic to your website. While it covers a lot of ground, it doesn't delve into other crucial topics like website building and platform selection.
Essential Mindset Training
The mindset training is all about cultivating the right mindset for success. It covers strategies on how to overcome failure, be accountable, and stay dedicated. The program emphasizes that combining the right mindset with a proven system is key to achieving success.
Bonuses
The bonus content is available for a limited time and includes mini-courses on different aspects of affiliate marketing. Here are some of the bonuses included in the program:
Unlimited Traffic Masterclass – a mini-course that teaches about traffic, which is a crucial part of affiliate marketing.

Product Profit Secrets – this mini-course focuses on how to pick the right products and take them to market.

Tribe Building Secrets – this mini-course is all about branding and building a brand from scratch to get sales down the road.
The Invincible Marketer Facebook Community
Finally, you'll also get access to the private Facebook mastermind group, where you can get support from Aaron Chen and his team of expert marketers if you encounter any problems with the course. This is one of the most valuable features of the program.
How much does Invincible Marketer cost?
The regular price of Invincible Marketer was $197. However, there's currently a promotion going on where you can get it for only $67 per month. By signing up, you'll gain access to step-by-step training, bonus content, and the Facebook group.
Monthly Subscription to Lifetime Membership
If you take the monthly subscription, you will have the option to change it to a lifetime membership after purchase.
The lifetime membership only costs $430 (one-time payment), giving you access to the Invincible Marketer course, updates, and private group forever. This means you won't have to pay any monthly recurring costs.
Exclusive Offers with Lifetime Membership
Aside from the Invincible Marketer course, you'll also get access to bi-weekly live Q&As with Aaron, DFY capture pages, value series, emails, bonus pages, advanced marketing strategies, tested affiliate programs, and the Invincible Marketer affiliate program.
Video Authority Mastery
In addition to Invincible Marketer, there's an option to purchase Video Authority Mastery. Video Authority Mastery costs $497 for a one-time payment, and it teaches you how to use Youtube to drive high-quality leads to your funnel.
Additional Costs
While there are many bonuses and a growing community, it's important to note that certain tools needed for success are not included in the package. This means that you will need to outsource these tools, which creates additional costs.
To fully benefit from the program, you will need to invest in tools including:
ClickFunnels (a funnel builder) at $97 per month

ClickMagick (a link tracker) at $37 per month

GetResponse (an autoresponder) at $15 per month
These tools are essential to achieving success through the "Sell Without Selling" method taught in the program.
Recommendation: Here's The Best Alternative
Praise for Invincible Marketer
1. Actionable steps for beginners
One of the things we appreciate about Invincible Marketer is that it provides actionable steps after each lesson. As a step-by-step course, it's suitable for beginners who might be overwhelmed by the amount of information out there.
2. Valuable bonuses and community access
Aside from the excellent content, Invincible Marketer also offers valuable bonuses and access to a community of like-minded individuals. Aaron has put together a community where you can chat with other members and learn from their experiences. This feature is especially helpful if you're looking for support and motivation along your journey.
3. Affordable pricing options
The price point of Invincible Marketer is quite reasonable. For only $67 a month, you get access to all the features the course offers. But, if you're looking for a more cost-effective option, you can pay a one-time fee of $497 for lifetime access.
4. Risk-free trial
If you're still unsure whether Invincible Marketer is the right course for you, the risk-free 30-day trial might convince you. You can test out the course without any commitment, and if you're not satisfied, you can cancel within the trial period without any penalty.
Criticism of Invincible Marketer
1. Focus on Mindset may not appeal to advanced users
While the Invincible Marketer course does include a focus on mindset, some advanced users may find this part of the course too basic or boring.
The course is primarily designed for those who want to learn about different affiliate marketing strategies and concepts, and there are many resources available on the web or social media to improve your mindset. However, it is worth noting that the course can be helpful for beginners who need to adjust their mindset to be successful in affiliate marketing.
2. Recurring cost and additional tool expenses
The course costs $67 and is a recurring membership, which means that the overall cost could add up quickly if you decide to replicate Aaron's processes.
Additionally, you may need to pay for separate tools to achieve the same results as he did, which could add to the total spend with monthly subscriptions. However, if you stay focused and work hard, you could potentially pay off your entire investment in less than 6 months.
3. Narrow focus on traffic generation
One area where the Invincible Marketer course could improve is traffic generation. While the program covers YouTube and paid ads such as banner ads and native ads, some users may feel that the lessons are too narrow.
There is also the issue of Aaron pitching his Video Authority Mastery course inside the Invincible Marketer, which is a more in-depth course that teaches how to master YouTube marketing.
4. Lack of Video Demonstration
Aron mostly teaches while standing in front of a whiteboard. While this might work for some people, it may not be everyone's cup of tea. In most other online courses, you'll see trainers doing screen recordings to show you how to implement the steps in real-time.
This could make it easier to understand and implement what's being taught. However, in Aron's course, I noticed that this method was barely used. So, if you're someone who needs to see more hands-on demonstrations, this course might not be the best fit for you.
5. Outdated Strategies
The course hasn't been updated to include current strategies like leveraging social media platforms such as TikTok, Snapchat, Instagram, Twitter, or Facebook to boost sales. While the strategies that are discussed may still be useful, they might not be as effective in today's market. I was hoping to see some updated strategies that I could apply to my business, but unfortunately, this wasn't the case.
6. Upsells
Lastly, I noticed that Aron has a lot of upsells in his course. While this may not be a problem for everyone, I found it slightly annoying. He uses entire videos to explain why you should buy a certain book or journal, and under each of those videos, he has an Amazon affiliate link for you to purchase the book.
Of course, he makes a commission every time someone uses the link to purchase the book. While I understand the need to make money, I felt like the upsells were a little too much.
Is Invincible Marketer a scam?
The answer is no. It is a legitimate training course that focuses on teaching the basics of affiliate marketing. The course creator, Aaron Chen, is an experienced marketer who shares his knowledge and experience with the students.
However, there are a few things you should know before signing up.
Firstly, Aaron promotes a lot of upsells in his course. Some of his videos are entirely dedicated to selling books or journals, with an Amazon affiliate link provided for each one. This means that Aaron earns a commission each time someone uses his link to purchase the recommended book.
Another issue with the course is that Aaron talks extensively about mindset. While having the right mindset is crucial for succeeding in online business, some students might feel that this topic is overemphasized. The course would benefit from a greater focus on actionable affiliate marketing strategies.
Lastly, it's worth noting that the course content is somewhat outdated. Given that the course was released a few years ago, some of the information might not be entirely relevant to today's affiliate marketing landscape.
Is there a better alternative to Invincible Marketer?
I agree that affiliate marketing is a great business model for novices in online business. However, it's expensive to use Invincible Marketer's approach because it requires paid ads or costly tools to drive traffic.
Personally, I prefer the zero-cost approach to affiliate marketing, where you can earn a steady passive income without spending any money on advertising.
Of course, everyone has their own preference, so you may disagree with me. But if you're interested in learning more about affiliate marketing and building a business from scratch, I highly recommend checking out Wealthy Affiliate. It's a reputable platform that offers a free account, including a free website, and comprehensive training on SEO (which is a free traffic method). This means you can get started with affiliate marketing right away without spending a single penny.
But you're probably wondering how much you can actually earn with Wealthy Affiliate, right? Well, let me tell you about a 21-year-old student who was able to earn $7,395 in just one week using free traffic methods. That's more than $1k a day!
You can read our full review of Wealthy Affiliate here.
And if you want even more success stories, there are plenty of inspiring examples from other Wealthy Affiliate members over the past decade.
So, where do you sign up? Wealthy Affiliate has a simple pricing scheme with free and premium memberships available. As a starter member, you'll have access to the community, live chat, over 500 training modules, 2 classrooms, networking, commenting, 1 free website, and access to the keyword tool. And the best part? You can enjoy all of these benefits without spending a penny.
So what are you waiting for? Register for a free account at Wealthy Affiliate and see for yourself just how easy and rewarding affiliate marketing can be!