From Instagram to Youtube to TikTok, Andrew Tate and Hustlers University 2.0 can be found everywhere online. But you may wonder if it is a scam.
There are courses that give you fake information, claiming that you can make big money with their system or purchasing the tools they recommend, but they're not worth it.
To help you make a more informed decision, I have thoroughly researched Hustlers University so I can tell you more about it.
As a disclaimer, I'm not affiliated with Hustlers University. It means I'm not paid to write this review. So you can rest assured that you will get an honest and unbiased review from me.
At the end of this review, I'll also tell you the best alternative to Hustlers University that has enabled me to make a full-time passive income online.
Hustlers University Review – Key Takeaways
Name

: Hustlers University

Founder

: Andrew Tate

Overall Rating

: 3/5

Pros

: There are no hidden fees; a lot of material is covered; there are examples of student achievement.

Cons

: There are no refunds; education is confusing; Andrew Tate is at the center of much debate.

Who is Hustlers University for

: Andrew Tate fans who want to learn any of the subjects covered in the course.

Best Alternative: An All-in-One platform to learn how to make passive income online
In this Hustlers University review, I'm going to cover the following topics:
What is Hustlers University 2.0?
Hustlers University 2.0 teaches how to make money online using 18 modern wealth-creation techniques. It was founded in 2021 by Andrew Tate.
The course is designed to teach people how to make passive income online in various industries.
Each course at Hustlers University is taught by experts and professionals in the field who have experience in teaching these skills.
Hustlers University is a $49.99 per month service that runs entirely on private Discord servers. Over 100,000 people are currently members of the private Discord channel.
Andrew Tate and his team have selected Hustlers University professors to teach HU2 students the same way people share knowledge on YouTube.
You may be wondering what is taught at Hustlers University. You can currently choose from 18 courses that will teach you skills in the following industries:
Copywriting

Affiliate marketing

Freelancing

Stocks & Options

Cryptocurrency

E-commerce

AmazonFBA
It may be a good idea to attend Hustlers University if you are new to any of these industries, have an interest in them, or just want to learn more.
Recommendation: Make Passive Income Online
Who is Andrew Tate?
Andrew Tate is a four-time world kickboxing champion and the man behind Hustlers University. Recently, he has been attracting a lot of attention on the Internet.
Andrew Tate recognised the need for easily accessible education on today's methods of wealth creation and founded Hustlers University to fulfil that mission.
On his website Cobratate.com you can purchase digital products and memberships in private communities, and he is also the creator of Hustlers University 2.0.
Why is Andrew Tate Famous? How Did He Make Money?
Before he started his web business, Tate had already gained considerable notoriety through his kickboxing career and appearances on British reality shows TV. He eventually settled in Eastern Europe, where he began to establish himself as an online authority on the subject of online careers.
He says he made his fortune in the webcam industry, casinos and cryptocurrency investments. The only thing that bothers me is that many of those who have made millions in bitcoin are not actually professional investors. They simply invested in Bitcoin at the price of $1 and then later sold it for $60,000. So I can not say for sure that they are experts until I see more evidence. Quite simply, I do not know him well enough to make a judgment.
It's obvious he has business acumen, given the amount of data supporting his webcam project. However, he claims to have gotten rich through a webcam business and not through traditional means such as writing, Amazon, eCom, etc., all of which he teaches. Nothing about his background is relevant to the material covered in the course…
I think it is more plausible that he made his money in business and then invested it in cryptocurrencies.
Controversy About Andrew Tate
Tate tried to gain notoriety by appearing in mixed martial arts (MMA) or reality TV before social media algorithms began pushing his viral teachings on people.
When that failed, he turned to social media to brag about his wealth and lifestyle to other young, naive men struggling with their own self-image.
For the millions of aimless young men who struggle in school, sports and the workplace and ultimately find fulfilment in no area of life, he is an inspiration.
The reason for the uproar is that he often says controversial things to increase his viewership. He even goes so far as to claim that women are a man's property and that they should not be allowed to drive. His comments are often misunderstood, but there are some truly disturbing statements. To make matters worse, I despise it when people intentionally cause conflict just for the sake of conflict.
If Andrew Tate's Hustler's University were any good, he would promote it without artificial means. He could attract people's attention without resorting to outrageous talk.
Who is Tristan Tate?
Tristan, Andrew's brother, was also a mixed martial artist and now manages models like his famous brother.
However, I do not think he's an authority on digital entrepreneurship.
Recommendation: Make Passive Income Online
How Does Hustlers University 2.0 Work?
Even if you have never done it before, it's not too complicated.
Hustlers University is a training program that you can find on the social networking website Discord.
They knew that networking would be crucial and chose this site accordingly.
By comparison, most other MOOCs just have a bunch of filler videos and a faceless Facebook group. Here we have the formula.
Hustlers University 2.0 is different.
You need to have simple conversations with others if you want to learn and act effectively.
Students can help each other and communicate with teachers in an open forum.
You will learn how to access the different channels, where to find the different guides, and more.
Hustlers University is designed to help you "download" as much of the professor's knowledge as quickly as possible.
All you have to do is make an effort and take action, and there will be absolutely no filler.
They give instructions on how to start building wealth and show people the way to get there.
Recommendation: Make Passive Income Online
How is Hustlers University Structured?
Discord, one of the most popular social chat platforms, is solely used to host the course.
Hustlers University consists of several "campuses", each with its own Discord server.
Once you've signed up, here's what the general group looks like…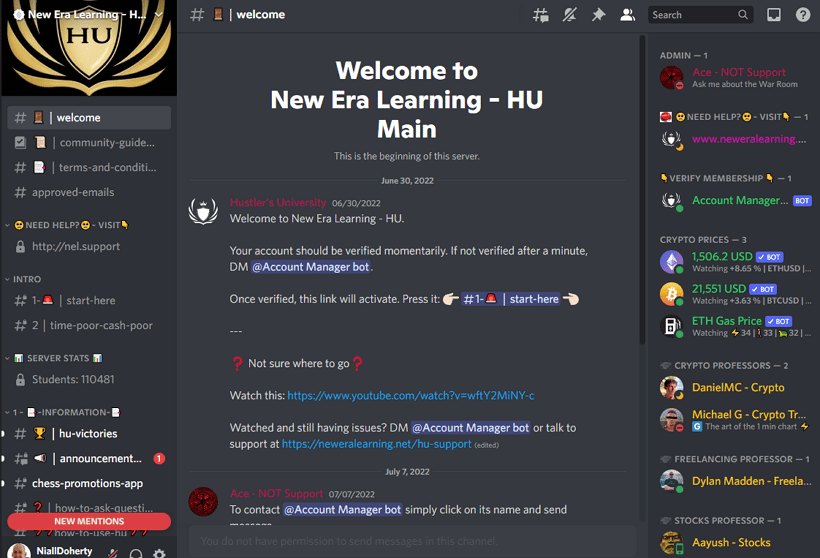 To begin, you must choose one quadrant from the following:
More than 28 hours of free time per week, less than $5,000 to invest.
Less than 28 available hours per week, less than $5000 free to invest.
Over $5000 free to invest and fewer than 28 hours available per week.
More than 28 available hours per week, more than $5000 free to invest.
Regardless of where you are in the course, the goal is to get you to the final quadrant.
Discord is the main problem with the HU curriculum.
I think Discord is great, but it is not appropriate for this type of course. There appear to be a scattering of sites, each with its own management team and architecture.
Most of the lessons at Copywriting Campus, for instance, conclude with a quiz before moving on to the next more difficult level. After each lesson in the Stocks course, a short quiz must be completed. Some students might quickly tire of these quizzes due to their sheer volume.
Institutions also seem to differ in the level of instruction they provide.
Copywriting Campus
The Copywriting Campus stands out from similar resources with its comprehensive video tutorials. Some of them also offer additional resources such as interactive online features and downloadable PDFs. In my opinion, the data presented here is both reliable and easy to understand.
Freelance Campus
There is also the Freelance Campus. There are numerous lessons available, the instructor is easy to understand, and there are both text and video options.
It's also quite organized, as it does not overwhelm you with information until you have completed all the lessons (or press the button to continue). Suddenly, the campus is much less mysterious.
Amazon FBA Campus
Amazon FBA Campus is similarly impressive. It instantly displays all the tutorials available. Again, there is a wealth of video content followed by a wall of text.
Stock Campus
At The Stocks Campus, the focus is on options trading education. The beginning is promising, but there are far too many quizzes for my taste.
I would have preferred if there were more video tutorials included. There are mainly text-based lessons in this course.
Crypto Campus
Compared to Stocks Campus, Crypto Campus is more visually appealing and does not randomly assign quizzes.
Ecommerce Campus
In my opinion, the Ecom Campus is the most rambling of them all. The layout is the most complicated I have seen, and the lessons are all in text form. Many of the videos are presented as slide shows. Nonetheless, it provides some value, as many of the lessons contain helpful real-life recommendations.
Affiliate Program
Finally, Hustlers University offers some rudimentary courses in affiliate marketing.
All lessons are text-based and focus on getting the word out about HU.
Even though it sounds like a multi-level marketing system, the affiliate marketing program at HU actually seems to be the least popular option. Even I had a hard time finding this section of Hustlers University.
The Community
The sense of community at HU is unparalleled.
Thousands of course participants regularly celebrate their successes, seek advice, and offer help to one another. Whether you agree with Andrew Tate or not, you have to give him credit for bringing together so many people who share his values.
Finally, keep in mind that Hustlers University is a lot to browse.
This is especially true on larger or more popular campuses, where you may have to scroll back through a mountain of information before you reach the section you want.
Recommendation: Make Passive Income Online
Can You Make Money With Hustlers University?
It's not a scheme to make a quick buck, and it doesn't pretend to be one. It takes effort, but you can accomplish anything if you put your mind to it.
Hustlers University can teach you new talents, but that doesn't mean you'll automatically make money doing it.
You make it clear when you sign up that you still have a lot of work and effort to put in.
Who is Hustlers University For?
The founder of HU, Andrew Tate, sells the course as a platform to make money online for complete beginners.
Whether you are a complete beginner or a seasoned professional, the training can teach you something valuable.
However, the claim that you will make money from day one is far-fetched if you are not familiar with business and entrepreneurship.
Hustlers University, in my opinion, is primarily for Andrew Tate fans who are willing to pay $50 per month for an introduction to various ways of making money online.
Hustlers University Pricing
The monthly subscription fee for Hustlers University is $49.99.
If you complete the course for the full 24 months and the cost remains the same, you will pay $1,176.
(Your membership can be canceled at any time)
Additional fees apply at some universities, but these costs are widely posted in the appropriate Discord threads.
Discount
I looked everywhere for a Hustlers University coupon or promo code, but I could not find one and the checkout page does not even have a special field for entering such a code.
Sorry, but you will have to pay full price or leave empty-handed.
Refund Policy
Unfortunately, Hustlers University does not offer refunds.
To avoid being charged for another month, you must cancel your subscription.
As an example, if you paid $50 to join on May 1st but canceled it on May 2nd, you would be removed on May 31st.
If you join on May 1st and cancel it on May 31st, you will be removed on May 31st.
Your membership can be canceled at any time.
Recommendation: Make Passive Income Online
Is Hustlers University Worth It?
If you're a big fan of Andrew Tate and want to learn from him and his friends, Hustlers University might be worth it. There's a good chance that you'll find useful advice, methods, and guides between the training and the secret society.
The one-month trial price of $50 is a bargain compared to other courses we've reviewed.
Hustlers University, however, is not the place to be if Andrew Tate makes you uncomfortable.
As with any business, dedication and hard work are crucial, and even then, success cannot be guaranteed.
If you're still interested in the course material, check out free or cheap alternatives first.
Pros of Hustlers University
1. Learn a variety of different skills
Among the 18 wealth creation techniques taught at Hustlers University are eCommerce, Crypto, Stocks & Options, AmazonFBA, Affiliate Marketing, and Copywriting.
All of these training are available at your convenience.
2. Access to mentors
With HU2.0, you can access experts from multiple fields who share their knowledge to help you succeed online.
3. Q&A Sessions
During every Hustlers University course, there is a Q&A session with the instructor to promote student engagement. In this way, students can get answers to their questions and get help.
Cons and Complaints of Hustlers University
1. Lack of Successful Stories of Students
While Hustlers University claims that there are thousands of their students see results from the training, there is no verified evidence to show this.
You may see some reviews posting screenshots as proof of the success stories. But there is no way to verify if those are true results or not.
Moreover, while Hustlers University teaches people how to make money, most of their revenue comes from their courses instead of what they teach. That makes the whole thing not convincing at all.
2. You Don't Get Technical Support
If you are a beginner, you probably need technical support from time to time. However, Hustlers University only offers courses, but not technical support.
That means if you have technical problems with your website, you have no one to seek support. This is bad news for the newbies.
Yes, you will feel helpless when you thought you can get all kinds of support after paying so much for the course.
3. Hustlers University Misses The Important Details For Beginners
If you are a beginner, you will find the course pretty hard to follow. The course content is very overwhelming. They teach you a lot of strategies but you have no clue which one is the best and which one you should follow.
Also, a lot of the small details are not covered by the course, which is however important for newbies. After paying so much for the course, you still need to Google many things to solve the problems yourself.
4. It's Extremely Hard To Make Money With Hustlers University
According to Hustlers University, it is easy to make money from eCommerce following their training programs. But I don't think so. It's costly to build an eCom brand. For example, you have to spend a lot of money on social media advertising.
But Hustlers University tries to make it sound very easy in order to get people to buy their courses. They tend to overpromise and underdeliver. Once you pay, they don't care if you can get any value at all.
5. No Refund
There is no refund for Hustlers University. You won't be able to get back your hard-earned money even if the course doesn't live up to its promise. You can only cancel your subscription; however, you must do so before your membership is renewed for another month.
6. There is No Free Trial
There is no free trial for Hustlers University. It costs $49.99 per month to gain access to the private Discord server that houses all of the videos and training. The risk is much higher in case you don't like the course or don't feel good about it. They don't offer any money-back guarantee.
Recommendation: Make Passive Income Online
Is Andrew Tate A Scam or Legit?
Andrew Tate is not a scam. He is a legit Internet entrepreneur. However, it is fair to say that the controversial nature of Andrew Tate adds an air of discord to Hustler University.
Despite Andrew Tate's dabbling in many different ventures, his webcam company has been the most successful.
Later, he shifted his focus to more law-abiding ventures such as producing educational videos, launching Hustlers University 2.0, and developing other online ventures.
Andrew Tate has been criticised by a number of prominent YouTubers for some controversial things he has said and (allegedly) done in the past.
For an excellent summary, check out this video…
Also, this article from The Guardian: Inside the violent, misogynistic world of TikTok's new star, Andrew Tate.
Despite these claims, Andrew Tate has amassed a sizable online following, and the reviews I have read have been overwhelmingly positive.
However, much of the praise seems overly enthusiastic.
Thus, it's likely that Andrew Tate's partners or new fans are most likely to leave positive Trustpilot reviews. It is usually the second group that turns to him in the hope that he can help them achieve financial success in the digital world.
Recommendation: Make Passive Income Online
Is Hustlers University A Scam or Legit?
Hustlers University 2.0 is not a scam. It is a legit online program that offers its students access to exclusive training modules and other resources that might help them make money online.
However, I do not like their marketing approach since using their methods is harder than it seems.
Also, Andrew Tate is making the most money from selling his courses, but not what Hustlers University teaches. That makes the whole thing unconvincing. You should always learn from the practitioner, meaning someone who has the most success in what they teach.
Moreover, there is no reason to go for Hustlers University when there are other better alternatives, which are much cheaper, but offer you much more value and can help you succeed faster.
It is unlikely you will see a newbie earning big online who is just getting started with Hustlers University.
My #1 recommended platform, however, has seen a lot of beginners earn four figures a month after joining it for a year.
I will tell more about my #1 recommended platform at the end of this review.
How to Cancel the Membership of Hustlers University?
If you wish to cancel your Hustlers University membership, simply open a chat with the Account Manager Bot on New Era Learning's Discord main server.
From this page, you can access your account and cancel your membership.
Your membership can be cancelled at any time.
Hustlers University Review: Final Verdict
Hustlers University is not an online program I can recommend in good conscience, especially when there are better options available.
Though the program contains some decent teaching and ideas, nothing is discussed in-depth, and its training is not comprehensive enough to help you build a successful online marketing business. For most of the topics covered, you can easily find better training online for free.
I think this is the reason why there are few "real" success stories or positive reviews about Hustlers University on TrustPilot.
Recommendation: Make Passive Income Online
Best Alternative to Hustlers University to Make Passive Income Online
If you want to make a stable and secure stream of passive income, I would suggest you start an affiliate marketing business online instead.
Affiliate Marketing is perfect for anyone who is new to online business.
In fact, of all the online business models I've tried, affiliate marketing is the easiest and most rewarding so far.
In affiliate marketing, you can actually run your business almost with zero cost and achieve a steady and sustainable passive income to pay for your bills. You don't need any initial capital and can even do it as a side hustle.
And if you really want to learn affiliate marketing and build a business from scratch, I'd recommend you to get started with the most reputable platform for affiliate marketing: Wealthy Affiliate.

Wealthy Affiliate is an all-in-one platform for building your affiliate marketing business from scratch. It offers you a free account (including a free website) with comprehensive training on SEO (free traffic methods), which enables you to get started with affiliate marketing right away without paying a penny.
But How Much Can You Earn with Wealthy Affiliate?
A 21-year old student from Wealthy Affiliate was able to earn $7,395 in just 1 week, which means he made more than $1k a day…all while using free traffic methods.
Wealthy Affiliate has existed for 15 years and there are many success stories in the past decade.
To give you more examples, here are some of the other inspiring success stories of Wealthy Affiliate members.
Where to Join Wealthy Affiliate?
Wealthy Affiliate has a very simple pricing scheme. It has a free and premium membership.
If you want to feel about Wealthy Affiliate, you can sign up for the free starter membership here (no credit card required). You can select to be a free member with no time limit.
And as a starter member, you can get instant access to the community, live chat, over 500 training modules, 2 classrooms, networking, commenting, 1 free website, access to the keyword tool.
You can enjoy all these values without paying a penny.
So I strongly recommend you to register a free account and see it yourself.