If you've been scrolling through social media lately, you've probably seen Andrew Tate and Hustlers University 2.0 pop up everywhere. But you're probably wondering if it's all just a scam.
There are a ton of courses out there promising to help you make money from home, but let's be real, most of them aren't worth your time or money. But don't worry, as an internet entrepreneur with experience in everything from SEO to email marketing, I've got the inside scoop on HU 2.0. Over the years, I've reviewed hundreds of digital courses, software, and even MLMs, so I know what I'm talking about.
Just a heads up, I'm not affiliated with Hustlers University, so you know you're getting an honest, unbiased review from me. And at the end of this, I'll share with you the best alternative that's helped me make a full-time passive income online.
Hustlers University Review – Key Takeaways
Name

: Hustlers University

Founder

: Andrew Tate

Overall Rating

: 2/5

Pros

: Private community; lots of topics covered

Cons

: No refund; Andrew Tate is a controversial figure; training is not well organized

Verdict

: A program suitable for Andrew's fans who want to learn the basics of online marketing.
In this Hustlers University review, I'm going to cover the following topics:
What is Hustlers University 2.0?
Hustlers University 2.0 is a monthly service that teaches you how to earn passive income online using 18 modern wealth-creation techniques. The courses are taught by experts in the field, so you know you're getting quality education.
For just $49.99 a month, you'll have access to private Discord servers where you can join over 100,000 other members on their money-making journey. The courses are taught in a YouTube-style format, so you can learn at your own pace.
At Hustlers University, you'll get to choose from 18 courses that will teach you skills in
Whether you're a complete beginner or just looking to up your game, this might be a good opportunity to invest in yourself.
Recommendation: Here's The Best Alternative
Who is Hustlers University for?
Andrew Tate pitches Hustlers University as a platform to help total beginners make money online. And, sure, there might be some useful tips for beginners and even experienced folks.
But let's be real, the idea that you'll make money from day one is a bit of a stretch if you're not already familiar with biz and entrepreneurship.
In my opinion, Hustlers University is more for Andrew Tate fans who don't mind shelling out $50 a month for a basic rundown on how to make cash online. Truth is, most of the information can be found for free elsewhere. And some of the strategies taught are either outdated or just not sustainable in the long run.
All in all, I think Andrew's more about growing his fan base and expanding his brand, rather than actually providing the best advice for the young people who look up to him.
Learn more: best Amazon FBA courses
Who is Andrew Tate?
Andrew Tate is a four-time world kickboxing champion and the mastermind behind Hustlers University. He's been making headlines lately and it's no wonder why.
Andrew founded Hustlers University because he saw the need for education on modern wealth creation methods that's easy to access. On his website, cobratate.com, you can grab digital products and memberships in exclusive communities. He's also the creator of Hustlers University 2.0.
Before he became a web entrepreneur, Andrew was already pretty well-known from his kickboxing career and TV appearances in the UK. He eventually ended up in Eastern Europe where he started to make a name for himself as an expert in online careers.
He claims he made his fortune through the webcam industry, casinos, and cryptocurrency investments. But to be honest, I'm a bit skeptical. A lot of people made millions in bitcoin just by investing at the right time and then selling it later. So I can't really say if they're actual experts until I see more proof. I just don't know enough about Andrew yet to make a judgment.
It's clear that he's got some business savvy, especially with his webcam project. But he claims to have gotten rich through webcam work and not through more traditional methods like writing, Amazon, eCom, etc. that he teaches. There's not much evidence that his background is relevant to the material covered in his course.
I'd say it's more likely that he made his money in business and then invested it in cryptocurrencies, which has helped him accumulate an impressive net worth of $350 million.
Recommendation: Here's The Best Alternative
Why is Andrew Tate a controversial figure?
Tate tried to become famous by appearing in MMA or reality TV, but when that didn't work, he took to social media to show off his wealth and lifestyle. I know a lot of young guys out there struggle with finding fulfillment in life, and for them, Tate might seem like an inspiration.
But here's the thing, Tate says some pretty controversial stuff just to get more attention. He's even gone as far as to say that women are a man's property and shouldn't be allowed to drive. Yikes, right? It's not just me either, a lot of people find his comments really disturbing. And what really grinds my gears is when people intentionally stir up drama just for the sake of it.
If Tate's "Hustler's University" was actually good, he wouldn't have to resort to all this outrageous talk to promote it. He could get people's attention without being so controversial.
How is Hustlers University structured?
If you're looking to join Hustlers University, be prepared to dive into the world of Discord.
This social chat platform is where the entire course takes place, with each campus having its own server.
Here's how the general group looks…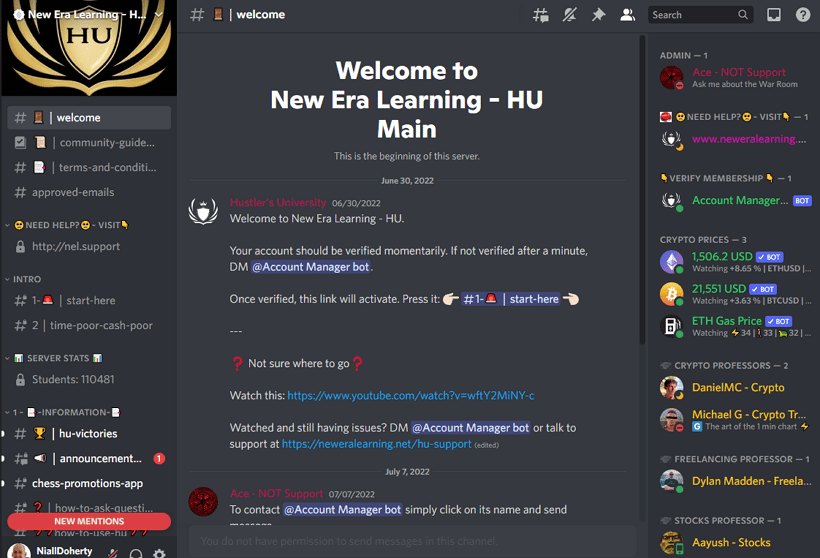 Once you're in, you'll start by choosing one of these four groups:
Time Rich, Cash Poor: You've got over 28 hours of free time a week but less than $5k to invest.

Time Poor, Cash Poor: You've got less than 28 hours and less than $5k to invest.

Time Poor, Cash Rich: You've got more than $5k to invest but less than 28 hours of free time.

Time Rich, Cash Rich: You've got over 28 hours and more than $5k to invest.

No matter where you start, the goal is to eventually end up in the final group.
Now, here's the thing about Discord – while it's a great platform, it might not be the best fit for this type of course. The different campuses each have their own management team and structure, so things can get a bit scattered.
For example, at Copywriting Campus, you'll finish each lesson with a quiz before moving on. And in the Stocks course, you'll have to complete a quiz after each lesson. This can get repetitive for some students, so keep that in mind.
Additionally, the level of instruction can vary between campuses. Just something to keep in mind.
Copywriting Campus
This place is seriously cool! They've got loads of video tutorials that cover everything you need to know, plus extra resources like interactive online stuff and PDFs you can download. The info here is super easy to understand and you can trust it.
Freelance Campus
The Freelance Campus is also awesome. There's a ton of lessons to choose from and the teacher is easy to follow. You can watch videos or read the lessons, whichever you prefer. It's all super organized too, so you won't feel overwhelmed by all the info until you're ready for it.
Amazon FBA Campus
The Amazon FBA Campus is just as impressive. All the tutorials are right there for you to check out. And, just like the others, there's a ton of video content and text to go with it.
Stock Campus
The Stocks Campus is all about options trading education. It starts off strong, but there are too many quizzes for my liking. I would've liked to see more video tutorials instead. It's mostly text-based lessons here.
Crypto Campus
The Crypto Campus is way better than the Stocks Campus. It looks nicer and there aren't any random quizzes.
eCommerce Campus
The Ecom Campus is the most confusing of them all. The layout is complicated and all the lessons are in text form. Some of the videos are just slide shows, but there are still some helpful real-life recommendations in there.
Affiliate Program
Hustlers University now offers basic courses in affiliate marketing. It's all text-based and focuses on getting the word out about HU.
Even though it sounds like a multi-level marketing thing, the affiliate program allowed people to earn a commission for bringing in new members and posting videos of Tate. But, it's not active anymore.
The Community
The community at HU is seriously something special. Thousands of students regularly cheer each other on, ask for advice, and offer support. Whether you're a fan of Andrew Tate or not, you gotta give him props for bringing so many like-minded people together.
Just keep in mind, there's a lot of content on the site, especially on larger campuses, so you might have to scroll through a lot of info to find what you're looking for.
Recommendation: Here's The Best Alternative
Are students getting results?
Sure, some students might have had some success, but I doubt it's because of what they learned in the course. I mean, anyone can screenshot a big win, but what about all the losses?
And the fact that the most successful students are just promoting the course itself is a major red flag in my book.
Andrew's just repackaging free info on Discord and trying to convince you that you need his teachings to succeed. It's clever marketing, but not my cup of tea.
And honestly, the name "moneybag Madden" just seems childish. I've also seen positive reviews of his cold email training, but it's just a rip-off of another course.
In my opinion, if you want to learn copywriting, SEO, eCom or Amazon, there are better courses out there. And I haven't seen one actual student who's made millions yet, despite what Andrew claims.
If you want to earn passive income online, I'd suggest looking elsewhere.
How much does Hustlers University cost?
The monthly fee for Hustlers University is $49.99. If you stick with the course for the full 24 months, you'll end up paying $1,176.
And if you want to cancel your membership, you can do that at any time.
Any Discount?
Unfortunately, I couldn't find any coupons or promo codes for Hustlers University. And the checkout page doesn't even have a field to enter a code, so you'll have to pay full price.
Refund Policy
Hustlers University doesn't offer any refunds. If you don't want to be charged for another month, make sure to cancel your membership. For example, if you joined on May 1st and cancel it on May 2nd, you'll be removed on May 31st. If you cancel on May 31st, you'll still be removed on May 31st.
Recommendation: Here's The Best Alternative
Praise for Hustlers University
1. Wide Range of Wealth-Building Techniques
Hustlers U teaches you 18 different methods for creating wealth, from eCommerce and crypto to stocks & options and Amazon FBA. All the training is available on-demand, so you can learn at your own pace.
2. Connect with Experts
With the HU 2.0 platform, you'll have access to experts from multiple fields who are eager to share their knowledge and help you succeed.
3. Q&A Session with Instructors
During each course, there's a Q&A session with the instructor, so you can get all your questions answered and get the help you need. It's a great way to stay engaged and get the most out of your learning experience.
Criticism of Hustlers University
1. Controversial Encouragement
Tate's followers were urged to stir up drama and conflict by posting clips that would draw a lot of attention and views, leading to more people signing up for Hustler's University. Tate's videos on TikTok were recommended to young users by the algorithm, and content related to Tate has been viewed over 12 billion times.
2. Expensive Investment
The program costs $50 per month, and you'll need to spend more money on things like a website, hosting, and advertising to build your business.
3. MLM Tactics
Hustler's University used to have an affiliate program where the first 5,000 students could earn a 50% commission by promoting the program. This is how Tate became so popular, using a Multi-Level Marketing technique.
4. Questionable Earnings
Tate says eCommerce is a breeze, but there's no proof he's actually making money from what he teaches. Building an eCommerce biz takes a ton of work and cash – think ads, product sourcing, design, etc.
5. Controversial Figure
Tate has a questionable reputation. He's shared content that includes talking about women being property, blaming rape victims, and discussing physical abuse. Not a great look.
6. No Refund Policy
If you're not happy with Hustlers University, tough luck. There's no way to get your money back, even if the course doesn't deliver on its promises. It's $49.99 a month for access to the training and videos on the Discord server. Just be careful, because once you subscribe, you're stuck unless you cancel before the next billing cycle.
Recommendation: Here's The Best Alternative
Is Hustlers University a scam or legit?
Hustlers University 2.0 is not a scam. It's a legitimate online program that provides access to some training modules and resources that could potentially help you make money online.
However, it can be quite overwhelming with so much information to digest, and it's easy to get sidetracked. So, if you're new to the online business game, my advice would be to start with the freelancing and copywriting modules.
Now, let's talk about the founder, Andrew Tate. He claims that he can teach anyone to make money online and grow their wealth, but I'm not so sure.
I haven't seen much evidence that he's actually made any money using the skills he's teaching. And as for the other "professors," they don't seem to be particularly qualified either.
Tate also spends too much time talking about how the system is unfair, rather than teaching valuable skills. That sets off my alarm.
To wrap it up, if you're serious about making money online, you're better off investing in a high-level course that focuses on specific skills.
Hustlers University 2.0 may not be the best option as it covers multiple, unrelated topics and requires additional spending on things like website hosting, ads, and more.
Hustlers University FAQs
Is Hustlers University 2.0 monthly?
Yup, it's a monthly deal for $49.99. And if you want, there's also an option to upgrade to 3.0 for an extra $49.99 a month.
How do I join the program?
Joining Hustlers University is pretty simple. Just create a Discord account, sign up, and pay for the course.
How do I cancel Hustlers University 2.0?
If you want to cancel, head over to the New Era Learning website. You should be able to find a direct link to your account management in your emails.
Where is the physical location of Hustlers University?
Hustlers University doesn't have a physical location, it's all online. Andrew Tate lives in Romania, which is a pretty cheap place to live in Europe.
How many members does it have?
Andrew Tate claims that there are over 110,000 students on the Discord server paying a monthly fee.
Can I promote Hustlers University?
Nope, only the first 5,000 members could promote it and those were mostly handpicked by Tate himself.
Is it a pyramid scheme?
Not technically, but it does have some pyramid scheme vibes. Most of the successful students just promote the course as their source of income.
Is it worth it?
No, it's not worth it. There are free courses that offer more knowledge. Andrew Tate doesn't seem to have achieved any success in eCommerce or Amazon FBA. He's just a controversial figure.
Is there a better alternative?
If you want to make a stable and secure stream of passive income, I would suggest you start an affiliate marketing business online instead.
Affiliate marketing is perfect for anyone who is new to online business.
In fact, of all the online business models I've tried, affiliate marketing is the easiest and most rewarding so far.
In affiliate marketing, you can actually run your business almost with zero cost and achieve a steady and sustainable passive income to pay for your bills. You don't need any initial capital and can even do it as a side hustle.
And if you really want to learn affiliate marketing and build a business from scratch, I'd recommend you to get started with the most reputable platform for affiliate marketing: Wealthy Affiliate.

Wealthy Affiliate is an all-in-one platform for building your affiliate marketing business from scratch. It offers you a free account (including a free website) with comprehensive training on SEO (free traffic methods), which enables you to get started with affiliate marketing right away without paying a penny.
But How Much Can You Earn with Wealthy Affiliate?
A 21-year-old student from Wealthy Affiliate was able to earn $7,395 in just 1 week, which means he made more than $1k a day…all while using free traffic methods.
Wealthy Affiliate has existed for 15 years and there are many success stories in the past decade.
To give you more examples, here are some of the other inspiring success stories of Wealthy Affiliate members.
Wealthy Affiliate has a very simple pricing scheme. It has a free and premium membership.
If you want to feel about Wealthy Affiliate, you can sign up for the free starter membership here (no credit card required). You can select to be a free member with no time limit.
And as a starter member, you can get instant access to the community, live chat, over 500 training modules, 2 classrooms, networking, commenting, 1 free website, and access to the keyword tool.
You can enjoy all these values without paying a penny.
So I strongly recommend you register a free account and see it yourself.