In the world of online marketing, Douglas James is a well-known figure with over 15 years of experience. His website, thedouglasjames.net, offers a variety of courses designed to help entrepreneurs market their businesses and increase their profits. However, many people have raised concerns about the legitimacy of Douglas James Marketing Courses.
In this review, we will provide an in-depth analysis of Douglas James and his programs to help you make an informed decision.
Who is Douglas James?
Douglas James, widely known as the "High Ticket Client Guy," transitioned into entrepreneurship from his previous role as a Navy Corpsman in 2014. During his service, he embarked on humanitarian missions to impoverished communities in various countries. These experiences motivated him to utilize his skills and resources to make a positive impact.
He subsequently established a business centered around online marketing and advertising, specifically utilizing Facebook ads to help companies attract clients and increase their revenue.
One of his flagship courses, "Local Business Funnels and Ads," specifically trains individuals on running successful Facebook ad campaigns.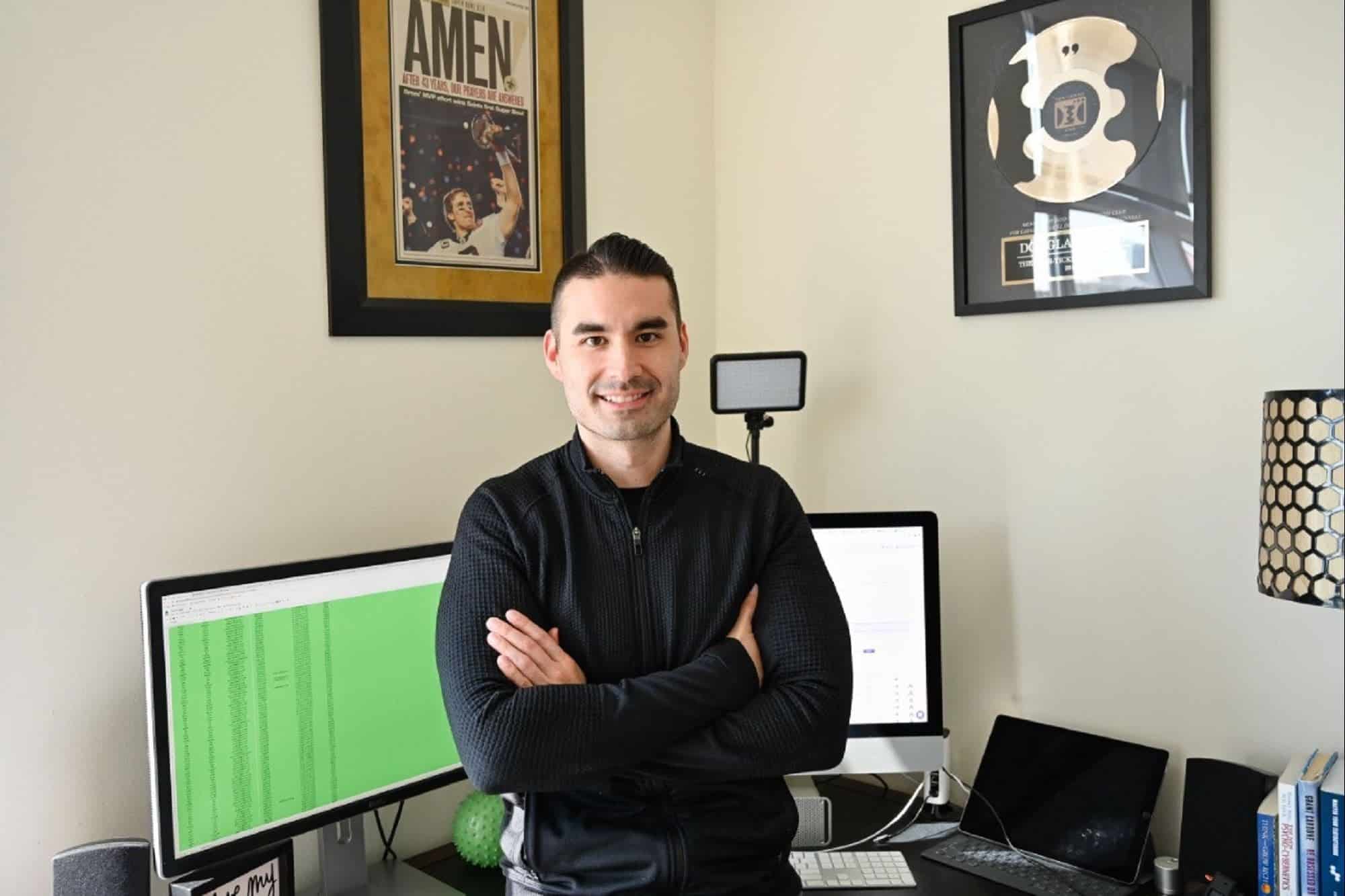 Review of Douglas James's Courses
Let's delve into some of the courses offered by Douglas James to gain a better understanding of their content and value:
The High-Ticket Experience
This course focuses on teaching entrepreneurs how to close deals effectively over the phone. It provides a comprehensive system for booking sales calls related to high-ticket coaching, courses, and consulting services.
While the course is available for free on James's website, it lacks relevant information on getting started with an online business. Instead, it primarily serves as an extended sales pitch encouraging individuals to sign up for his paid courses.
Local Business Funnels and Ads
This course is specifically designed to automate lead generation systems for local businesses. It covers topics such as creating custom ads that generate clicks and constructing marketing funnels that yield leads, including contact information. While the course offers valuable insights, it falls short in providing a robust foundation for success in Facebook advertising.
The Industry Marketing Academy
This course includes a "Secret Weapon" for lead generation, 50 plug-and-play industry funnels, advanced training, an automated system, weekly coaching calls, access to a private Facebook group, and support via messenger. It also offers a VIP day and allows for the purchase of high-ticket products and packages.
Pricing and Cost
The exact cost of Douglas James Training products is undisclosed, making it difficult to determine the value you'll receive for your investment. However, previous offerings of his basic Facebook Ads high-ticket program were priced at $3,000.
It is important to note that additional support, such as access to the Facebook group or personalized coaching, may come at a significantly higher cost, potentially exceeding $10,000 or even $25,000.
Recommendation: Make Passive Income Online
Customer Complaints
Douglas James Training, an ad agency course, claims to provide aspiring entrepreneurs with the knowledge and skills to build their own successful ad agency, attract clients, and deliver results. However, some customers have expressed dissatisfaction with the program on Trustpilot. Here're some notable complaints:
Unfulfilled Promises and Lack of Accountability
The customer paid $25,000 for the VIP business package, which promised a "done for you" digital marketing business with a client within 90 days. However, the company did not fulfill their promises and has since modified their language and student expectations. The customer reached out for a refund but has faced difficulties in obtaining a response. They express disappointment in the lack of professionalism and accountability from Douglas James Training.
Lack of Transparency and Pushy Sales Tactics
The customer highlights a lack of transparency and confusion regarding pricing. After watching the presentation, they still did not have a clear understanding of the work involved and the costs. When speaking with the company's coaches, they were not provided with pricing information until going through the entire process, which the customer considers a "BS Sales Speech." The customer also mentions pushy sales tactics, feeling harassed by continuous phone calls and texts even after expressing disinterest in doing business with the company.
Broken Promises and Lack of Support in VIP Program
The customer invested $25,000 in the VIP program, which promised a fully functioning digital marketing business with a client within 90 days. However, the company did not deliver on their contractual promises. The customer describes a lack of hand-holding and direct coaching, contrary to what was advertised. They express frustration and financial loss after 10 months of unfulfilled promises. The customer notes that many others in the VIP group have had similar negative experiences.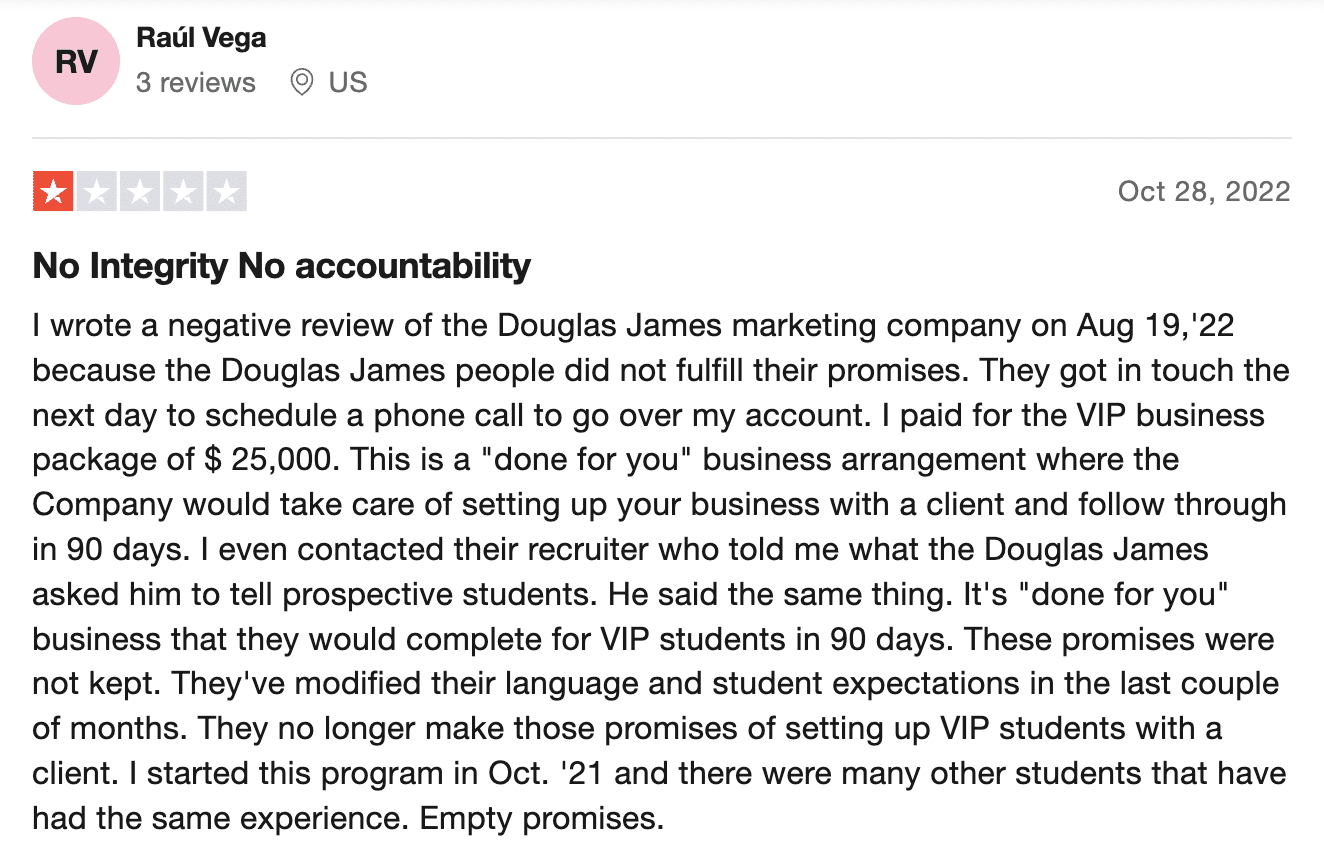 Financial Devastation and Unethical Business Practice
The customer expresses financial devastation after investing $25,000 in the VIP program, which failed to deliver on promised results. They emphasize that the company's failure to fulfill its contractual obligations is an unethical business practice. The customer highlights the lack of a "done for you" experience, as there was no hand-holding and the burden of solving problems often fell on the customers themselves. They feel let down and disappointed by the entire experience.
More Red Flags
1. Lack of Testimonials and Transparency:
One red flag is the absence of testimonials or concrete evidence showcasing individuals who have actually achieved success and made money through the courses. Additionally, Douglas James' lack of transparency about his personal background and qualifications raises doubts about his credibility and expertise.
2. Vague Promises and Lack of Details:
Douglas James promotes the idea that following his advice can lead to significant financial success with minimal effort. However, he fails to provide substantial details or step-by-step guidance on how his principles can be effectively applied. This lack of clarity leaves potential customers wondering about the practicality and effectiveness of his methods.
3. Concealed "Secret" and Lack of Credentials:
Douglas James claims to have achieved remarkable results by working with prominent businesses and generating substantial revenue using Google Adwords. However, he never discloses the so-called "secret" to his success or provides evidence of his credentials or experience in the field. This lack of transparency leaves doubts about the legitimacy of his claims.
4. Hidden Identity and Location:
While DouglasJamesMarketing.com operates in the United States, Douglas James himself remains elusive about his personal identity and location. This secrecy raises concerns about the true intentions and authenticity of his training program.
5. Exorbitant Pricing Structure:
Another cause for concern is the exorbitant prices associated with Douglas James Training. The cost for access to the courses starts at $3,997 for video content, with additional fees required for access to the Facebook group and personal coaching. These high prices, coupled with the lack of concrete evidence of success, raise questions about the value and integrity of the program.
Recommendation: Make Passive Income Online
Is Douglas James A Scam?
Douglas James isn't a scam. However, I advise against taking his courses for several reasons.
Firstly, the course content is not particularly advanced. Most of what you learn here is not groundbreaking, as you can see.
You can find similar (or even better!) marketing training courses elsewhere for a much lower cost or even for free.
Even though you may enjoy the courses, they won't provide you with any substantial insights.
Another reason why I don't recommend working with Douglas James Marketing is that their business plan is overly complicated.
Their marketing strategy relies heavily on Facebook advertising.
While it's true that advertising on Facebook and using clickfunnels can generate a lot of traffic and conversions, it can also result in significant costs.
Furthermore, Douglas James portrays managing Facebook ads as effortless.
If your Facebook ads fail to attract customers, these courses don't offer any alternative solutions.
Even with the knowledge gained from these courses, running a successful Facebook Ads marketing campaign is not easy.
Is There A Better Alternative?
If you want to make a stable and secure stream of passive income, I would suggest you start an affiliate marketing business online instead.
Affiliate Marketing is perfect for anyone who is new to online business.
In fact, of all the online business models I've tried, affiliate marketing is the easiest and most rewarding so far.
In affiliate marketing, you can actually run your business almost with zero cost and achieve a steady and sustainable passive income to pay for your bills. You don't need any initial capital and can even do it as a side hustle.
And if you really want to learn affiliate marketing and build a business from scratch, I'd recommend you to get started with the most reputable platform for affiliate marketing: Wealthy Affiliate.

Wealthy Affiliate is an all-in-one platform for building your affiliate marketing business from scratch. It offers you a free account (including a free website) with comprehensive training on SEO (free traffic methods), which enables you to get started with affiliate marketing right away without paying a penny.
But How Much Can You Earn with Wealthy Affiliate?
A 21-year old student from Wealthy Affiliate was able to earn $7,395 in just 1 week, which means he made more than $1k a day…all while using free traffic methods.
Wealthy Affiliate has existed for 15 years and there are many success stories in the past decade. For more
information, you can check out my full review of Wealthy Affiliate.
Where to Join Wealthy Affiliate?
Wealthy Affiliate has a very simple pricing scheme. It has a free and premium membership.
If you want to feel about Wealthy Affiliate, you can sign up for the free starter membership here (no credit card required). You can select to be a free member with no time limit.
And as a starter member, you can get instant access to the community, live chat, over 500 training modules, 2 classrooms, networking, commenting, 1 free website, access to the keyword tool.
So I strongly recommend you to register a free account and see it yourself.