If you're reading this, chances are you're looking for information on Amplified Profits and whether or not it can help you make money online. You're not alone – there are plenty of programs out there claiming to offer easy and fast ways to make money, but as Michael Mansell himself has noted, it's rarely that simple.
So, can Amplified Profits deliver on its promises of profits within 2 weeks, even if you're only working part-time? I've taken the time to investigate and I'm here to share my thoughts with you.
First off, let me be clear: I'm not affiliated with Amplified Profits in any way. I'm not being paid to write this review, so you can trust that my opinions are unbiased and honest.
By the end of this review, you'll have a better idea of what Amplified Profits is all about and whether or not it's worth your time and money. And if it's not, don't worry – I'll also share the program that's worked for me in generating a full-time passive income online.
What is Amplified Profits?
Amplified Profits is an affiliate marketing company that works with Easy1Up, an online platform offering various training programs to help folks earn money online.
Amplified Profits essentially acts as an advertising agency for Easy1Up, promoting their high-ticket programs and bringing in new customers. In return, Amplified Profits earns a commission for each sale made through their efforts. It's a win-win situation for both companies!
Easy1Up's training materials cover a range of modern marketing strategies, including
Affiliate marketing

Email marketing

Social media marketing

PPC marketing.

YouTube affiliate marketing.
Each program is broken down into five levels, with different focuses and price points to suit different needs and budgets.
Who is behind Amplified Profits?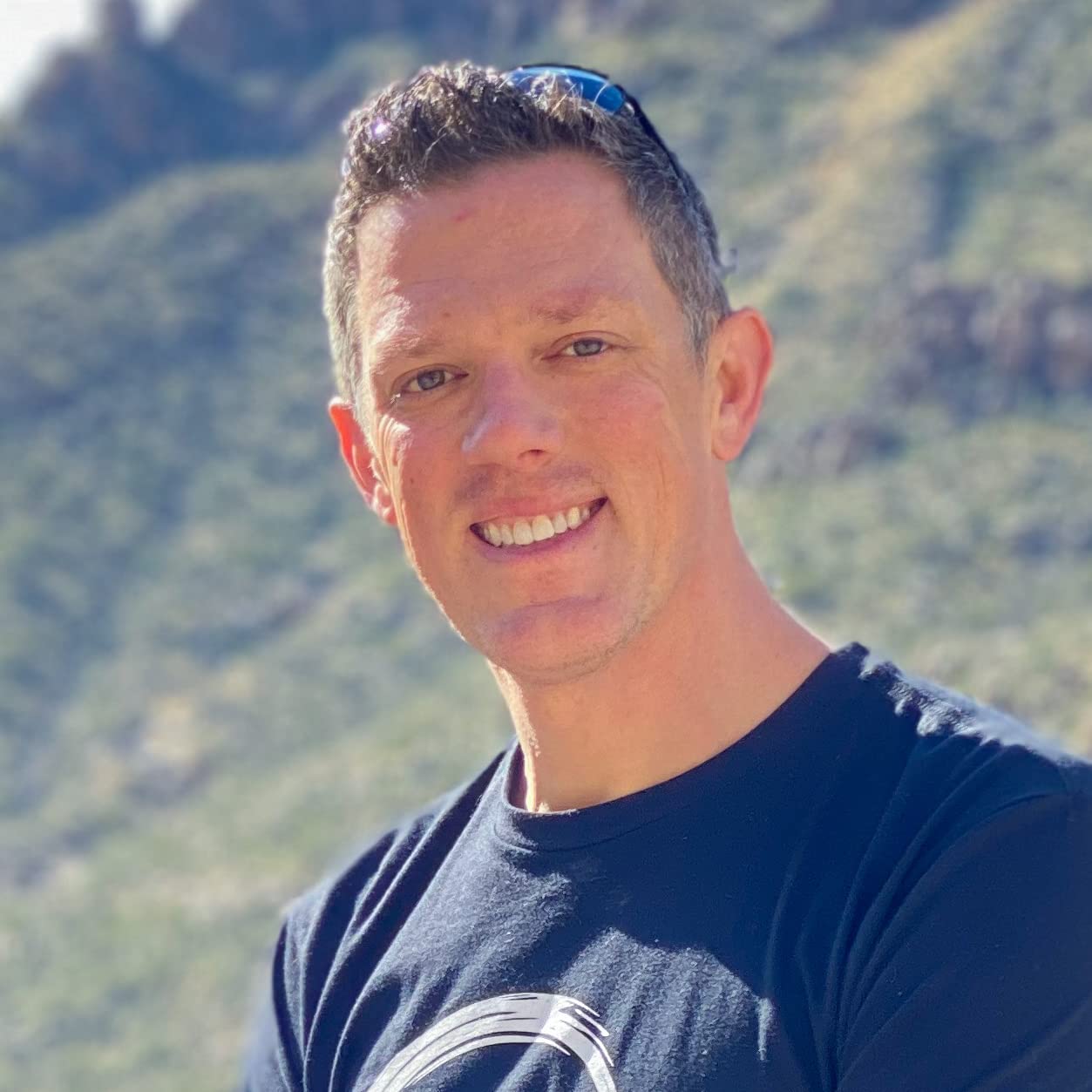 Michael Mansell is the founder of Amplified Profits and a successful YouTuber who runs a channel called "ManShed" with 84.9K subscribers and 129 videos published.
But before he ventured into the world of internet marketing, he used to be a realtor or an estate agent, helping people buy and sell properties.
Aside from his YouTube channel, Michael also runs a membership site called affiliatemarketingpros.com. It's a community of like-minded individuals who want to learn more about affiliate marketing and how to make money online. The membership fee is $20 per month.
Recommendation: Here's The Best Alternative
How does Amplified Profits work?
If you're interested in the Amplified Profits program, you might be wondering how it actually works. Here's a casual guide to help you understand the core process and features.
Sending Traffic to Easy1Up
The first step of the program is to send traffic to a high converting offer or product, which in this case is Easy1Up. This is done through various channels such as:
Solo Ads

Facebook

Facebook Messenger

Instagram

YouTube

Google
You need to direct traffic to your opt-in page or lead capture page, where visitors have to enter their details to watch a sales video.
Coaching and Mentoring
Once they've watched the video and are interested, you guide them to the order page to sell the product. If they don't buy the product, you can follow up with them via email. After they've purchased the product, you can promote or sell the upsells to them. Additionally, the Amplified Profit system helps you coach and mentor those who joined you to duplicate the process and succeed at whatever level they desire.
Royaltie – Amplified Profits Marketing Engine
If you want to take your business to the next level, you can buy the Amplified Profits Marketing Engine or the Royaltie upsell. This all-in-one marketing platform has many features, including:
Lead capture pages

Sales funnels

Email follow-up series

Automated campaigns

Social integrations
Michael claims that Royaltie is the first AI-powered marketing platform. The price of Royaltie ranges from $87 per month to $327 per month.
Automate and Scale Your Business
By using the features of Royaltie, you can automate and scale your business. You can:
Create funnels

Use advanced analytics

Set up autoresponders and follow-ups

Manage customer relations

Create social media content

Use geo-targeted ads to drive more traffic to your website.
Free Traffic
If you purchase the $500 or higher level, Michael will send you free traffic to help you jumpstart your profit engine. To get access to the traffic rotator, you need to purchase the $500 level or above. However, there's no guarantee that you'll receive traffic from Michael's traffic rotator.
What's inside Amplified Profits?
Given that Amplified Profits is an affiliate marketer for Easy1Up, it is reasonable to assume that they promote Easy1Up's plans rather than their own products and programs.
These plans offer various benefits which I will briefly explain below:
Affiliate Kickstarter Video Series
For beginners, the Affiliate Kickstarter Video Series is a great place to start. With this plan, you'll learn how to set up an autoresponder, why bonuses are important for your product, how to write a review, and what to offer as freebies. You'll also learn how to build your own successful affiliate marketing business.
Elevation
Elevation is the Easy1Up starter package, and it only costs $25. While it doesn't come with many special features, it's still useful. You can use Elevation to learn about network marketing, generate leads, and create your own squeeze page.
They also offer a simple course on affiliate marketing, which is basically an introduction to how you can use their marketing engine system to make money online. If you buy this package, you can sell it to other people and keep the $25 that each paying member pays to join.
Elevation Elite
If you want to try different ways to get traffic, you can upgrade to Elevation Elite for $100. You can learn about forum marketing, YouTube, Pinterest, market research, building blogs, etc. You will also be shown how to use solo ads, which are used to get traffic through other people's email lists.
With this package, you will learn different ways to get more leads and learn more about your online business. When you join at this level, you can earn commissions on Elevation and Elevation Elite purchases.
Vertex
For $250, the Vertex package will teach you everything you need to know about affiliate and network marketing. You'll learn how to build your connections quickly, start a successful product rollout, and what you can do with their list. Those who sign up for the Vertex Package have the right to sell Easy1Up's Vertex Package and the items under it.
Vertex Elite
If you're willing to spend $500, the Vertex Elite package comes with two full length trainings that will teach you how to do dropshipping and start an online business. You'll find a lot of information about free ways to bring people to your website, as well as more than 50 paid ways to do the same. This purchase will allow you to get all the lower commissions.
Vertex Pro Content
Vertex Pro Content costs a grand, or $1,000. There is a lot of information on a wide range of topics, such as email marketing, building blog authority, membership sites, and more. There is so much information that it is easy to feel overwhelmed. So proceed with caution and try to take it all in.
Vertex Live
The most expensive plan is Vertex Live, which costs $2,000. However, it gives you access to more Easy1Up talks, and you can learn more about designing sales funnels, launching products, the basics of SEO, digital marketing, dropshipping, CPA, blogging secrets and so on. The price is worth it only if you sell all their open packages after you buy it.
How much does the program cost?
If you want to give Amplified Profits a shot, you can try it for free! All you have to do is sign up to Easy1Up. Once you're in, you'll have access to five different membership levels, each with its own pricing and training.
The membership levels are as follows:
Elevation: costs $25

Elevation Elite: costs $100

Vertex: costs $250

Vertex Elite: costs $500

Vertex Pro Connect: costs $1,000
Each membership level offers unique training opportunities to help you grow your business.
Recommendation: Here's The Best Alternative
Praise for Amplified Profits
1. Helpful Training for Easy1Up and Royaltie Promotion
One of the benefits of joining Amplified Profits is the helpful training provided by Michael. He will share his success blueprint and experience, which can help you make money. You will also receive bonuses such as a quick-start guide, training on ranking your videos on YouTube within 24 hours, and a list of high converting low-cost traffic sources.
Moreover, you will learn to generate 10-20 hot buyer leads for free using a simple social media marketing strategy. The Easy1Up training is also useful and informative, covering various topics depending on the level you purchased.
2. Access to a Private Facebook Group
Amplified Profits offers access to a private Facebook group where you can get help, ask questions, learn from other members, share your success, and get motivated by other people's success stories.
Additionally, you will have access to FB Live sessions where you can gain more insights to scale your income stream, and you can also view old FB Live sessions. Joining the Amplified Facebook group can help you stay connected and motivated while building your online business.
Criticism of Amplified Profits
1. High Costs Involved
One of the downsides of Amplified Profits is the high costs involved. While the starting price for Easy1Up is $25, if you want to earn more money, you need to be at the highest level possible.
In addition to the cost of Easy1Up, you will need to spend money on Royaltie, which costs a minimum of $87 per month, and on paid ads.
Assuming that you buy the Vertex Elite for $500, the total cost for the first year would be over $2000, including the admin fee. If you opt for the highest level, it could cost you more than $3500.
2. Confusing Compensation Plan
The compensation plan for Easy1Up can be confusing and strange to some. It pays the sponsor the second sale that the member makes, not a certain percentage, but the entire 100%. This means that the second sale passes up to the sponsor, which may remind some of the cash gifting programs from the past.
3. No Refunds
Another potential downside of Amplified Profits is that there is no refund or money-back guarantee. This also means that there is no free trial available for you to test the training program before committing your money.
This lack of a refund or money-back guarantee could be a big red flag for some, as it means that once you pay your money, you cannot change your mind and get your money back.
4. Negative Reviews Can't Be Ignored
While there are some positive reviews of Amplified Profits out there, it's worth noting that many of those reviews come from current members of the program. While there's nothing inherently wrong with promoting something you believe in, it's important to take those reviews with a grain of salt.
Additionally, there are many negative reviews of the program online that raise some legitimate concerns. Before you join, make sure you do your research and read a variety of reviews to get a well-rounded view of the program.
5. The Focus Is On Recruiting, Not Training
If you visit the Amplified Profits sales page and watch the videos, you'll notice that the main focus is on the commissions you can earn by recruiting others to join the program. While training is mentioned (specifically the Easy1Up program), it's not given as much attention as the potential earnings.
This focus on recruitment over training can be a red flag for some people, particularly those who are more interested in learning and growing their skills than in making money by recruiting others.
6. You Need to be at the Highest Level to Earn More Money
To earn more money with Amplified Profits, you need to be at the highest level. If you refer someone to the system and they buy a level higher than the one you purchased, you won't earn the commission for the levels beyond your level. This means you could lose out on commissions.
Additionally, you can only earn up to the product level that you have purchased. The reason for this is because Amplified Profits uses a reseller right model, which means that if you don't own the product and the reseller rights to sell it, you can't legally sell it. This could pressure you into purchasing the higher levels.
7. Outdated Training
Some of the training provided by Amplified Profits is outdated. For example, they provide training on driving traffic from Google Plus, which was shut down in 2019. This could make it difficult for you to effectively use the training and strategies provided.
8. You Don't Actually Get 100% Commission
While Amplified Profits claims to offer 100% commission, this isn't entirely true. In addition to the price of the product, you need to pay an admin or processing fee. For example, the admin fee for the highest level is $500, but you only get $2000 in commission.
This means that while it may seem like you're getting 100% commission, in reality, Easy1Up (the parent company of Amplified Profits) makes money through the processing or admin fee.
Is Amplified Profits a scam?
Amplified Profits is not a scam, and the creator, Michael Mansell, provides helpful training, support, and bonuses to members. The community is also supportive.
However, it's important to be aware that the chances of making money with Amplified Profits are not high, and the total cost is very expensive. There are no guarantees, refunds, free trials, or money-back guarantees, making it a risky investment.
Therefore, before making any decisions, it's essential to do your research thoroughly. Although the sales videos on Amplified Profits may be exciting, the excitement may not last long.
While Amplified Profits may work for some people, it's not suitable for everyone. So, consider your budget and goals before investing.
Is there a better alternative to Amplified Profits?
I agree that affiliate marketing is a great business model for novices in online business. But using Amplified Profits's approach to do affiliate marketing requires spending a lot of money or using some expensive tools to drive traffic.
In affiliate marketing, you can actually run your business almost with zero cost and achieve a steady passive income without any trouble with paid ads. This is the approach that I like. Of course, you can disagree with me. It's a matter of preference.
If you're interested in learning more about affiliate marketing and building a business from scratch, I highly recommend Wealthy Affiliate. It's the most reputable platform out there and offers a free account (including a free website) with comprehensive training on SEO (free traffic methods). That means you can get started with affiliate marketing right away without spending a penny.
But you're probably wondering how much you can actually earn with Wealthy Affiliate, right? Well, let me tell you about a 21-year-old student who was able to earn $7,395 in just one week using free traffic methods. That's more than $1k a day!
You can read our full review of Wealthy Affiliate here.
And if you want even more success stories, there are plenty of inspiring examples from other Wealthy Affiliate members over the past decade.
So, where do you sign up? Wealthy Affiliate has a simple pricing scheme with free and premium memberships available. As a starter member, you'll have access to the community, live chat, over 500 training modules, 2 classrooms, networking, commenting, 1 free website, and access to the keyword tool. And the best part? You can enjoy all of these benefits without spending a penny.
So what are you waiting for? Register for a free account at Wealthy Affiliate and see for yourself just how easy and rewarding affiliate marketing can be!