Chances are you've stumbled upon Alex Becker's Youtube channel or even seen one of his paid advertisements. He made waves a few years ago with his infamous wolf mug ad. Remember that?
But here's the tea – Becker has undergone a transformation and is now living a woke minimalistic lifestyle. He sold off his house, car, and possessions, and is now all about simplifying his life. Refreshing, isn't it?
If you're tired of seeing rich entrepreneurs flaunting their Lambos and mansions, Becker's channel might be a breath of fresh air for you.
Before we dive in, let me clarify that I'm not affiliated with Alex Becker or any of his training courses or programs. Now, let's get down to business – is Becker a legit entrepreneur or a scam artist? I've made it easy for you to choose a topic below, or you can just keep scrolling.
How did I come to know Alex Becker?
I first came across Alex Becker a few years ago when he was featured on a webinar with another marketer, Sean Donahoe. At the time, Alex was in his early twenties, and was promoting his course called A.C.S.R (Attract, Control, Sell, Repeat). I remember being impressed by his foul-mouthed style, which you either love or hate. Personally, I found it pretty entertaining.
Fast forward to today, and Alex is in his mid-thirties (around 33 years old at the time of writing), and has released a ton of software and courses that have made him extremely popular. I've bought many of his information products and software over the years, including the expensive training program he promoted as an affiliate.
Now, I don't want to shame Alex or accuse him of being a scam artist – he's not. In fact, I admire the guy and envy him for his achievements. His coaching style and products may not be for everyone, but he wouldn't be this successful if he didn't have good stuff.
I've even done a review of his product H-Com 3030. And if you're a fan of Alex, you might have noticed that he frequently uses the phrase "with that being said." Fun fact: I think he might have picked that up from Sean Donahoe, who also used that phrase a lot during the webinar where I first saw Alex. But, who knows – I could be wrong.
All in all, I think Alex Becker is a talented marketer and I'm excited to see what he'll come up with next.
Best Alternative To Alex's Courses
Who is Alex Becker?
Alex Becker, born on May 24, 1988, is a former US Air Force aircraft firefighter turned entrepreneur. At the age of 23, he decided to leave his job and pursue his entrepreneurial dreams full-time.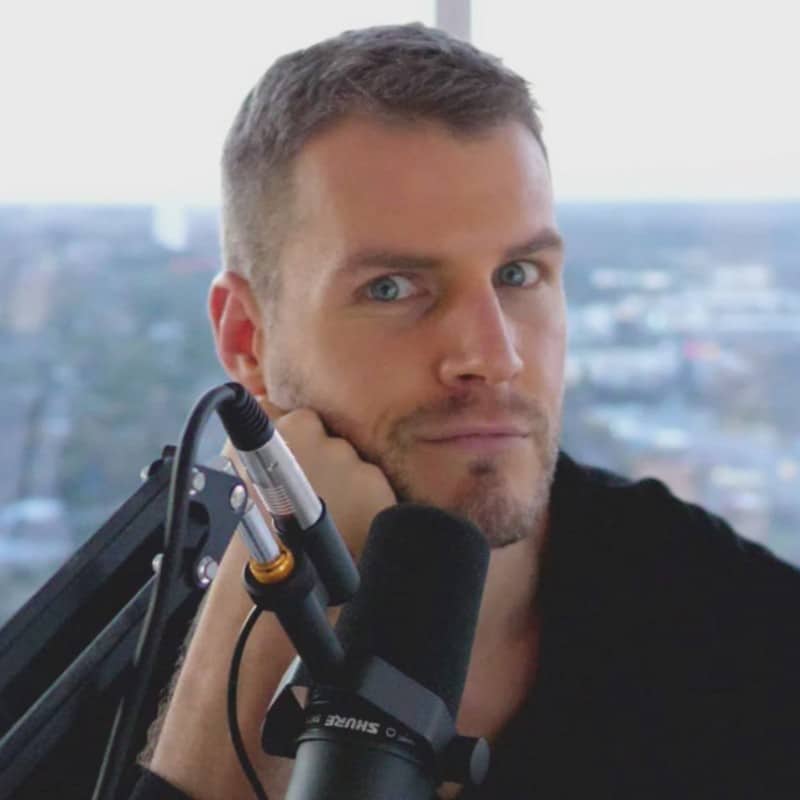 Alex's first venture was in dating coaching, where he contributed to writing two publications called "Attraction Catalyst" and "The College Code". He also worked as a freelance SEO consultant for local businesses under his business, "Surge Wolf".
A few months later, Alex founded "Source Wave", which provided SEO software, education, and services to internet marketers. Within a few years, he grew the business to $4+ million in annual revenue. He later rebranded the company as "Konker.io" in 2016 and sold it in 2019. Today, Konker.io remains a marketplace for finding and hiring freelancers with SEO expertise.
Despite rumors that Alex made his millions by selling affiliate marketing programs through paid ads, he appears to be more focused on creating and marketing his own products.
In 2015, Alex founded "Market Hero LLC", which specializes in email marketing and analytics software, consulting, and training for other businesses.
A year later, he published a best-selling self-help book called "The 10 Pillars of Wealth: Mind-Sets of the World's Richest People."
In 2020, Alex founded "Hyros INC.", a company that provides ad and sales tracking software to help businesses improve their overall performance and earnings.
With his varied background and entrepreneurial spirit, Alex Becker continues to make waves in the business world.
Alex Becker Net Worth
Alex Becker is a well-known internet entrepreneur, millionaire, and best-selling author. He's also a bit of a trendsetter, having embraced minimalism as a way of life. With a net worth of over $10 million, it's safe to say that Alex is doing something right. Let's take a look at how he made his fortune and why he decided to ditch his stuff in favor of a simpler lifestyle.
The Minimalist Lifestyle
So why did Alex decide to sell all his stuff and embrace minimalism? For him, it came down to one thing: distractions. When you're as focused on your business as he is, even small things like paying bills and maintaining a fancy car can become a huge distraction. By minimizing his possessions, Alex has been able to cut down on the things that were taking up too much of his time and energy.
Making Money
So how did Alex make his fortune? He started out by creating a software company that focused on SEO, and he quickly became an expert in the field. He then began to share his knowledge with others, creating courses and coaching programs that helped people learn how to grow their businesses online. He's also a prolific author, with several books to his name, and he's built a huge following on social media and YouTube.
The Coolest, Most Wokest Internet Millionaire
One of the things that sets Alex apart from other entrepreneurs is his unique style. He's not afraid to be himself, and he's built a brand around his own personality. He's also incredibly relatable, often sharing his own struggles and failures with his followers. This has helped him build a loyal following of people who admire his honesty and authenticity.
Best Alternative To Alex's Courses
Alex Becker Courses and Software
Alex Becker is a well-known entrepreneur, marketer, and software developer. While many of his courses are no longer available, some are still accessible online. Here, we'll discuss three of Becker's most popular programs and provide a brief overview of each.
Source Wave University (Now Search University)
Source Wave University was a course that taught students how to do SEO and get clients. The training was provided by Becker, along with Stephen Floyd and Gregory Ortiz. SEO, or search engine optimization, is the process of optimizing a website to rank higher in search engine results pages (SERPs).
Becker's course was an excellent resource for those interested in SEO, client acquisition, and affiliate marketing. However, the course no longer exists, and Gregory Ortiz has rebranded it as "Search University."
Hero Sales Academy
Hero Sales Academy is a course that teaches students how to sell online. The program covers topics such as funnel design, landing page setup, sales video copywriting, and 4-8x ROI advertising funnels. Additionally, there's a module on creating products that "sell like wildfire."
The course costs $1 on a 30-day trial, after which it's $47 per month. While there are many sales courses available online, Becker's Hero Sales Academy is a comprehensive program that's worth considering.
The HERO Consulting Accelerator
The HERO Consulting Accelerator was a six-week consulting program that taught students how to get clients for their SEO or social media campaigns. The idea behind the program was to help students get clients without having to spend money on ads or cold calling. This course was designed for people who were too afraid to approach businesses and sell their services.
Unfortunately, the program is no longer available, and the purchase link is dead. While we can't vouch for the program's effectiveness, it's clear that Becker saw a need for this type of training.
Alex Becker is a well-known figure in the digital marketing space. He has created several products to help people scale their businesses and achieve financial success. In this article, we will take a look at three of his products: 8X Hero Academy, Market Hero (now Hyros), and H-Com 2020.
8X Hero Academy
The 8X Hero Academy is a course that teaches you how to build and scale an email-based business. It claims to help you achieve seven-figure success. The course is included with a subscription to Market Hero, which is an autoresponder that starts at just $19.00 a month. This means you get access to a lot of training on how to make money with email and other methods.
The course has some great training, and while we haven't done a review on it yet, it seems like a good option for those who need an autoresponder and want to learn more about email-based businesses.
Market Hero (Now "Hyros")
Market Hero was an email marketing autoresponder that has now been renamed to Hyros. It is an all-in-one solution for marketing funnels, lead tracking & analytics, and email sequences. Hyros tracks your sales, lead conversions, and upsells from your email list. It's not something for new marketers, as its users are primarily high-end digital businesses.
Hyros uses Print Tracking combined with AI Turbo Charge AD ROI. This makes it a great option for those who have their own product and want to calculate the value of each lead. Hyros can help you figure out how much it costs to acquire a lead, which is crucial for understanding your business.
H-Com 3030
H-Com 3030 is an ecommerce course that teaches you how to do dropshipping using products from China and print on demand items like shirts, mugs, etc. The ecommerce business model is competitive, and only those with adequate training and enthusiasm actually make it.
The course is not cheap and sells for $1997. While we haven't seen any recent ads for the course, it could still be a great option for those looking to get into ecommerce. If you're interested in learning more about the course, you can check out our H-COM 2020 review.
Best Alternative To Alex's Courses
Is Alex Becker a scam?
I don't think Alex is a scam artist. While some people believe he's a scammer, the truth is a bit more complicated than that.
One of the reasons people question Becker is because of the sheer number of courses he's created in the past. It's not that there's anything inherently wrong with creating courses, but when you start pumping out a lot of them, it can raise some eyebrows.
Another issue that people have with Becker is that he doesn't always personally conduct the training in his courses. Some people feel like they're not getting their money's worth if they're not hearing directly from him.
In addition, some people have taken issue with the scarcity tactics he uses in his webinars and email funnels. While it's true that some of his offers may not really expire when the timer runs out, this is a common tactic used in the online marketing world.
That being said, it's important to note that Becker has shifted his focus in recent years. Rather than creating courses, he now focuses primarily on software development.
While some people may have been disappointed with his courses in the past, it's unlikely that he'll be creating more of them anytime soon. However, as with any business person, it's understandable that he wants to make a return on his investment.
In conclusion, while some people may not be happy with the products Alex Becker has put out in the past, that doesn't necessarily make him a scam artist. It's up to each individual to decide whether or not they want to invest in his products or services.
Should you join Alex Becker's courses?
Alex Becker's switched gears and now seems to be catering to established businesses, rather than newbies. So, if you're just starting out, you may want to look elsewhere for training.
Don't get me wrong, Alex is still a great source of inspiration, and many people tune in just to hear what he has to say. However, it's important to remember that buying a course just because you like the person can be risky. For example, if you're interested in ecommerce, don't jump into buying H-Com 2020 simply because you're a fan of Alex Becker.
Instead, you should do your research and find the course that's best for you. If you're looking for a good ecom/dropshipping course, I highly recommend eCom Elites by Franklin Hatchett. It's cheaper than HCOM 2020 and, in my opinion, a much better course with more content.
It's important to remember that there are always options, even for Alex Becker fans. Most people follow him for his humor, for inspiration, or to learn from the best. Whatever your reason is, make sure you're not just blindly buying into his courses. Do what's best for you and your business.
Making money online isn't easy. It takes a certain type of entrepreneur with a never-give-up attitude to succeed. Mindset is also crucial in this journey. So, instead of listening to someone trying to sell you the next best thing, take the time to decide what's best for you.
Is there a better alternative to Alex Becker's courses?
If you are new to online business, you may ask if there is a better business model that doesn't need Facebook ads and can do it as a side hustle.

Yes, I would suggest you get started with affiliate marketing. It is far easier and less time-consuming as you don't even need to handle customer service.

In affiliate marketing, you can run your business almost with zero cost. Most importantly, you don't need to invest in creating and developing any products.
But How Much Can You Earn in Affiliate Marketing?

A 21-year-old student from my #1 recommended training platform of affiliate marketing was able to earn $7,395 in just 1 week, which means he made more than $1k a day…all while using free traffic methods and affiliate marketing.
Wealthy Affiliate has existed for more than 10 years and there are many success stories over the years.
To give you more examples, here are some of the other inspiring success stories of Wealthy Affiliate members.

Where to Join Wealthy Affiliate?
Wealthy Affiliate has a very simple pricing scheme. It has a free and premium membership.
If you want to feel about Wealthy Affiliate, you can sign up for the starter membership here (no credit card required). You can select to be a free member with no time limit.
And as a starter member, you can get instant access to the community, live chat, over 500 training modules, 2 classrooms, networking, commenting, 1 free website, and access to the keyword tool.

You can enjoy all these values without paying a penny.
So I strongly recommend you register a free account and see it yourself.