Is Hayden Bowles a scam? You may have seen Hayden's incredible screenshots of his Shopify sales figures and fancy cars. But you may wonder, is Shopify Dropshipping really that profitable?
There are many scams online, it's always a good practice to do some research before investing your hard earned money.
To be transparent, I am NOT an affiliate of Hayden Bowles. So you can be sure that my opinions are unbiased and honest.
In this review of Hayden Bowles's Shopify dropshipping course, I will cover the following:
Who is Hayden Bowles?
Hayden Bowles is a very young man who created Hacking Shopify Dropshipping. He is a high school dropout who moved from Minnesota to California.

He has about 54.8k followers on his Instagram account. And on YouTube, he has about 234K subscribers at the time of writing. He always demonstrates his luxurious lifestyle on social media, to prove how profitable eCom is.
But you may wonder if it is really possible to make so much money with eCom business.
Recommendation: Here's The Best Alternative
What is Hayden Bowles's Hacking Shopify Dropshipping?
The course is hosted on Teachable. Hayden claims the course is going to take you step-by-step through the process of creating your Shopify store from scratch and show you the blueprint to dominate Instagram and Facebook Ads.
There are 5 modules in this course. Each module includes several videos.
Module 1: Introduction
In this Module, Haden will talk about the mindset to succeed with dropshipping. No technical knowledge can be acquired here.
Module 2: Fundamentals
Hayden explains what is dropshipping and tells you some basic stuff like picking a niche, selecting products and finding suppliers on Aliexpress.
Module 3: Building Your Store

In this module, Hayden will show you how to create and set up your Shopify store. Some basic stuff is covered, such as picking a store name, configuring some apps to optimise your store, pricing the products and setting up Facebook and Instagram accounts.
Module 4: Instagram
This module is about finding Instagram Influencers to help you promote the products. You will learn how to do Instagram shoutouts.
Module 5: Facebook
This is the final module, the Facebook Ads.
Facebook ads are quite complicated so a good course should have detailed content to demonstrate. However, Hayden's presentation in this important module is not very good as he seems to rush a lot. Beginners will feel very confused about how to operate Facebook Ads.
Actually, instead of joining Hacking Shopify Dropshipping, I would rather put my money into some dummy investment, like gold with Regal Assets.
Pros and Cons of Hayden Bowles's Hacking Shopify Dropshipping
Pros of Hacking Shopify Dropshipping
There is a Facebook Group where you can discuss with other students of the course.
Hayden covers Instagram Influencer Marketing which is ignored in some other dropshipping courses.
Lifetime access to the course
Cons of Hacking Shopify Dropshipping
The Facebook ad course content is not very comprehensive. You cannot expect to become an expert in Facebook ads after taking this course.
The course is overpriced and not many people can afford when starting out
The money back guarantee is only valid for 24 hours, which is ridiculous
Most of the course content is very basic and can be found for free on YouTube
Is Hayden Bowles a Scam? Why I don't recommend Hacking Shopify Dropshipping?
There is no sufficient evidence to show that Hayden Bowles is a scam, but I am not impressed by his course. You can only learn very basic stuff in his course.
Also, Hayden likes showing a lot of sales figures, but does not reveal his actual net profit.
Like a lot of gurus, Haden shows his lavish lifestyle by driving expensive cars and even private jets. This kind of marketing tactic is very common to attract people to buy the courses. But it just makes his business very suspicious. There is no way to verify if his money really comes from eCom business.
This course only has a 24-hour money back guarantee and there is a condition that you have only watched less than 25% of the content. This is the worst money back guarantee I have ever seen. It shows that Hayden is not very confident in his course and wants to stop people from requesting refund after payment.
The course is not worth $497. Most of the course content can be found for free on the internet.
Problems of Dropshipping that Hayden Doesn't Tell You?
After all the modules, can you really make a full-time income with dropshipping business and live a lavish life like Hayden Bowles?
As an experienced dropshipper, what I can tell you is that dropshipping is far more difficult than you think.
Here are a few points why I would not recommend dropshipping to beginners:
1. Financial Risk
Your store won't sell ANYTHING if you don't ADVERTISE. But the marketing costs from social media marketing such as Facebook ads will eat away your PROFITS. There is also the start-up cost of investing $497 in Hayden's course.
You might need weeks or even months to just break even, before showing any net profit.
In another word, it is a huge FINANCIAL RISK to start dropshipping.
2. Facebook Ads are Pricey and Difficult to Manage
After observing most dropshippers' results, at best, the total Facebook ad cost will account for at least 30% of your total sales.
But Facebook ads seldom stay effective for a long time. After your targeted audience is exhausted, your conversion rate will decline sharply. Then you will have to increase the marketing budget to keep your ads campaign afloat.
According to Forbes, Facebook saw an increase in Ad costs of 90% year-on-year.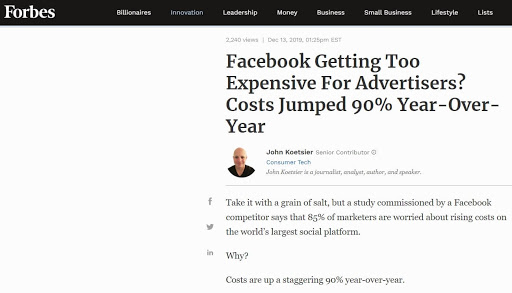 Worse still, the learning curve of Facebook ads is quite steep because Facebook changes its algorithm all the time. You have to invest a lot of time and money in learning and testing Facebook ads.
If you run Facebook ads without any experience, your ad account will be easily banned for violating their strict policies.
Many dropshippers fail to cover their Facebook ad cost and result in net loss.
3. Customer Support
Even though you don't have to manage inventory and logistics, you do have to spend a lot of time communicating with suppliers and dealing with customer service.
If your customer has any issues with the product, you have to wait for your supplier to help you. If your supplier is not helpful, you have to bear the loss yourself. Therefore, many dropshipping stores have poor customer review and have no returning customers. That's why it's never easy to build a sustainable dropshipping brand.
In the worst case, you would expect a lot of credit card chargebacks, which risk getting your payment gateway shut down.
4. A lot of work on product research
For your store to keep making money, you always have to look for a new winning product by testing products with Facebook ads.
In dropshipping, most products reach their peak in 1-2 months or even weeks. This is because many competitors will start selling the exact same product once it becomes popular.
Therefore, you need to keep finding new replacements in order to maintain your sales.
Most people who succeed in dropshipping are doing it full-time because it requires dedication, consistency, hard work and a lot of patience.
In fact, managing Facebook ads alone can take up your whole day.
Is there an Easier & Better Alternative to Hayden Bowles?
If you are new to online business, you may ask if there is a better business model that doesn't need Facebook ads and can do it as a side-hustle.
Yes, I would suggest you getting started with affiliate marketing. It is far easier and less time consuming as you don't even need to handle customer service.
In affiliate marketing, you can run your business almost with zero cost. Most importantly, you don't need to invest in creating and developing any products.
But How Much Can You Earn in Affiliate Marketing?
A 21-year old student from my #1 recommended training platform of affiliate marketing was able to earn $7,395 in just 1 week, which means he made more than $1k a day…all while using free traffic methods and affiliate marketing.
Wealthy Affiliate has existed for more than 10 years and there are many success stories over the years.
To give you more examples, here are some of the other inspiring success stories of Wealthy Affiliate members.
Where to Join Wealthy Affiliate?
Wealthy Affiliate has a very simple pricing scheme. It has free and premium membership.
If you want to feel about Wealthy Affiliate, you can sign up for the starter membership here (no credit card required). You can select to be a free member with no time limit.
And as a starter member, you can get instant access to the community, live chat, over 500 training modules, 2 classrooms, networking, commenting, 1 free website, access to the keyword tool.
You can enjoy all these values without paying a penny.
So I strongly recommend you to register a free account and see it yourself.