Are you looking for a Zazzle review? Is Zazzle a scam?
The emergence of e-commerce has opened up a number of new opportunities in recent years. Buying things online is more convenient than purchasing them offline since it saves both time and money.
POD (Print-On-Demand) seems to be an excellent business idea that you can get started working on right away.
While it is easy to start a business, making it successful is very hard and complex since we need to invest time and money to make it successful.
Print-on-demand businesses face many challenges along the way, but how you handle these challenges makes a big difference.
Zazzle is a top print on demand site that offers everything you might expect from a POD company. They offer a diverse range of goods, a secure payment system, and many ways to earn money.
We'll examine Zazzle from multiple angles to find out if it is indeed the best online opportunity course available.
To help you make an informed decision about Zazzle, I have done thorough research about it in the past few weeks. So I can tell you everything you need to know.
As a disclaimer, I'm not affiliated with Zazzle, which means I'm not paid to write this Zazzle review. So you can be sure that my words are unbiased.
In this Zazzle review, I'm going to cover the following topics.
What Is Zazzle?
With Zazzle, artists can design business cards, t-shirts, wedding invitations, and canvas prints.
Zazzle allows people to create or customize ready-made products for gifts or to sell online through an online platform. It was launched in 2005 despite being founded in 1999.
The company called "the Make Engine" is based in Redwood City, California, and uses cutting-edge technology to make it easier for people to design Zazzle invitations, bags, shirts, and other items online that they can buy or sell.
Zazzle printing is used by people from all walks of life. Someone might want to have her art printed on a variety of products or a son may want to make an original Father's Day gift for his dad with a custom mug and cap.
More than 550 brands, more than 600,000 designers, and millions of customers all belong to Zazzle's ecosystem.
Additionally to being a creative platform for designing items for the Zazzle marketplace, online shoppers can browse products and find personalized gifts in a variety of categories, including:
Weddings

Invitations & Cards

Clothing & Accessories

Home

Electronics

Office

Baby & Kids

Art

Gifts
Among the items you can purchase on the site are paper products such as Zazzle invitations and Zazzle business cards, as well as mugs, luggage tags, t-shirts, and Apple Watch bands.
What are the Zazzle Features?
There are many features that make Zazzle a good online marketplace from which consumers can purchase t-shirts, cards, mugs, iPhone cases, and more.
The following is a rundown of the powerful features the platform has to offer.
Interface and User Experience
Despite the sight of lots of buttons and links on Zazzle's website, you can still easily navigate through it since everything is clearly labeled and arranged.
You can join Zazzle as a Maker, Designer, Affiliate or Associate by clicking the "Sell on Zazzle" link at the top right corner.
It is easy, straightforward, and hassle-free to do this process.
For average users of the platform, the backend may be difficult to use, as well as creating a store and uploading your designs.
There may be some confusion with this interface.
Additionally, creating new designs or stores seems to be hidden, so you may need some time to figure it all out and get your collection online.
Before sellers can feel comfortable using the platform, they may need to figure out how the backend interface works.
Product Offerings
Zazzle offers many categories of products for sale on the site.
They offer almost everything on their catalog for customization, including phone cases, clothing, and more.
In addition to cards and invitations, clothing and accessories, electronics, art, gifts, weddings and home and living items, baby and kids items, and office products are among the main categories.
As each of these categories offers different products and variants, you can select as many items as you like and sell them with your designs.
Templates
From Christmas to Chinese New Year, a wide variety of templates are available for all product types, holidays, and events.
With Zazzle's photo card templates, you have plenty of options.
Is Zazzle Convenient?
Zazzle doesn't let you work with designers to create your own unique designs from scratch or make significant changes to existing ones.
Zazzle lacks print quality warnings as well, so if you upload the wrong dimensions or resolutions, for example, you may end up printing them incorrectly.
Paper is available in several options, but envelopes are not. For some reason, white envelopes are the only option.
There are no options for decorative envelope linings.
In addition, the envelopes are thicker and look a bit fancier than those of rival services.
The quality and service of Zazzle may not meet your expectations in terms of color and paper quality due to the fact that Zazzle outsources its print jobs to different companies.
Therefore, print quality is determined by the printer that handles your order.
In addition, Zazzle doesn't offer a postal service, but it does offer personalized rubber stamps and return-address labels.
How Does Zazzle Work?
Zazzle makes it easy to upload designs as well as to sell products. Buying and selling are both simple.
Having self-explanatory features makes identifying tools and items easier for users.
Getting started with Zazzle is easy, and the creation process is intuitive. You can register as a Maker, Designer, or Affiliate.
Your personal information would have to be entered when creating an account. The tools available depend on the type of account you choose.
The creation process is relatively straightforward. A designer submits their designs to Zazzle, selects the materials in which they want to be printed, and then sells the products.
Zazzle will take care of the rest, such as manufacturing, printing, and distribution.
Those who are "makers" create their own items to sell on Zazzle. However, you must manufacture your items and ship them yourself.
You will get a commission every time you sell a product on the Zazzle platform as an affiliate.
How to To Join Zazzle?
The platform offers three free and easy ways to sell and earn money: as a Designer or Artist, Maker or Manufacturer, or as an Associate or Affiliate.
1. Zazzle Designer/Artist
Zazzle designers enjoy the freedom of creative expression without the hassles of order fulfillment and customer support.
In addition, Zazzle offers:
Zazzle allows you to upload and sell your artwork for free

Making and shipping products hassle-free

Choosing your own royalty rates (5-99 percent)

Reaching over 30 million shoppers globally
2. Zazzle Maker/Manufacturer
Before joining Zazzle, you can create quality, made-to-order, and customizable products as a Zazzle Maker. The platform offers you the following features:
Reaching millions of people

Shipping made easy with Zazzle labels

Tool for uploading products that can be customized

Managing orders with Zazzle's order management tool is easy
3. Zazzle Affiliate/Associate
Zazzle Affiliates are those who promote Zazzle products and earn commissions by doing so.
Zazzle Associates can benefit from the following benefits:
Earn 15 percent per sale plus volume bonus

Zazzle offers millions of products

Promotion of any Zazzle page, including designs from brands such as Hallmark and Disney
How to Design Business Cards In Zazzle?
It is possible to use a template or to design your own based on the following:
The style (unique, minimalist, professional)

The shape (square, mini, standard, folded)

Profession
There are glitzy styles as well as sleek, but they're not as trendy as MOO.
If you choose to use a template, you can modify the text, and you can resize and move elements using the Click button.
Zazzle offers a lot of pre-designed templates suitable for all kinds of business types, as well as a customizable card designer with several unconventional clip arts and font styles.
In addition to excellent print quality, the options for card stock are commendable. Although it's costlier than most of the card-printing services we've tried, there's one drawback.
However, they do not offer professional design services like others do. With Vistaprint, the Editors' Choice business card printing service, you get more value for your money.
What are the Zazzle Products?
Zazzle has a wide selection of products. Zazzle allows you to customize nearly everything in their catalog – from clothes to phone cases.
Clothing & Accessories

Invitations & Cards

Electronics

Home & Living

Baby & Kids

Office

Weddings

Gifts

Art
Every segment has a wide selection of products and variations to choose from. It is possible to sell any number of items you like with your designs.
What is the Zazzle App?
App reviews for Zazzle's iOS and Android apps are positive. Customers who use the Zazzle app will have a similar experience to those who shop online using their desktop computers.
On the Google Play store, Zazzle has over 7,500 reviews and a rating of 4.6 out of 5.
Zazzle app users appreciate the ease with which they can place orders. There are, however, some sellers who are not happy with the recent updates, saying it makes it difficult to locate their images.
Customers and designers who have reviewed the Zazzle app on the Google Play store state that it is easy to use and great for shopping Zazzle.
Zazzle's app has also been rated highly by users at the Apple App store, with 4.7 out of 5-stars from over 5,600 reviewers.
Zazzle's iOS app has a great design and most users are happy with it. However, one reviewer noted that the app can occasionally crash and close unexpectedly.
Zazzle's app is generally regarded as a better alternative to the website, according to the general consensus.
It is possible to create your own designs or to choose from more than 200 million pre-existing designs or templates you can add to about 500 different types of products using the official Zazzle app.
Zazzle features some of the top and most respected brands in the world such as Nike, Zippo, OtterBox, Champion Sportswear, etc.
On the on-demand marketplace, customers can find artists' beautiful designs on top global products, and anything you can imagine can be created.
Other Zazzle-licensed brands include Sesame Street, Coca-Cola, Disney, Marvel, Looney Tunes, Outlanders, DreamWorks, Hallmark, DC Comics, and more.
Using the Zazzle app, you can accomplish the following tasks:
Use the product design tool to create unique, one-of-a-kind products

Real-time order status updates and tracking

Get a sneak peek at Cyber Monday and Black Friday sales

Shop in a secure and safe environment

You can also sign up for mobile notifications to stay up-to-date on exclusive promotions and discounts from Zazzle.
With Zazzle, you can return any product within 30 days if you do not like it. Zazzle promises 100 percent satisfaction on all orders.
What is the Zazzle Affiliate Marketing Program?
By joining Zazzle as an Affiliate, you can earn passive income and, if you use the right strategies, this can be quite profitable.
The following are some of the benefits of this program:
1. Cost-effective and affordable
Zazzle is a popular marketplace that sells customized items like wedding invitations, business cards, and business cards.
It offers you the chance to order the exact amount you need, so it is both affordable and economical.
2. High commissions
Zazzle offers affiliates a 15 percent commission rate plus volume bonuses, making it one of the more profitable online marketplaces. It also offers easy and multiple ways for affiliates to make money.
3. Sign up is easy
Zazzle allows you to sign up hassle-free, plus you can be a designer or maker and an affiliate, without additional costs or hurdles.
In this way, you can earn double commissions as long as your affiliate link appears in your postings, too.
4. Wide audience
With its extensive product categories, Zazzle appeals to a wide audience. Regardless of your target market, you can pinpoint a niche quickly and easily from the vast site.
5. Multiple stores
By creating multiple niche stores in Zazzle, you can increase your passive income streams if you're both an affiliate and a designer.
Is Zazzle Legit?
Zazzle is a legitimate business. Three brothers, Robert, Bobby, and Jeffrey Beaver, founded the company in 2005.
You can find high-quality designs for t-shirts, business cards, wedding invitations, and more at Zazzle. Disney and Hallmark have recognized their work.
I've decided to answer this question in three ways because this platform has so many aspects.
1. You can purchase high-quality products from Zazzle designed by individual artists and designers
Zazzle offers t-shirts, mugs, greeting cards, wedding invitations, phone covers, and many other high-quality products.
They are made by independent designers who upload their artistic works to fit the items you order individually.
Particularly Zazzle sends these sketches to suppliers, who then manufacture the products on your behalf.
2. Zazzle allows designers, artists, and photographers to earn passive income
The Zazzle website allows a designer, photographer, or artist to upload their artwork, which can then be matched with the individual pieces for sale or for purchase.
It's free for the creator. Zazzle makes money by charging a base price and giving you the option to charge a commission (in percentages).
Consider the following example: A mug might be 9.99 US Dollars – you choose a 15% commission per sale, which amounts to 1.49 USD, and the buyer will pay 11.48 USD per mug.
The 1.49 US dollars would then be held by Zazzle until the transaction has cleared and the commission payment cap of $50 has been met. PayPal is the method for commission payments.
Although you can set this percentage as high as you like, several factors come into play, which affect the amount you sell. They are:
Your products' quality

Pricing of your competitors

Quality of design

Marketing strategy
Zazzle has been selling my digital creations and artistic bits for the past three years.
Create your own stores, categories, and descriptions with this simple and profitable interface.
So you may ask, "Is it an easy and quick way to make money?"
No, of course not! As with any internet income stream, it takes work and dedication, but if you are prepared to put in the effort, you could make good money.
It is definitely a red flag for a possible scam if the product or service claims that you don't need to work very hard to make money. Such products and services exist in droves.
3. Zazzle is a legitimate affiliate income source for marketers who don't mind thinking outside the box
Zazzle also offers affiliate marketing opportunities. You can earn money online by signing up for this platform, which is completely free.
A unique affiliate link will be given to you to promote every product in the store, including your own designs.
You can take their free beginner's certification course to learn more about affiliate marketing.
Zazzle's affiliate program allows you to gain both affiliate commissions and design commissions for every sale you make!
If a customer buys a mug from either your referral link or affiliate link, instead of earning $1.49 from that sale, you can earn an additional 15%, for a total of $2.98.
You can significantly increase your profits by taking advantage of consumable seasonal sales or paper products if you are a brilliant marketer.
By simply sharing these items on various social media outlets and my own website, I have been able to promote both my own designs and those of others.
I think you can see that Zazzle is completely legitimate, both as a place to buy goods for yourself and as a way to make money.
If you love artistic expression, innovative projects, and looking for something different, Zazzle is not to be missed.
Zazzle Pricing
There is no fee for using Zazzle on a daily, weekly, monthly, or annual basis.
You only need to pay the base price of the products when customers buy them from you.
The base price is deducted by Zazzle, and the remaining profit is yours to keep.
There isn't a comprehensive list or document that lists Zazzle's prices, but once you've created an account, you can view individual product prices by clicking "Create a product."
For 3.5×2 inch business cards printed on 17.5pt stock, the starting price is $20.95 per 100 sheets.
While MOO charges almost the same price ($19.99) for 50 equivalent cards, Vistaprint charges $15 for 100 cards on a 14pt stock, which is a bit thinner; 16pt from Vistaprint costs $24.
Their cheapest service, GotPrint, costs only $7.63 per 100 cards even though it prints only on the front and on thinner stock.
What is the Zazzle Payment Method?
Zazzle makes sure all vendors receive their checks as soon as possible. It takes about 30 days for the contributions to be withheld after they pass the mark, but the process is straightforward.
In cases where the vendor chooses US Dollars as their currency, Zazzle provides PayPal and US Bank account payment methods; however, selecting some other currency limits the payment method to PayPal only.
What are the Zazzle Printing Technologies?
Zazzle offers several printing technologies. Nevertheless, the user cannot choose the printing technology that applies to each product.
Direct to Garment
This is a type of digital printing that is also known as DTG. Ink is sprayed onto the fabric. It can easily withstand lots of laundering since the imagery becomes a part of the garment itself. Print quality is often better than screen printing.
Sublimation
Special paper and heat are required for this approach. Heat is used to transfer the design to the paper, then onto the product.
Digital Printing
Pixel by pixel, the design is printed onto paper products.
Embroidery
Thread is used instead of ink for embroidery.
Each ZAZZLE t-shirt is produced with DTG, but they offer two options: Classic or Vivid.
Single-process printing is also known as classic printing. It uses white ink that appears transparent. Because of this, the color of the shirt shows through.
Double-process printing, also called vivid printing, has an upcharge. The shirt is printed with a layer of white before color is applied.
Zazzle does not currently offer engraving services.
What are the Zazzle Ecommerce Integrations?
Ecommerce platform integrations are not available on CafePress or TeePublic. CafePress and TeePublic are standalone stores.
You won't be able to import orders from your website into Zazzle for production if you use something like BigCommerce or Wix. Additionally, you will have less control over the shopping experience.
Most people use social media ads to market their niche stores since there is no ecommerce integration. You can easily generate traffic to your store by spreading the word about the products you sell.
What are the Zazzle Marketplace Integrations?
Zazzle does not integrate with marketplaces.
Instead of selling your Zazzle products on eBay, Etsy, and Amazon, they want you to use the store they build for you.
What is the Zazzle Shipping Policy?
The Zazzle Black account allows free shipping for a one-time fee of $9.95 per a year! For a one-time fee of $9.95 per year, you can also create a Zazzle Black account that offers free shipping! delivery.
Zazzle allows buyers to track their shipments easily. By logging into their account, buyers can keep track of all their orders. Zazzle offers three different delivery options to all US consumers.
Standard – Ships within 4-7 days

Premium – Ships within 2-3 days

Express – Ships within 1 day
Different types of shipping options depend on the type of merchandise, the number of goods, and the customer's address.
You can find shipping costs on the checkout page. Due to the fact that shipping rates vary depending on a variety of factors, it is always a good idea to place a dummy order to see what the shipping costs would actually be.
Zazzle also provides international shipping to a wide range of countries. Their website provides a list of all the countries they ship to.
How is the Zazzle User Experience?
There are several icons and links to click on the Zazzle website, which makes the interface a bit disorganized. However, it is still possible to navigate the site easily because the items are properly labelled.
You can sign up as a designer, maker, or affiliate by clicking "Sell on Zazzle" at the top-right corner. Registration is straightforward and self-explanatory.
On the other hand, the platform's backend is somewhat complicated for the average user. You may find it challenging to create a Zazzle store or posting template. The whole process can be confusing for a new customer.
Furthermore, it is difficult to find the options for creating a new store or product design. It will take some time for you to become comfortable with creating collections on the site.
You would need to learn the process before becoming comfortable with this rather complicated back-end user experience.
How is the Zazzle Customer Support?
Customers of Zazzle have access to Zazzle's dedicated support team who are always on hand to assist with any issues they may be experiencing.
Zazzle's customer service team can be reached in three different ways:
They can respond to your questions within 24 hours if you email them.

Online chat is the fastest way to communicate.

Contacting support by phone is certainly the best method.
Knowledgebase
You can find answers to most questions in Zazzle's comprehensive help center, so you don't need to contact customer service for every little issue.
There are three sections: sellers, makers, and designers. There are FAQs related to each section.
If you are not able to find answers or solutions to your problems, you can contact the help team.
Zazzle Pros and Cons
Zazzle Pros
Join for free

You can sell as many products as you want

Various product categories and their variants

Bulk discounts

Products and prints of the highest quality

Zazzle allows you to upload your own designs and/or sell products with Zazzle designs

You can sell your products to other members

You can set your own prices for your items

Members have the option of customizing their store

Zazzle is responsible for all customer service, shipping, production, returns, technology, and payments

Reports on tracking that are useful

Promo tools that can be helpful
Zazzle Cons
Customization options are limited

Some products may not be of the highest quality

You cannot create your own website or domain

There is no cross-platform integration

Does not warn you about image sizing or resolution
Is Zazzle Safe to Use?
You're not the only one wondering if Zazzle is safe and if you should use it. The safety of a company's website is a primary concern for many online buyers. There are several ways to measure safety, but most people want their personal information to be secure.
Zazzle states that children under the age of 13 are not permitted to use the site.
As part of the EU's new privacy regulations (GDPR), Zazzle's privacy policy complies with more stringent rules regarding how consumer data is handled.
In addition, it is transparent about the third parties with which it may share your data, such as Google Maps for tracking Zazzle shipping.
Additionally, Zazzle encrypts information using secure server software, or SSL, and requires passwords when users log in to their accounts.
As a result, Zazzle.com makes it a point to protect your private information.
Is Zazzle A Scam?
Zazzle is not a scam, as I have started early on. It is a legitimate company.
Several positive reviews on the web written by satisfied customers can convince you further.
By checking the company's status on the Secretary of State's website in California, you can verify Zazzle's legitimacy.
Zazzle's relationships with name brands is another indicator that they are indeed a legitimate company. Disney, Star Wars, Harry Potter, Marvel, DC, and more are among the licensed products available at Zazzle.
Since companies that grant permission to sell their brands do not typically want to be associated with unsafe websites or retailers, Zazzle would not be able to sell so many well-known brands and licensed products.
No matter what your niche is, you can certainly find what you're looking for on this website, which makes your shopping experience even more enjoyable.
Zazzle has a great earning scheme, so you can make money by selecting any of the three choices they offer.
If you are new to the print-on-demand business, I would not recommend it because the back-end is extremely complex.
A successful, profitable online business is, however, entirely possible.
If Zazzle is not for you, I have a better recommendation for you to build an online business from scratch. I will tell you in detail in the later section of this Zazzle review.
Positive and Negative Reviews of Zazzle
Positive Zazzle Reviews
According to Trustpilot, BBB, and Sitejabber reviews, Zazzle.com reviews are generally uncritical about the pricing.
Zazzle's products and services are competitively priced, so online shoppers can expect that.
According to Zazzle reviews, orders aren't usually canceled because of insufficient inventory or technical problems with the company's website.
As a result, you should not run into any out of stock issues when ordering Zazzle business cards, stationary, or personalized gifts.
According to Zazzle reviews, the company's security features are also excellent. Zazzle.com customers did not claim their credit cards were stolen or noticed fraudulent charges after shopping.
Moreover, many Zazzle reviews indicate that the company's products are of high quality, although quality may differ depending on the order. Customers ordering Zazzle printing of images to be uploaded into items such as bags are usually very pleased with the quality.
According to a Zazzle review on the BBB, for example:
"Just received an order of reusable grocery bags, which I gave as little gifts to high school friends as we met for lunch…These bags are just outstanding! great quality, great photo printing. I am always impressed w/the items which I buy from Zazzle!"
Generally, when a Zazzle review mentions quality issues, it comes from a product category such as cell phone covers or miss-sized t-shirts.
In addition, we found that most of the quality issues weren't with the product, but rather with the printing quality, which is possibly due to a poor-quality image provided by the customer.
More than one Zazzle customer has commended a customer service agent in their review. A former employee named Bianca was praised for her helpfulness and responsiveness.
The important thing to note is that Zazzle seems to take its reviews seriously. As you read reviews of Zazzle.com, you can see that the company has a dedicated person or team that reviews Trustpilot.com, BBB.org, etc.
Customers that leave negative feedback are contacted by Zazzle customer service. It is commendable that the company resolves issues in a timely manner to enhance customer experience and demonstrate this is a responsive company.
Negative Zazzle Reviews
Many Zazzle.com reviews complained about delayed shipping. Some customers complained that they didn't receive their products on time.
Customers were quite upset when Zazzle shipping took longer than promised for wedding invitations and other stationery for time-sensitive events, especially when they paid for expedited shipping.
Additionally, Zazzle.com reviews have revealed issues with order fulfillment for certain types of designs.
One Zazzle review on Trustpilot stated that the customer was upset because the company refused to print a Donald Trump quote on the sticker, and a few other reviewers felt that their free speech was limited due to Zazzle's refusal to print items considered racist.
Some sites, such as Zazzle, have policies that prohibit printing of anything that infringes on a copyright or that would be considered hate speech or obscene. You can view Zazzle's policy here.
Another complaint concerned Zazzle Black, a subscription service for unlimited standard or 2-day shipping (we'll cover that in a bit). Zazzle reviewers complained about their shipping after buying the subscription
There were a few unhappy reviewers who were tricked into signing up for Zazzle Black's free trial and did not want a monthly subscription.
There are occasional quality issues, and the majority of customers are very satisfied with the items in general, but we have come across some reviewers who say they received items of poor quality, like this Trustpilot review:
"Bought a Masonic jigsaw puzzle and the quality is absolutely awful. The image on the box is ridiculously small and of very bad quality thus making the making of the puzzle almost impossible."
Zazzle Reviews Overall
In Zazzle reviews, there's a healthy balance between positive and negative feedback.
Zazzle.com reviews, for instance, indicated an even balance between positive and negative experiences with Zazzle customer service.
Some Zazzle reviews indicated that their experiences with customer service were amazing, while other Zazzle.com reviews complained that it was terrible.
Customer support representatives may not be able to do much about Zazzle's shipping times, which is out of their control.
There were also some Zazzle reviews with mixed customer experiences. The order with no issues and the order with some type of shipping or product quality issue. Below is an example from the BBB:
"I used this company many years ago for my business needs and was very satisfied. My most recent experiences found the quality of products inferior to what I ordered before and customer service was not very helpful."
Based on these Zazzle.com reviews, it appears that the suppliers of the products that Zazzle prints on may vary in quality, with some having higher quality goods than others, thus the difference in customer experience.
Zazzle Review: Final Verdict
Here comes my conclusion of this Zazzle review. Overall, Zazzle is a reputable POD company that you can trust.
However, I don't recommend starting a Print-on-demand business with Zazzle because it's hard to make any money with this business model.
Let me tell you a better alternative to make money online in the next section. This alternative has enabled me to make a full-time passive income in a year. Most importantly, it's a 100% legit and sustainable way to make money online.
The Best Zazzle Alternative: Make Passive Income Online
Although POD business model using Zazzle seems to automate the order fulfilment process for you, it's not a passive income model. You still have to create designs, and do active promotion of your store. Therefore, it's not suitable for doing as a side hustle.
So you might wonder if there is a better business model that doesn't need Facebook ads and can do it as a side-hustle.
Yes, I would suggest you get started with affiliate marketing. It is far easier and less time consuming as you don't even need to handle customer service.
In affiliate marketing, you can run your business almost with zero cost. Most importantly, you don't need to invest in creating and developing any products.
But How Much Can You Earn in Affiliate Marketing?
A 21-year old student from my #1 recommended training platform of affiliate marketing was able to earn $7,395 in just 1 week, which means he made more than $1k a day…all while using free traffic methods and affiliate marketing.
Wealthy Affiliate has existed for more than 10 years and there are many success stories over the years.
To give you more examples, here are some of the other inspiring success stories of Wealthy Affiliate members.
You can also visit Trustpilot where Wealthy Affiliate has 4.8/5 rating.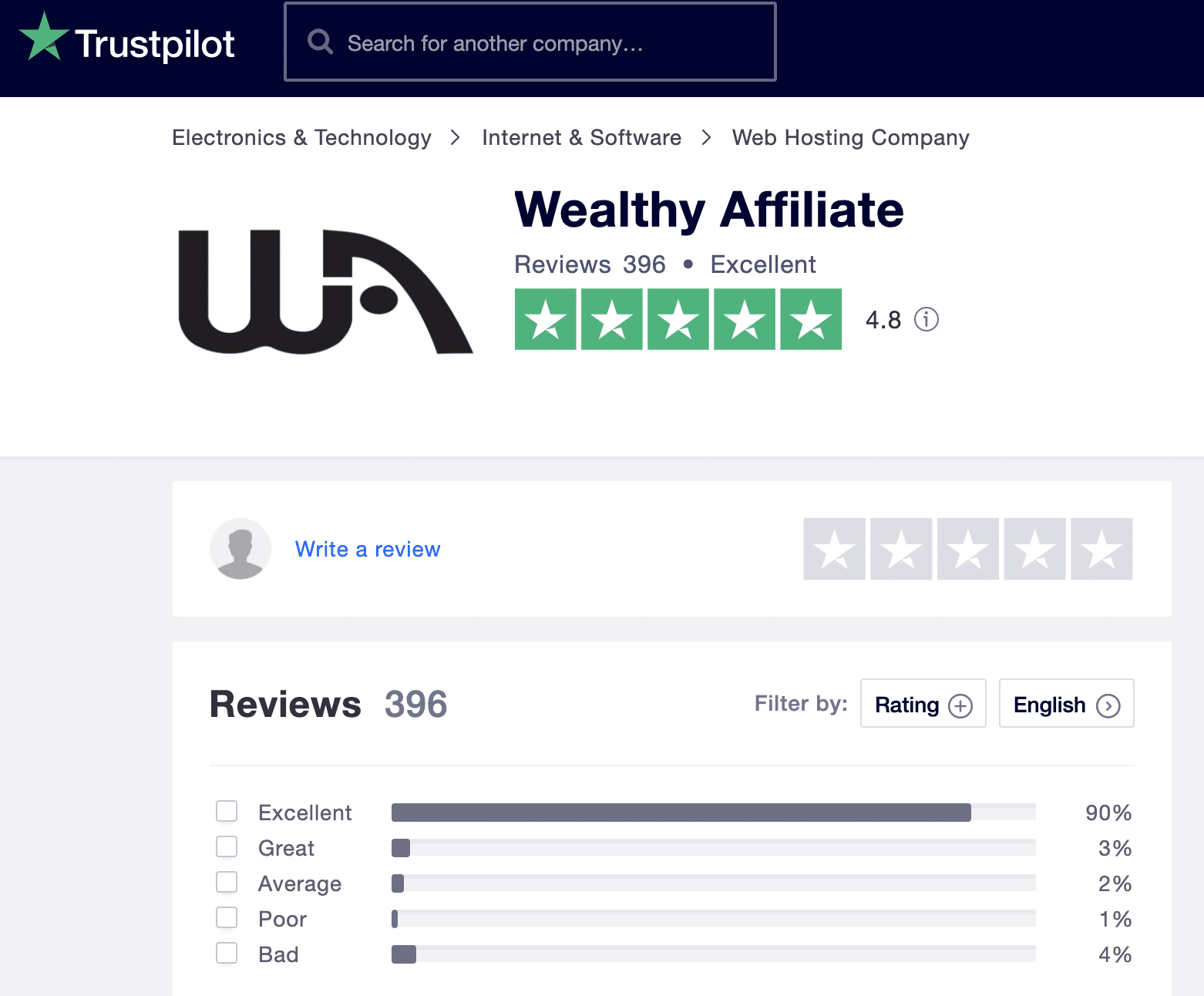 Where to Join Wealthy Affiliate?
Wealthy Affiliate has a very simple pricing scheme. It has free and premium membership.
If you want to feel about Wealthy Affiliate, you can sign up for the starter membership here (no credit card required). You can select to be a free member with no time limit.
And as a starter member, you can get instant access to the community, live chat, over 500 training modules, 2 classrooms, networking, commenting, 1 free website, access to the keyword tool.
You can enjoy all these values without paying a penny.
So I strongly recommend you to register a free account and see it yourself.

Recommendation: Here's The Best Alternative
Zazzle Review Frequently Asked Questions
1. How To Sign Up For A Zazzle Designer Account?
Joining Zazzle as a Designer is easy. Choose the designer option by clicking the "Sell on Zazzle" button located at the top of the website, and follow the instructions
Once you've completed the quick sign-up form, you will become a designer.
2. How To Create A Store On Zazzle?
Follow the basic steps to create a new store by clicking "Create a Store" from your account profile.
You'll be asked to enter your store's information, choose a banner image, and create a unique URL.
3. What is the Unique Selling Proposition (USP) of Zazzle?
Zazzle is one of the most successful sites for custom printing.
Licensed merchandise from Disney, DC Comics, and other well-known brands are available on it, which shows that this business is 100% legitimate, not to mention that its products are of high quality.
You can make money with Zazzle in three different ways. They are:
Sell your designs on several products by signing up as a designer.

Sell your own goods, or

Profit from your unique affiliate link by selling other products