Are you looking for a review of writeappreviews.com? Is it a scam or legit?
There are 100's of ways to make money online. You can make money promoting other people's products online, by running your own store, by completing surveys for cash, or by leveraging freelancing work.
Reviewing apps and products is one way to make money online.
If you have watched the ads of writeappreviews.com, you might be interested in learning about whether you can make money writing app reviews.
Some of the readers found writeappreviews.com and ask me to write a review. So in the past week, I have done thorough research so that I can tell you if it is a scam or not.
If you think writeappreviews.com is not suitable for you, I will also give an alternative at the end of this review.
Write App Reviews Review – Takeaways
What Is Write App Reviews?
'Write App Review' is a new product available on ClickBank that allows users to review mobile apps to make money online.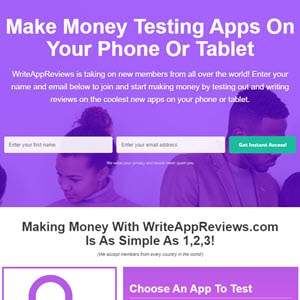 Simply put, you need to select an app, download it, test it, and write a review for it.
Each member will have their own personalized website where you will be able to write and post these reviews. You can make money in three ways.
Clicks on banners on your website

Email opt-ins

An app download link is clicked by someone
Get A Special Offer And Instant Access Here
How Does Write App Reviews Work?
Writing App Reviews is a way for you to earn money by reviewing apps. The process is quick and easy.
Step 1. Setup your App Review website

Step 2. Test apps and write reviews

Step 3. Get paid!
What you have to do is:
Step 1. Setup your App Review website
Having an app review website, which is DFY, lets you publish these reviews and make money through advertisements, signups, and downloads.
Basically, the site is complete and doesn't need any coding, designing, or hosting.
You only have to register for ClickBank and JVZoo (affiliate marketplaces) in this first step.
Step 2. Test apps and write reviews
Once you've completed step one, you'll be able to access a database of apps and start reviewing them by logging into your Write App Reviews website.
A wide range of apps can be found in this database.
You can review an app on your phone or tablet by choosing one that interests you.
If you decide to review an app, you will be given access to an edit page. The only thing you need to do is write a review and rate the app from 1 to 5.
Your goal is to rank your reviews in search engines to get free organic traffic. You will need at least 500 or more words for each review.
Your review will be published on your Write App Reviews website once you hit the publish button.
Step 3. Get paid
Write App Reviews offers three ways to earn money. Your banners are clicked, emails are signed up, or your app is downloaded.
To get started, you will need to create an affiliate account with both ClickBank and JVZOO.
When you use the app review system, your Clickbank ID or JVZoo ID will appear on every banner ad on your website, every email list, and every app download button.
When a user on your site performs any of those three activities, you can get paid.
You will find banners on your site from Write App Reviews designed to redirect users to ClickBank and JVZoo products.
When someone purchases these items from your links, you receive a commission.
The two other methods are the same. You make money when they subscribe to your list and click on your offers.
Additionally, whenever a person clicks on your website to download an app, you earn money.
Get A Special Offer And Instant Access Here
Can You Really Make Money With Write App Reviews?
Yes, it's possible to earn money by reviewing apps. However, there is no guarantee that you will make money.
First of all, you need to get traffic to your website so that you can make money.
To get free traffic, publishers have to publish app reviews for specific keywords such as "app name + review".
To get Google's attention and the attention of other search engines, I believe you ought to write 50-100 app reviews.
However, it's strange that Writing app reviews does not teach you Search Engine Optimisation (SEO). It follows that if you do not have any SEO experience, your reviews will be highly unlikely to get ranked in Google.
Search engine optimization is an extremely complex topic that requires special knowledge and skills. A review can't simply be posted and hoped to get instant rankings in SERP.
If you lack SEO skills, it will be hard to get people to visit your site.
Writing App Reviews doesn't make you any money if no one is checking out your reviews!
Write App Reviews Complaints and Cons
1. The sales funnel is loaded with upsells
After paying for $27 for access to this platform, you will be bombarded by many upsells. Some people might not feel annoyed by upsells. Because if the upsells are great and can help you succeed faster, it should be fine.
2. No Details About The Creator of Write Apps Reviews
The lack of info about the creators and owners of Write App Reviews is quite strange.
A scam usually hides names or uses fake names and Fiverr actors to make you believe you're buying something legitimate.
Why don't the owners of Write App Reviews show up or give us their names?
It could be that the product is bad and that they don't want their name or that of their company linked with an inferior product?
It is possible but there is no evidence to prove this. That's just a guess.
3. It Takes A Lot of Work To Drive Traffic to the DFY site
Actually, the platform's product isn't that bad. With the DFY site, you have access to tons of apps, along with instructions on how to review them.
You do not have to worry about managing the website or the sales process because that is basically done for you.
However, the biggest problem with Write App Reviews is that you won't learn what SEO is or how it works in order to rank on the first page.
It is possible to write a lot of reviews. Your efforts will be in vain if you don't know how to rank them.
4. It's a rehashed version of the app coiner scheme
Both App Coiner and Write App Reviews are basically the same. Besides their names, they are identical. The rest is the same. That feels weird and suspicious.
Get A Special Offer And Instant Access Here
Write App Reviews Pros
1. You will get a done-for-you app review website
When you purchase Write App Reviews, you will get a website ready for you to publish reviews and drive traffic. If you are not a technical person, this will help you get started right away.
2. The Guidance is Step-by-Step
The guidance inside the platform is quite clear. You will be able to follow the instructions step-by-step and build a review site.
3. The Cost of Write App Reviews is Affordable
Write App Reviews's front end offer is just $27, which is very cheap. I think most people can afford this. It's true that there are many upsells after you enrol, but those are optional and you may not need to take them.
4. There is a 60-day Money-Back Guarantee
Since the Write App Reviews is sold through Clickbank, you don't have to worry about getting a refund in case you like it.
You have a 60-day money-back guarantee. ClickBank is a reputable platform that acts as the middleman of the transaction, so you can rest assured that your money won't be stolen.
Write App Reviews Pricing
The price of Write App Reviews is not clearly indicated at first glance. You only need to supply your email address and name to gain access.
You will then redirected to a sales page where I was asked to pay $27 to gain access to the platform.
After that, you will be offered some upsell products. Let me explain what the upsells are below:
Upsell #1: Express Pass VIP Area – $97
Getting access to a VIP area was the first upsell. Having access to this platform will enable you to earn 10x more money.
According to the VIP club, all members make tons of money faster than regular members.
However, this is not verified information.
Upsell #2: Make 3x More Money – $57
Write App Reviews' second upsell is the Paid Social Media Jobs. You can make money managing others' social media accounts with this platform.
Next, there is the paid online writing job offer. It's very similar to the Paid Social Media Jobs.
Upsell #3: 50 DFY App Reviews – $37
DFY app reviews are the last upsell inside the funnel. With it, your site will instantly be updated with 50 reviews if you purchase this.
Get A Special Offer And Instant Access Here
Is The Write App Reviews Worth It?
The Write App Reviews platform is not expensive. You may think it's not worth it if you expect more training and support for $27.
The backend area contains some products but there are many upsells. Some people may feel annoyed by that.
Additionally, the Write App Reviews won't teach you how to get traffic to your website. A website and reviews that have affiliate links are of no value when no one clicks on them/
Write App Reviews will be much better if they offered some in-depth SEO training and reduced the upsells.
Write App Reviews Pros and Cons
Write App Reviews Pros
You get a cool app review website

You will be guided through the process step-by-step

The cost of writing app reviews is $27 (backed by 60 days of refund)
Write App Reviews Cons
The Write App Reviews sales funnel is filled with hidden upsells

Promotional and sales material overhyped

The product does not have information about the creator

There is no comprehensive SEO training available

If you don't know how to use SEO, you will never rank well for reviews.

It's a rehash of App Coiner
Get A Special Offer And Instant Access Here
Is Write App Reviews a Scam?
I cannot say Write App Reviews is a scam. It does seem promising at first sight. But there are many problems that make it not a very attractive product.
To learn more about the platform, you can give it a try. But don't have a high expectation for paying $27. The platform is not so good that you may like it.

Also, you will be surrounded by constant upselling of other products. That's a usual practice in the world of online marketing where online marketers are trying to increase their profit margin.
However, given the cheap price and value that Write App Reviews offers, I cannot say it is a scam.
Final Verdict: Write App Reviews Review
You can access Write App Reviews online to review apps and make money online. It's a DFY platform.
The platform, however, has several issues that prevent me from recommending it personally.
First, there was a lack of transparency.
Second, they won't teach you how to acquire traffic, and the system won't function without it.
Finally, it is a copy of App Coiner – a system for making money online by reviewing apps.
In conclusion, if you really want to make money online, there is a better alternative that I will tell you in the next section.
Get A Special Offer And Instant Access Here
Write App Reviews Alternative
Write App Reviews is just like affiliate marketing. I agree that Affiliate Marketing is perfect for anyone who is new to online business.
In fact, of all the online business models I've tried, affiliate marketing is the easiest and most rewarding so far.
In affiliate marketing, you can actually run your business almost with zero cost and achieve a steady and sustainable passive income to pay for your bills. You don't need any initial capital and can even do it as a side hustle.
However, if you really want to learn affiliate marketing and build a business from scratch, there is a much better alternative. I'd recommend you to get started with the most reputable platform for affiliate marketing: Wealthy Affiliate.

Wealthy Affiliate is an all-in-one platform for building your affiliate marketing business from scratch. It offers you a free account (including a free website) with comprehensive training on SEO (free traffic methods), which enables you to get started with affiliate marketing right away without paying a penny.
But How Much Can You Earn with Wealthy Affiliate?

A 21-year old student from Wealthy Affiliate was able to earn $7,395 in just 1 week, which means he made more than $1k a day…all while using free traffic methods.
Wealthy Affiliate has existed for 15 years and there are many success stories in the past decade.
To give you more examples, here are some of the other inspiring success stories of Wealthy Affiliate members.
Where to Join Wealthy Affiliate?
Wealthy Affiliate has a very simple pricing scheme. It has free and premium membership.
If you want to feel about Wealthy Affiliate, you can sign up for the free starter membership here (no credit card required). You can select to be a free member with no time limit.
And as a starter member, you can get instant access to the community, live chat, over 500 training modules, 2 classrooms, networking, commenting, 1 free website, access to the keyword tool.
You can enjoy all these values without paying a penny.
So I strongly recommend you to register a free account and see it yourself.