If you're reading this, probably you have watched Kevin Zhang's ads on Facebook or Youtube. He told us his success story of making 20 million dollars in dropshipping business in the first year of his entrepreneurship.
That's an incredible success story, especially for a boy of just 23 years old. But still you may ask, "What is Kevin Zhang about? Is he just a scam like many other gurus online?"
To get the answer, you don't have to pay $1997 for his eCommerce Millionaire Mastery to find it out at this moment. Because I've done some in-depth research for you, including talking to Kevin Zhang's real students on some social media platforms such as Reddit.
In this review of Kevin Zhang and his eCommerce Millionaire Mastery, I will cover the following:
What is Kevin Zhang About?
Kevin Zhang is a Chinese immigrant living in the US. On his official website, you can see that he claims to be the youngest member of Forbes Business Council and created several million-dollar eCommerce brands.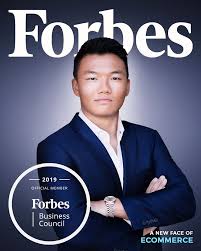 It seems like he was endorsed by Forbes, as you can see this picture of him featuring on the Forbes Magazine.However, when doing a deeper research, you can no longer find Kevin Zhang's profile on the website of Forbes Business Council.Not sure if Forbes has cancelled Kevin Zhang's membership for some unknown reasons.And when you see the photo of the Forbes Magazine carefully, it seems that the magazine cover was made with Photoshop or other photo editing software.You won't find the actual issue of Forbes Magazine with Kevin Zhang as the cover.To further understand the mystery of Kevin Zhang, I also do more research to find out the eCommerce brands created by him.Below are some of his brands:
Newport Apparel
Long Horn Leather
Dixon Leather
Dixon Trading
Valor Drones
Grizzle Tactical
According to Kevin, these eCommerce brands should have made $20M in just a year. But when you try to look up the stores, many have already been shut down. It brings out the question of why he closes these million-dollar eCommerce stores.
When you search the stores on Trustpilot, the customer reviews are pretty bad. So I'm not sure if that's the reason why it has been closed down.
Anyway, without sufficient evidence, there is still no way to verify the story of Kevin Zhang.
Let's talk about his course eCommerce Millionaire Mastery.
What Can You Learn in Kevin Zhang's eCommerce Millionaire Mastery?
Kevin Zhang is selling his course "eCommerce Millionaire Mastery" at $1997. You can pay with 5 instalments of $499 but that is $495 more expensive.
The whole course is about 20 hours, which has 15 modules and over 200 lessons.
Most videos are 10–20 minutes in duration and the core training is Facebook ads.
As a bonus of the course, you'll be able to access his private Facebook group and 52 live calls every year.
Believe it or not, Kevin said the whole course delivers $37,500 in value. And you just have to pay $1997.
That looks like a pretty good deal but it's very subjective indeed.
An Overview of eCommerce Millionaire Mastery
Kevin Zhang's course is not cheap but the content is not very advanced.
Actually you can find most of the content for free on Youtube. So if you already have some experience in dropshipping, you might not feel excited about the course content.
Below are the modules of eCommerce Millionaire Mastery:
​​Module 1: Introduction of Dropshipping
This module is a simple introduction of the dropshipping business model.
Kevin Zhang will talk about the mindset of being an entrepreneur.
Mindset is important when it comes to entrepreneurship.
But some people might think the mindset stuff is too abstract and theoretical.
Module 2: Build A Dropshipping Brand In Certain Niche
In this second module, Kevin will criticise single product and general store. He recommends students to a build a dropshipping brand instead.
This idea sounds great but might not be realistic for dropshipping business. Most dropshipping products are generic and can become outdated very quickly.
Also, since the products are not unique, it can be easily copied by competitors. It's hard to protect your brand in the world of dropshipping. And you might not be able to register a trademark for a generic product that is available everywhere on Amazon, Ebay or Alibaba,
In this module, Kevin will also talk about the business trend of dropshipping and how to set up a Shopify store and connect with Aliexpress via Oberlo.
Kevin then continues to talk about some alternative places to find your suppliers such as Salehoo where you can source products outside China.
Module 3: Customer Psychology
This module has 4 videos. Kevin Zhang will talk about different types of customers and how to appeal to their psychology. He will also teach you how to find out the target market of products.
Module 4: Design a Shopify Store
This module has 18 videos. Kevin Zhang will teach you how to do the basic set up of Shopify, such as linking a domain with your Shopify account. This kind of stuff can easily be found on Youtube.
In the beginning, Kevin will teach you how to use Photoshop and find some free images to create ads for Facebook ads.
He will then go through the simple process of importing Aliexpress products into your Shopify store and do some editing of the photos and product descriptions.
Afterwards, he will teach you how to set up trust badges, add reviews, install upsell applications etc.
The last lesson is about setting up cross sells and upsells to increase the average order value.
Module 5: Shopify Web Design Mastery
In this module, Kevin Zhang will continue to help you design a Shopify store. He will talk more about how to customise your store such as creating a banner, category pictures and homepage collections.
Also, he will teach you how to create a tracking page that allows customer to track their orders as well as adding some essential pages like contact, privacy policy, terms and conditions.
The last section of this module is about increasing your site speed, which is important for conversion rate. This can actually be done by simply choosing a fast and lightweight theme.
Module 6: Setting up Facebook Ads
This module is about Facebook ads. Kevin Zhang will teach you all the basics to get started. He will first teach you how to set up your Facebook business manager account and a Facebook page for running ads.
Then, he will teach you the steps of installing a Facebook pixel. Facebook pixel is important for running Facebook ads. Without it, you cannot retarget visitors of your website and convert them.
Finally, there's a video about an application called "Trackify". It is used for product catalogs and backup pixels.
Actually, you will find that Kevin's course only teaches you how to drive traffic from Facebook. So if you want to learn other methods to drive traffic such as Pinterest or Google, you won't learn it inside this course.
Module 7: Engaging & Profitable Ads
In this module, Kevin Zhang will continue to talk about Facebook ads. He will teach you how to create a Facebook campaign, interpret data, and optimise your campaign. He demonstrated different ads such as images, carousel and videos.
At the end of this module, Kevin Zhang will teach you some basic copywriting techniques for writing eye-catching ads.
Module 8: Basic Facebook Ad Strategy
In this module, Kevin Zhang will teach you some basic principles of running effective Facebook ads.
He will show you how to do Facebook retargeting to generate sales.
Moreover, he will talk about how to interpret your Facebook ads data. He explained some of the important performance metrics such as ROAS and cost per purchase.
Besides, he will teach you some advanced stuff like using Trackify to create Lookalike audience for retargeting purpose.
Module 9: Advanced Facebook Ads
This module will talk about Campaign Budget Optimization (CBO) of Facebook Ads.
Kevin will teach you how to do some tests of interest targeting, ad creative and Lookalike audience.
Module 10: Effective Sales Strategies
In this module, Kevin Zhang will teach you how to use product bundles and when to apply free plus shipping.
He will also talk about applying discounts across your store to boost sales.
Module 11: High ROI Email & SMS Marketing
This module is about email marketing and how to automate the process to send out emails to customers.
Kevin will also talk about SMS marketing, which however might not work for overseas customers.
Module 12: A/B Testing & Heat Maps
This module is about doing A/B split testing to optimise conversion rate.
He will talk about how to use different kinds of testing like using heat maps to optimise your store.
Module 13: Providing Customer Support
This module is about customer service. Kevin Zhang will talk about handling returns and exchanges.
He will give you some scripts for dealing with customers.
Module 14: Make Your Business Sustainable
This module is about making your business sustainable.
One of the important things is how to appeal when your Facebook ad account is disabled.
He gives you the script for appealing, but that does not guarantee success.
Moreover, he will teach you how to report to Shopify or Facebook for DMCA if other competitors copy your stuff.
Also, he will talk about how to deal with the BBB (Better Business Bureau) to avoid negative ratings.
In the end, Kevin will teach you how to handle disputes from payment processors.
Module 15: Automate The Store Operation
This last module is about automating the operation of your store.
Kevin will talk about hiring virtual assistants on Upwork or Fiverr.
What is Kevin Zhang About? Is Dropshipping Still Profitable in 2020?
After completing this course, can you really make $20 Million like Kevin Zhang?
I have been doing dropshipping for several years. I can tell you the truth that it's not that easy.
Dropshipping has become more difficult as the competition is very intense.
It takes a lot of time and efforts to scale your business to 6-figure, not to mention achieving what Kevin Zhang did.
Here's Why I Would Not Recommend Dropshipping to Beginners:
1. Huge Financial Risk
If you don't invest hundreds of thousands of dollars on Facebook ads, your Shopify store cannot sell anything. The marketing cost of Facebook ads will squeeze your profit margin, making it hard to even break even.
Sometimes, after you invest thousands of dollars on seasoning the Facebook pixel, you account may suddenly get suspended for some unknown reason. And you will lose all the pixel data that you invested in.
In other words, you have to bear the financial risk if you want to start a Shopify dropshipping business.
2. Facebook Ads are Pricey and Difficult
Facebook ads has become more and more expensive over the years. The price is on auction basis. So when more people run Facebook ads, the cost will increase.
According to Forbes, Facebook ad cost has increased 90% year-on-year.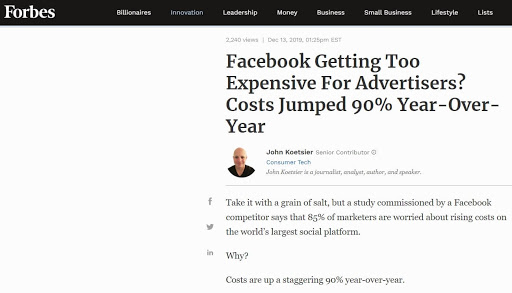 After seeing the results of many dropshippers, I find that the total Facebook ad cost will at least account for 30% of your sales revenue.
Deducting the product cost and other transaction cost, your net profit margin will be at most 20% or even less.
Moreover, although you will get sales when the Facebook pixel has more data, the hot audience will be exhausted very soon. And you will see declining conversion rate and higher Facebook ad cost as a result.
Gradually you will start to get net loss again. So it's not a sustainable business.
Worse still, the learning curve of Facebook ads is quite steep. And Facebook always changes its algorithm without any prior notice. So sometimes the ads that performs well will suddenly lose money. You then have to do testing again and again in order to get back on track. In the process, you'll have to burn a lot of money, further eating away your net profit.

What's more, Facebook's advertising policy is difficult to understand. And their system makes mistakes quite often and disables your account without reasons. Even if you succeed in appealing against the decision, you would have to invest more money and and go through the algorithm learning process again.

Therefore, many dropshippers fail to cover their Facebook ad cost and cannot earn a penny after doing so many things.
3. Customer Support Issues

For dropshipping, you don't have to manage inventory and logistics, but you have to spend a lot of time in communicating with suppliers and customers.
If customers have any issues of product or shipping, you can only wait for your supplier to help you. If your supplier is not helpful, there're nothing you can do. Most of the time, you can only refund your customers to avoid bad reviews or chargebacks.
Since you're quite passive in dealing with customer complaints, you will receive many bad comments on review sites like Trustpilot. That will affect your store's reputation. That's why it's not sustainable to build a dropshipping brand.
In the worst case, you would receive a lot of credit card chargebacks, which will get your payment gateway disabled and all your money will be withheld.
4. A Lot of Work on Product Research
Dropshipping products die very quickly. Most of the products are cyclical, meaning it can only go viral for a very short period of time. One of the reasons is that many competitors will start to sell the same product. That makes the market becoming saturated very soon.
After that, you would have to explore and test a new winning product for running Facebook ads.
Everything needs to restart from scratch.
Therefore, those succeeded in dropshipping are doing it full-time. It's not possible to make a lot of money in dropshipping when you're just doing it as a side-hustle.
Dropshipping is not as easy as many people think. It requires dedication, hard work and a lot of patience.
In fact, managing Facebook ads alone will consume a majority of your time every day.
Is there an Easier & Better Alternative To Dropshipping?
If you are new to online business, you may want to find an easier and better alternative to dropshipping.
I would suggest you getting started with affiliate marketing. It is much easier and less time consuming so that it's perfect for doing it as a side hustle.
In affiliate marketing, you can start your business without initial capital. Because you don't have to run Facebook ads like dropshipping. Most importantly, you don't need to deal with after-sale services.
But What's the Earning Potential of Affiliate Marketing?

In the below screen capture, you can see a 21-year old student from my #1 recommended training platform of affiliate marketing made $7,395 in just 1 week. That is more than $1K in a day. And he did not spend a single penny on Facebook ads.
This platform is called Wealthy Affiliate. It has existed for more than 10 years. Many members have succeeded over the year to quit their 9 to 5 jobs.
Here here are some other inspiring success stories of Wealthy Affiliate members.
Where to Join Wealthy Affiliate?
Wealthy Affiliate is a membership site. You can join it completely for free or upgrade to the premium membership for more features.
If you want to take a look inside Wealthy Affiliate, you can sign up for the starter membership here (no credit card required). You can stay as a free member forever if you want.
And as a starter member, you can already enjoy the benefit of accessing the community, live chat, over 500 training modules, 2 classrooms, keyword research tool and building 1 free website.
You cannot get this kind of free value elsewhere.
So I highly recommend you to register a free account and see if it is a good fit for you.