Who is Kevin David? Is Kevin David a scam?
You might have watched his ads on Facebook or Youtube where he promotes his Amazon FBA Ninja Course, also known as Zon Ninja Masterclass, and AMZ automation.
But is it difficult to make money on Amazon? Is there a blueprint that's been proven to work and easy to replicate?
Among all the Amazon FBA coaches, Kevin has been one of the most famous on social media. In fact, he is so popular that he has garnered 1.47 million subscribers on Youtube channel, 491k on Instagram and over 900k followers on his Facebook page.
As one of Kevin's former students, I'm in a good position to walk you through his digital programs and discuss his legitimacy.
In this article, I'll take you to do an in-depth review of Kevin David's background and his courses.
Below is what I'll be covering in this review of Kevin David and Amazon FBA Ninja Course.
Who is Kevin David?
According to the official website of Kevin David, Kevin is an Oregon entrepreneur who specializes in eCommerce coaching and runs multiple 8-figure businesses.
Kevin began his career working as an accountant for PWC and later a privacy consultant on Facebook. Being unsatisfied with a 9-5 routine, he started his business venture on Amazon and quickly unlocked the secrets of leading sellers. After his success with Amazon FBA, he founded THATLifestyleNinja.
The company is established with a mission to teach people business skills and free them from the routine of 9-5 to enjoy a laptop lifestyle. This campaign goes viral on social media sites and quickly becomes a movement that inspired thousands of Kevin's followers to become entrepreneurs who live by their own rules.
If you take a quick look at Kevin's official website, you will see thousands of success stories. It reveals over 2300 of his students have quit their corporate jobs after joining his Zon Ninja Masterclass and making much more money from the Amazon FBA system.
In addition, there are more than 500,000 people, known as ninjas, who are currently taking Kevin's course.
However, we cannot prove whether the success stories and income reports on its official website are real or fake.
Kevin has also been featured in Forbes, Entrepreneur, and Inc. However, if you pay Forbes enough money, you can also appear in their magazine.
Recommendation: Here's The Best Alternative
An Overview of Kevin David Programs
Kevin David has created a number of digital marketing programs over the years. Here is a quick overview of the most popular Kevin David programs:
The Amazon FBA Ninja Course (aka Zon Ninja Master Class): Kevin's Amazon FBA business has allegedly made him millions. This course will show you how to build an FBA business from the ground up, even if you have no experience in the field. Everything you need to know, from sourcing top-notch merchandise to rapidly expanding the reach of your business and the financial benefits that come with it.
The Digital Course Secrets: At the peak of his career, Kevin's monthly revenue from online course sales is over $120,000. Learn how to generate passive income by selling online courses, all in one place. Kevin will teach you everything you need to know, and you don't need any prior knowledge.
The Facebook Ads Ninja Masterclass Course: This course will teach you how to grow your online business using Facebook Ads. Facebook ads are difficult to run effectively. With the knowledge you gain in this course, you can significantly increase your revenue and exposure by using Facebook Ads for your online business.
The Shopify Dropshipping Course: Dropshipping, while incredibly profitable, can also be a quick way to lose money if you are not careful. Kevin has successfully run several Shopify dropshipping stores. He claims to show you everything you need to know to be successful with your dropshipping business.
Kevin David AMZ Automation: Kevin David offers Amazon FBA automation as a service rather than a course. The service is also known as AMZ Autopilot or AMZDFY. Kevin and his business partner David are experienced Internet marketers. Your Amazon business will be handled by their virtual assistants via your Amazon account. They will choose your product for you, not you. After that, they'll implement their product launch strategy, maintain your inventory, handle fees (but not pay them), and handle customer service. It may seem like a lot, but you do it at your own risk. The cost of this service is at least $40,000.
In the following sections, we'll take a deeper look at Kevin's most popular courses Amazon FBA Ninja and Facebook Ads Ninja Masterclass.
Recommendation: Here's The Best Alternative
Kevin David Amazon FBA Ninja Course Review
In this program, Kevin claims to show you the path to becoming a leading seller on Amazon. It includes product listings, marketing techniques, lead generation strategies, Amazon FBA seller regulations, etc.
This course content is divided into 8 modules, Each module consists of videos and text documents to help you start with Amazon FBA from scratch.
I'll walk you through the details of every module.
Amazon FBA Ninja Modules
Module 1 – Product Research – The Most Important Skill on Amazon FBA
Kevin starts the course with product research because it is the most important skill to quickly generate sales on Amazon. To help you rake in money as quickly as possible, Kevin suggests you to study the Amazon marketplace and competitors in the first step. This can give you an unfair advantage over other sellers because you already know the opportunity gaps in your targeted niche.
After that, you can start to use Kevin's strategies to get your products ranked on the first page and pitch them to Amazon visitors.
In this module, Kevin will walk you through the process of sourcing the best products that drive traffic to your store.
Here are the topics covered in module 1:
Part 1 – Important things to know before doing your product research
How to set up your seller central account
The common mistakes people make when selecting Amazon Seller account names and setting up the account
Should you borrow money to fund product launch
Examples of the perfect FBA products (including explanations)
How to check if a product is trademarked or patented
Introduction to the track 999 cart method and why you need it
In addition, there are other resources included in this module.
Part 2 – The tutorials of advanced product research techniques
Part 3 – What you need to know after the product research is completed
Kevin emphasizes that this is the most important module of all chapters because he is telling you the secret hacks on product research. If you don't want to be misled by other fake gurus, you must go through this chapter in detail and learn about the hacks that Kevin used to earn 11k in the first month of launching one of his FBA products.
He would teach you how to use a wide variety of tools including Camelcamelcamel, Google Trends and Google Keyword planner etc to find out the homerun products.
After you have found the hot-selling product, the next step is dealing with shipping and setting the product price in the right way. The good news is that Kevin is going to teach you how to avoid the common mistakes of these tasks.
Besides, Kevin will teach you how to survey real Amazon customers to answer questions about your listed products so that you can optimize the customer service.
More importantly, you will learn about the Amazon FBA fulfillment fees, storage fees and long-term storage fees.
So, remember to stay focused on this module.
Module 2 – Suppliers and Shipping
In this module, Kevin teaches you how to identify the best suppliers and build a long-term business relationship with them.
You will learn how to find out the shipping terms and get a product sample before placing any orders to do quality control checks.
If you want to ship your products in bulk, this module can give you some information about the shipping processes, costs and expectations on different situations.
After all, shipping is always a hurdle to eCommerce stores selling worldwides. So Kevin is here to give you some useful tips to save you the troubles from customers chasing their orders.
Apart from that, Kevin also teaches you some advanced hacks to facilitate the process of product research. This can help you make sure that you are selling the trending products every now and then.
This module is made up of three parts:
Part 1 – Things to know before you contact a supplier and start shipping
Upc + Fnsku (Amazon FBA SKU) Explained
The safest payment methods available to make transaction with your suppliers
Part 2 – Tips on finding out the best manufacturers and shipping companies
Manufacturer template – how to get any manufacturer quickly respond to your questions and offer you the VIP prices
The quantity of your first order
Part 3 – Follow-ups on the identification of best suppliers
How to do quality checks in the right way
Module 3 – Product Listing, Ranking and Optimization
If you want to be a top seller, the most important thing is to get your products listed and ranked on the first page.
In this module, Kevin teaches you the hacks to outrank your competitors on the Amazon marketplace.
In fact, most Amazon sellers who fail to generate revenue are those who have overlooked the process of product optimization. As a result, their products can't even show up on the Amazon search engine.
Kevin points out that one of the biggest mistakes is spelling, instead of any sophisticated technical glitch.
At the end of the day, Amazon is a search engine for people to find out what they want. As long as your products get ranked on the first page, people will buy from your store.
This is the reason why Kevin emphasises the importance of SEO (Search Engine Optimization) techniques and shows you how to optimize your product search results.
While other Amazon programs are misleading you to waste a lot of money on brand building, Kevin's course is teaching you how to make good use of SEO to generate a stable cash flow.
In specific, you will learn how to avoid keyword stuffing, finding out the keywords that your products are indexed and the methods of creating the highly profitable PPC campaigns.
Module 3 includes three parts:
Part 1 – Things to know before creating a product listing
Brand registry and trademark issues
Price setting strategies
Ways to control your canonical URL
Increase CTR (click-through rate) and ranking
Hide your sales numbers from spies
Find out the backend keywords of your competitors
Part 2 – How to create the best product listing
Boost sales by indexing relevant keywords
Rank with organic keywords quickly
The ultimate hack to find out the indexed keywords
Create videos that appear on Amazon listing
Boost the conversion rate by hypnotic copy
Use the titles of competitors to index for long tail keywords
Create a product list with optimized title, bullet points and backend keywords
Part 3 – How you can iterate, protect and optimise your product listings and keywords consistently
The effective ways to remove hijackers from your Amazon listing
What to do when your stock is going to run out
Module 4 – Product Launch Strategy
This module teaches you the best ways to launch products on Amazon.
Since every seller is competing for the ranking on the first page, Kevin will also teach you how to increase the visibility of your products on other platforms such as Facebook and Clickfunnels landing pages.
Apart from that, email marketing is one of the topics you will learn to boost sales on Amazon.
Module 4 includes 2 parts:
Part 1 – Things to know before launching your product
How to find out the most frequently asked questions (FAQs) about your product
How to make a high quality video ad
Common mistakes to avoid when running a giveaway campaign
Part 2 – The right way to launch an amazon product
Pricing strategies that increase sales tremendously
Advertise on the list of best sellers
Collect customer emails and bundle with an Ebook to increase the perceived value of a product
How to make use of lightning deals that catapults your product launch
How to drive traffic from the global affiliate marketing website
Module 5: Email Follow Up and Reviews
This module teaches you to make good use of product reviews and follow-up emails. Kevin will show you how to create email campaigns that increase conversion rates and the number of positive reviews received.
Module 6 –AMS and Amazon PPC
In this module, Kevin shares with you the techniques of using Amazon PPC (pay-per-click advertising) and AMS (Amazon Marketing Services).
PPC advertising is a marketing strategy that helps you to promote your products. You'll learn how to include long-tail keywords in product listings and integrate them with PPC campaigns.
Module 7 –AMS and Amazon PPC
This module teaches you social media marketing strategies. Kevin will show you how to create targeted Facebook groups and use ClickFunnels to create lead magnets that collect customer emails and bring in sales automatically.
It can be divided into three parts
This module is broken down into three parts:
Part 1 – How to build a product following
Instagram Influencer Marketing Strategies
How to build targeted Facebook group and customize Facebook ad audience
Part 2 – How to use Facebook ads to drive traffic to your Amazon listing
How to target Facebook users who are interested in Amazon products
How to use Clickfunnels to generate leads to your email list and increase sales
Part 3 – How to scale and automate your Amazon business
Marketing resources and tips on scaling your business to $1,551,816.56 in monthly sales
Create an email autoresponder that connects with your website
Module 8 –AMS and Amazon PPC
This is the last module in which Kevin reveals to you the secret hacks of millionaire sellers on Amazon.
Kevin will walk you through the world of Amazon top sellers and learn about their marketing and management skills which enable their stores to quickly reach 7 figure monthly sales.
Again, it is divided into three parts.
Some of the best tips include how to remove negative reviews, protect your store from hackers, cross-list your Amazon products on eBay and get your products to appear in the "Frequently Bought Together" section.
Last but not least, there is some advice on how to deal with the problem of account suspension by Amazon.
Bonus Modules
Apart from the aforementioned modules, Amazon FBA Ninja Course comes with three bonus modules.
Recommendation: Here's The Best Alternative
Amazon FBA Ninja Pricing
Amazon FBA Ninja (i.e. Zon Ninja Masterclass) is not cheap. It costs $1,997, which is definitely overpriced. There are many other better courses that are cheaper but of high quality.
The teaching quality of Amazon FBA Ninja is not better than others, so it doesn't justify a higher price. If you are just starting out, you shouldn't invest two thousand dollars in something that hasn't been proven to work.
If you enroll in Amazon FBA Ninja and don't like it later, there seems to be a 14-day money-back guarantee.
But I'm not sure if it is no-questions-asked or not. Most likely, there are some conditions to meet in order to get a refund. For example, you might be requested to show that you have taken action and prove it doesn't work, which is not possible in reality.
Amazon FBA Ninja Course Pros
Lifetime access to more than 100 training videos
Access to private a private Facebook group where you can ask Kevin and other members any questions
The course training is updated from time to time
14-day money-back guarantee
Amazon FBA Ninja Course Cons
The course is overpriced

Kevin was accused of being a scam artist

Kevin underestimated the difficulties of running an Amazon FBA business
You need a capital of at least $10,000 to start an Amazon FBA business
Kevin David Facebook Ads Ninja Masterclass Review
The Facebook Ads Ninja Masterclass will teach you everything you need to know about online marketing and advertising on Facebook.
You will get access to comprehensive video tutorials that guide you step-by-step on how to create effective targeted Facebook Ads.
The primary goal of this course is to teach you how to convert prospects into paying customers via Facebook ads. You can tap into Facebook's pool of one billion users, where you can sell your service and products.
Facebook Ads Ninja Masterclass Modules
In the first few modules of the course, the Facebook Ads Ninja Masterclass will cover all the basics such as setting up your Facebook business manager to get you ready. Those basic steps will get you prepared for launching your first Facebook Ads campaign.
Kevin David will also teach you how to run Facebook ads for local businesses.
Below is a break-down of the Facebook Ninja Ads Masterclass:
Module #1: Understanding Facebook Ads and How It Works + Facebook Ads Vocabulary to Know + The Power of The Ninja Pixel Strategy
You will learn the following in this module:
Organise and set up Facebook Ads

Kevin David's sales funnel that generates over $1,500,000 profits in 4 months

The secret hack of using Facebook pixel to transform your business

Use

Google Analytics

to increase sales conversions

Create lead magnets that attract most customers

Build a huge Facebook presence without spending a lot of money

Use lead magnet to build a massive email list for promoting your products
Module #2: From A Beginner to Facebook Ad Ninja + The Only Campaign Type You Need
This module starts to cover advanced hacks to succeed in Facebook Ads:
Understand Facebook Ads budget, the timing of killing and scaling Facebook Ad Campaigns

Get social proof for Facebook ads at a low cost

Target and convert perfect audience

Boost your credibility and optimise conversion of your Facebook ad campaign

Create and organise campaigns quickly and easily

Duplicate ad sets and do split-testing

Analyse and develop the most profitable Facebook ads strategy
Module #3: How to Create Your Targeted Audience That Can Scale Your Business To the Moon
In this module, Kevin David will go further into scaling your business with Facebook Ads:
Narrow down your audience so that your ads are only shown to people who are truly interested in your product or service

Create custom audiences and lookalike audiences

Understand the differences between custom audience and lookalike audiences

Build an audience which are ready to buy your product and service

Leverage Facebook's secret data to your advantage through analysis

Create offline conversion events to further scale your business

Use interest targeting and audience insights to find your target audience
Module #4: Create Perfect Ad Copy + Creative That Converts Like Crazy (You'll become an expert in copywriting and creating ad images very quickly)
In this module, Kevin David will teach you how to write the best ad copies and creatives for your ads to enhance the conversion rate:
Learn how to demonstrate your product solving a particular problem

Write copies that leverage some psychological tricks and

convert

Learn the best sources to find great graphics for free

Create Facebook Ads graphic without design experience

Find cheap graphic designers that deliver excellent work
Module #5: Make Money Without a Product By Creating An Ad Agency From Scratch
In this module, you will learn how to create a Facebook Ad Agency without any prior experience:
Make money by marketing local businesses

How to engage dentists to pay you for running Facebook ads

Turn a gymnasium a plumber and an electrician into your business partners

Get Kevin David's exact phone sales script to close a ton of paying customers

Learn how to get customers to say yes to you all the time
Module #6: Change Your Entire Business Through Re-Targeting Your Audience
This final module is the most important one. It will cover the ultimate hack of Facebook ads that most gurus do not explain in detail, but Kevin David does.
You will learn the unlimited power of Facebook retargeting. This is the secret that differentiates those who succeed and fail in running Facebook Ads

Learn how to reduce your ad costs

Turn your Facebook pixel into an powerful engine of your Facebook campaigns

Use Facebook's massive amount of data to create laser-focus audience for selling your products

Scale your ad campaigns in the right way so that you don't make any mistakes that can ruin your business

Learn how to target customers who watch a certain percentage of your videos or ads

Learn how to find prospects who share some common traits that are most likely to buy your product or service
Bonus #1: Create Killer Facebook Ad Funnels
In this bonus module, you will learn how to create a Facebook ad funnel using tripwire strategy + 6 underutilized psychological hacks.
Bonus #2: The Ninja Instagram Blueprint
Kevin David will teach you how to get traffic and sales from Instagram.
Bonus #3: How to Use Messenger Bots To Automate Your Business
Messenger bots + funnels can increase your conversion rate. Kevin David will teach you exactly how to do this step-by-step.
Facebook Ads Ninja Masterclass Pricing
The regular price for the full package, including the Facebook Ads Ninja Masterclass + all the bonuses + monthly recurring live calls, is $3994, but you can get a special 50% discount here. It's a one-time payment for lifetime access.
There is a 14-day money-back guarantee.
Facebook Ads Ninja Masterclass Pros
Informative and packed with some unique Facebook ad tips.
Detailed demonstrations and examples are provided.
Facebook Ads Ninja Masterclass Cons
Some sections are repetitive and messy.
Discussions about his other courses were irrelevant. It only comes across as salesy.

Repurposes some of the content from his previous courses.
Can You Make Money With Kevin David's Courses?
Yes, it is possible that Kevin David's digital programs might help you make money on the Internet business.
For example, his Amazon FBA Ninja might help you build a profitable Amazon FBA business, though most likely you will lose money.
Amazon's FBA success rate is 13% Amazon sellers sell $25,000-$250,000/month. It's worth noting that most Amazon sellers earn less than 20% in net profit, according to JungleScount.
An exact number is difficult to determine in a digital program, as not all participants disclose their success or failure.
Kevin David promises that with discipline and effort, you can start making money with Amazon in a matter of months. This is assuming no major problems arise. A freight company delay at the port is just one example of an unforeseen circumstance that can extend the delivery time.
Or it may take much longer for your product to appear in the rankings than you expected. Rankings are critical to the success of any business; without them, you have no customers and no product.
There is no guarantee that your product will be profitable in the future, so many Amazon experts agree that you should exit in the second year at the earliest. You need to reinvest your profits to expand its operations and produce more goods.
Before you cash out and take an extended vacation, you should have at least six profitable products on sale. Many Amazon sellers fail because they withdraw their profits too early.
Recommendation: Here's The Best Alternative
Is Kevin David A Scam or Legit?
Kevin David is not a scam. He is a legit guru who seems to be experienced with Amazon FBA and dropshipping. However, Kevin is somewhat controversial so you shouldn't trust everything he says.
In fact, some people are calling Kevin a scam for the following reasons:
1. An air of fakery in the positive reviews
Kevin David has a 4.9 rating on Trustpilot out of 2,010 reviews. It is strange that 97% of the reviews are 5 stars.
I have a suspicion that the reviews were really written by his students, so I read through most of them.
Interestingly, I have noticed that there are many 5-star ratings from people living in developing countries like Nepal, India, and the Philippines, etc.
Could they really afford to buy Kevin's courses? Were they hired to write good reviews for Kevin?
As you can see, most of the comments are rather vague about how Kevin helped them succeed.
2. False claim on the return of AMZ Autopilot Program
The AMZ Autopilot program is an agency service that helps you build and run an Amazon business. Kevin claims that his program can achieve a "very conservative" profit margin of 25%. If the product he selects for me performs that well, he will take a 30% cut of that margin.
On his sales page, the product he uses has average monthly sales of $165,015 and 786 units sold per month. However, these numbers are only what Zonbase says about the products on the screen. These products are not evidence of a real track record.
In reality, it appears that most customers of AMZ Autopilot program have not made a penny. You can check out the negative reviews of Kevin David on Trustpilot. There are customers complaining that AMZ Autopilot program just took their money without delivering the promised services, not to mention results.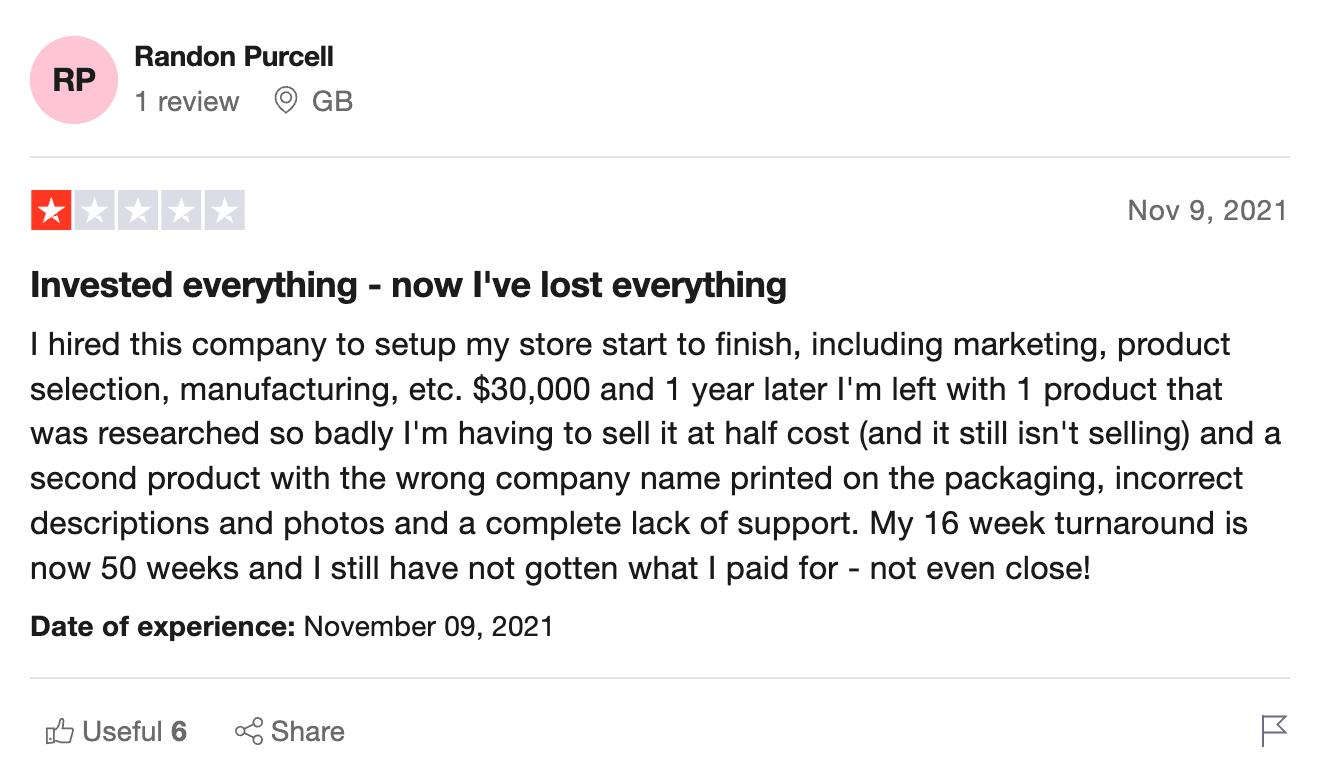 3. Kevin David's courses are too expensive
Most programs created by Kevin David are overpriced compared to similar programs. For example, the Zon Ninja Masterclass is sold at $1997 most often.
They offer a monthly payment option that typically costs $597 per month for five months but the total cost will increase to $2,985.
Remember that you will need money to buy inventory or create your product before you can start selling it, as well as more money to promote your product once it is available on Amazon.
The Zon Ninja sales page does not mention these additional costs, but from my research, you should budget at least $5000 to start and market your product.
4. Poor refund policy
There is no free trial for Kevin David's programs. You won't be able to get back your hard-earned money even if the course you bought doesn't live up to its promise. Their money-back guarantee is not unconditional for sure.
For example, the refund policy for Zon Ninja is complicated.
According to the terms of service from the course sales page, you are NOT eligible for a refund if:
You submit a refund request more than 14 days after purchasing the course.
You have gone through more than 40% of the course material.
You paid for the course in installments.
You have received a discount on the course.
You must also meet the following conditions to be eligible for a refund:
Completion of Module 1 from start to finish (as tracked by their backend system) and completion of the 5 steps of product research.
Must have obtained at least three quotes from different vendors.
Be a member of the Blackbelt private Facebook group. Post one post per week or comment on another member's post or ask a question or seek advice from other members.
Given all of this, plus the few reports of refund problems on BBB.org, I am inclined to believe that it will be difficult to get a refund on your Zon Ninja Masterclass purchase.
Recommendation: Here's The Best Alternative
Kevin David Review: Final Verdict
Although I was a student of Kevin David, I cannot in good conscience recommend his programs. Many people have called him a scam artist not without reason.
Though his programmes contain some decent teaching and ideas, nothing is discussed in-depth, and his training is not comprehensive enough to help you build a successful Amazon FBA or dropshipping business. For most of the topics covered, you can easily find better training online for free.
I think this is why there are few "real" success stories on Kevin David's programs, other than the testimonials he posted on his official website prior to 2018.
Worse, I found out that someone is calling on his students to sign up for a class action lawsuit against Kevin David.
In a word, Kevin David is a controversial guru you should stay away from.
Best Alternative To Kevin David's Courses
If you're new to online business, you might wonder if there's a better business model that doesn't need initial capital like Amazon FBA and can do it as a side hustle.
Of all the business models I've tried, affiliate marketing is the easiest and most rewarding so far.
In affiliate marketing, you can run your business at almost zero cost. Most importantly, you don't need to invest in creating and developing any products.
Also, it is less time-consuming since you don't have to manage inventory or handle customer service.
You can enjoy a steady stream of passive income while going on vacation or working a full-time job.
Since the world is full of uncertainty, I'd always choose a business model that has the lowest risk.
But How Much Can You Earn in Affiliate Marketing?
A 21-year-old student from my #1 recommended training platform of affiliate marketing was able to earn $7,395 in just 1 week, which means he made more than $1k a day…all while using free traffic methods.
Wealthy Affiliate has existed for more than 10 years and there are many success stories over the years.
To give you more examples, here are some of the other inspiring success stories of Wealthy Affiliate members.

Where to Join Wealthy Affiliate?
Wealthy Affiliate has a very simple pricing scheme. It has free and premium membership.
If you want to feel about Wealthy Affiliate, you can sign up for the starter membership here (no credit card required). You can select to be a free member with no time limit.

And as a starter member, you can get instant access to the community, live chat, over 500 training modules, 2 classrooms, networking, commenting, 1 free website, access to the keyword tool.

You can enjoy all these values without paying a penny.

So I strongly recommend you to register a free account and see it yourself.