Are you looking for a remote, part-time or another flexible job for making some extra money? You may have come across a website called FlexJobs. But is FlexJobs a scam?
You may wonder how FlexJobs actually works and whether it is worth the price.
So in this FlexJobs review, I'll cover the following to give you more information about FlexJobs:
What is FlexJobs?
FlexJobs is a premium job board to help people find remote, part-time, and some freelance work to make money from home. It has been featured by Forbes, Time Magazine, WSJ, USA Today, and NBC.
It provides services that claim to make it "easier, faster and safer to find a job that fits your life."
On the platform of FlexJobs, you will find many work-from-home jobs in a wide variety of industries.
How Does FlexJobs Work?
There are over 50 job fields, including accounting and finance, education, insurance, eCommerce, travel, data entry and many more.
All these jobs have been screened by FlexJobs before listing on the site. That means FlexJobs do the due diligence work for you to screen out any scams. Apart from that, FlexJobs provides more services, including:
Job search checklists
One-on-one coaching on job-seeking
Resume assistance
Skills test to assess and hone your skills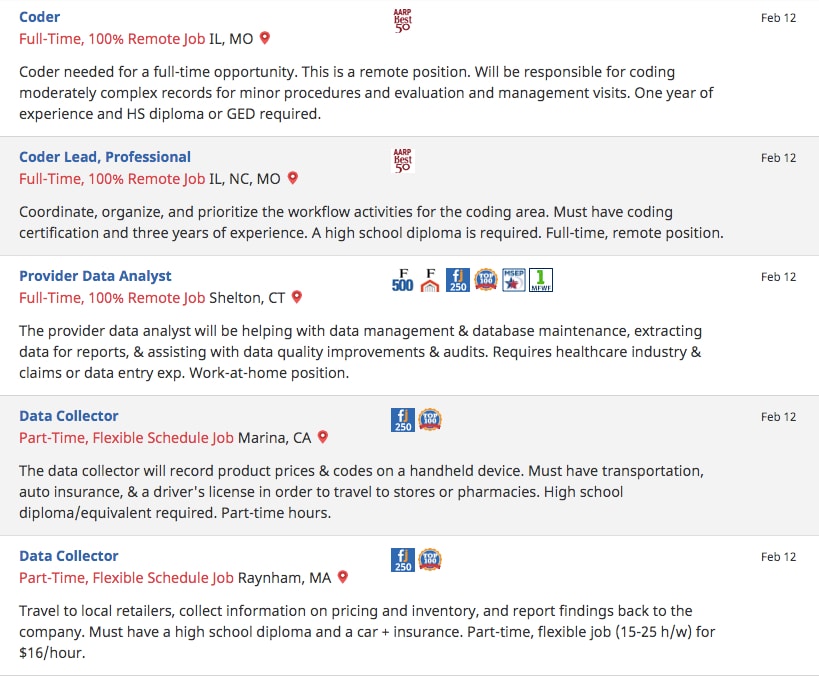 When you do a search for jobs, you will see some useful information for each job post, including, the date posted, flexibility, remote work level, job type, schedule, career level, education level, travel needed, type of company, company accolades, company location etc. And it has powerful filtering tools to help you search the jobs that suit you.
It's free to do a search on FlexJobs but you can only see the short summaries of job listings without a membership. To see a full job description and apply for the jobs, you would have to sign up for the membership.
What are FlexJobs Features?
As mentioned, FlexJobs is more than providing job listing service. There are other features you can benefit from.
Skills tests
FlexJobs aims to help you find a job. So it has some skills tests for you to gauge your skills so that you know if you meet the job requirement. And you will be able to add those to your resume to promote yourself on FlexJobs.
However, these skills tests are not free. If you're not a member, you would have to pay around $10-$20 for doing the tests.
Apart from testing some specific skills, you can also take soft skills tests in order to find what  type of jobs that fits you.
Resume Profile
You can create a resume on FlexJobs, which can be used to apply for jobs on FlexJobs. You can include your work samples on the resume to increase your chance of getting a job.
Email Updates
FlexJobs allows you to stay up-to-date with potential job opportunities. So you will get notified whenever there are new jobs that match your search criteria. So you can ensure you won't lose any great opportunities to make money.
Company Guide
FlexJobs gives you access to some top companies' information on FlexJobs. You can see the past job listings and some basic information of the companies that you might be interested in. That would help you write a cover letter and prepare for the interview.
Career Coaching and Resume Review
This is an extra service of FlexJobs membership. You can get one-on-one career coaching with FlexJobs. They also help you review your resume and increase your chance of getting a job.
FlexJobs Pricing
FlexJobs's membership fee is $14.95 per month. If you go for the yearly plan, it will be only $4.17/month. They offer a 30-day refund guarantee and you can cancel any time.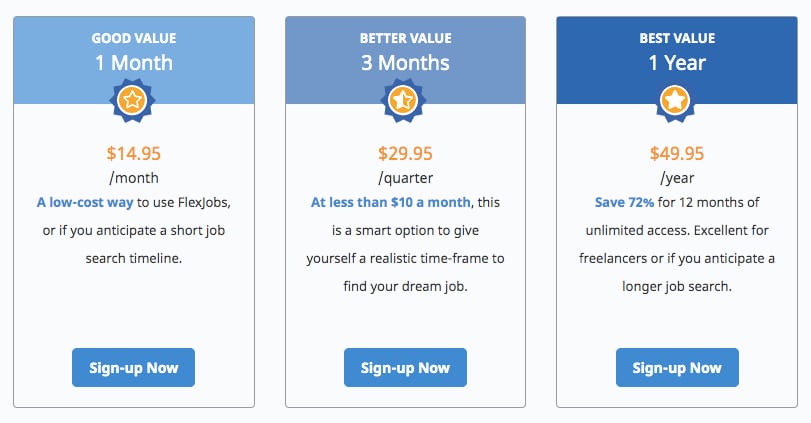 Is FlexJobs a Scam? Is It Worth the Investment?
FlexJobs is not a scam.
Of course you can find a job on your own, but FlexJobs saves you time for doing research. Sometimes, it's hard to determine if a job is legit or not without some help.
With FlexJobs doing the screening for you, you can rest assured that the jobs you apply for are legit and you'll be rewarded for your work. Also, you don't have to browse a lot of different websites to find a suitable one.
However, it's true that FlexJobs won't guarantee you'll be hired for jobs. At the end of the day, it depends on your qualification for the work. FlexJobs just helps you find out the jobs that may suit you.
Anyway, you don't have to pay at the beginning. Before signing up for a membership, you're recommended to do some searches on FlexJobs first. That way you can make sure there are job listings in your industry or location that you can apply for.
Summary of FlexJobs Pros and Cons
Pros of FlexJobs
800+ verified work-from-home jobs added every week.
All jobs are screened before listing
50+ job categories
Powerful filtering options for finding jobs easily
Concise job summaries and company profiles
Cons of FlexJobs
The interface can be confusing to navigate.
Very few job listings from startups
FlexJobs Review: Final Thoughts
By now, you should have a good idea of what is FlexJobs.
There's no guarantee that you will get hired even with the help of FlexJobs.
But one thing to note is that there are some job posting scams online. Some people waste their time or even lose money by falling for the scams that claim to offer work-from-home jobs.
FlexJobs basically eliminates the risk for you as they vet the employers for you. So if you consider joining FlexJobs, this should be the major benefit you will get to sign up for their membership.
FlexJobs Alternative: Make Passive Income Online
FlexJobs wouldn't enable you to make passive income, meaning you cannot make money while sleeping.
If you really want to make a stable and secure stream of passive income, I would suggest you start an affiliate marketing business online instead.
Affiliate Marketing is perfect for anyone who is new to online business.
In fact, of all the online business models I've tried, affiliate marketing is the easiest and most rewarding so far.
In affiliate marketing, you can actually run your business almost with zero cost and achieve a steady and sustainable passive income to pay for your bills. You don't need any initial capital and can even do it as a side hustle.
And if you really want to learn affiliate marketing and build a business from scratch, I'd recommend you to get started with the most reputable platform for affiliate marketing: Wealthy Affiliate.

Wealthy Affiliate is an all-in-one platform for building your affiliate marketing business from scratch. It offers you a free account (including a free website) with comprehensive training on SEO (free traffic methods), which enables you to get started with affiliate marketing right away without paying a penny.
But How Much Can You Earn with Wealthy Affiliate?
A 21-year old student from Wealthy Affiliate was able to earn $7,395 in just 1 week, which means he made more than $1k a day…all while using free traffic methods.
Wealthy Affiliate has existed for 15  years and there are many success stories in the past decade.
To give you more examples, here are some of the other inspiring success stories of Wealthy Affiliate members.
Where to Join Wealthy Affiliate?
Wealthy Affiliate has a very simple pricing scheme. It has free and premium membership.
If you want to feel about Wealthy Affiliate, you can sign up for the free starter membership here (no credit card required). You can select to be a free member with no time limit.
And as a starter member, you can get instant access to the community, live chat, over 500 training modules, 2 classrooms, networking, commenting, 1 free website, access to the keyword tool.
You can enjoy all these values without paying a penny.
So I strongly recommend you to register a free account and see it yourself.