Valentus is an MLM company that sells nutritional supplements. You might have even been approached by a friend or family member to join them as an independent reseller (IR) for the company.
In fact, as we'll discuss in this review, there are some reasons why it's unlikely that you'll make much money with Valentus. From what I've seen, only experienced salespeople and well-funded recruiters tend to have real success with this MLM program.
As an online entrepreneur, I have reviewed many similar online opportunities over the years. So I can tell you what you need to know.
Just to be clear, I'm not affiliated with Valentus in any way. I'm not getting paid to write this review, so you can trust that I'll give you an honest and unbiased opinion.
If you're serious about making a full-time income online, I'm happy to share with you the best alternative to the Valentus program that's worked for me. At the end of this review, I'll spill the beans and tell you all about it.
So buckle up, grab a cup of coffee, and let's dive into this Valentus review!
What is Valentus?
Valentus is a company that sells dietary supplements through a multilevel marketing (MLM) model. One of their most popular products is the SlimROAST coffee, which claims to help people lose weight. Sounds pretty neat, right?
Valentus was founded in 2014 by a guy named Dave Jordan. He's worked for other MLM companies like Waiora, Melaleuca, and LiveSmart in the past, but some of those companies don't have the best reputation. Luckily, Valentus seems to be doing things a little differently.
Since they're an MLM company, Valentus doesn't spend a ton of money on advertising and marketing. Instead, they rely on independent resellers (IRs) to sell their products. These IRs are basically distributors who work from home and earn commissions by selling Valentus products and recruiting new members to the company.
You may also want to read our article on the top MLM companies.
Recommendation: Here's The Best Alternative
Is Valentus a Scam?
No, Valentus is not a scam. Let me explain.
Firstly, can you actually make money selling Valentus products? Well, the truth is that a majority of Valentus reps didn't make any money. However, there are some who have earned money, but it takes a lot of hard work and effort. And let's be real, those who make big bucks from Valentus usually do so by recruiting aggressively.
But here's the catch – Valentus has made some pretty sketchy marketing claims to recruit more members. They say that their products are made of premium natural ingredients and that it's a great idea to recommend Valentus products to your loved ones. But is that true?
In 2019, Medsafe issued a warning that Valentus SlimROAST Optimum Dark Roast Coffee should not be consumed. Why? Well, it was found to contain methylhexanamine (DMAA) and phenethylamine – a prescription drug and a Class C controlled drug, respectively. So, how can you trust the quality of Valentus products and feel good about recommending them?
The reality is that most Valentus consultants have to rely on recruiting new members to earn a decent living, and that's the case with most MLMs. But with Valentus' questionable products, is it really worth your time and effort?
What Products Does Valentus Offer?
Valentus offer a bunch of items in various categories, including:
Instant Youth: an anti-aging cream to keep you looking youthful.

SlimROAST: weight loss coffee that helps you shed those extra pounds.

Energy sachets: perfect for when you need an energy boost.

Trim sachets: helps suppress hunger so that you don't overeat.

Immune sachets: packed with antioxidants to help strengthen your immune system.

Prevail drinks: great for improving blood flow.

eMulin: loaded with vitamins to provide energy.

24/7 Carb burner: capsules that aid weight loss.
But here's the thing, there are tons of products out there similar to what Valentus offers. According to Healthline, weight loss supplements often make bold claims that aren't backed up by enough evidence. That being said, Valentus's SlimROAST coffee is their most popular product. They claim that it can help you lose weight, reduce hunger, and manage obesity. With over 100 reviews on Amazon, you can get an idea of what others think of the product.
Recommendation: Here's The Best Alternative
Is Valentus An MLM?
Yes, Valentus is an MLM. MLM stands for multi-level marketing, and Valentus is a legit MLM company that offers network or direct sales businesses.
When you become a member of Valentus's MLM program, you become an independent distributor of their products. However, don't expect to get a regular salary because you'll be running your own business. And here's the catch: it's unlikely that you'll make a good income just by selling their products.
Like most MLM programs, the key to making big bucks with Valentus is by recruiting new members to work under you. You'll earn a commission on the sales and new recruits generated by the people you hire once they begin producing results. Sounds complex, right? That's because it is! That's why they call it multi-level.
Let's imagine a triangle. Everyone in the triangle is in your direct downline, and you're their upline. If the person at the top recruits ten people, and each of these ten recruits ten more, you'll earn commissions from everyone in the triangle. And if you can bring in just 10 people, you'll make $1100!
Most people in Valentus's MLM would rather earn a lifetime passive income from recruiting others than a one-time commission from selling products, even if their MLM offers a wide range of products. But here's the thing: the more people you have in your downline, the more success you'll have in Valentus.
Recommendation: Here's The Best Alternative
Is Valentus A Pyramid Scheme?
No, Valentus is not a pyramid scheme. It's a legit MLM (multi-level marketing) company where members earn money by selling their products. Unlike pyramid schemes, members don't solely rely on recruitment to make money.
A pyramid scheme is a scam that lures people into paying a membership fee with the promise of making money by recruiting others. The scheme is unsustainable and only benefits those at the top of the pyramid, while those at the bottom end up losing money.
Pyramid schemes don't sell valuable products or services and rely solely on recruiting new members to make money. This makes it impossible for everyone to earn money, especially since the world's population is finite.
A prime example of a pyramid scheme is Vemma, a company that produces energy and weight loss drinks. Vemma was accused by the FTC of operating a pyramid scheme, where new members were required to pay a significant amount of money and promised high compensation. Unfortunately, the majority of participants lost money.
Recommendation: Here's The Best Alternative
Valentus Compensation Plan
Valentus offers two ways to earn money: sell products and recruit others into the MLM. The good news is that you won't make money by simply recruiting people. You'll only earn bonuses from their sales. This makes Valentus different from pyramid schemes.
Although Valentus has a compensation plan that can be tricky to understand, we'll break it down into simpler terms. There are seven ways to get paid:
Retail Commissions – You'll receive 25% commission from selling products.

Fast Start Bonus – Earn up to $100 when you enroll a new member who purchases a product package.

Legacy Coded Bonus – Receive $100 when someone in your downline reaches a certain sales milestone.

Dual Team Commissions – Earn up to $100,000 per week from your team's sales volume.

Dual Team Matching Bonus – Get up to 20% commission on seven levels of your team's earnings.

1% Global Volume Shared Enrollment Pool – Qualify for a share in the global sales volume when you achieve a specific sales milestone.

Vehicle Bonus – Receive a monthly bonus of $400 to $3000 when you qualify for this program.
How Much Does It Cost To Join Valentus?
If you're interested in joining the Valentus program, you'll need to pay a one-time fee of $20. But that's not all! You'll also be encouraged to purchase one of the "product packs" at a discounted rate. Here's a breakdown of the different packs available:
Basic: $59.95

Starter: $145.95

Advanced: $239.95

Business builder: $575.95

Career success: $1,199.95
Each pack comes with a variety of items that you can either use or sell. To keep your account active, you'll need to sell between 50 and 100BV worth of products per month, depending on your rank. This means you'll need to sell at least $60-$120 worth of Valentus products each month.
If you're not able to sell enough BV, you'll have to purchase the products yourself, or risk having your account closed without notice. Keep in mind that many people who are successful in MLMs like Valentus recommend using the products yourself if you want to sell them effectively.
If you're able to earn more than $1,000 per month with Valentus, you may find yourself acting more like a sales manager. This often involves recruiting others to join the program and encouraging them to sell more. Successful MLM leaders are usually outgoing and skilled at convincing others to join them in pursuing the dream of being their own boss.
Recommendation: Here's The Best Alternative
Reasons Why I Don't Recommend Valentus
Customer Complaints
We've noticed that Valentus has received a fair share of customer complaints over the years. It seems that many of these complaints are related to their products and services.
Customers have taken to Trustpilot to express their frustrations about delays in product delivery. Some are waiting over two weeks for their orders and reaching out to customer support via email has not resulted in timely responses.
Another common complaint is that Valentus' products did not deliver the promised benefits. One customer shared that they tried the Thermoroast coffee for more than a week but didn't notice any difference in their weight. This was surprising to them, given the testimonials on the Valentus website where people report losing up to a stone within a month.
If you're a sales representative for Valentus, we understand that it might be tough to sell their products given the number of dissatisfied customers out there. We just wanted to bring this to your attention so that you can make an informed decision.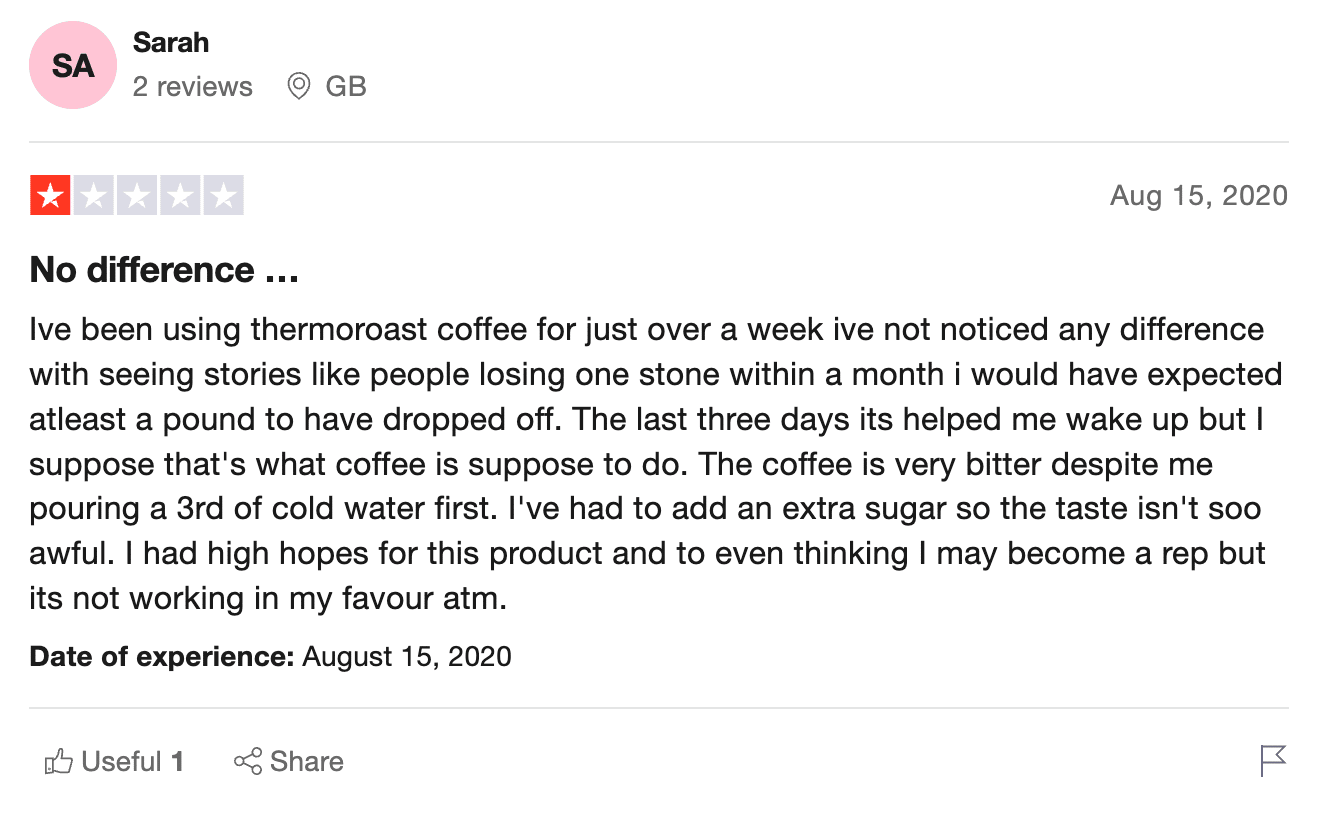 Sales Quotas and Losses
MLM companies like Valentus require their members to meet sales quotas in order to remain active and eligible for commissions. This means that members often have to keep selling products even if they are not making any money.
Unfortunately, statistics show that between 72.5% to 99.9% of MLM members lose money, and many of them do so even before they recruit anyone else.
Reframing Losses as Investments
Valentus uplines often try to reframe financial losses as 'investments' in their business. But the truth is that these losses are unlikely to be recouped, and in most cases, the return on investment is negative. So calling it an investment is simply not honest.
Cult-like Company Culture
MLMs like Valentus often have a cult-like company culture. They discourage critical thinking among their representatives and isolate those who ask questions that deviate from the 'company is amazing' mindset. Leaving an MLM can result in being labeled as a failure or a bad influence, and reps are not allowed to contact former colleagues who have left. MLMs often expect their representatives to prioritize their business over their personal lives, which can lead to isolation from family and friends.
You May Need to Purchase Valentus Products Yourself
One of the things you should be aware of when joining Valentus is that you may need to purchase their products yourself if you don't have a large network of friends and family to sell to. This can be frustrating and expensive, especially if you are not making enough sales to cover your own purchases.
Valentus Products are Overpriced
Valentus offers products that are overpriced compared to similar products on the market. This can make it challenging to sell Valentus products to prospects who can find similar products elsewhere for a lower price. This may lead to focusing more on recruiting rather than selling the actual products.
Valentus's MLM Business Model Has a Bad Reputation
Valentus's MLM business model has a bad reputation, and many people do not consider it to be a legitimate business opportunity. The majority of the commissions are given to those at the top of the pyramid, leaving those at the bottom struggling to make a profit. As a result, many people have been left with regret and a lot of unsold products.
Exaggerated Claims Of Income
Like any other MLM company, Valentus makes exaggerated income claims, but in reality, very few people make a good living by promoting Valentus. The low retention rate of distributors and the fact that over 99 percent of Valentus distributors never make a profit can be discouraging.
The Pyramid Scheme Debate
You may have heard that Valentus is like a pyramid scheme in disguise. While it's not a traditional pyramid scheme, the focus on recruitment can make it feel that way.
Recruiting is a Must
If you want to succeed in Valentus, you'll need to recruit others. In fact, eight out of ten ways to earn money with Valentus require recruitment. Without recruiting, it may be difficult to make any profit.
Recommendation: Here's The Best Alternative
Final Verdict
I do think they have some helpful items for weight loss. However, I have to admit that their prices are a bit steep compared to other similar options out there.
But now let's dive into the big question: can you really make some cash by joining their MLM? Well, here's the deal: the only way to make decent money is by bringing more people into the fold. And let's be real, when a company starts to look like a pyramid scheme, things can get pretty sketchy. Sadly, this means that not everyone is going to come out on top. In fact, you'll probably end up recruiting folks who end up losing money in the end.
Personally, I don't think that's a very ethical business model. If you want to make money online, I have a better recommendation for you in the next section.
Recommendation: Here's The Best Alternative
Is There a Better Way to Make Money Online?
Starting your own online business can be a daunting task, but it doesn't have to be. If you're tired of sifting through endless programs promising success but delivering nothing, I've got good news for you. My #1 recommended platform for building your affiliate marketing business from scratch is called Wealthy Affiliate, and it's a game-changer.
You may read our article about the difference between MLM and affiliate marketing.
Wealthy Affiliate is an all-in-one platform that offers everything you need to build your online business step-by-step. From web hosting services to keyword research tools, community support, comprehensive training, writing tools, and other software, Wealthy Affiliate has got you covered. Best of all, you can register for a free account and get started with affiliate marketing right away without paying a penny.
If you like what you see, you can upgrade to the premium membership to get access to everything on the platform. There are no upsells or hidden fees afterwards, so you can focus on growing your business and making money.
You might be wondering, how much can you really earn with Wealthy Affiliate? Well, let me tell you about a 21-year-old student who made over $7,395 in just one week by applying what they learned inside Wealthy Affiliate. That's more than $1k a day! And this is just one success story among many. Wealthy Affiliate has been established for 15 years and has more than a million members, so you can see how popular and effective it is.
You can read our full review of Wealthy Affiliate here.
If you're ready to take the leap and start building your online business, Wealthy Affiliate is the perfect place to start. With a simple pricing scheme that offers both free and premium memberships, you can join today and start enjoying all the benefits without paying a penny. As a starter member, you'll get instant access to the community, live chat, over 500 training modules, 2 classrooms, networking, commenting, 1 free website, and access to the keyword tool.
So what are you waiting for? Sign up for the free starter membership here (no credit card required) and start your journey to success today. I strongly recommend you check it out for yourself and see how Wealthy Affiliate can help you achieve your online business goals.