Valentus is an MLM company that sells nutritional supplements. It is not a pyramid scheme, and it is one of the legit MLM companies.
There is a good chance that you heard about Valentus through someone – a friend or family member.
Many people these days are looking for additional income, and you are most likely one of them. There was then an opportunity to work from home by joining Valentus as one of their independent resellers (IRs).
However, as I'll discuss in this review, there are some reasons why success with Valentus is unlikely. Experienced salespeople and well-funded recruiters are the only ones I can think of to have real success with this MLM program.
As a disclaimer, I'm not affiliated with Valentus. It means I'm not paid to write this review. So you can rest assured that you will get an honest and unbiased review from me.
At the end of this review, I'll also tell you the best alternative to the Valentus MLM program that has enabled me to make a full-time passive income online.
What is Valentus?
Valentus is a multilevel marketing company that sells dietary supplements. It is best known for their feature product SlimROAST coffee which claims to help people lose weight.
Valentus was founded by Dave Jordan in 2014. He has previously worked for Waiora, Melaleuca, and LiveSmart, among others. Some of these companies have a poor reputation.
As an MLM company, Valentus doesn't spend a lot of money on advertising and marketing. They rely on recruiting independent resellers (IRs) i.e. distributors to sell their products.
For their efforts, these "IRs" are given the opportunity to work from home selling their products and earning commissions by recruiting new members to Valentus.
Recommendation: Here's The Best Alternative
What Products Does Valentus Offer?
If you're serious about joining an MLM, you should educate yourself on the products you'll be selling.
Valentus has dozens of products in each of the following categories:
Instant Youth- Anti aging cream

SlimROAST- Weight loss coffee

Energy sachets

Trim sachets (supress hunger)

Immune sachets (antioxidants etc.)

Prevail drinks (helps blood flow)

eMulin (vitamins to provide energy)

24/7 Carb burner- capsules to help weight loss
To begin, it is critical to understand that there are thousands of products available that are very similar to what Valentus sells.
According to Healthline, weight loss supplements make bold claims that aren't backed up by much evidence.
Their SlimROAST coffee is unquestionably their most well-known product. According to Valentus, there are numerous reasons to drink this coffee, including:
Feed your body well in order to lose weight.

Reduces hunger and satisfies cravings

A method for dealing with obesity
Valentus has over 100 reviews on Amazon, which can give you an idea of what other people think.
Recommendation: Here's The Best Alternative
Is Valentus An MLM?
Valentus is a legit MLM (multi-level marketing) company. Companies that engage in multilevel marketing are also sometimes referred to as network or direct sales businesses.
As a multi-level-marketing firm, Valentus won't provide its salespeople with a regular salary. After joining Valentus's MLM program and becoming one of the members, you'll run your own business as an independent distributor of Valentus products.
However, it is unlikely that you can make a good income selling their products. As in the case of most MLM programs, your business relies on recruiting new members to work under you. You will earn a commission on the sales and new recruits generated by the people you hire once they begin producing results.
This is complex on a number of levels (hence multi-level).
Let's imagine a triangle. Because everyone in the triangle is in your direct downline (in an MLM, the people beneath you are known as your "downline," and you are their "upline"), you will earn commissions from everyone in the triangle if the person at the top recruits ten people, and each of these ten recruits ten more.
If you can bring in just 10 people, you'll make $1100.
Most people in your MLM would rather earn a lifetime passive income from recruiting others than a one-time commission from selling products, even if your MLM offers a wide range of products.
Due to the way the money flows, those at the top of the triangle have the most financial success, while those at the base have the least.
Having a large number of people in one's "downline" is essential for success in a multi-level marketing company like Valentus.
Recommendation: Here's The Best Alternative
Is Valentus A Pyramid Scheme?
Valentus is not a pyramid scheme. It is a legit MLM company that allows members to make money by selling their products. As a member of Valentus, you don't have to make money solely through recruitment.
In contrast, a pyramid scheme recruits members by promising them money or services in return for recruiting others. It is unsustainable and often a scam because members at the bottom end are doomed to lose money.
Those who want to join must pay a membership fee to the company that runs the pyramid scheme. The company would share a portion of the funds raised from each additional member they recruit as a reward.
However, the scam is profitable only for the directors of the company, i.e., those at the top of the pyramid, since they can receive a portion of the payments from every newly recruited member. The scheme continues as long as members recruit and funnel money to the top of the pyramid.
Such companies almost never sell valuable goods or services. The scam's only source of revenue is from recruiting new members and soliciting more money from current members.
A pyramid scheme would have to grow infinitely to make money for everyone who participates. This is impossible due to the finite population of the planet.
The scam will fail if there are no new recruits and other sources of income. Since the majority of members are at the lowest level of the pyramid, most of them will lose their money.
A good example of pyramid schemes is Vemma, a producer of energy and weight loss drinks. The FTC accused Vemma of operating a pyramid scheme in August 2015 that paid more to recruit new members than to sell products.
New members, who were typically college students and other young people promised high compensation, were required to pay $600 for starter packages and hundreds more for monthly products. According to the FTC, the majority of participants lost money.
Valentus Compensation Plan
There are 2 ways to make money from Valentus:
Sell the products for a commission

Recruit people into the MLM and earn bonuses from their sales
One major reason Valentus is not a pyramid scheme is that you cannot make money simply by recruiting others to join. You only receive "bonuses" for items purchased or sold by them on their own.
Most MLM compensation plans are as difficult to comprehend. Valentus is no exception. So I'll try to make this as simple as possible.
There are seven ways to get paid at Valentus:
Retail Commissions – 25%

Fast Start Bonus – Up to $100

Legacy Coded Bonus – $100

Dual Team Commissions – Up to $100,000 per week

Dual Team Matching Bonus – Seven levels starting at 20%

1% Global Volume Shared Enrollment Pool

Vehicle Bonus – $400 to $3000 monthly
MLMs frequently use jargon and complicated plans to make it appear as if there are numerous ways to make money. But, in reality, there are only two ways to make money:
Sell products

Recruit people and hope they sell products
Recommendation: Here's The Best Alternative
10 Reasons Why You Shouldn't Join Valentus MLM Program
1. Valentus Has Received Many Customer Complaints
Valentus has received nearly a lot of customer complaints over the years. A large proportion of these complaints relate to the products and services offered.
According to customer reviews on Trustpilot, Valentus can't deliver the product on time, many are waiting over two weeks for their orders. If you email support, they do not answer emails.
Customers also complained that Valentus' products did not provide the promised benefits. One customer said she had tried the Thermoroast coffee for more than a week but had not noticed any difference in her weight. She thought she would lose at least a pound, see the testimonials on the Valentus website where people lose a stone within a month.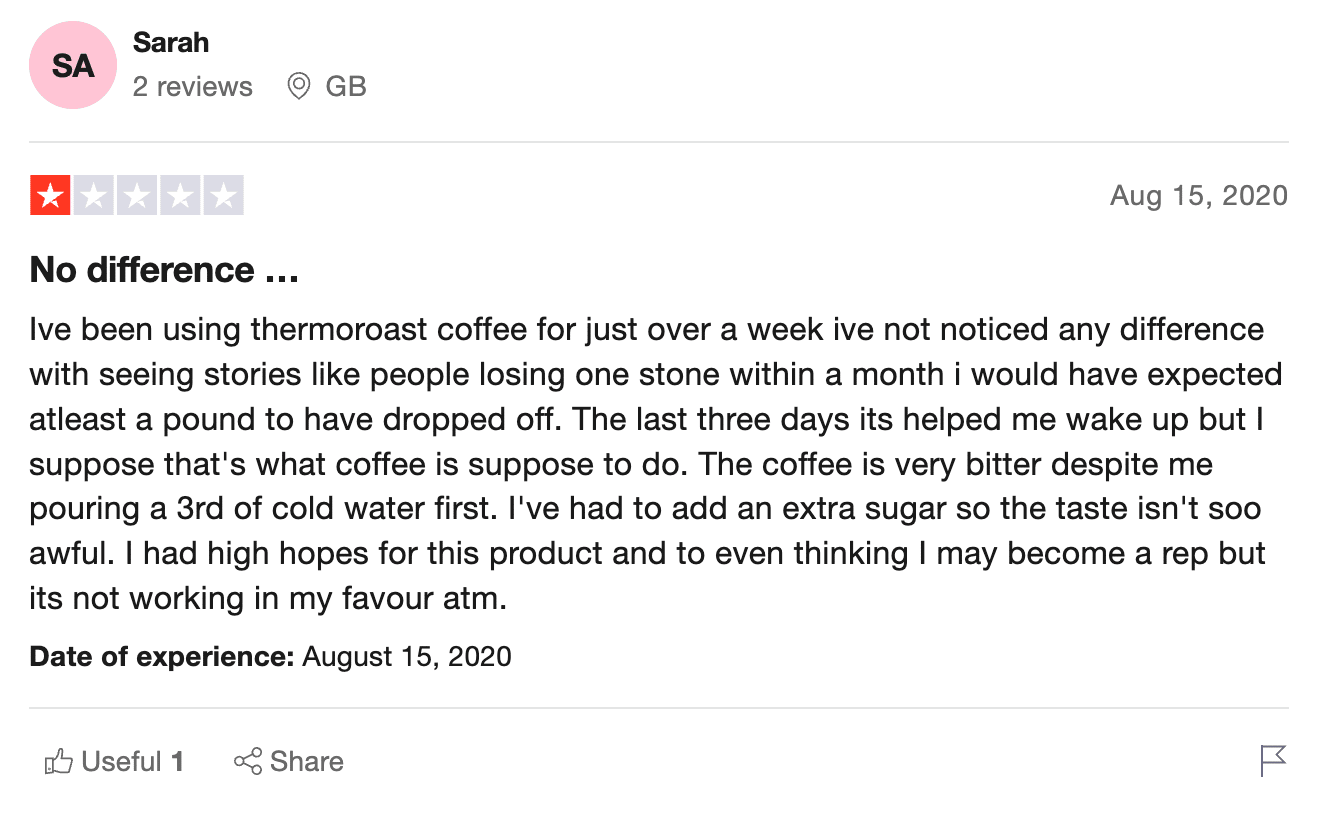 As a sales representative, it'll be difficult for you to sell Valentus products because many customers have had dissatisfactory experiences.
2. Very Few People Can Make Money With Valentus
Success is difficult to achieve with an MLM company like Valentus.
You can look at the statistic that says 72.5 percent to 99.9 percent of MLM members lose money.
The reason for this is that MLMs have sales quotas that require members to continue selling products in order to remain active and eligible for commissions.
They will not be paid if they do not meet the quota.
As a result, many MLM members lose a significant amount of money before even recruiting one person into the company.
3. Losses From Valentus MLM Program Are Reframed As Investments
Valentus MLM uplines often reframe their financial losses as 'investments' in their business so as to keep their reps in an MLM scheme, dangling the carrot of future financial freedom.
But the reality is that these are not investments. You are unlikely to get the money back. And the return on "investment" is negative in most cases. So saying that it's an investment is cheating.
4. Valentus is a Cult
Why do people continue to work for Valentus if it appears to be so bad? Our investigation of MLMs revealed that they all have cult-like company cultures.
Critical thinking is actively discouraged among MLM representatives. They are chastised and even isolated when they ask questions that deviate from the 'this company is a-mazing' mindset.
MLMs, like abusive partners, encourage you to isolate yourself from anyone who questions your involvement.
Those who leave an MLM are labeled as failures or bad people/influences, and reps are not allowed to contact them.
Rejection from people they once considered practically family is one of the most devastating losses experienced by former MLM representatives.
MLMs frequently expect their representatives to prioritize their events and business over their personal lives in order to further embed them in the business while separating them from their family and friends.
5. You May Need to Purchase Valentus Products Yourself
If you don't have a large network of friends, family, neighbors, and so on, you may have to buy products yourself each month. It's a losing proposition all around.
I think it's quite ridiculous when you have to buy the products you are trying to sell. But this is very common for people who join MLMs like Valentus. That's why in the long term, you are going to lose a lot of money, not to mention making money.
6. Valentus Products are Overpriced
As with other MLMs, Valentus offers overpriced products. There are many other brands that offer similar products but at lower prices.
Therefore, you may find it difficult to sell Valentus products because your prospects can buy the same product elsewhere at a much cheaper price. This explains why most people who join MLMs only focus on recruitment instead of selling actual products.
7. Valentus's MLM Business Model Has a Bad Reputation
Some people have benefited financially by joining a network marketing/MLM company. Unfortunately, most people who join MLMs are left with nothing but regret and a lot of useless products that they were unable to sell.
MLM like Valentus is fundamentally flawed. The distribution of commissions is skewed toward the top.
The majority of those in the top tier and pioneers make the most money, while those at the bottom will not even break even after a few months.
As a result, many people do not consider Valentus to be a legitimate business opportunity.
8. Exaggerated Claims Of Income
Valentus, like any other MLM company, makes exaggerated income claims, but in reality, very few people make a good living by promoting Valentus.
Valentus's low retention rate can also be discouraging, as less than 41% of its distributors are active.
According to Valentus's payouts to distributors, over 99 percent of Valentus distributors never make a profit.
9. Valentus Is Like A Pyramid Scheme In Disguise
If you want to avoid losing money every month, the MLM will actually encourage you to recruit people.
Every system that requires you to recruit people in order to make money eventually looks like this.
Valentus is not a pyramid scheme in the traditional sense because you can earn money by selling their products.
However, in order to make a living, you will need to hire others in reality.
10. Recruiting is Required to Succeed
I don't recommend MLMs to people for this reason. MLMs like Valentus put a lot of effort into recruiting. Eight out of ten ways to earn money with Valentus require recruiting. If you don't recruit, you are destined to lose money at the end of the day.
My #1 recommended platform is different. You can make a 4-figure, 5-figure or even 6-figure passive income by promoting and selling products you truly like. You don't have to recruit people but recommend useful and great products. I will tell you more at the end of this Valentus review.
Recommendation: Here's The Best Alternative
How Much Does It Cost To Join Valentus MLM Program?
Joining the Valentus MLM program costs you $20 once. Then you'll be persuaded to purchase one of these "product packs" at a very low cost:
Basic: $59.95

Starter: $145.95

Advanced: $239.95

Business builder: $575.95

Career success: $1,199.95
Each pack contains a unique assortment of items in boxes that you can use or sell. To "stay active," the IRs must sell between 50 and 100BV per month. This means that, depending on your "rank," you must sell at least $60-$120 in Valentus products per month.
If you are unable to sell this much "BV," you will be required to purchase the products yourself or your account will be closed, usually without warning.
Most IRs don't realize this until it's too late, but if you want to sell the products well, you should probably use them yourself.
People who earn more than $1,000 per month from MLMs typically behave more like "sales managers." They hire people and then try to persuade them to sell more. They are usually outgoing people who know how to "sell the dream of being your own boss."
Valentus MLM Program Feedbacks By Real Users
Positive Feedbacks
Negative Feedbacks
Overpriced goods

Worst support service

Unpaid commissions

The downward trend
Recommendation: Here's The Best Alternative
Is Valentus a Scam?
I cannot say Valentus MLM is a scam or pyramid scheme for legal reasons. A scam is defined as "a dishonest scheme; a fraud" by the Oxford Living Dictionary.
Can you make money selling Valentus products? We already know that a majority of Valentus reps did not earn any money. A few people do make money but only if you put in a lot of effort. And usually, the way they make a lot of money from Valentus is by recruiting aggressively.
In order to recruit more members, Valentus has blatantly made disingenuous and irresponsible marketing claims. According to Valentus, their products are made of premium natural ingredients. So as a Valentus distributor, you're doing a good thing by recommending Valentus products to your friends, family, and colleagues.
Is that true? In 2019, Medsafe issued a warning that Valentus SlimROAST Optimum Dark Roast Coffee should not be consumed.
The product has been tested by Medsafe and contains methylhexanamine (DMAA) and phenethylamine. Methylhexanamine is a prescription drug and phenethylamine is a Class C controlled drug.
With its low-quality products, how can you expect to make money as a Valentus reseller and do good for customers? As with most MLMs, most Valentus consultants have to rely on recruiting members to earn a living.
Valentus Reviews
Here comes the conclusion of my Valentus MLM review. Overall, I don't recommend joining Valentus MLM to make money.
You will have a tough time in the beginning when you are prospecting and trying to find recruiters to add to your Valentus commission.
The worst part is that you practically have to ask your family and friends to join your Valentus business opportunity. It's not fun.
Your upline is constantly following up with you to encourage you to buy more Business Support Material even as you struggle to get people to join your downline.
The reality is that you're likely to lose more money. Statistics confirm this as well. 99% of people who join an MLM break even or lose money, according to a case study on the FTC's website.
In fact, you can easily find many complaints about Valentus' MLM program on Trustpilot. Below are some examples:
According to this customer Billie, the best way to rank higher in Valentus MLM is to buy more products yourself. Therefore, it's a waste of money.
According to Manuela, the money she spends after joining the Valentus MLM program is always higher than what she earns in return.
Mandi, who is a Valentus IR, said she returned the wrong product she ordered from Valentus but never received a refund.
As you can see, most people who have joined Valentus MLM are disappointed with the services and the false claims about earning money as Valentus's independent resellers.
If you really want to work from home, maybe you can consider starting your own online business.
That way, you can choose what you want to promote rather than having someone tell you what you must promote.
Let me tell you how to build an online business in a legit way to make passive income online in the next section. This has allowed me to make a full-time income in a year. Most importantly, unlike MLM models, It's 100% legit and sustainable.
Recommendation: Here's The Best Alternative
Best Alternative To Valentus MLM Program
If you're beginning your online business journey, you deserve a program much better than Valentus MLM.
My #1 recommended platform is called Wealthy Affiliate.
Wealthy Affiliate is an all-in-one platform for building your affiliate marketing business from scratch.
When you join Wealthy Affiliate, you can get access to the first-class web hosting service, keyword research tools, community support, comprehensive training, writing tools, and other software to help you build an online business step-by-step.
You can register a free account with Wealthy Affiliate, which enables you to get started with affiliate marketing right away without paying a penny.
If you like the platform, you can then upgrade to the premium membership to get access to everything on the platform. There are no upsells afterwards.
But How Much Can You Earn with Wealthy Affiliate?
A 21-year old student from Wealthy Affiliate was able to earn $7,395 in just 1 week, which means he made more than $1k a day…all while applying what is taught inside Wealthy Affiliate.
Compared with Authority Hacker, Wealthy Affiliate has a much longer history, which has been established for 15 years and there are many success stories in the past decade. Actually, Wealthy Affiliate has more than a million members so far, so you can see how popular this platform is.
To give you more examples, here are some of the other inspiring success stories of Wealthy Affiliate members.
Where to Join Wealthy Affiliate?
Wealthy Affiliate has a very simple pricing scheme. It has a free and premium membership. The premium membership only costs $49/month or $395/year.
If you want to feel about Wealthy Affiliate, you can sign up for the free starter membership here (no credit card required). You can select to be a free member with no time limit.
And as a starter member, you can get instant access to the community, live chat, over 500 training modules, 2 classrooms, networking, commenting, 1 free website, access to the keyword tool.
You can enjoy all these values without paying a penny.
So I strongly recommend you to register a free account and see it yourself.