Are you figuring out how to create effective advertising campaigns? If yes, you may have heard of Travis Chambers, who is the founder of Chamber.Media. He helps people create high-converting video ads.
However, you might wonder if you should invest in Travis Chambers's course or agency service. After all, there are many fake gurus or companies claiming to help people make money. At the end of the day, only they are making money.
To help you make a more informed decision, I've done thorough research about Travis Chambers and his Chamber.Media, so I can tell you more about it.
To be transparent, I'm not affiliated with Travis Chambers, meaning I'm not paid to write this review. So you can trust my words.
At the end of this article, I'll also share with you a better alternative to make money online without spending money on ads.
Below is what I'll cover in this review of Travis Chambers and his Chamber.Media:
Who is Travis Chambers?
Travis Chambers studied Bachelor of Arts at Utah State University. He founded Chamber.Media in 2014. He was elected as the Forbes 30 Under 30.
Travis Chambers believes that understanding and relating to the audience is the key to create high-converting advertising campaigns.
He has worked with some big brands like Yahoo, Kraft, Old Navy, Coca-Cola. He was also featured in AdWeek, Forbes, HuffPost and Inc. Magazine.
Recommendation: Here's The Best Alternative
What is Chamber.Media?
Chamber.Media is a new media agency that produces scalable social videos. They do creative direction, social strategy, production and distribution across Facebook, YouTube and influencer integrations.
Right now, they claim to have made over 4000 productions, $80M in managed spend, and $500M in tracked revenue.
Apart from agency service, Chamber.Media also creates an online course, the 6 Pack Ads Course. I will talk about the course in the next section.
If you want to engage Chamber.Media, you have to make an application to talk to them. They don't have a fixed pricing plan for their service. So you have to negotiate the price with them.
6 Pack Ads Course Review
6 Pack Ads course is created by Chamber.Media to teach people how to make profitable ads at a budget. Travis Chambers is the instructor of this course.
The course includes 40 videos, covering various topics like branding, lighting, audio, scripting, ad buying etc.
The course content is similar to their internal training for their own producers, writers, and editor. Travis Chambers will show you some real examples of Chamber.Media, so you will learn how they create videos ads.
What I like about this course is that it teaches you how to use basic equipment to produce a great video ad, not to mention the tips and tricks to create amazing ads.
However, the 6 Pack Ads course is not cheap. It costs $397, which I know not everyone can afford. Also, the course focuses on creating video ads for eCommerce, so if your business is not eCommerce, it might not be suitable for you.
Is Travis Chambers a Scam?
Travis Chambers is not a scam. He is an expert in creating social video ads that can drive sales. If you engage the service of Chamber.Media, you can definitely get great video ads, but the cost is not cheap.
As for the course, 6 Pack Ads, you can learn how to make video ads for sure, but creating great video ads is just one of the steps in achieving marketing success, and it doesn't guarantee success.
Moreover, Travis Chambers's course or service focuses on helping people to create more effective paid ads, especially Facebook ads. However, Facebook ads have become more and more expensive over the years. The price is on auction basis. So when more people run Facebook ads, the cost will increase.

According to Forbes, Facebook ad cost has increased 90% year-on-year.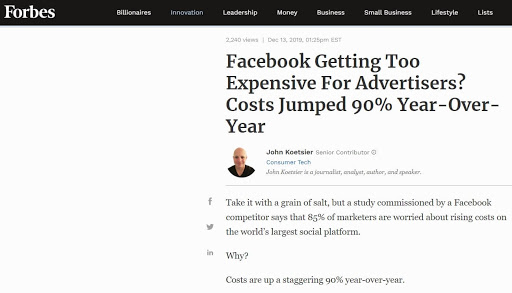 If you are doing eCommerce, the total Facebook ad cost will at least account for 30% of your sales revenue.

Deducting the product cost and other transaction cost, your net profit margin will be at most 20% or even less.

Moreover, although you will get sales when the Facebook pixel has more data, the hot audience will be exhausted very soon. And you will see declining conversion rate and higher Facebook ad cost, even if your video ad is well-made.

Gradually you will start to get net loss again. So it's not a sustainable business.

Worse still, the learning curve of Facebook ads is quite steep. And Facebook always changes its algorithm without any prior notice. So sometimes the ads that perform well will suddenly lose money. You then have to do testing again and again in order to get back on track. In the process, you'll have to burn a lot of money, further eating away your net profit.

What's more, Facebook's advertising policy is difficult to understand. And their system makes mistakes quite often and disables your account without reason. Even if you succeed in appealing against the decision, you would have to invest more money and go through the algorithm learning process again.

Therefore, many eCom store owners fail to cover their Facebook ad cost and cannot earn a penny after investing a lot of time and money.
Is There a Better Alternative to Travis Chambers's Course or Service?
Facebook advertising is pricey and difficult.

So why don't you focus on learning the SEO (Search Engine Optimization) skills?

If you can master the skills to generate free traffic to your website, you can get recurring income every month at zero costs!

So is there a platform that teaches you everything you need to know about SEO (search engine optimization) and helps you scale your business to 6 figures monthly?

Yes, I'd recommend you to consider Wealthy Affiliate which allows you to start a website and get access to the training videos for free!
But How Much Can You Earn with Wealthy Affiliate?
Apart from learning SEO, you can also explore an easy but profitable business model: affiliate marketing.

In affiliate marketing, you can run your business almost with zero cost. Most importantly, you don't need to invest in creating and developing any products or spending a lot of money on Facebook ads.

A 21-year old student from this #1 recommended training platform of affiliate marketing was able to earn $7,395 in just 1 week, which means he made more than $1k a day…all while using free traffic methods.
Wealthy Affiliate has existed for more than 10 years and there are many success stories over the years.
To give you more examples, here are some of the other inspiring success stories of Wealthy Affiliate members.
Where to Join Wealthy Affiliate?
Wealthy Affiliate has a very simple pricing scheme. It has free and premium membership.
If you want to feel about Wealthy Affiliate, you can sign up for the starter membership here (no credit card required). You can select to be a free member with no time limit.
And as a starter member, you can get instant access to the community, live chat, over 500 training modules, 2 classrooms, networking, commenting, 1 free website, access to the keyword tool.
You can enjoy all these values without paying a penny.
So I strongly recommend you to register a free account and see it yourself.
If you'd like to be the next success story and get the most out of Wealthy Affiliate, you can upgrade to the Premium Membership later.
After that, you can get access to everything without the bother from any upsells.