You cannot expect prospective customers to buy instantly, no matter what you sell.
Instead, the sales process unfolds in phases (the sales funnel): Warming up cold prospects to the idea of purchasing your products and preparing them for future purchases.
It's a challenge in today's climate of distrust and fierce competition.
Those of you who have ever sold a product or service understand the frustration and pain of creating a truly valuable offer only to have it disappear into the wasteland of failure.
Creating a five-stage sales funnel is the key to overcoming this pain – and unlocking success. In other words, using a proven template has the added benefit of being easier and faster… as well as converting like wildfire.
The following article is long. As you'd expect with a powerful theme such as sales funnels, that's only right.
What is a Sales Funnel?
How does a sales funnel work?This is no easy take (that's why we have written an entire article on the subject). To simplify the definition.
A sales funnel involves funneling prospects through five stages so that they become long-term customers. According to the funnel metaphor, you will start with a larger audience of potential buyers and then reduce that to a smaller group of high-value customers who are highly targeted.
In breaking down the buyer's journey into smaller steps (stages), you will be able to present offers more precisely.
When starting a small business, you may only have one or two products. You may have a large number of B2B offers to generate leads and nurture new prospects through the sales cycle, the sales pipeline, or the sales team of a large B2B company.
It can feel like everything is complex at once. To keep things simple…
Consider an order from McDonald's. Cheese is an optional addition to hamburgers ordered at McDonald's. You are asked if you would like fries with chicken nuggets. This is a sales funnel. When ordering a combo meal, you have the option to choose between large and "supersize."
Consider the new mobile app for McDonald's and the product-specific loyalty programs, like McCafe Rewards:
There is always more than one offer in each offer designed to increase the size of the purchase and drive subsequent purchases.
Sales funnels are generally categorized into three categories at the biggest level:
In the top of the funnel (ToFu), the target audience is identified

The middle of a sales funnel (MoFu) consists of potential customers

The bottom of the funnel (BoFu) includes both new and existing customers
A certain amount of funneling takes place even if you don't intentionally set up sales funnel stages. Take a templated approach to growing your online business, and you'll dramatically increase your profits.
There are certain universal principles that sales funnels must adhere to no matter how simple or complex they are. The following is an example:
In all stages of the buying process, 87% of consumers chose to buy from vendors who provide valuable content

63% of consumers need to hear a company's value proposition(s) three to five times before believing them

Purchases made by nurtured prospects are 47% larger than purchases by unnurtured prospects
In addition to the top, middle, and bottom, sales funnel stages are typically referred to by the acronym AIDA.
What is the Sales Funnel AIDA?
Advertising and sales pioneer Elias St. Elmo Lewis developed the AIDA model in the 19th century. It has served as the backbone for almost all successful advertising and marketing campaigns since.
AIDA guides prospective customers through the emotional journey of making a purchase – from the moment of first attraction to the moment of action.
1. Awareness
A brand should begin the sales funnel by attracting new audience members to its brand via marketing content and/or a baseline offer. This stage is sometimes referred to as "attention."
2. Interest
The brand will become more involved in identifying their goals and problems in this step, becoming more engaged with their prospects. In doing so, you will be able to provide preliminary solutions, allowing for a quick win – and more engagement.
3. Desire
By the time they reach this stage of the sales funnel, consumers are convinced that they have a larger problem that needs to be solved. Furthermore, they are now considering making a purchase in order to solve this issue. During this step, the brand highlights how its premium offerings can benefit customers.
4. Action
Prospects decide on whether to buy (or not buy) the brand's product or service at the end of the sales funnel. As well as conveying the benefits of making a purchase, you'll need to emphasize the downside of turning down a deal.
All of us go through the same general sales funnel stages, as well as a few common actions to take so that their prospects move farther down the funnel.
You should tailor your sales funnel(s) based on what you're selling and who your target audience is.
AIDA is a great place to start, but there's a better way.
What are the 5 Sales Funnel Stages?
The AIDA sales funnel is similar to the approach developed by Russell Brunson, but it differs in structure and appearance from the common sales funnel:
In contrast to AIDA, Brunson's funnel combines give-and-take throughout so that both the prospect and the company are engaged in the process. On the consumer's path to purchase, this version elicits a smaller conversion rate.
A value ladder represents the stages of a sales funnel in terms of its steps:
Essentially, each stage of your sales funnel (bait, front end, etc.) acts as its own "mini funnel." Here's what we need to do.
1. Pre-Stage: Know the Offer
The first step is to define everything you'll be offering your customers as they move through your funnel.
Take the time to look at your entire sales funnel with the end goal in mind before looking into each section.
It is important to take this step before moving forward. In the absence of being aware of what you're offering at various points, your customers will not be motivated to keep coming back.
The next step you need to decide is how you will connect your offers. By using lower-tiered offers, you are preparing your customers for the next product or service.
Imagine this scenario: "It has been successful for you with Product A – let's expand this success by implementing Product B."
(Again, if the "Product B" does not build on the "Product A," your customers may not have much reason to move to the next stage.)
Taking into account how and why your customers will move through your sales funnel on their way to your most valuable offering is essential.
2. Stage 1: Traffic
Your target audience must enter your sales funnel in a particular way if you want to succeed.
Essentially, this is a pre-launch phase of "controlled awareness," depending on what you're trying to achieve – by being intentional in who you bring into your funnel, you're avoiding bringing in the wrong type of prospects.
Toward maximizing traffic to your funnel, you must optimize your ads, content, and affiliate sources. Think about these things:
Where your most valuable prospects hang out online

What social networks they interact with or what content they consume

Why do consumers take the initial steps with a brand that's free or lower-cost
There's no way in the world you'll be able to get customers interested in your high-ticket products or services if you don't know how to draw them in with your smallest offers.
Nevertheless, you can enter your funnel on your target audience's terms – and get them on track toward where you want them to be – simply by meeting them where they already are (and where they're comfortable engaging with your brand).
3. Stage 2: Bait
Lead magnets are free or extremely cheap leads provided to prospects.
I would like to clarify something here.
Each "mini funnel" requires a low-risk offer to hook your prospects and engage them further. While "Bait" is one stage of the overall sales funnel, each "mini funnel" is distinct.
Low on the value ladder, bait may be free content, a webinar, a course delivered via email, or product samples. For the higher tiers, break-even offers are used to keep the customer engaged and ready for the next step. By not making a profit on the sale, you create profit as they move through your funnel.
In exchange for giving something away for free now, you will have primed the receiver to make a bigger purchase at some point in the near future – and that is where you will make your real money. Bait offers can be operated at a loss, as long as the next stages in your funnel will sell for a profit.
By removing the people who didn't take you up on the bait offer, you'll also be able to funnel out the others. People who don't buy your lower-risk offers aren't likely to buy your higher-cost items either.
3. Stage 3: Front End Offer
Providing value to new customers with low prices and low-risk offers that allow them to resolve surface-level problems for little cost.
In a moment, you can send them directly to your "leveled" premium offer once they take up your bait offer. (Funnel stacking also involves following up with email offers at the same time, as described above.)
Your business is about to be put on the line…
These visitors have already been pre-qualified (through your bait offer) – meaning they are already interested in the premium product or service you have to offer them right now.
Your offer will be appreciated if you are able to keep their attention and communicate it effectively. By optimizing your squeeze page, you can achieve this.
Squeeze Page Copy
Your copy should quickly entice your audience to take immediate action by communicating the value of what you're offering.
Creating a squeeze page requires following the following checklist:
Become a relatable character (embrace your brand's personality)

Aim your message at the right people

Provide more depth in your sentences and paragraphs, but shorten them

You should be able to read and write at a 6th grade level or below

List bullet points or numbers

Every 200-300 words, add a subheading or image
Focus your messages on your target audience – without being overly complicated.
It's more likely that your audience will accept your offer if they readily recognize its value.
Squeeze Page Images and Videos
Your squeeze page is built around your keywords. There are a variety of ways to create content:
You should create a video backstory that explains what your brand is about

Showcase your product via an explainer video (or demonstration)

Having a client who has used your product or service to explain their experience with it
You should choose an approach based heavily on where you are on the value ladder right now.
A good example would be to introduce your brand quickly to prospects, and discuss the benefits they can expect from your preliminary offer.
Video content for your new prospects should be short and to-the-point – maximising its potential to be watched in its entirety. 
You might choose to go the long-form route with your video content, however, if you're trying to make a final sale on a high-priced product.
This is because those looking to make a large purchase will want as much information as you can provide – and will be more willing to stay long enough for you to persuade them.
Squeeze Page Social Proof
You can use social proof with your squeeze page to support claims you've made.
You should tailor this content to the current value ladder level you are aiming for. As such, you must ensure that your customer commentary matches the offer you are presenting – and that it corresponds to the needs of the target audience.
You can engage new prospects with generalized social proof regarding your brand. When looking to make bigger sales further down the funnel, you'll need to use specific examples from successful customers.
Squeeze Page Call-to-Action
The action your audience must take, regardless of what you are offering, must be crystal clear on your squeeze page.
Don't be vague. It's important to make sure your CTA stands out so that your customers can become invested right away.
There might even be cases where you want to include CTAs in the middle, bottom, and top of your page. If your engaged audience isn't familiar with how to engage further with your brand, the last thing you want is for them to stop engaging.
4. Stage 4: Middle Offer
The value increases as your customers solve a more complex problem, preparing them for your highest-priced products and services.
Now it's time to get to work.
Your offer should be irresistible as each prospect reaches the bottom of your "mini funnel" and prepares them for the next tier of the ladder.
Upsell or Downsell?
Upsells cost more than front end deals, and downsells cost less. Sales funnels are essential to a company's success.
Upsell offers that enhance the experience of your brands should be presented before or during the order confirmation process.
Upsell offers typically include the following:
Bulk discounts on bulk orders

Product or service with a customized version or variation

A discount on extending the subscription period

Cross-selling products (supplemental products)
Send them a lower-risk offer if they don't end up taking the upsell.
The following are examples of downselling:
An alternative to the expensive upsell

The upsell offer in a smaller, lesser, cheaper form

The upsell offer comes with a limited trial period at a discounted price
To be successful, you have to fully capitalize on the opportunity that is presented to you, while providing the exact value your prospects need right now.
Email Marketing
The emphasis is consistently on getting an email address from a visitor in nearly all examples.
The reason for this is that email marketing plays a key role in the customer journey: before, during, and after the purchase.
Stage 5. Backend Offer
You want to provide your customers with a valuable, intensive, and costly product or service that they can use continuously to solve an ever-present problem in their lives.
Our goal has been clear by now: create an overarching sales funnel that combines each of your "mini funnels.".
Brand new customers should be transformed into high-value customers for your company. Unlike many other products and services out there, our highest-value offer simply isn't ready for the vast majority of your targeted audience …
You need to give them a taste of your lower-tiered products or services first.
Once your customers have experienced your current level of value, it's not inevitable that they'll move to the next level of value. Many of your customers tend to stick with what they know rather than upgrade to a more expensive service tier.
It's your responsibility to prove to them that the next-highest rung of your value ladder is going to bring them a great deal of value.
The customer at this point will be on the climb but not quite ready to enter the next "mini funnel" you have prepared for them since they have benefited from the previous stage of ascent.
As such, rather than hard-sell your more valuable offering, you will want to keep your brand in their minds.
As a general rule, you should provide value to them once they have purchased a given product.
This means:
Content that is tailored to a user's particular needs, delivered in their preferred format, to help them maximize software or services they are currently using

Customer support and onboarding of high quality – from troubleshooting to detailed instructions for "power" usage of your offering

Gradually highlighting the value of your higher-tiered services in relation to the individual customers' needs

They have a community (Facebook group) where they can live and grow
When you demonstrate your top priority is to provide value to your customers, even after they've already paid you, they'll be that much more likely to believe your more expensive offering is worth it.
Don't start from scratch when building your sales funnel
Researching the market
The same type of client you're looking to attract with your funnel resembles the exact type of customer that your competitors have already built a funnel for, generating engagement and sales.
You shouldn't copy your competition's tactics. Yet, you do want to look at how competing brands nurture their audiences toward large sales at the end of their funnel.
Sales funnel hacking plays a role in this.
What Is Sales Funnel Hacking?
A funnel hacker will use your competitors' sales and marketing process to help them model their own processes and test them.
By going through each stage of your competitors' sales funnel, you will determine how to build your own by reverse-engineering it.
How to Hack Your Competitors' Funnels?
1. Identify Your Competitors
Of course, you will pay most attention to your direct competition. Create a list of all known companies that offer similar products and services as yours.
Take a look at your indirect competitors as well. In this situation, you'll consider companies that don't necessarily sell to your niche, but whose audiences overlap with your own.
As a result, you will gain a better understanding of the sales tactics that will get your target audience to act.
When you start out, be broad. It is important to take note of any competitors whose approach isn't as effective as it could be in order to avoid making the same mistakes. You eventually will pare down your list of your most-successful competitors.
2. Analyze, Engage, and Document
You should take screenshots and make swipe files of your competitors' websites, landing pages, marketing platforms, and other marketing content. Don't forget to categorize these items accordingly as you do so.
We suggest separating your competitor's offers into Bait, Frontend, and Backend folders. Create a folder for your ad campaign creatives – and categorize them accordingly (e.g., Google, Facebook, etc.) You should also create a folder for your campaign creatives.
At this point, you do not necessarily need to get too involved with your competition – especially if it will require you to purchase their products.
Taking as many steps in advance as possible is recommended. You might sign up for mailing lists, request more information, or download free content.
You'll want to analyze your artifacts once you've amassed a robust collection from a variety of perspectives once you've done so.
Blueprint questions are asked in this way:
What words do they use in their headlines (copywriting)?

Throughout their content, what colors are used?

Where are the buttons on the fold?

Videos and images are used, or just text?

The benefits or the features are listed?

Are social proofs such as testimonials included?

If you exit intent, are there any pop-ups?

Do you have a fixed header section?

Do you have a full sign up form or an opt-in form?

Does an action step require more than one touchpoint?

What is the word count on the homepage?
To understand why your competitors took the path they did, keep an eye on as many different aspects as possible.
Rather than focusing on the surface-level questions, you need to ask yourself "why" they are appealing to you. Remember that you are not just copying what your competition is doing – but implementing their methods in your own way as you create your funnel.
When you obtain the answers to these questions, make sure to document them within the folders you have created.
3. Purchase From Your Top Competitors
If you have determined which of your competitors are worth further investigation, then you should speak with them like you are a prospective customer.
The documentation and analysis here must be extremely meticulous.
It's not necessary to buy a top-tier item, but you should act like you intend to do so.
After you've gotten to the end of their sales funnel, you should schedule a sales call with them – while taking notes on everything they say.
You can be sure that your competitors will do everything they can to take advantage of this "big" sale. By doing this, you have the perfect opportunity to uncover any details you may have overlooked throughout your sales funnel hacking process.
Ask yourself questions like:
How does an offer provide specific value or benefit?

In order to accept the offer, what must you do?

In order to keep you on track, what strategies do they employ?

In what way does each subsequent offer relate to its predecessors and its successors?

You'll gain a better understanding of your own sales funnel when you answer these questions and understand what you're supposed to offer to customers.
What Tool Should You Use To Build A Sales Funnel?
Now, you understand the importance of building a sales funnel for online marketing. I would like to introduce a very powerful sales funnel building tool to you.
The tool is called ClickFunnels. If you've never heard of it, here's why you should start using it now to increase sales online.
ClickFunnels is a marketing tool that helps entrepreneurs, digital marketers, and business owners sell, deliver, and market products and services online. 
With ClickFunnels, you will never need any other software to run an online business.
It eliminates the need for overpriced and lazy website designers or salespeople. Thus, ClickFunnels can potentially save you a lot of money.
It is simple for anyone to build a sales funnel using ClickFunnels, regardless of their experience level. It's no longer necessary to hire coders, web designers, and marketing agencies. Your business can now be online easier than ever with ClickFunnels.
Get 14-Day Free Trial of ClickFunnels Here
But How Much Can You Earn With ClickFunnels?
Many online entrepreneurs use ClickFunnels, made millions of dollars of sales with just one funnel. There is no limit to the earning potential.
For entrepreneurs who reached a seven-figure financial milestone inside one ClickFunnels funnel, ClickFunnels created an award called The Two Comma Club.
Following are screenshots of winners of the "Two Comma Club" award. Would you like to be one of them?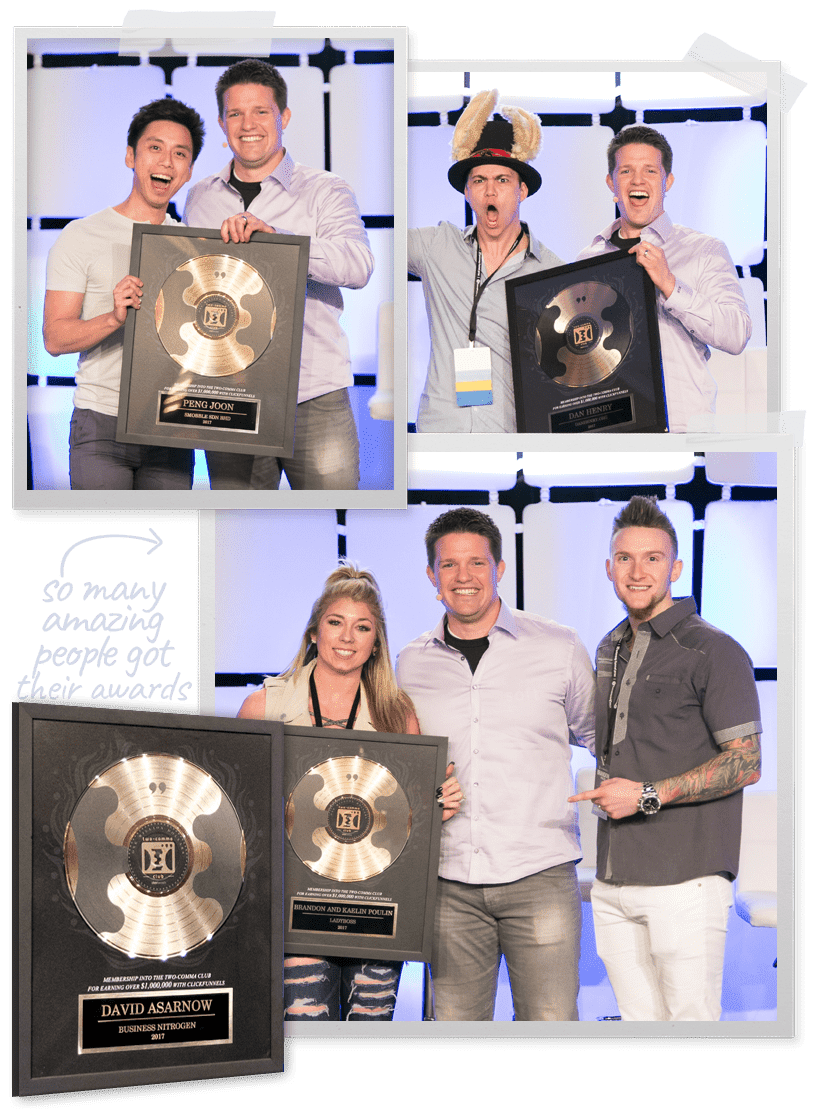 With ClickFunnels, you can drastically increase the opt-in rate and upsell conversion rate: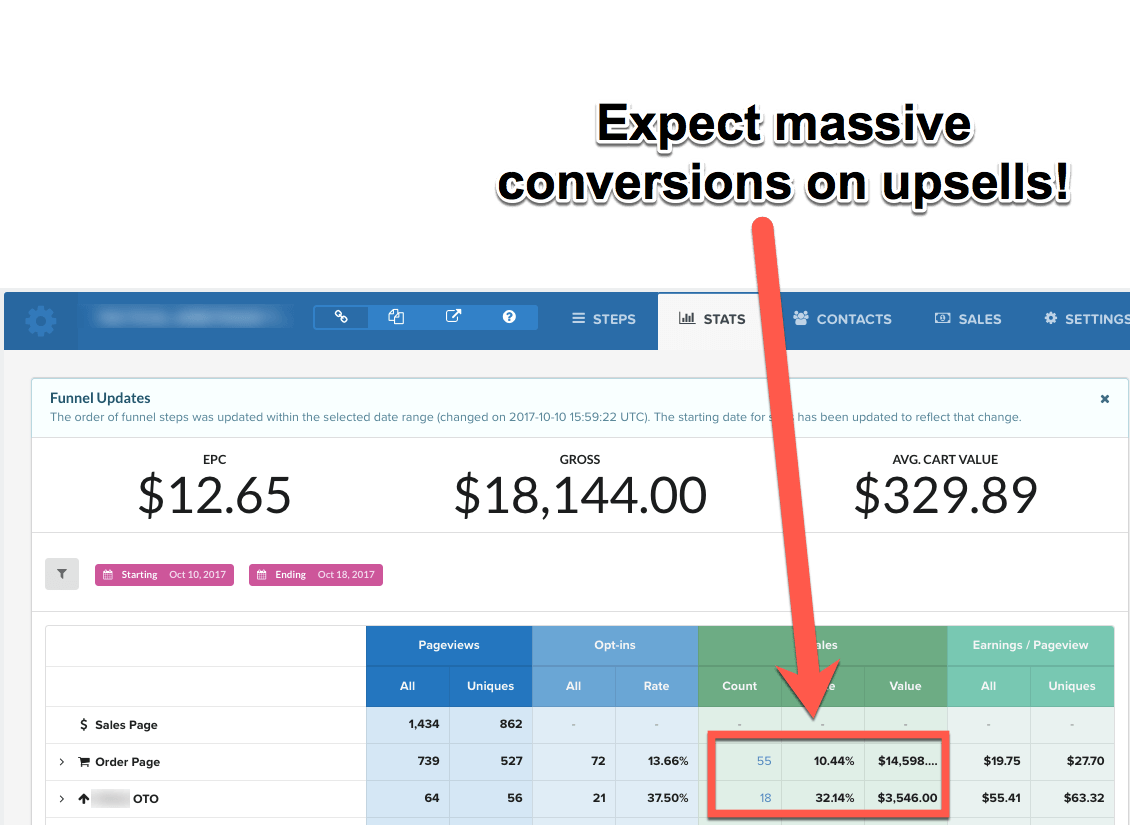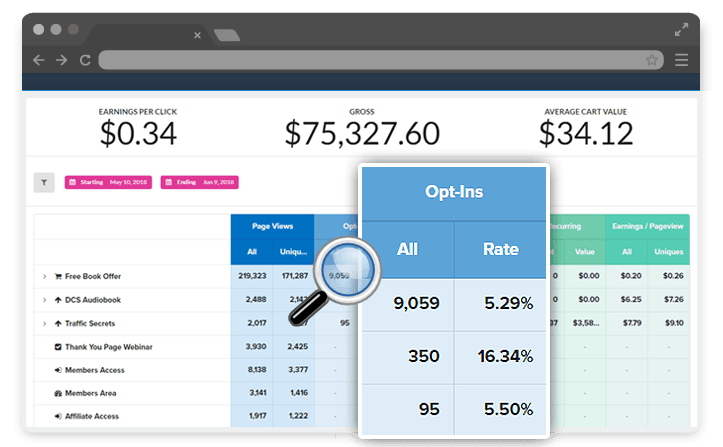 Get 14-Day Free Trial of ClickFunnels Here
Where to Get ClickFunnels?
ClickFunnels offers a 14-day free trial.
You can sign up for the free trial of ClickFunnels here (no worries, you can cancel it anytime within 14 days without being charged).
Try ClickFunnels for free to access all the amazing features:
Drag-And-Drop Website/Page Builder

One-Click Upsells & Downsells

Optin-Forms

Order Forms

Membership Area Pages

A/B Testing

Follow-up Funnels

Email List Building Tools

Email Management

Integrated Affiliate Management System

Sales Analytics

Pre-Built Funnel Templates

Payment Gateways Integration

Third-Party Integrations & Apps

CRM

And many more…
If you want to see a detailed evaluation of ClickFunnels, you can read this ClickFunnels review.
Anyway, I strongly recommend you to register a free account with ClickFunnels and see it yourself.