Are you curious about Sabri Suby's book, Sell Like Crazy? Do you want to know if it's actually worth your time and money? Well, look no further because I've got the tea for you!
You've probably seen the ads everywhere claiming that this book can teach you how to sell anything and make a boatload of cash. But is it all just a bunch of hype and fluff? That's the question on everyone's mind.
Fear not, my friend! I've read Sell Like Crazy, and I'm here to give you the lowdown. I'll tell you everything you need to know about the book and whether or not it's actually worth your while.
And if you're looking for an opportunity to start a sustainable online business, I've got you covered at the end of this article.
Sell Like Crazy Review – Key Takeaways
Book Name:

Sell Like Crazy

Author:

Sabri Suby

Overall Rating:

⅖

Pros:

Relaxed writing style; clear examples

Cons:

Mostly a lead magnet; lacks advanced marketing techniques; some content borrowed from other marketers

Verdict:

A book only suitable for people who know nothing about marketing.
In this Sell Like Crazy review, I'm going to cover the following topics:
What is Sell Like Crazy?
Sell Like Crazy is a book by Sabri Suby that claims to teach you digital marketing and sales. According to Suby, his formula can help you secure dozens of appointments and increase sales. He even claims to reveal his exact strategy for approaching sales in this book.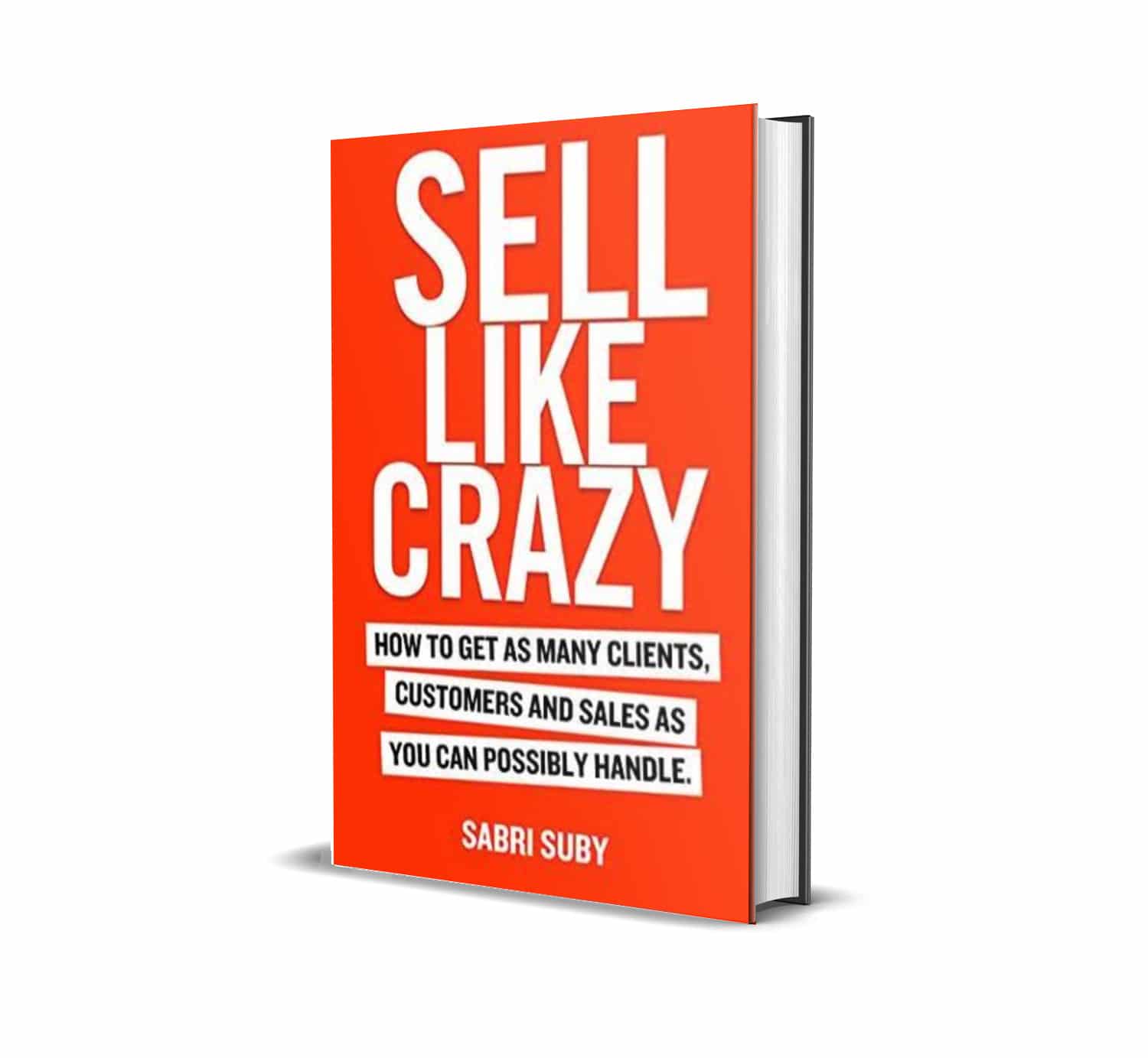 But before you get too excited, it's worth noting that some readers have found the content to be a bit underwhelming. In fact, some have accused Suby of simply copying other popular business and marketing books and repackaging the information as his own.
So, should you bother with this book? Well, if you've already read books by top-selling authors like Russell Brunson or Gary Vaynerchuk, or even perused some free ebooks online, you may find that 'Sell Like Crazy' doesn't offer much that's new. While the promotional material may tout it as a game changer, in reality, it covers a lot of ground that's already been covered elsewhere.
That said, if you're new to the world of sales and marketing, 'Sell Like Crazy' could be a helpful introduction. Suby's approach might give you a fresh perspective and some useful tips. Just don't expect any groundbreaking revelations.
Recommendation: Make Passive Income Online
Who is Sell Like Crazy For?
Let's get one thing straight: Sabri Suby's book, Sell Like Crazy, may not have met my expectations, but it's not a bad book. I was just hoping for a new approach that I didn't find.
That being said, if you're new to the world of business or marketing, then this book is definitely worth your time. It covers basic principles that are essential for anyone starting out, and Sabri's writing style is easy to understand.
For advanced marketers, the book may not offer anything groundbreaking, but it does provide a fresh perspective on the basics. If you're looking to improve the effectiveness of your approach, this book might just have the tips and tricks you need to take your marketing to the next level.
One thing that cannot be denied is the amazing marketing of the book itself. Sabri's team did a fantastic job of promoting it, so even if you don't find the book itself to be revolutionary, there's definitely a lesson to be learned about using the basics to sell your services.
Who is Sabri Suby?
Sabri Suby is the founder of King Kong, an Aussie digital marketing company with a clientele spanning the globe. But Suby's success story didn't start with him being a marketing whiz. Growing up with a single parent, he watched his mother juggle three jobs to give him and his siblings a better life. Her perseverance had a profound impact on him and drove him to earn extra cash for the family when he was just eight years old.
As a teenager, Suby's first job as a salesman wasn't exactly a hit. Despite landing the job with two other candidates, he struggled and even found himself on the verge of being fired.
But he wasn't about to give up that easily. He quickly changed his sales strategy and went from being the team's worst performer to breaking sales records and earning a whopping $2,000 a week.
This success spurred him on to start his own business, and thus King Kong was born. Today, his digital marketing empire employs dozens of people and has cemented its reputation in the industry.
But some people might wonder why Suby is so willing to share his marketing secrets with others through his Sell Like Crazy program. Won't that just diminish the demand for his consulting services? It's a valid point, but let's take a closer look at what Sell Like Crazy is all about in the later sections.
Suby is active on YouTube where he has 74.6K subscribers. You can get a feel for his teaching style by watching the video below:
Recommendation: Make Passive Income Online
Is Sabri Suby a Scam Artist?
I won't call Sabri Suby a scammer because he definitely knows his stuff when it comes to online marketing. He did, after all, found King Kong.
However, I do think that like other gurus out there, he makes some pretty bold claims in his sales pitches to lure people into his sales funnel.
One thing that's not so cool in my opinion is the free plus shipping sales model that he uses. While he says that the book is free, in reality, it's not. It's a bit misleading, and some people might even call it a scam. Instead of giving a digital copy of the book, he forces you to buy a physical book, with the cost of the book bundled into the shipping fee.
The reason for this is pretty simple – while he may not make any net profit on the book itself, he gets you to help cover his advertising costs. Then, he makes his profit from the upsells that come later in the sales funnel. That's just how the whole thing works.
So, while Sabri Suby definitely has some marketing chops, it's important to take his bold claims with a grain of salt and be aware of the tactics he uses in his sales funnel.
Sell Like Crazy Book Summary
Lesson 1: Think Like Billionaires
Sabri Suby, the author of "Sell Like Crazy," emphasizes the importance of developing an entrepreneurial mentality for success.
He draws inspiration from billionaires like Warren Buffet and Bill Gates, who invest in assets that provide a good return. Suby observes that successful billionaires outsource menial tasks to focus on high-impact activities that generate the maximum return on investment.
According to Suby's study, 4% of a company's work generates 64% of its revenues, so as an entrepreneur, you need to shorten your to-do list to focus on the most profitable tasks. Suby helps readers determine which items are relevant to their situation and advises them to stay focused on high-leverage business activities.
Lesson 2: The Way To Sell Like Crazy
Suby argues that as an entrepreneur, you are primarily responsible for selling your products and services. He believes that selling is not the same as working, and you need to focus on marketing your offerings instead of perfecting your craft. Suby gives an example of a baker who needs to market his baked goods to attract customers.
He emphasizes the importance of understanding your target audience and their needs, creating a compelling offer, and using persuasive language to sell your product or service.
Suby suggests that entrepreneurs need to adopt a sales mindset and use a proven sales system to generate leads, qualify prospects, and close deals.
Lesson 3: The 500,000 Learning Curve
In his book Sell Like Crazy, Sabri Suby talks about his experience of spending 500,000 hours on sales training. He highlights how he spent three times the amount people spend on college education, only to realize that most of it were unproductive and pointless.
He emphasizes the importance of learning from successful people who have had a significant impact on others. Suby mentions several successful individuals, including famous writer Robert Collier and advertising tycoon David Ogilvy, and their timeless strategies and tactics. Suby encourages his readers to focus on long-term strategies instead of gimmicks and tricks.
Lesson 4: Make The Wisest Investments
Sabri Suby emphasizes the importance of making wise investments, particularly in paid advertising on Facebook and Google. He suggests creating a good offer and running targeted and focused ads to get the best return on investment.
In Sell Like Crazy, Suby provides eight phases that businesses should follow to achieve success in their advertising and sales.
We'll look at the eight phases of his selling system in the following section.
Recommendation: Make Passive Income Online
What is the 8-Phase Selling System in Sell Like Crazy?
Sabri Suby claims that the 8-phase selling system will help you sell like crazy.
Phase 1: To Catch Your Dream Client
Marketing can be overwhelming, especially with so many gurus selling "hacks" and quick-fix solutions. But if you look back at the history of successful ad copy, you'll see that enduring strategies are what really drive growth. That's the approach Sabri Suby suggests taking.
According to Suby, the best way to increase your sales is to develop a deep understanding of your ideal customers. By knowing their needs and desires, you can craft a message that speaks directly to them. However, he points out that only a small fraction of people are actively looking to buy in any given industry.
Instead, many people are aware of their problems but not actively seeking solutions. Others may be interested in learning more if they find the information useful. That's why Suby argues that marketing agencies should focus on education and promotion rather than solely targeting those who are ready to buy now.
To provide valuable information, you need to know what your customers find valuable. Suby suggests using the Halo Engage operation, a technique he learned from the first-person shooter game Halo. The key is to get inside the minds of your ideal customers and understand their motivations.
Suby's detailed guides offer tips on how to do just that. By learning more than your customers do, you can craft a message that speaks to their hearts and attracts them to your business. To do this, you need to dig deep and find out what they really want.
In the end, Suby's message is simple: to succeed in marketing, you need to understand your customers on a deep level. With that knowledge, you can create a message that stands out and draws them to your business.
Phase 2: To Make A Perfect Bait
Sabri Suby talks about fishing, specifically how he makes lures for many high-priced customers.
Using the comparison that most companies use, he demonstrates to you all the benefits of HVCO (High-Value Content Offers).
To help you in this matter, Suby has listed what an HVCO must possess:
Create an appealing headline to attract attention

Make sure every point touches a burning issue

Simplicity is key

In content marketing, a headline is crucial.
So Suby spends most of this section going through the best headlines of the last 70 years.
Suby shows off a variety of things, such as her great branding, looks/tips, backgrounds, and generally her various methods of changing her look.
Below is a short list of the top headlines:
The ability to grab the attention of readers and practically force them to keep reading

Numbers (e.g., 10 Tips You Should Know…)

Deliver an irresistible intrigue

Show them what's in it for them

Additionally, he offers a list of various HVCO types that you can collect to get your creative juices flowing.
Phase 3: To Capture Leads And Get Contact Details
You have probably wondered how to reach the ideal customer if you have been thinking about learning digital marketing.
Suby starts from the following analogy: Much like you have a partner, you have a customer; you had to take them on before you could propose to them.
Suby's method for onboarding a customer is illustrated by this phase.
The process starts with a landing page where people can sign up so that asking for a first date is not awkward.
A landing page with a high conversion rate is composed of several parts. The following five items are covered by Suby in this phase.
An appealing headline will grab readers' attention.

Subheadline summarizing your offer details.

Bullet points that are compelling.

Visual materials or infographics showing what they're getting.

Names and e-mail addresses are required in the form.
Having excelled at the art of advertising archaeology, Sabri Suby reveals some skeletal formulas for making the most profitable headlines.
Phase 4: Godfather Strategy
If you're trying to sell a product, you need an irresistible offer that can convince potential customers to make a purchase. That's according to Sabri Suby, who you might recognize from The Godfather movie. He suggests that having an irresistible offer can remove the friction between sales and customers, making it easier to close deals. So, what exactly makes an offer irresistible?
First of all, it's important to sell what people actually want. Many entrepreneurs make the mistake of developing products that don't have any demand. To avoid this, you should do your due diligence by researching the market and testing multiple paid ads. Suby provides a helpful worksheet on page 57 of his book, where you can list all the features of your product in one column and then convert them into benefits in the second column.
The goal is to make your product stand out from the competition. You want to make sure that enough people are interested in buying your product, so you don't waste your time. If your product has unique features that provide real benefits, it's more likely to attract potential customers.
So, if you want to create an irresistible offer, start by understanding what your customers want and how your product can meet their needs. Use Suby's worksheet to identify the benefits of your product and highlight what sets it apart from the competition. With a little research and creativity, you can create an offer that your customers can't refuse.
Phase 5: Boost Traffic
Sabri Suby's selling system includes many important acronyms that help track the profitability of your business as you increase your advertising.
One of the most crucial metrics is the Cost Per Acquisition (CPA), which determines how much money you need to spend to acquire a new customer. Suby advises entrepreneurs to calculate the cost of acquiring a customer based on how much they make from that customer.
To increase the number of potential customers and spread the risk, Suby recommends splitting your time between three platforms instead of focusing on one. He also provides guidance on running high-converting Google and Facebook pay-per-click ads.
Learn more:
Phase 6: Magic Lantern Technique
Suby's system also includes a technique called the Magic Lantern, which is used to increase pressure on potential customers who sign up for your HVCO but do not buy your product or service. It involves creating a list of emails with video training that keeps potential customers engaged and interested.
Suby explains that this technique can turn a large portion of the 97% of disinterested visitors into eager and genuine buyers. He provides examples of how he puts together such a video for his clients and illustrates the state transition for potential customers as they move towards making a purchase.
Using the Magic Lantern technique, Suby guides potential customers towards the desired outcome while providing value and goodwill. This approach helps build trust and confidence in your brand, leading to increased sales and profitability.
Phase 7: Process Of Sales
According to Sabri Suby, once you have built trust with the Magic Lantern technique, you will be able to book more appointments on your calendar with people you have met.
To explain how the average salesperson screws up the sale, he goes into what 90% of salespeople do.
Sabri notes that 90% of salespeople take the wrong approach to the sales process. Only during the presentation do they shout out all the benefits and features of their products and services in the hope that their potential customers will buy them.
Below are Suby's steps:
Don't settle for surface-level answers. Try to dig a little deeper and find out what's really motivating them to talk to you.
Figure out what they're hoping to achieve or what problems they're looking to solve. That will help you tailor your pitch to their specific needs.
Once you've got a sense of what they're after, it's time to figure out what's been holding them back. What obstacles have they faced, and what frustrations are they dealing with?
Your job is to guide them toward a solution. That means helping them develop a strategy that will work for them. If you can do that, you'll be able to offer them something truly valuable.
When you're helping them, be sure to keep them engaged. Ask them questions to make sure they're following along, and be sure to link everything back to their specific needs and goals.
Don't just talk about your products. Instead, focus on how they can help your prospect achieve their objectives. That's the key to making a real connection.
Finally, make sure you know where your prospect is before you try to close the deal. If they're not quite sold yet, you may need to be a bit more forceful in your approach. But remember, taking the time to understand their needs and goals is the key to making a successful sale.
Phase 8: Automation & Multiplication
I would like to clarify Sabri Suby's advice on automation and recruitment contained in the last few paragraphs.
Sabri Suby claims to manage hundreds of customers and employees.
In terms of marketing and sales, he offers a system to automate the process, such as filling out an email, writing a sales page, shooting a video, and recording webinars so that you can make a profit from it on an ongoing basis.
Recommendation: Make Passive Income Online
How Much Does It Cost?
Sell Like Crazy isn't actually free. Yup, you heard that right. When you snag a copy, you're actually paying for it through a shipping fee. Sneaky, right?
But here's the thing: this "free plus shipping" model is pretty common among online marketers. They want to get their product in your hands (and on your bookshelf), but they also need to cover their costs. And let's face it, shipping ain't cheap.
Can Sell Like Crazy Help You Make Money Online?
If you're looking for a comprehensive guide to making money online, Sell Like Crazy may not be the book for you. While it offers some sales techniques, it doesn't provide a step-by-step process for building an online business from scratch.
Instead, the focus of the book seems to be more on mindset than on practical implementation. If you want to succeed in online marketing, you'll likely need to take a more comprehensive course to learn the skills you need.
One potential issue with the book is that its author, Sabri Suby, is a big fan of paid advertising. However, as the world changes, paid ads are becoming more expensive, and it's likely that Suby is finding it harder to make a net profit from them.
Additionally, the book doesn't offer much guidance on how to get free traffic to your website or online store. If you don't have the money to invest in advertising, this could make the book less useful for you.
It's also possible that Suby has secrets about getting free traffic that he doesn't share in the book. However, it's unlikely that he would give away this valuable information in a small and cheap book.
Overall, if you're a beginner with no knowledge of online marketing, Sell Like Crazy may not be the best place to start. However, if you're looking for some sales techniques and are willing to invest in a more comprehensive course, the book may be worth a read.
Praise for Sell Like Crazy
1. Relaxed writing style and templates
The author, Sabri Suby, has a relaxed and easy-to-follow writing style that makes learning enjoyable. He not only talks about what needs to be done to succeed in marketing, but he also shows templates that are all based on his own experiences and extraordinary results.
2. Simple processes with clear examples
Another outstanding feature of Sell Like Crazy is the author's ability to break down complicated marketing strategies and principles into simple processes using clear examples.
As someone who has studied online sales strategies from other gurus like Brendon Bruchard, Ted McGrath, and Frank Kern, I can confidently say that this book has some value. It's like having all the best practices from various experts in one place and at a fraction of the cost.
Criticism of Sell Like Crazy
Sabri Suby's book, "Sell Like Crazy," offers strategies for businesses to increase their sales. However, the book has its drawbacks. Here are some cons to keep in mind:
1. Paid ads are not sustainable
Suby puts a lot of focus on paid ads as a traffic method. However, paid ads can be expensive, especially for small business owners. The costs of paid ads have increased drastically in recent years, and it's difficult for small businesses to compete with larger companies. As more people run paid ads, the cost increases, and the net profit margin becomes smaller.
Although you may see some initial success with paid ads, the conversion rate may decline, leading to a net loss. Therefore, paid ads are not a sustainable traffic method to rely on nowadays.
2. The strategies are difficult to implement
Suby's strategies may seem exciting, but they require technical and sales skills that take time to master. If you're new to online marketing, it's especially challenging to implement them without losing money. It takes a lot of practice to become skillful in running ads or closing deals. Therefore, just learning the strategy is not enough to see success.
3. The book lacks advanced marketing techniques
The book primarily focuses on a rudimentary marketing funnel that any introductory marketer should know. The author also boasts about his success and studies of billionaires, which can be tiresome to read. The actual content of the book is underwhelming and doesn't offer advanced marketing techniques that businesses could use.
4. Assumption of one-size-fits-all sales letter
Sabri Suby's book, Sell Like Crazy, assumes that his style of long-copy sales letters works in all market segments without offering adjustments for different market segments. However, this assumption is not entirely accurate.
For instance, you won't see a Mercedes Benz ad with a headline like "Shocking Truth About XYZ, And What To Do About It" because it could shift their brand position to an undesired place and cheapen their brand.
Hence, it's not due to ignorance of sales letters on their part. While the author may think his approach is brilliant, it's important to note that not all companies can use the same strategy and get successful results.
5. Fluff in the first 25 percent of the book
If you pick up this book, it's best to skip the first 25 percent of it. The beginning is mostly fluff that's not worth your time. You'll find more value in the remaining content.
Interestingly, some of the content is regurgitated from other sources. For instance, there's a blatant copy from the answerthepublic.com website, with minimal changes made to the wording.
6. Use of aggressive language
The use of words like 'crush your competition' and 'bait' to describe offers for potential customers might appeal to some people, but it's not for everyone. The approach is quite masculine, with a lot of playing hardball tactics.
The writing style is high-octane, which can be a bit too aggressive for some readers. At times, it might even feel like a verbal assault. While this approach may work for some, it might not be suitable for all.
Recommendation: Make Passive Income Online
Is Sell Like Crazy a Scam or Legit?
Sell Like Crazy is not a scam. You can definitely pick up some sales techniques from this book. However, it's important to keep your expectations in check. Don't expect to become a marketing expert overnight just by reading it. Sabri Suby may make some bold claims in his advertising, but remember, he's a salesman. Take everything he says with a grain of salt.
If you're short on time, you can probably skip this book. It's not a holy grail for business owners.
You might be wondering why Sabri Suby is selling a cheap book in the first place. Well, it's unlikely that he's making much profit from it. In reality, "Sell Like Crazy" is just a lead magnet to capture potential clients for his consulting business, King Kong. Sabri wants to hook people in with his book and then sell them his high-ticket consulting service.
It's a common sales tactic these days – gurus offering a "free" book to lure in high-paying clients. So, while you can learn a lot from a lead magnet, it's really just an introduction to establish Sabri's authority in the field.
So, there you have it – my take on "Sell Like Crazy". It's not a bad read, but don't expect it to work miracles. If you're interested in Sabri's consulting services, then it might be worth a look. But if not, then you're probably better off spending your time elsewhere.
Learn more:
Final Thoughts
If you're new to marketing, I highly recommend Sabri Suby's Sell Like Crazy. It's a great starting point to learn about the basics of marketing. However, if you're well-versed in the subject and have already read other marketing books, this one might not excite you or offer any groundbreaking insights.
The book is written in a marketing style with beautiful fonts and eye-catching, almost clickbait titles. Although the information provided is basic and lacks innovation, the book does include a lot of "what not to do" advice.
Unfortunately, there are more pages of what not to do than what you should do. It's ironic that the author talks about high-value content throughout the book, yet the book doesn't offer much of it.
Overall, the book is well-written and effectively uses the author's marketing techniques. However, it doesn't provide any real insights into marketing. It's more like a sample of high-value content that the author gives away to entice people to purchase his products.
Other Digital Marketing Books
1. Jab, Jab, Jab, Right Hook by Gary Vaynerchuk
This book is a New York Times bestseller and a great guide for anyone looking to up their social media marketing game.
It teaches you how to connect with customers, grab their attention, and come out on top in the competition with the help of a secret weapon – the "right hook". With this, brands and marketers can improve their social media strategy, captivate customers, build lasting relationships, and ultimately boost sales.
In today's world, social media is king, and it's important to know how to communicate effectively with your audience. But, it's equally essential to develop and deliver high-quality content that's perfectly suited for each social media platform, whether it's Facebook, Instagram, Twitter, YouTube, Tumblr, and so on.
Each platform has its own unique vibe and requires a specific strategy to sell your products effectively online. Even if you're new to digital marketing, you'll find this book incredibly helpful.
2. Permission Marketing by Seth Godin
In this book, Godin introduces a groundbreaking concept that will help you tailor your message, whether it be through TV commercials, video marketing, or traditional methods, so that consumers willingly accept it. Instead of bombarding customers with irrelevant content and messages, Godin emphasizes the importance of providing customers with incentives to voluntarily accept advertising.
By reading this book, you'll discover how to build a long-term relationship with your customers, create trust, and build brand loyalty. And the best part? You'll significantly boost your sales in the process.
3. Digital Marketing for Dummies by Ryan Deiss and Russ Henneberry
The best part about this book is that it's written in a way that's easy to understand, even if you're a beginner. It covers everything you need to know to get started with digital marketing from scratch, including the latest techniques and practices in SEO and SEM, content marketing, influencer marketing, social media, advertising, email marketing, and more.
What I really like about this book is that it goes into detail about every aspect of digital marketing mentioned, providing readers with the nitty-gritty details they need to succeed. It's full of helpful tips and tricks to help you craft killer campaigns that will boost your bottom line.
Bonus Recommendation: Make Passive Income Online
Sell Like Crazy covers a bunch of different areas in online marketing. It's too broad for beginners. In reality, you don't need to know everything to build a successful online business. Just focus on one specific niche that can make you some serious money.
Now, out of all the business models out there, I'd say affiliate marketing is the best way to start. I've tried a bunch of different things, and this one has allowed me to make enough passive income to quit my job! Yeah, you heard that right.
Affiliate marketing is a sweet gig because you can run your business without spending a ton of money. That means you can achieve a steady income without shelling out a bunch of cash on ads. Plus, it's a totally legit business model, where you get to make money by helping people.
Even if you've got a full-time job, you can still make this a side hustle. That's actually how I got started too!
But, you might be wondering, where can you learn all about affiliate marketing and start building your own business
Well, I've got a recommendation for you – Wealthy Affiliate. They're the most reputable platform for affiliate marketing out there, and they teach you all the real secrets to making money with free traffic.
Wealthy Affiliate is an all-in-one platform that can help you build your affiliate marketing business from scratch. And get this – they offer a free account (with a free website!) and comprehensive training on SEO (that's free traffic methods). That means you can get started with affiliate marketing right away, without spending a dime. Pretty sweet, right?
But how much can you earn with Wealthy Affiliate?
A 21-year-old student from Wealthy Affiliate was able to earn $7,395 in just 1 week, which means he made more than $1k a day…all while using free traffic methods.
Wealthy Affiliate has existed for 15 years and there are many success stories in the past decade.

To give you more examples, here are some of the other inspiring success stories of Wealthy Affiliate members.

Where to Join Wealthy Affiliate?
Wealthy Affiliate has a very simple pricing scheme. It has a free and premium membership.
If you want to feel about Wealthy Affiliate, you can sign up for the free starter membership here (no credit card required). You can select to be a free member with no time limit.
And as a starter member, you can get instant access to the community, live chat, over 500 training modules, 2 classrooms, networking, commenting, 1 free website, and access to the keyword tool.

You can enjoy all these values without paying a penny.
So I strongly recommend you register a free account and see it yourself.