Sara Finance is a 19-year-old Canadian entrepreneur known for her popular TikTok channel. Her engaging content, particularly on money-making, has garnered millions of views.
Sara offers a dropshipping course and a mentoring program for those interested in stock market investments, all while actively creating social media content.
Now, let's delve into whether the Sara Finance Course can genuinely help you make $30k monthly through dropshipping, or if it's just another money-making scheme.
Stick around for the review, and by the end, I'll share a more reliable alternative that has personally enabled me to generate a consistent passive income online.
Who is Sara Finance?
Sara Finance, aka Sara Rosalia, is the mastermind behind Finance Simple and a thriving entrepreneur and investor. Sara kicked off her career at Tim Hortons at the age of 15. However, the desire for financial freedom led her to explore online opportunities, ultimately finding success in dropshipping.
At 18, Sara had saved an impressive $80,000 and strategically invested in companies like Apple and Tesla. Riding the wave of Tesla's success, she cashed in on a 400% gain.
Sara's income quickly escalated, reaching a monthly sum of approximately $50,000 by the time she turned 19. Her Shopify store alone generates $30,000 in revenue, supplemented by earnings from social media ads.
Boasting a net worth of $4 million, Sara's wealth is diversified through multiple income streams:
Dividend Stocks
YouTube Channel
Shopify Store
Affiliate Marketing Partnerships
She has a following of over 470K on YouTube and 741.5k on TikTok, where she shares with people how to make money.
If you want to verify whether she's truly experienced with dropshipping, you can check out the following video:
Recommendation: Here's The Best Alternative
How Does Sara Finance's Dropshipping Course Help You Make Money?
Sara Finance's dropshipping course promises to teach you how to make money online through dropshipping. You'll learn about the precise strategy Sara employs to generate over $30,000 in monthly profits.
However, it's worth noting that the $30,000 mentioned is likely the sales revenue, not the actual net profit, as most dropshippers typically have a profit margin below 20%.
She also asserts that she'll disclose the specific product responsible for a business that achieves six figures in sales.
Within the course, Sara Finance provides insights into promoting your products using various platforms, including Facebook ads, TikTok, Pinterest, and Instagram.
Learn more: How to Make Money Dropshipping
Sara Finance Dropshipping Course Overview
Sara's course is comprehensive, consisting of over 70 video tutorials with a total duration of approximately 15-20 hours. Here's a breakdown of the course content:
Introduction to Dropshipping
Products that Generated $100,000+ in Sales
Characteristics of Winning Products
Software and Strategies for Finding Winning Products
Revealing Successful Products
Utilizing Zendrop and US Suppliers
Step-by-Step Guide to Building Your First Shopify Store
Examples of High-Performing Shopify Dropshipping Stores
Improving Conversion Rates
Search Engine Optimization (SEO)
Introduction to Marketing
Long-Term Brand Marketing Best Practices
TikTok Influencer Marketing Strategy
Instagram Influencer Marketing Strategy
Example of an Ideal Influencer
Legal Contracts for Influencers
Building a Company Page on TikTok and Marketing Strategy
Building a Company Page on Instagram and Marketing Strategy
Building a Company Page on Pinterest and Marketing Strategy
Comprehensive Facebook Ads Tutorials: Targeting and Scaling
Advanced Facebook Ads Strategy: Lookalike Audiences
Complete Email Marketing Strategy
Abandoned Cart Recovery
Order Tracking and Shipping Management
Handling Returns and Refunds
Setting Up Customer Support
Sara Finance Dropshipping Course Pricing
At $297, Sara Finance's dropshipping course is considered fair in terms of cost. However, it's important to be aware that Sara doesn't offer refunds after the purchase.
This is uncommon in the industry, as many dropshipping courses typically offer a 30-day money-back guarantee.
Who is Sara Finance's Dropshipping Course for?
Sara Finance's dropshipping course is suitable for:
Aspiring Entrepreneurs: If you're looking to start an online business, especially in dropshipping.

Sara's Followers: If you enjoy Sara's content on TikTok and YouTube and resonate with her business approach.

Eager Learners: Perfect for people ready to invest time and effort into learning the strategies shared in the course.

Side Hustle Seekers: Those looking to create an additional income stream with an online venture.
Keep in mind that success in dropshipping, like any business, requires dedication and effort. This course may not be for those expecting quick, guaranteed results without putting in the necessary work. Also, consider the course pricing and the fact that there's no refund policy.
Recommendation: Here's The Best Alternative
Are Sara's Students Getting Results?
The sales page flaunts numerous sales screenshots, but it's tricky to confirm their authenticity.
While there are "testimonial" screenshots, skepticism arises because the course is relatively new, and it's unclear if these people are actual paying students who completed the course.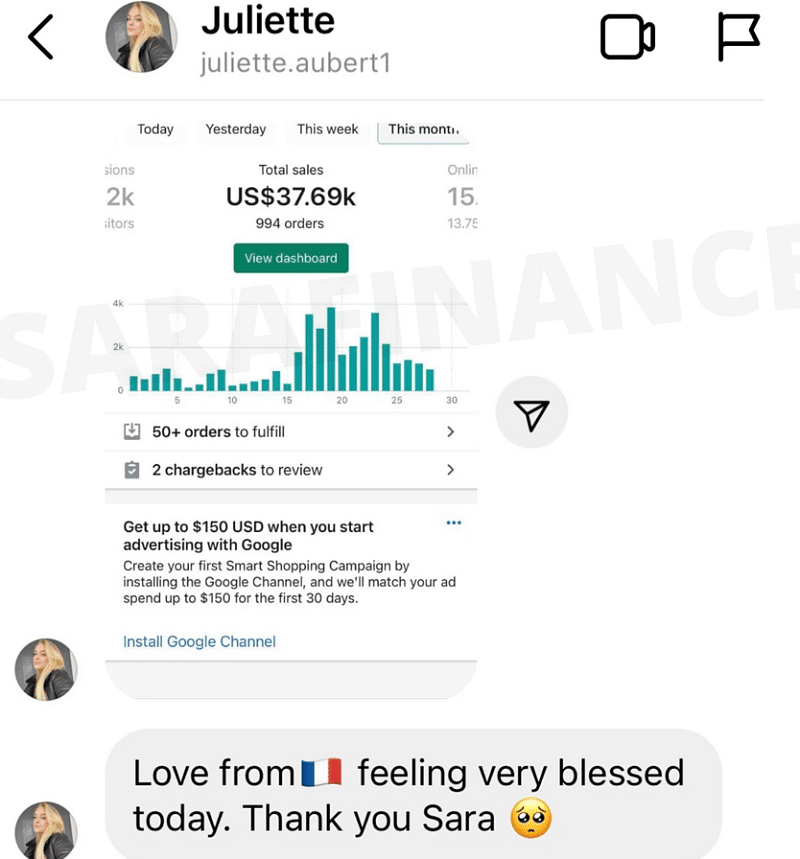 During Sara's store creation walkthrough, she demonstrates adding fake testimonials and ratings, which seems to be a common practice in the dropshipping culture. There's a tendency to prioritize saying whatever it takes for sales, often at the expense of integrity.
In my opinion, video reviews from genuine students carry more credibility and trustworthiness. However, the prevalent issue in the dropshipping culture is the emphasis on flashy sales metrics rather than revealing the actual net profit.
It's essential to approach these showcased sales figures with a critical eye.
Praise for Sara Finance's Dropshipping Course
Sara Finance's dropshipping course is anything but typical, thanks to its unique strategies. Below are some of its advantages:
1. Alternative Suppliers Emphasized
Sara stands out by steering away from the typical focus on AliExpress, instead promoting faster shipping alternatives like Zendrop and Spocket.
This shift addresses the common frustration with slow AliExpress shipping.
However, it's worth noting that Zendrop, formerly Silkroad, had a mixed reputation among users
2. Explores Using TikTok Traffic
Unlike the conventional reliance on Facebook ads, Sara's course explores a more unconventional approach by leveraging TikTok traffic. This departure from the norm is refreshing, as dissatisfaction with Facebook ad effectiveness is widespread.
Sara shares her expertise in building a TikTok following and creating viral videos.
Moreover, she provides insights into collaborating with influencers on TikTok and offers advice on maximizing Pinterest for free traffic in niche markets.
Given the challenges posed by IOS14 to Facebook Ads, having alternative strategies is crucial.
3. Regular Course Updates
Sara commits to keeping the course content current through regular updates.
Recognizing the rapid changes in the e-commerce industry, this commitment ensures that the course remains relevant and valuable in the face of evolving trends.
Criticism of Sara Finance's Dropshipping Course
1. Promotes a 'Get Rich Quick' Image
Sara's video thumbnails often showcase extravagant images like luxury cars, bundles of cash, or fictitious performance metrics, suggesting rapid wealth accumulation.
It's crucial to recognize that Sara's current success is the outcome of years of dedicated effort.
There's concern that some buyers might be disappointed if they don't see substantial profits quickly.
2. Unique Advantages Not Accessible to Everyone
Sara's standing as a TikTok influencer and video creator grants her unique advantages in negotiating favorable terms and gaining respect within the online community.
Not everyone possesses these advantages. Sara openly acknowledges that her path to profitable dropshipping took several years.
3. Learning from a Still-Learning Source
Sara admits to being in a continuous learning phase and emphasizes that her knowledge is limited to what's covered in the course.
While spending $297 for a course introducing new concepts might be reasonable for some, choosing a mentor with extensive experience and a track record of overcoming challenges is a safer option for building a sustainable income stream.
4. High-Risk Business Model
The dropshipping industry's golden age has passed, and the market is saturated, impacting profit margins negatively. The low barrier to entry has led to fraud and rip-offs, making it a risky venture.
Paid advertising costs, a critical aspect of dropshipping, are increasing, and the industry faces challenges due to Apple's iOS14 update affecting targeted advertising.
With dropshipping relying on quick sales before customers can compare or change their minds, it's highlighted as a costly business model with uncertain financial rewards. Many online stores utilizing dropshipping actually end up losing money.
Recommendation: Here's The Best Alternative
Is Sara Finance a Scam?
No, Sara Finance is not a scam. You can indeed learn the fundamentals of dropshipping from her. However, I do not recommend her course for a few reasons.
While Sara Finance shares bold claims about her dropshipping earnings, it raises questions about why she would reveal her money-making strategies if they are such lucrative secrets.
Worse still, the absence of a refund policy upon enrolling in the course is a notable concern.
Sara Finance's portrayal of dropshipping as an easy path to quick riches doesn't align with the reality of the business.
It's worth noting that Sara may be generating the bulk of her income from selling online courses rather than from actual dropshipping success.
Alternatives to Sara Finance Dropshipping Course
Here are the other dropshipping courses we have reviewed:
1.

2.

3.

4.

5.

6.

7.

8.

9.

10.
5 Reasons People Lose Money in Dropshipping
I did dropshipping before, so what I can tell you is that dropshipping has become increasingly difficult.
Here are some reasons why it's easy to lose money in dropshipping:
1. Long Waiting and Shipping Times
Slow order processing and lengthy shipping times can lead to frustrated customers who may assume their orders were not processed, resulting in refund requests or chargebacks.
In an era of rapid delivery expectations, extended wait times can harm your dropshipping business.
2. Refunds
Refunds pose a significant risk for inexperienced dropshipping business owners, especially when dealing with larger, more expensive items.
The cost of refunding these items can quickly become a financial challenge.
3. Chargebacks
Chargebacks, where customers dispute payments, are costly and complex to navigate, particularly in cases of stolen cards or identities.
Chargebacks can result from delivery issues, long wait times, low-quality products, or discrepancies in pricing.
They often incur additional fees for the business owner.
4. Unreliable Dropshipping Suppliers
The success of a dropshipping business hinges on trustworthy suppliers.
Dealing with unreliable suppliers can lead to non-delivery of orders or the supply of subpar products, resulting in returns, chargebacks, and added expenses.
5. Facebook Ads Challenges
Facebook ads are crucial for marketing a dropshipping store, but they come with significant costs and challenges. The expense of Facebook ads can erode profits, and the platform's ever-changing algorithm requires constant learning and testing.
The steep learning curve poses a risk of ad accounts being banned for policy violations, adding a layer of financial and operational risk to dropshipping endeavors
Recommendation: Here's The Best Alternative
Is There A Better Way to Make Money Online?
If you want to make a full-time passive income, I'd suggest you to start an affiliate marketing business online.
In affiliate marketing, you can run your business almost at zero cost without any trouble from sourcing products or managing inventory.
Also, since you don't need to spend hours after hours selling things over the phone, it can save you a lot of time.
If you want to learn affiliate marketing, I'd recommend you to get started with the most reputable platform for affiliate marketing: Wealthy Affiliate.
Wealthy Affiliate is an all-in-one platform for building your affiliate marketing business from scratch. It offers you a free account (including a free website) with comprehensive training on SEO (free traffic methods), which enables you to get started with affiliate marketing right away without paying a penny.
But How Much Can You Earn with Wealthy Affiliate?
A 21-year old student from Wealthy Affiliate was able to earn $7,395 in just 1 week, which means he made more than $1k a day…all while using free traffic methods.
For more information, you can check out our full review of Wealthy Affiliate.