Are you looking for a Printify review? Is Printify a scam? Can Printify really help you build a profitable print-on-demand eCommerce business?
E-commerce has seen tremendous growth in recent years, which has opened up new possibilities. People prefer buying things online over purchasing them offline as it saves them both time and money.
Print-On-Demand (POD) seems to be an excellent business idea that you can get started working on right away.
However, even though starting a business is easy, making it successful is very hard and complicated since we need to invest time and money to make it successful.
Print-On-Demand businesses may encounter many challenges along the way, but how you handle these challenges makes all the difference.
POD services like Printify claim to help designers, artists, and dreamers realize their ideas.
You may wonder if that sounds too good to be true.
To help you make an informed decision about Printify, I have done thorough research about it in the past few weeks. So I can tell you everything you need to know.
As a disclaimer, I'm not affiliated with Printify, which means I'm not paid to write this review. So you can be sure that my words are unbiased.
Printify Review – Key Takeaways
In this Printify review, I'm going to cover the following topics.
What Is Printify?
The Print-On-Demand platform Printify provides a solution to your printing needs. It allows people to sell products that are designed by them. With Printify, you can easily print and ship orders directly to your customers.
You can run a print-on-demand business through Printify by simplifying the complex and hard process. The website offers a variety of products that you can select to create your own designs.
With Printify, you can sell products right away without having to make any upfront investments. You can also manage all of your order production and ship your order direct to the customer with your own branding.
You can set it up easily and have easy access to your customers through it, and you can interface it with the most popular eCommerce platforms
With Printify, you have access to over ninety print providers, and because it takes care of fulfilment, you can focus on creating and selling.
For those who don't know the term, "print on demand" originated in the book industry, but has since expanded into many other sectors.
Business processes in which nothing is printed until an order has been placed fall under this label. Additionally, this method does not only reduce waste, but also allows smaller and/or individual prints, which are highly unique. There are many ways to create one-of-a-kind books, bags, mugs, or shirts.
Buying and selling electronically, usually through the Internet, is what is known as eCommerce, which is another common term. Printify combines both of these technologies, making design available to both artists and consumers.
However, despite the convenience, the problem is whether you can really make money with Printify. After all, no matter how convenient it is, if you cannot sell the products and make money, it's useless. I will discuss this issue in a later section.
Recommendation: Here's The Best Alternative
How Does Printify Work?
You can easily get started with the Printify platform thanks to its simple functionality.
Using Printify, you can design custom products and sell them to over 90 print providers and 300+ unique products.
There are dozens of manufacturers to choose from including ArtGun, Fifth Sun, T Shirt and Sons, Prodigi, CG Pro Prints and more.
Choosing the right manufacturers for your business is a matter of price, quality, and location.
Now, let's see how this platform works.
Step 1: Create
At first, customize the product with designs, logos, art, or photos that reflect your brand and business well.
Step 2: Get Samples
On Printify, you can find the right printer for your business needs. All you have to do is test out their products right away. The app allows you to order a sample and see its quality.
Step 3: Add Products To Your Shop
Now that you have added products to your shop, you can sell them and earn money. You can sell them in your stores or anywhere you want. This is the most difficult step and Printify cannot help you with this.
Step 4: Fulfillment Care
Printify can handle the fulfilment for you while you are busy selling your products. Billing, manufacturer requests, and shipping are handled by them so you don't have to worry about fulfilment.
Here's the YouTube video explaining how to create a product on Printify:
What Products are Available on Printify?
Printify offers a large selection of options for you and your designs.
Categories include the following:
T-shirts
There are many options for this versatile clothing item from Printify – short sleeve, long sleeve, sleeveless, tank top, V-neck, scoop neck, crewneck, trim fit, and loose fit. Your design can be placed on the front, back, sleeves, or all over!
Clothing
A T-shirt is technically an article of clothing, but because of its popularity and specificity, it has its own category. Polo shirts, hoodies, jackets, dresses, skirts, and swimsuits comprise the clothing category. There is also an array of accessories such as hats, socks, and leggings.
Shoes
Shoes are another option for those of you who want to rock the runway (or the sidewalk). In addition to flip flops and sneakers, high tops, high heels and Doc Martin boots can also be designed.
Accessories
These accessories do not directly relate to wearable fashion, but they do enhance the look. Totes, shopping bags, backpacks, and phone cases are examples. There are many more options in this category since Printify has more than 250 products.
Jewellery
If you want to provide people with unique jewelry, you can choose necklaces, bracelets, rings, and earrings.
Home décor
Probably the most common fabric choice, home décor includes cushions, shower curtains, towels, bath mats, blankets, coffee mugs and a wide variety of wall art.
Stationary
Printify offers notepads, cards, writing paper, and stickers for those still writing letters and thank you notes by hand.
Printify has a big selection of materials, sizes, cuts, and colors, as well as products sorted by gender (men/women) and age (adults/kids).
You can use the Mockup Generator to experiment with design placement, write product information, and adjust the price of each product with the help of the tool.
Recommendation: Here's The Best Alternative
What are the Printify Providers?
Printify has a long list of suppliers, and each of them offers some information about the products they provide.
The information includes color, size, minimum price, production time, as well as areas where a design can be printed (this is mostly applicable to clothing choices).
The base price charged by each provider is different, so it pays to spend time researching each provider.
Considering that most of the suppliers are located in the US, UK, and China, it could have a significant impact on delivery, production, size, and pricing.
Using the Mockup Generator, you can upload your design and play with it after choosing the best printing provider for your product.
After the design is complete, you will see a mockup and get a more specific description and price, which will be automatically added to your online store.
How is the Printify Shipping?
Since Printify handles all of the printing and shipping, selecting a supplier or provider is the only step you have to take. Shipping rates for each country should be listed by the provider.
Depending on your provider and destination, you can set up weight-based, flat rate, and express shipping parameters.
Obviously, delivery times vary depending on the provider and destination, but they range from five to ten days and international delivery is estimated at ten to thirty days.
By applying a flat rate to the products in the shopping cart, Printify's shipping calculator ensures that the correct shipping rate is charged every time.
Where Does Printify Ship From?
Printify outsources its work to independent shops. Due to the fact that the work is done at small businesses, the exact shipping location will depend on your supplier.
Suppliers of Printify are located in California, Georgia, Colorado, Florida, Wisconsin, Massachusetts, Michigan, and North Carolina. There are also overseas suppliers: three in the UK and one in China.
You should try to choose a supplier that's close to your customers whenever possible. You shouldn't choose a Chinese supplier if you run a local business in Michigan.
How Does Printify Integrate With eCommerce Platforms?
Printify has seamless integration with many eCommerce platforms:
eBay

Shopify

Etsy

Wix

Prestahop

BigCommerce
WooCommerce users can use the Printify WordPress plugin, while Shopify users can use the Printify Shopify app.
Etsy can also be linked. With these platforms, you simply need to click on the relevant button in your Printify dashboard.
Pricing and size adjustments can be made at the last minute, allowing further customization.
The product will automatically be added to your store once the design is complete. Printify might be better viewed as an extension of an existing online store.
Recent updates to Printify's eCommerce platform offer integrations with eBay and Wix Stores, as well as PrestaShop and BigCommerce in beta testing.
Recommendation: Here's The Best Alternative
How to Integrate Printify on Shopify?
By using Printify on Shopify, you can easily sell your print-on-demand products. Integrating Printify with Shopify is actually very easy.
Your products can be up and selling on Shopify in just a few simple steps.
You can click the 3 dots in the top right corner of your Printify products once you have created them

Next, click My Stores

Then click the Connect button in front of the Shopify options

Link to your Shopify account

You will be prompted to install the Printify app on your Shopify store

As soon as your installation is complete, you will see Printify in your Shopify dashboard. From there, you can access and edit your products.
You can use Printify's app to start selling your products on Shopify through the Shopify App Store. It also integrates your store directly with WooCommerce Shop in your Printify account.
Printify Pricing
Using Printify, you won't be charged a commission or transaction fee. Your product will be paid for when it sells, and you own the remaining funds.
Therefore, your profit is calculated by subtracting the total printing and shipping costs from the sales price.
The website gives the following example: if you sell your custom designed T-shirt for $30.00 USD, and you paid $12.00 USD for its production, you will pocket $18.00 USD. It really is that simple.
Printify, however, does offer three different "plans", each with a different set of benefits. As you pay more, you receive more bonus features.
Free Plan
The most basic is Free, which is the basis of this particular written analysis.
The basic plan includes five stores, unlimited products, a mockup generator, integration platforms, manual order creation, 24/7 merchant support, and a self-service help center in case things get crazy. The two paid packages include the features of the free plan.
Premium Plan: $29 Per Month
The second plan is the Premium, which costs $29.00 per month.
For that monthly fee, you can access ten stores, import custom orders and get up to 20% off all products. This plan might be of interest to you if your sales are growing and you need more support
In addition to the 20% discount, Printify will give you a one-time joining bonus that you can use however you like.
Enterprise Plan: Custom Pricing
The third plan is Enterprise, which is designed for merchants who process ten thousand or more orders each day.
There are unlimited stores per account and unlimited product designs available along with custom pricing.
Furthermore, you'll receive early access to new features, custom API integration, a dedicated account manager, and branded customer support. Those with a diversified portfolio of products are best suited to this plan.
Recommendation: Here's The Best Alternative
17 Reasons Why I Don't Recommend Printify
1. Low-profit margins
On-demand printing services are more expensive than buying wholesale. This will significantly lower your profit margins.
Moreover, as print on demand companies handle all shipping, packaging, and selling, they will take a larger percentage of the profit.
You also have to pay royalties to artists.
Adding all the costs results in a very low-profit margin. That's why many eCommerce stores using Print-On-Demand services like Printify cannot make a decent amount of net profit.
2. Poor Product Quality
The technology of print on demand is not advanced enough to ensure quality as you create your art, your designs, and your products. This can negatively impact your business.
For example, technically, some good quality fabric might not be suitable for printing, so you may find that the fabric quality used by Printify or other POD companies is very poor when compared with those produced by established brands.
It will look very cheap in the eyes of customers as they are used to the high-quality apparel of big brands like Nike, Addidas etc.
3. Slower Order fulfilment
The fact that each product is printed on-demand means that it takes longer for orders to be fulfilled as opposed to if you already had the product in stock.
It takes time to print the designs and package. So you customers may complain about the slow dispatch of orders.
4. Sales won't happen automatically
You shouldn't believe that just because you make a beautiful design, buyers will find you. The key is not a beautiful design but driving visitors to your online store.
eCommerce stores that are successful in using print-on-demand services spend a great deal of time and money promoting their products and engaging on social media.
Without traffic, you cannot make money even if you automate the fulfilment process with Printify.
5. Customer Service May Be Delayed
Customers will reach out to you if they have issues with an order.
However, you may need to reach out to your print-on-demand service provider, i.e. Printify for a resolution. Your customer service process may be slowed and may cause unnecessary frustration for you and your customers.
6. High Financial Risk
Your eCommerce store won't sell ANYTHING if you don't ADVERTISE. But Facebook ads costs are skyrocketing and will eat away your PROFITS. You might need weeks or even months to just break even, before seeing any profit.
In another word, you have to take a huge FINANCIAL RISK in doing a print-on-demand business.
7. Facebook ads are Pricey and Difficult
After observing most print-on-demand stores' results, at best, the total Facebook ad cost will account for at least 30% of your total sales.
But Facebook ads seldom stay effective for too long. Once your ad has exhausted the audience, it becomes ineffective. Your total revenue will be much lower and even result in a net loss.
According to Forbes, Facebook saw an increase in Ad costs of 90% year on year.
Worse still, the learning curve of Facebook ads is quite steep because Facebook changes its algorithm all the time. You have to invest a lot of time and money in learning and testing Facebook Ads.
If you run Facebook ads without any experience, your ad account will be banned for violating their strict policies.
8. Customer Support is very time-consuming
In dropshipping with Printify, you have to spend a lot of time communicating with Printify and dealing with customer service.
If your customer has any issues with the product, you have to wait for Printify to help you.
Printify does not offer returns or refunds in most cases and hence you have to bear the loss yourself. Therefore, many POD stores have poor customer reviews and have no returning customers.
In the worst case, you would expect a lot of credit card chargebacks, which risk getting your payment gateway shut down.
9. Hard to Create Popular Designs
For your POD store to keep making money, you always have to find a design that has the momentum to go viral in order that the ads costs can be covered.
Most products of POD stores reach their peak in 1-2 months or even weeks. This is because many competitors will steal your design and create a better ad. Or increase their budgets on Facebook ads to outbid you.
Therefore, you need to keep creating new designs to keep generating cash flow.
You might see people post revenues online but they don't tell you the net revenue.
Some of them might be making money but it's not sustainable.
The POD business model is not as passive as you think. Most people who succeed in POD business are doing it full time because it requires you to keep making new designs and testing new ads to make your income stable.
10. Printify Makes Money But Not You
Think about it, if the POD business is very profitable, why would Printify not do it themselves?
The reason is that people who sell shovels during a gold rush will make far more money than those who go out and mine for gold. Printify became rich selling printing services to you.
It might look so easy to create an eCommerce store with Printify and simply create some designs to make money. But the reality is not that simple.
Only a very small percentage of POD stores can make a positive net profit.
11. High Refund Rate
The customer refund rate of POD stores is very high. The reason is that you are selling poorly made products, despite unique designs.
When your customers receive the products, it's very likely that they would ask for a return and refund because of the poor fabric or other materials.
So the chargeback rate is very high. Your bank account may get shut down because of this.
You may lose a lot of money because you would have to bear the product and shipping cost whenever there is a refund request.
You won't have to deal with this issue if you do my #1 recommended business model, which I will tell you in the next section.
12. POD Business is Highly competitive
Due to the low entry barrier, everyone can start a POD business at a low cost. That's why many people will become your competitors and keep copying your hot-selling products.
Therefore, in order to survive, you have to consistently test new designs which are unique but attractive to your audience. After all, creativity won't guarantee sales.
It's hardly possible to make 5 figures a month with this POD business model. To do so, it would cost you a lot of money in advertising, such as running Facebook ads. You won't sell anything without advertising.
Also, if you sell apparel, you are not only competing with other POD companies but also the big apparel brands like Nike, Addidas, Hollister etc. That's why it's almost impossible to win the competition.
If you are looking for a passive income method, I won't suggest you to start with POD.
13. Winning designs die very quickly
Even if you found a POD product that is hot-selling, you still can't sell it for a long time. This is because the popularity will die out in a few weeks.
So don't expect to find one winning design and then make money while sleeping. You have to keep working to create new designs to maintain your sales. You have to catch and follow the trend all the time.
14. Lack of control
Consumers and business owners can neither control the people at Printify and its printing providers.
If the orders don't arrive on time, you can't make them speed up delivery.
In addition, you cannot control what goes into packing and fulfilling orders – you are forced to trust Printify with this.
Some products might become unavailable if they don't have enough stock. In that case, even if your product is hot-selling, you have to stop promoting them.
15. Long Shipping times
In the POD business, there is often a problem with shipping times.
Printify doesn't have its own logistic network but outsources it to a third party. That means Prinfiy themselves has very limited control over the shipping time.
It can take a very long time to receive a product if the customer orders it from another country.
For international shipping, your customers may have to wait about a month for it to arrive.
Therefore, customers may not be satisfied with your shipping times and may request a refund before it arrives.
16. Difficult returns and refunds
If you entered the wrong size, color, or design, the buyer cannot return or exchange the item. Because Printify only prints when someone orders, they do not store returned items in their warehouse. Exchanges are also not possible since every order is unique.
You must inform your buyers about this policy. But that may reduce your sales.
17. Poor Customer Reviews
I found that Pinrtify has quite a lot of poor customer reviews.
Here are some extracts that you make reference with:
Is Printify a Scam?
I cannot say Printify is a scam. It's a totally legit business that offers POD service.
However, I don't recommend Printify and other POD services because it's hard to make money with them.
The products you can sell with POD services are very limited, which generally have a low perceived value. For a T-shirt, it's not possible to charge a hundred dollars. So you have very little flexibility when it comes to pricing. And hence you will have a very low or even negative profit margin.
People who are successful with POD business model are generally celebrities who have a huge following on social media.
So they don't have to run paid ads and their fans are willing to pay a premium price for a low-quality product. Most importantly, loyal fans won't request a refund even if the shipping time is long and the printing quality is cheap.
However, if you are not a celebrity but just an unknown person, you are going to face a lot of difficulties in handling your customers if you use a POD service.
That's why if you want to make money online, POD business model with Printify is not recommended.
Printify Review: Final Verdict
Printify is a user-friendly platform providing print-on-demand services, and they integrate with the largest e-commerce sites.
However, I don't recommend starting a Print-on-demand business with Printify because it's hard to make any money with this business model.
In the next section, let me tell you the best business model to make money online, which has enabled me to make a 5-figure income in a year.
Recommendation: Here's The Best Alternative
The Best Printify Alternative: Make Passive Income Online
Although POD business model seems to automate the order fulfilment process for you, it's not a passive income model. You still have to handle customer service, create designs, and do active promotion of your store. Therefore, it's not suitable for doing as a side hustle.
So you might wonder if there is a better business model that doesn't need Facebook ads and can do it as a side-hustle.
Yes, I would suggest you get started with affiliate marketing. It is far easier and less time consuming as you don't even need to handle customer service.
In affiliate marketing, you can run your business almost with zero cost. Most importantly, you don't need to invest in creating and developing any products.
But How Much Can You Earn in Affiliate Marketing?
A 21-year old student from my #1 recommended training platform of affiliate marketing was able to earn $7,395 in just 1 week, which means he made more than $1k a day…all while using free traffic methods and affiliate marketing.
Wealthy Affiliate has existed for more than 10 years and there are many success stories over the years.
To give you more examples, here are some of the other inspiring success stories of Wealthy Affiliate members.
You can also visit Trustpilot where Wealthy Affiliate has 4.8/5 rating.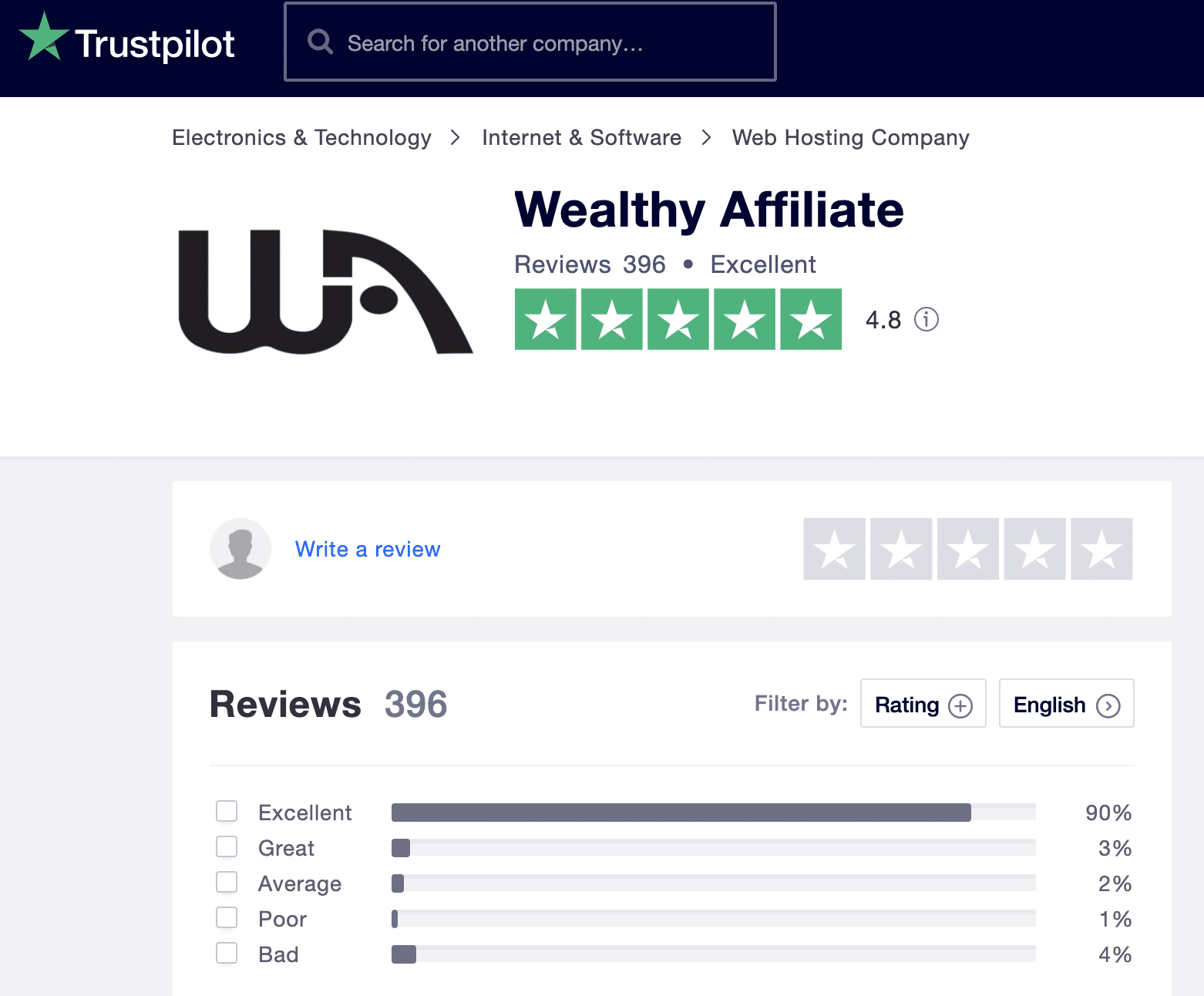 Where to Join Wealthy Affiliate?
Wealthy Affiliate has a very simple pricing scheme. It has free and premium membership.
If you want to feel about Wealthy Affiliate, you can sign up for the starter membership here (no credit card required). You can select to be a free member with no time limit.
And as a starter member, you can get instant access to the community, live chat, over 500 training modules, 2 classrooms, networking, commenting, 1 free website, access to the keyword tool.
You can enjoy all these values without paying a penny.
So I strongly recommend you to register a free account and see it yourself.

Recommendation: Here's The Best Alternative
Printify Review FAQs
1. Can you make money with Printify?
It's very unlikely that you can make a lot of money with Printify if you don't have a huge base of followers on social media. Due to the extremely low profit margin of this business model, you won't be able to afford the advertising cost.
2. Does Printify work with Amazon?
Yes.
3. How Is Printify's Product Quality?
Printify does not ensure quality, but rather the quality depends on the brand of the product you choose to print your design on.
If you are new to Printify, you can start with their best sellers. However, if you compare the quality with the established clothing brands, the fabric quality is very poor.
4. How is the Print Quality of Printify?
Your choice of print provider directly affects the quality of the print on your merchandise. To choose a printer, you can look at their ratings on Printify.
To compare the quality of their work, you may also place test orders at several printers.
There are some products that have many print providers, while others only have one.
However, overall the print quality isn't excellent. When the iron-on print is stretched or washed, the designs tend to crack. The problem is that most customers would not wear the shirt if the design is already damaged.
While the print colors are good, they are not as vivid or crisp on products as they are on mockups.
Therefore, your customer might complain about the difference between the actual product and the Printify mockups. They will not get exactly what they are seeing.
Also, since Printify does not manufacture products, they don't have much accountability for the results.
5. How Much Can You Make With Printify?
If you're concerned about quality, I don't recommend using Printify, but the affordable production costs allow you to earn more profits than you could on other platforms.
Due to low costs, the company can offer better price margins, resulting in higher revenues and competitive prices. There is even a 20% discount for sellers who have a Premium plan for only $29. Under each item in the catalog section, you will find the Printify Premium prices.
However, since the most you can charge for a shirt is around $25, you will have a very low-profit margin to use Printify. The production cost, shipping cost and design cost, and advertising cost will account for almost 90% of the total sale price.
6. If a customer requests a refund, exchange, or return, what will happen?
Returns, refunds, and exchanges are not supported by Printify.
It is the seller's responsibility to ensure the order details are correct.
After an order is manually sent for production, you cannot change the information or cancel it.
Automated order fulfilment is no different. If you set up your automated payments to occur once a day at 5 pm. Prior to that time, you can still make changes to my customers' orders, but not thereafter. Upon payment, the order is automatically forwarded to the print provider to begin the fulfilment process.
It would not be possible for the buyer to return or exchange an item if you entered the wrong size, color, or design. The vendors don't store returned items in their warehouse because they print only when someone orders. There is also no exchange because every order is unique.
It is your responsibility to let your buyers know about this policy. If you want to allow your customers to return and exchange their orders at your expense, you can do so.
The only way to solve this problem is to take this into account when pricing your products. You can markup a bit higher to avoid too many losses on refunds, returns, and exchanges. But this might also mean fewer sales.
9. How Does The Replacement Of Defective Items Work?
A replacement will be provided free of charge if there is a problem with order fulfillment.
In the event of a replacement failure, they are also willing to refund the amount paid for the production and shipping. You will receive the refund through your Printify account.
Your refunded amount can be used for two things. The first option is to leave it in your account for future use. The second option is to withdraw it via the original payment method.
10. How long does it take for customers to receive their orders?
The delivery time is usually around a week or two, depending on several factors.
Print providers themselves are the first consideration. If you check the vendor list for an item, you will see their average production times. Print providers differ because they have different equipment, human resources, and the number of orders they need to fulfill.
Your order volume is the second factor. Customers ordering in bulk may encounter certain circumstances. It is possible for vendors to run out of stock if they do not expect many orders for a certain product. In addition, if an item of that order goes wrong, the entire order will not be shipped.
The third factor is the location of your customer. Printify's advantage is that they have an extensive network of print providers to fulfill orders around the world. The company has printers in the U.S., UK, Canada, Germany, the Czech Republic, and China.
It is also important to keep in mind peak seasons. The process will take a little longer than usual.
11. Is Printify better than Printful?
Printify and Printful are similar in many ways. You may also read my Printful review.
12. Do you have any YouTube reviews of Printify to watch?
Yes, there are some YouTubers doing reviews on Printify. You can watch these: