Are you looking for a Printful review? Is Printful a scam? Can Printful really help you build a profitable print-on-demand eCommerce business?
With dropshipping, businesses and individuals can get started without spending a lot of money upfront.
You don't keep any products on hand when you use this retail fulfilment method. Instead, if someone purchases the item you are selling, it is shipped directly to them by a third party. This means that the merchant never physically handles the item.
Printful is a company that provides dropshipping services for print on demand products. It makes it sound very easy to start an eCommerce store and make money online.
However, you may wonder if that sounds too good to be true.
To help you make an informed decision about Printful, I have done thorough research about it in the past few weeks. So I can tell you everything you need to know.
As a disclaimer, I'm not affiliated with Printful, which means I'm not paid to write this review. So you can be sure that my words are unbiased.
Printful Review – Key Takeaways
Company Name: Printful
Website: https://www.printful.com/
Type: Print-On-Demand Service Provider
Co-Founders: Davis Siksnans and Lauris Liberts
Overall Rank: 2/5
Who is it For: Anyone who wants to start an eCommerce store using POD model
Alternative Business Model: All-in-One Platform For Starting An Affiliate Marketing Business
In this Printful review, I'm going to cover the following topics.
What Is Printful?
Printful is a dropshipping company for people who want to sell accessories, homewares, and apparel. Online retailers can start selling custom items and accessories with the help of Printful's on-demand service.
The company prints on hats, t-shirts, mugs, tote bags, posters, phone cases, and throw pillows, among other things.
By providing supplies, tools, and resources, they allow you to focus solely on design, so you don't have to worry about the mundane aspects of running your business. However, this may not be true in practice. I will explain to you in a later section.
Whatever platform you use, Printful provides simple integration of dropshipping for your eCommerce site.
The company offers full transparency about shipping and product prices, so you'll know exactly what to expect before setting your price.
To ensure your product looks decent for your customers, Printful provides services such as photography, design, and branding.
The mockup generator allows you to create designs for anything from phone cases to t-shirts. You don't need to keep any inventory because Printful offers the opportunity to use an engaging dropshipping model for selling. Rather, you can work with manufacturers to send the items you create straight to your customers.
For creative people interested in exploring the benefits of low-cost dropshipping for their business, Printful offers a selection of tools.
With Printful, you can create your own unique products, such as custom leggings or laptop covers, and sell them online without having to worry about warehousing or stock management.
Recommendation: Here's The Best Alternative
How Does Printful Work?
Printful can be thought of as an outsourcing option for your business.
Printful works in three simple steps:
Step 1: Register an Account
The first step is to register an account. Printful offers free accounts to every user.
Step 2: Create a customized product design
You will be guided through the rest of the process once you have registered with Printful. Start by designing your mockup. Depending on the size, material, color, and other options available, you can select whichever product you like.
Printful provides tools such as text, clipart, and the ability to upload your own graphic images so you can create custom products. Printful lets you design every part of the product.
You can sketch the front-side, the back-side, the left sleeve, the right sleeve, and the label of a T-shirt, for example.
Printful provides mockups of the products for your customers to inspect.
Your Printful account will automatically sync your products to your online store if you integrate it with other platforms.
Step 3: Promote your product with marketing campaigns
It is easy to integrate Printful with many other eCommerce platforms, including Amazon, eBay, Shopify, WooCommerce, and Weebly if you already run an online store.
About 20 eCommerce and marketplace platforms can be integrated with Printful.
Step 4: Order fulfillment
Printful produces your order, then packages and delivers it to the customer.
For printing and packaging, it usually takes 2-7 days, and for shipping it usually takes 1-8 days within the US or Europe, and 1-20 days abroad.
In comparison with other POD services, Printful's fulfillment time can be considered competitively fast. But it's slow when compared with other established eCommerce brands.
You may watch this YouTube video to see how Printful works.
Recommendation: Here's The Best Alternative
Printful Services And Features
Printful offers more features and services than any other dropship company, but that doesn't mean it's good.
Anyway, let's take a look at what they have to offer.
There is a range of products on Printful that can have designs or words printed on them. Many of their products are clothing, accessories, or homeware items.
Their Upcoming Product page keeps you in the loop about what products they are currently developing, testing, and preparing to offer.
Their Feature Requests page allows you to tell them about a product you don't see on their website.
A wide range of features and services is available from Printful, such as tools that help sellers set up their stores quickly, resources for creating beautiful products, as well as additional services that let merchants take full advantage of the platform.
Let's take a look at what Printful has to offer in detail below.
1. Print-On-Demand Products
Printful offers one of the largest catalogs of print-on-demand dropshipping products on the market, and its product offering is constantly growing.
Their products mainly fall into the apparel, homeware, and accessories categories, and every product can be customized with printing, embroidery, and engraving.
Currently, they offer the following products:
T-Shirts/Tops

Hoodies

Sweatpants

Jackets

Leggings

Shorts

Underwear

Skirts

Dresses

Swimsuits

Sports Bras

Kids Clothing

Baby Bodysuits

Baby Bibs

Posters

Canvases

Coffee Mugs

Hats

Beanies

Throw Pillows

Tote Bags

Phone Cases

Socks

Aprons

Blankets

Duffle Bags

Jewelry

Laptop Cases

Facemasks

Keychains

Backpacks

Notebooks

Stickers

Fanny Packs

Flip Flops

Water Bottles

Postcards

Towels

Bean Bags

Pet Tags
Find out more about Printful's Custom Products on their Custom Products page. You can also submit product requests via the New Feature Requests page. They also add new items regularly.
2. Printing, Embroidery & Engraving Options
Printful mainly uses Direct-to-Garment printing (DTG), one of several printing methods out there.
The reason Printful uses this printing method is that it's a cost- and labor-efficient way to print single-order items, which is why they don't require a minimum order. However, the printing quality is not so good when compared with those you bought from established brands.
Also available are all-over sublimation printing for some clothing items, screen printing for certain items (for large orders only), embroidery for hats and apparel, and giclée printing for fine art and jewelry.
Printful makes printing simple for you. Every product offered on their website is printed in a way that is most appropriate for the product you are printing on.
3. Dropshipping: Picking, Packing & Shipping
With Printful, you never have to manage your inventory, packaging, shipping, or fulfillment as Printful offers a dropshipping service.
Every product is stored, printed, picked, packed, shipped, and fulfilled by Printful – so you never have to.
That's why dropshipping is so appealing to new entrepreneurs starting their first store or who don't have a large budget to invest in product inventory or manufacturing tools. However, ease of start doesn't mean ease of making money, which I will explain in detail later.
Printful claims to provide sellers with a low-risk way to provide products to their customers, while also allowing sellers to focus on other aspects of their stores such as the designs, branding, customer service, or marketing without having to worry about things like printing products or shipping them. I think it's only partially true though.
Currently, Printful dropships from its warehouses in:
Charlotte, North Carolina

Los Angeles, California

Dallas, TX

Toronto, Ontario

Tijuana, Mexico

Riga, Latvia

Barcelona, Spain

Birmingham, UK

São Paulo, Brazil

Rio de Janeiro, Brazil

Amakusa, Japan

Melbourne, Australia

Brisbane, Australia
Printful's services, including warehousing, shipping, and fulfilling your products, are of course subject to payment.
However, your profit margins will be reduced as a result of their services since you don't pay for them in monthly fees or minimum orders.
4. Warehousing & Fulfillment For Ecommerce Stores
Printful offers a warehousing and fulfillment service that allows them to store, pick, pack, and ship goods on behalf of merchants – even if they aren't Printful products.
Several shipping, fulfillment, and logistics solutions are available to merchants through Printful's network. You can store your products in the warehouses, and they'll fulfill your orders and ship your products in response to your orders.
Products will be shipped directly to your customers (not to you) and your own brand packaging will be used so you don't lose the brand experience.
Printful currently operates its warehousing and fulfillment services from a variety of their globally-distributed warehouse networks, including the following:
Charlotte, North Carolina

Los Angeles, California

Toronto, Ontario

Riga, Latvia

Barcelona, Spain
If you don't want to handle shipping and fulfillment yourself, don't have the resources to operate a fulfillment center, or don't have the expertise to create an efficient and cost-effective global fulfillment strategy, this may be an option for you.
However, I personally recommend engaging a logistic company that specialises in this if you want to store non-printful products.
5. Branding Services
Printful also offers branding and design services.
When dropshipping, one of the major problems is the loss of your brand identity. Dropshippers typically ship plain packaging because they send orders to many different customers on behalf of many different brands.
They can't create an individual brand experience for every package. In other words, brands don't utilize small but essential touches such as branded packing inserts or branded receipts, which causes them to miss out on key touchpoints.
Printful acknowledged this hardship and provides customization options to make the relationship between brands and customers more personal.
Printful offers branded pack-ins, such as:
Flyers and coupons

Business cards

Branded stickers

Postcards

Handwritten thank-you cards
With Printful's white-label services, you can make each product more consistent with your brand. White label services offered by Printful include:
Branded inner labels

Branded outer labels

Branded embroidered labels

Branded packing slips

A customizable return address
This option helps you maintain consistency between your website and the products your customers receive so that you can continue to build on the experience.
6. Design Services
Printful's design team claims to help you get your eCommerce store up and running easily.
You can ask them to assist with any other design needs you have. For example, they can redesign logos, create sublimation print files, color match print files, make minor adjustments to print files, create new graphics, or create custom artwork.
Printful can even provide your business with video production services and product photography as well.
However, I don't recommend Printful's design services. It's cheaper to engage a freelancer who is specialised in designs.
7. Ecommerce Store Setup Services
Have you ever wanted to start an eCommerce store and sell Printful products but lacked the time or technical knowledge to do so? You can do that with Printful too.
Because they've established and run eCommerce stores before, Printful can set one up for you while you sit back and relax.
Printful will build your store from scratch, integrate it with Printful, and add all the finishing touches you want.
However, I personally don't recommend this service. It makes no sense to pay them for this as setting up a store with Shopify is very intuitive.
8. Ecommerce Platform Integrations
Several of the most commonly used eCommerce platforms are integrated with Printful, and installation is straightforward.
You won't have to manually process each customer's order and send it to Printful when you integrate Printful with your eCommerce store.
By integrating Printful with your eCommerce platform, every time a customer orders, it automatically sends the order to Printful so you don't have to handle it yourself. The order will be sent to Printful immediately, and there will be no chance of losing or incorrectly entering the order details in the process.
However, this might cause another problem for you when your customer wants to cancel or change the order. You may not be able to cancel the order if Printful has started fulfilling it. You may then lose money as your customer chargebacks you.
Printful integrates with the following eCommerce platforms:
Shopify

BigCommerce

WooCommerce

Squarespace

Wix

Amazon

Etsy

eBay

Wish

Square

Magento

Big Cartel

Storenvy

Gumroad

Webflow

Prestashop

Ecwid

Weebly
You can also integrate your store with Printful via an API.
What are the Printful's Printing Options?
There are various printing techniques available with Printful.
Printful claims that every product is printed using the best method for the product, and they have their printing techniques down to a science.
The different printing methods they use are as follows:
Direct-to-Garment Printing
Direct-to-Garment, or DTG, printing is the most common printing method Printful uses. It is the most cost-effective way to print, especially if you're only ordering one item. Printful is able to print individually and does not require a minimum order quantity with DTG.
But the quality of DTG printing is quite poor in my opinion.
Sublimation printing
Sublimation printing is a method best suited to full-color and full-coverage printing. Using pressure and heat, your design is printed onto high-release paper, then transferred onto the designated material.
Screen Printing
In some cases, Printful does screen printing when there is a large order.
Recommendation: Here's The Best Alternative
How is Printful's Product Quality?
Print-on-Demand and drop shipping enable merchants to avoid stock management and inventory concerns. The store cannot control the quality of the product, which is considered to be one of the disadvantages of drop shipping.
Printful claims to invest over $29 million USD in printing equipment in order to offer high-quality products.
The quality control process is divided into three stages:
Before printing, automatic software checks graphics for quality

While orders are being printed, fulfillment specialists check quality

The final quality check after printing and curing
Printful uses material from companies such as Belle + Canvas, Gildan, Flexfit, Augusta, and Hanes, which are not good enough when compared with the manufacturing companies from China.
There is no doubt that customers expect a high level of service. Printful's quality is likely to fall short of what its customers expect because customers tend to compare the quality with the products of established brands.
Store owners can also affect the quality of the print by choosing the type of product to print on and by uploading an appropriate graphic.
For an objective evaluation of Printful's quality, you may create some of your own products and order some product samples. It is highly unlikely that the actual product matches 100% with your design.
Printful Pricing
Unlike other platforms, Printful does not charge monthly fees or minimum orders. This is good.
Printful has an exhaustive list of all their products on their Products and Pricing page.
Each item's price and shipping cost are displayed. The "Download CSV" button allows you to download an excel sheet containing the details.
You can set prices for any of their products, but they have no hidden or secret fees, so it's simple for you to figure out what to charge.
However, since you don't pay a monthly fee for Printful, you should expect that the product costs are quite high. Printful makes money by charging a higher product price. As a result, your profit margin for each sale will be lowered.
How to Integrate Your Shopify Store with Printful?
Since Shopify is already well-known for offering dropshipping capabilities with limited shipping time, it makes perfect sense to use Shopify to build your online store.
Combining Printful with your Shopify store is easy.
The Printful app is free to download from the Shopify eCommerce store. You will be instructed on how to link to your store and install your new app. Then:
Using the free mockup generator, you can design custom hoodies, stickers, sweatshirts, and leggings. Over 200 items are available for customization.

Decide on your shipping prices, fulfillment services, and other essentials for your online store. Ensure that all fields are filled out so that your orders can be processed smoothly.

Set up alerts about incoming orders: Shopify will send you an alert when an order is received. Those orders are then sent to Printful for fulfilment.

Printful will deliver your products so you can focus on building your brand by focusing on your SEO, marketing, and other strategies.
Recommendation: Here's The Best Alternative
17 Reasons Why I Don't Recommend Printful
1. Low-profit margins
On-demand printing is more expensive than buying wholesale. This will significantly reduce your profit margins.
Moreover, since print on demand companies handle all shipping, packaging, and sales, they will take a larger percentage of the profits.
Additionally, you must pay royalties to artists.
All the costs added together result in a very low profit margin. Because of this, many eCommerce stores using Print-On-Demand services like Printful are unable to make a decent amount of profit.
2. Poor Product Quality
Print on demand is not advanced enough to ensure quality as you create your artwork, your designs, and your products. It can negatively affect your business.
Even though Printful claims to invest millions of dollars in printing equipment, it still has printing limitations.
As an example, some good quality fabrics might not print well, so you may find that the fabric quality used by Printful or other POD companies is inferior to those produced by established brands.
Since customers are used to high-quality apparel from brands like Nike, Addidas, and the like, this will appear very cheap to them.
3. Slower Order fulfilment
Due to the fact that all products are printed on-demand, it takes longer to fulfill orders than if you had the product in stock.
Printing the designs and packaging takes time. Your customers may complain about the delay in shipping their orders.
4. Sales won't happen automatically
You shouldn't think that buyers will find you just because you make a beautiful design. Driving traffic to your online store is more important than a beautiful design.
Shops that successfully use print-on-demand services invest a lot of time and money promoting their products and engaging with social media.
Without traffic, you cannot make money even if you automate the fulfilment process with Printful.
5. Customer Service May Be Delayed
Whenever there is an issue with an order, customers will reach out to you.
However, you may need to reach out to your print-on-demand service provider, i.e. Printful for a resolution. Your customer service process may be slowed and may cause unnecessary frustration for you and your customers.
6. High Financial Risk
If you don't advertise your eCommerce store, you won't sell anything. Yet Facebook ad costs are skyrocketing, eating away at your profits. Before you see any profit, you might have to wait weeks, maybe even months, just to break even.
To put it another way, there is a huge FINANCIAL RISK in doing a print-on-demand business.
7. Facebook ads are Pricey and Difficult
As you can see from most print-on-demand stores' results, the cost of Facebook ads will account for at least 30% of your total sales.
However, Facebook ads rarely remain effective for too long. Once your ad has exhausted the audience, it ceases to work. The total revenue will be much lower, even resulting in a loss.
According to Forbes, Facebook saw an increase in Ad costs of 90% year on year.
Further, Facebook constantly changes its algorithm, so the learning curve for Facebook ads is quite steep. It takes a lot of time and money to learn and test Facebook Ads.
Ad accounts that run Facebook ads without any experience will be banned for violating their strict policies.
8. Customer Support is very time-consuming
In dropshipping with Printful, you have to spend a lot of time communicating with Printful and dealing with customer service.
If your customer has any issues with the product, you have to wait for Printful to help you.
Printful doesn't offer returns or refunds in most cases, so you have to bear the loss yourself. As a result, many POD stores have poor customer reviews and no returning customers.
A lot of credit card chargebacks could result in your gateway being shut down in the worst case scenario.
9. Hard to Create Popular Designs
For your POD store to remain profitable, you have to find a design that can go viral so that the advertising costs can be covered.
Products from POD stores reach their peak in 1-2 months or even weeks. Because your competitors will steal your design and create a better ad than yours. They will also increase their Facebook ad budgets to outbid you.
Therefore, you need to keep creating new designs to generate cash flow.
There are people who post revenues online, but they don't tell you the net revenue.
Some of them may be making money, but it's not sustainable.
POD business models are not passive as you may think. People who succeed at POD business do it full time since it requires you to keep coming up with new designs and testing new ads to maintain a steady income.
10. Printful Makes Money But Not You
Think about it, if the POD business is very profitable, why would Printful not do it themselves?
The reason is that people who sell shovels during a gold rush will make far more money than those who actually mine for gold. Printful became rich selling printing services to you.
Printful makes it seem easy to open an e-commerce store and sell designs. The reality is more complicated.
There are very few POD stores that make a positive profit.
11. High Refund Rate
POD stores have a very high refund rate. Despite your unique designs, your products are poorly made.
If your customers receive the products, they are very likely to ask for a return and refund because of the poor fabric or other materials.
Therefore, the chargeback rate is very high. As a result, your bank account may be closed.
When there is a refund request, you will have to bear the product and shipping costs.
If you follow my #1 recommended business model, which I will explain in the next section, you won't have to worry about this problem.
12. POD Business is Highly competitive
With a low entry barrier, anyone can start a POD business. That's why many people will copy your hot-selling products and become your competitors.
Therefore, in order to survive, you must continually test new designs that are unique but appealing to your audience. After all, creativity alone cannot guarantee sales.
With this POD business model, it's extremely unlikely to make five figures a month. You would have to spend a lot of money on advertising, such as Facebook ads. You won't sell anything without advertising.
Also, if you sell apparel, you are not only competing with other POD companies but also the big apparel brands like Nike, Addidas, Hollister etc. That's why it's almost impossible to win the competition.
If you're looking for passive income, I wouldn't recommend you start with POD.
13. Winning designs die very quickly
Even if you find a POD product that is hot, you still can't sell it for a long time. That is because the popularity will fade within a few weeks.
So don't expect to find one winning design and then make money while sleeping. You have to keep working to create new designs to maintain your sales. You have to catch and follow the trend all the time.
14. Lack of control
Consumers and business owners can neither control the people at Printful and its printing providers.
If the orders don't arrive on time, you can't make them speed up delivery.
In addition, you cannot control how orders are packed and fulfilled – you have to rely on Printful.
If they do not have enough stock, some products might become unavailable. Even if your product is hot-selling, you must stop promoting it.
15. Long Shipping times
In the POD business, there is often a problem with shipping times.
Printful doesn't have its own logistic network but outsources it to a third party. That means Printful themselves has very limited control over the shipping time.
When a customer orders a product from another country, it may take a very long time to receive it.
Your customers may have to wait about a month for international shipping.
Customers may not be satisfied with your shipping times and may request a refund before their order arrives.
16. Difficult returns and refunds
You cannot return or exchange an item if you entered the wrong size, color, or design. Because Printful only prints when someone orders, they do not store returned items in their warehouse. Exchanges are also not possible since every order is unique.
You must inform your buyers about this policy. But that may reduce your sales.
17. Poor Customer Reviews
I found that Printful has quite a lot of poor customer reviews. Most of them are related to poor printing quality.
Here are some extracts that you make reference with:
Is Printful a Scam?
I cannot say Printful is a scam. Their business model is legit. Since 2013, Printful has grown rapidly and they've expanded their service and product offerings.
However, I don't recommend Printful and other POD services because it's hard to make money with them.
The products you can sell with POD services are limited, and the perceived value is generally low. It's not possible to charge a hundred dollars for a T-shirt. Therefore, your pricing options are limited. You will therefore have a very low or even negative profit margin.
Most of the people who are successful with this business model are celebrities with large followings on social media. Therefore, they don't have to run paid ads, and their fans are willing to pay a premium for a low-quality product.
Therefore, if you want to make money online, POD business model with Printful is not recommended.
Recommendation: Here's The Best Alternative
Printful Review: Final Verdict
It's true that you can use Printful to handle all the branding, printing, returns, and shipping aspects of your eCommerce business. As a result, you may have more time to design, market, and grow your business.
Printful's website is easy to navigate. With Printful, you can open a shop within 24 hours and begin selling your brand.
However, I don't recommend starting a Print-on-demand business with Printful because it's hard to make any money with this business model. I have explained the reasons above.
The Best Printful Alternative: Make Passive Income Online
Although POD business model using Printful seems to automate the order fulfilment process for you, it's not a passive income model. You still have to handle customer service, create designs, and do active promotion of your store. Therefore, it's not suitable for doing as a side hustle.
So you might wonder if there is a better business model that doesn't need Facebook ads and can do it as a side-hustle.
Yes, I would suggest you get started with affiliate marketing. It is far easier and less time consuming as you don't even need to handle customer service.
In affiliate marketing, you can run your business almost with zero cost. Most importantly, you don't need to invest in creating and developing any products.
But How Much Can You Earn in Affiliate Marketing?
A 21-year old student from my #1 recommended training platform of affiliate marketing was able to earn $7,395 in just 1 week, which means he made more than $1k a day…all while using free traffic methods and affiliate marketing.
Wealthy Affiliate has existed for more than 10 years and there are many success stories over the years.
To give you more examples, here are some of the other inspiring success stories of Wealthy Affiliate members.
You can also visit Trustpilot where Wealthy Affiliate has 4.8/5 rating.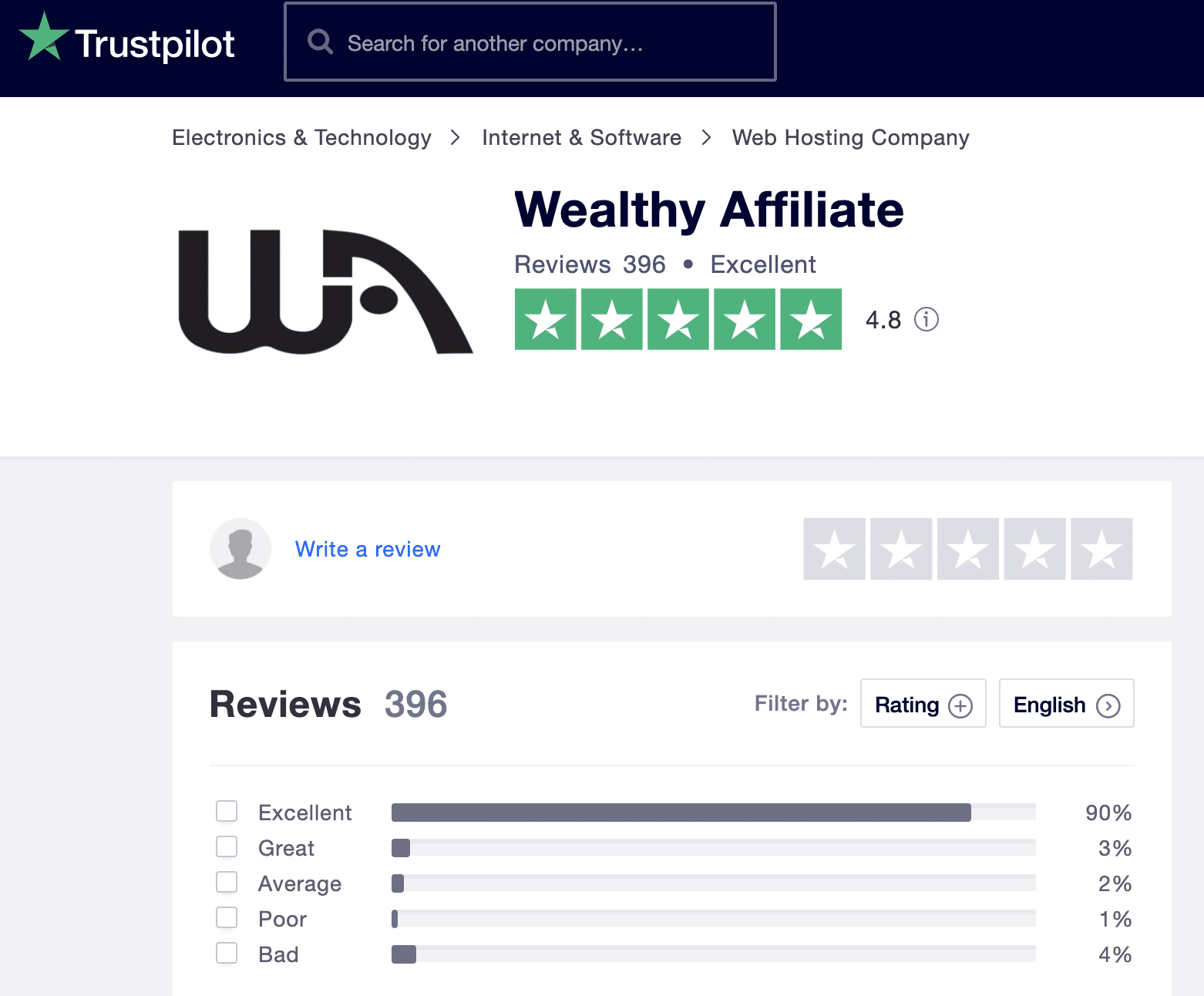 Where to Join Wealthy Affiliate?
Wealthy Affiliate has a very simple pricing scheme. It has free and premium membership.
If you want to feel about Wealthy Affiliate, you can sign up for the starter membership here (no credit card required). You can select to be a free member with no time limit.
And as a starter member, you can get instant access to the community, live chat, over 500 training modules, 2 classrooms, networking, commenting, 1 free website, access to the keyword tool.
You can enjoy all these values without paying a penny.
So I strongly recommend you to register a free account and see it yourself.

Recommendation: Here's The Best Alternative
Printful Review FAQs
1. Is Printful Worth The Hype?
You may consider Printful if you want to create custom designs and print them on dropshipping products. However, when it comes to making a lot of money using Printful, I think it's overhyped.
2. Is Printful Easy To Use?
Yes, Printful is easy to use. In the event that you have never created design files before, there may be a learning curve, but Printful's customer support team is ready and willing to assist.
In addition, if you're truly lost, you can check out Printful's Help Center for information or contact the Printful team directly for clarification.
3. How Much Does Printful Cost?
The Printful service is free to use; once your customers purchase products from you, you must purchase the product from Printful. Printful does not charge a monthly fee (unless you choose Printful Pro, but this is optional) and there is no minimum order requirement.
It costs $49/month or $539/year for merchants who want to access more features with Printful Pro.
With Printful Pro you can:
Customize 250+ products

Integrate with 15+ ecommerce platforms

Create product templates

Create designs in the Design Maker

Download mockups and print files

Use 700 clipart images

Use the background removal tool

400+ exclusive clipart images

Promo Maker

Keyword Scout for Etsy

Use Premium Images at no extra cost

Get embroidery files digitized for free
4. Where Does Printful Ship From?
Printful ships from their warehouses located in Charlotte, North Carolina, Los Angeles, California, Dallas, Texas, Toronto, Ontario, Tijuana, Mexico, Riga, Latvia, Barcelona, Spain, Birmingham, United Kingdom, São Paulo, Brazil, Rio de Janeiro, Brazil, Amakusa, Japan, Melbourne, Australia, Brisbane, Australia.
5. What Is Printful's Shipping Cost?
Printful's shipping charges are quite expensive. They depend on where they're shipping from, where they're shipping to, and which product(s) are being shipped.
6. Is Printful able to ship internationally?
There are a few countries Printful does not ship to, including Cuba, Iran, Crimea, Syria, and North Korea.
Although some products may not be available in all regions or may not ship to all regions, everything is generally available worldwide. Printful will make it clear on their website if a product is unavailable or does not ship worldwide for any reason.
7. Does Printful Automatically Ship Orders?
When you integrate Printful with your eCommerce platform (like Shopify or BigCommerce), your customers' orders will be automatically transferred to Printful and they'll automatically print, package, and ship the order directly to the customer.
8. Is it a good idea to get a sample before selling?
Yes, this will help you assess the product's quality and your design. You can also see if something needs to be improved or if Printful has misunderstood your instructions.
9. Can you really make money with Printful?
With Printful, you can make money, but it is much more difficult than you think. Your e-store must be set up, your designs must be created, and a customer base must be found. It takes a lot of promotion efforts to sell some cheaply made products from Printful at a premium price.
10. Is Printify better than Printful?
Printify and Printful are similar in many ways. You may also read my Printify review.