Are you looking for a Paid Online Writing Jobs review? Should you join Paid Online Writing Jobs? Can you really make money with it?
Paid Online Writing Jobs appears legitimate at first glance. However, appearances can deceive.
Some people say it is a scam that tricks people into paying for social media work. The logic is that there is no reason why jobs can't be free online or offline.
To help you make an informed decision about Paid Online Writing Jobs, I have done thorough research about it in the past few weeks. So I can tell you everything you need to know about it.
Paid Online Writing Jobs Review – Key Takeaways
In this Paid Online Writing Jobs review, I'm going to cover the following topics.
What is Paid Online Writing Jobs?
According to PaidOnlineWritingJobs.com, they are the largest part-time employer of online writers. It purports to pay you to write articles and stories online.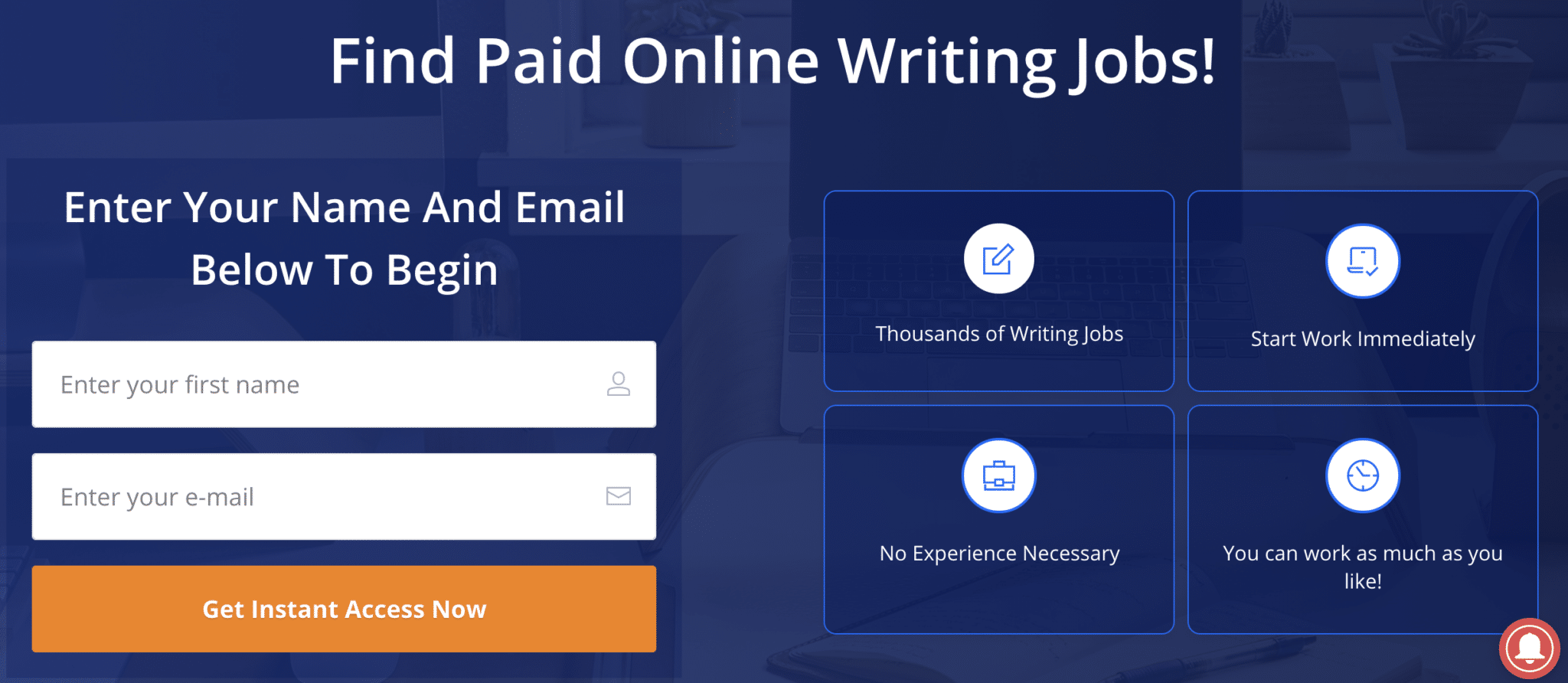 In addition, according to the official website, they pay you to proofread books and scripts, write reviews of sites, and write blog posts.
You need to follow three simple steps to get started.
The first step is to become a VIP member. Then, you simply have to search through the thousands of writing jobs in their database. The last step is to complete the job and get paid.
There are some similar sites offering jobs, high pay, easy work, and numerous benefits like paid social media jobs, paid surveys, and paid email services, just to name a few.
Once inside, you will get some simple training, a few PDFs, and a few links to other legitimate sites where you can find these jobs if you are lucky enough.
You see, Paid Online Writing Jobs acts as a mediator between you and those websites. This is where the problem lies. You can join all of these sites for free.
An online job does not require you to pay anyone.
Recommendation: Here's The Best Alternative
Who Founded Paid Online Writing Jobs?
Whenever you find a website that claims to make money, you should always verify who runs it and who its founder is.
Beware of scammers if you do not know who is behind the curtains.
Because scammers never leave any traces, it is a common thing. Sites chasing them move slower than they do.
It is not known who is responsible for running the Paid Online Writing Jobs website. This is a red flag.
It would be nice if they released the name or identity of the person who runs the site. It is unfortunately not the case.
How Does Paid Online Writing Jobs Work?
The program is sold through the ClickBank marketplace. I think Paid Online Writing Jobs is a product that was created to make money for its owner.
A few info products, such as books and generic videos, are sold through it as a marketing funnel. If you pay for information, you will get almost nothing in return.
As you can see, $27 is just an entrance fee. You'll also get access to a few more programs if you pay the price.
Nevertheless, they are just a bunch of PDFs with no real value. This means they are constantly trying to make more money from you.
The creators are the only ones making money from this program.
Recommendation: Here's The Best Alternative
What's Inside Paid Online Writing Jobs?
There are a few general blog posts about freelance writing and the industry as a whole that you can read after you sign up to the platform. They will also include some filler modules to make the platform seem more comprehensive than it is.
Everything you need to know about online paid writing jobs can be found right here.
Training
Training Module 1

– here you will find an overview of what freelance writing is and tips on how to get jobs.

Training Module 2

– in this training you will find some general tips on how to become a better copywriter.

Training Module 3

– this training is about SEO and creating articles that will rank well on Google

The Advanced Training

– about freelance writing
The Content Writing Jobs Database
You should keep in mind that you will have access to a database with write capabilities. However, this part of the application is actually a collection of links to reputable, free websites where you can search for work.
Bonuses
These extras are nothing more than a collection of outdated ebooks designed to increase the value of the programme through creative thinking.
Who is Paid Online Writing Jobs for?
In theory, the Paid Online Writing Jobs platform should be ideal for anyone looking to earn a few bucks by writing articles and stories. Additionally, it should be an excellent opportunity for freelancers or people with a regular 9-5 job.
However, it is the exact opposite in reality.
On the website of Paid Online Writing Jobs, they list certain requirements to giev an impression that it isn't for everyone.
Here are the criteria listed by them:
You must be over 18 years old

Have access to the internet

You need at least a few hours per week to dedicate to this

A willingness to work and follow directions

Be good at meeting deadlines
Almost everyone meets these criteria, I believe.
So the criteria seem to be meaningless.
Recommendation: Here's The Best Alternative
Paid Online Writing Jobs Pricing
Paid Online Writing Jobs is not expensive. It costs $27 to join. But still, I think Paid Online Writing Jobs is a rip-off, no matter how much it costs.
Considering the amount one may get in the form of "service," it is effectively throwing money away, since the price is so low.
Of course, you are asked to pay more once you buy access, indicating that there is more "service" to be had.
There are a number of upsells that simply annoy you, and at the end of the day get you nothing.
Upon discovering that the service is useless, the customer is likely to request a refund.
Paid Online Writing Jobs is listed on Clickbank marketplace, so you have 60 days to get your money back.
Recommendation: Here's The Best Alternative
Pros of Paid Online Writing Jobs
1. You can get a refund within 60 days
I can only think of one pro, the $27 sign up fee is refundable within 60 days.
There is a 10% refund rate cited by the characters driving this program. In reality, I would expect a much higher refund rate.
It is worth noting that Clickbank's refund policy does not cover the more expensive upsells, and you are unlikely to get a refund from these scumbags.
​​Cons and Complaints of Paid Online Writing Jobs
1. You'll be charged for free jobs
Is it true that a legitimate platform could charge you to find freelance writing jobs? No, I don't think so.
Almost all sites on the internet offer free writing jobs online. You will need to pay $27 to access the jobs offered by these guys. It just doesn't make sense to me, at least not from my perspective.
2. You Can't Get Rich With Paid Online Writing Jobs
Writing, editing, proofreading, etc., can earn you money.
However, it's unrealistic to expect that you'll get rich. Online jobs such as these are not the best way to earn money.
It'll take a lot of experience before you find a job that pays well. If you are a beginner, you might be able to make a few money.
3. Many Upsells
Like every ClickBank product, Paid Online Writing Jobs also comes with several upsells. At the begining, you must pay $27.
Then there are a few upsells that cost hundreds of dollars. To be honest, you're going to get nothing but freelancing-related books and resources in return for your cash, which is not worthwhile.
4. Online Writing Jobs are Not a Get-Rich-Quick Scheme
It is possible to earn a living as a writer, editor, proofreader, etc. However, hoping to become wealthy is an unrealistic expectation. If you want to make money from home, you should look elsewhere.
If you want a good-paying job, you need to gain a lot of experience first. You may even be able to make a few bucks as a beginner.
Recommendation: Here's The Best Alternative
Where to Find Paid Online Writing Jobs for Free?
These websites are far superior to Paid Online Writing Jobs if you want to try these jobs but don't want to spend money on a guide.
These are the best places to look for free writing assignments online, so take advantage of them. However, remember that it takes a lot of work if you're just starting to make money from these assignments.
Positive and Negative Feedback About Paid Online Writing Jobs
Positive Feedback
Choose your own tasks.

Weekly Salary.

All levels of experience are welcome.
Negative Feedback
They are not able to communicate directly with customers.

Support is only available during the week.

If you write for someone else, there is no possibility for passive income. You will be paid only once for each assignment.
Is Paid Online Writing Jobs a Scam or Legit?
Paid Online Writing Jobs is very likely to be a scam because you will not be able to make any money from it.
In order to convince you that their platform is genuine, they use many dirty tricks.
Paid Online Writing Jobs is designed to get you to pay. Your money is at stake. Then they will tell you everything you want to know about earning money online. Afterwards, they'll demand an increasing amount of cash.
Paying for online writing jobs is only legit if you are going to receive something in return for your money.
They will not, however, be sufficient to make money as an online writer. They want your money in return for something, just like many other scams.
Anyway, I do not recommend Paid Online Jobs. There is only one good thing about this program: you might get your money back within 60 days.
So what can you do if you want to make money online? I have a better alternative for you in the last section of this review.
Recommendation: Here's The Best Alternative
Paid Online Writing Jobs FAQs
Is Paid Online Writing Jobs Worth It?
Not at all. Put away your wallet, it's not worth it.
There will be a feeling of disappointment and letdown for anyone who buys this training package, as well as the not-so-VIP job database.
There is no way to make any money online with the Paid Online Writing Jobs program.
How To Make Money With Paid Online Writing Jobs?
Paid online writing jobs cannot make you money. The website provides training and writing jobs to clients.
Due to the lack of actual online writing jobs, they have a problem. There are only links to legitimate online writing sites on their website.
Their job board has old jobs imported from sites like Elance. On the job board, there are also posts from other job seekers advertising their writing skills, but they have no takers.
The website is, in essence, a middleman scam website. Earning money is not possible.
What are the Paid Online Writing Jobs Payment Methods?
There is no chance you will get paid through this site since it does not offer legitimate work.
However, they do specify that they use PayPal for payment.
Best Paid Online Writing Jobs Alternative to Make Passive Income Online
If you want to build an online business instead of getting a job, here's the alternative for you.
To make a stable and secure stream of passive income, I would suggest you start an affiliate marketing business online instead.
Affiliate Marketing is perfect for anyone who is new to online business.
In fact, of all the online business models I've tried, affiliate marketing is the easiest and most rewarding so far.
In affiliate marketing, you can actually run your business almost with zero cost and achieve a steady and sustainable passive income to pay for your bills. You don't need any initial capital and can even do it as a side hustle.
And if you really want to learn affiliate marketing and build a business from scratch, I'd recommend you to get started with the most reputable platform for affiliate marketing: Wealthy Affiliate.

Wealthy Affiliate is an all-in-one platform for building your affiliate marketing business from scratch. It offers you a free account (including a free website) with comprehensive training on SEO (free traffic methods), which enables you to get started with affiliate marketing right away without paying a penny.
But How Much Can You Earn with Wealthy Affiliate?
A 21-year old student from Wealthy Affiliate was able to earn $7,395 in just 1 week, which means he made more than $1k a day…all while using free traffic methods.
Wealthy Affiliate has existed for 15 years and there are many success stories in the past decade.
To give you more examples, here are some of the other inspiring success stories of Wealthy Affiliate members.
Where to Join Wealthy Affiliate?
Wealthy Affiliate has a very simple pricing scheme. It has a free and premium membership.
If you want to feel about Wealthy Affiliate, you can sign up for the free starter membership here (no credit card required). You can select to be a free member with no time limit.
And as a starter member, you can get instant access to the community, live chat, over 500 training modules, 2 classrooms, networking, commenting, 1 free website, access to the keyword tool.
You can enjoy all these values without paying a penny.
So I strongly recommend you to register a free account and see it yourself.