You might have come across Ulysses Wang's ads that promise to teach you how to influence people's emotions, behavior, and reactions. It's no wonder that mastering such a skill could be a game-changer, allowing you to sell anything and make a ton of money. But, is it too good to be true?
With so many scams on the internet, it's crucial to do your research and read honest reviews before investing your hard-earned cash into any course. To be upfront, I am not an affiliate of Ulysses Wang, which means my opinions are genuine and unbiased.
Who is Ulysses Wang?
Ulysses Wang is a guy who started his career in telesales, selling corporate sports hospitality packages. He wasn't very good at it, and even got two non-performance warning letters from his company. But he didn't give up. He kept learning and eventually found success in the corporate training industry.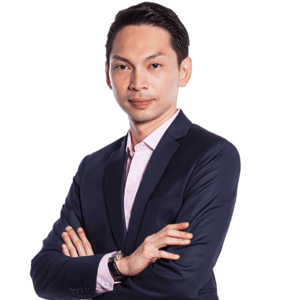 Unfortunately, Ulysses faced a setback during the global oil crisis. Most of his clients were major oil and gas companies in Southeast Asia and the Middle East, so he lost everything. But he didn't let that stop him. Instead, he realized he needed to go back to basics and relearn everything he thought he knew about business.
That's when Ulysses became fascinated with human behavior. He believed that if he could master human behavior, he could influence all the important stakeholders in his business. He started observing people's communication, body posture, facial expression, and hand gestures every day. Through his observations, he noticed a repeated pattern in human behavior, and he came up with a secret technique called Neuro-Linguistic Programming (NLP).
Today, Ulysses is an International Certified NLP Master Coach and Trainer. He uses his knowledge of NLP to help people achieve their goals and overcome obstacles in their personal and professional lives.
Recommendation: Here's The Best Alternative
What is The NLP Mind Mastery Method?
Are you interested in mastering a skill that can help you get more "YES" from others? Ulysses Wang's course, "The NLP Mind Mastery Method", claims to teach just that. With over 3000 students from 20 different countries enrolled, and LIVE certification programs in Singapore, Malaysia, Dubai, Cambodia, Thailand, and India, this course is making waves.
The NLP Mind Mastery Method aims to teach people how to deeply influence other people's feelings, behavior, and reactions. According to Wang, this skill can be mastered in just seven days, which is pretty remarkable.
Wang says that mastering this skill is the #1 most profitable skill in the world. You can use it in coaching, training, presentations, negotiation, and sales to influence people to take action and buy from you. In other words, it's a sales skill that can make you money.
If you decide to take the course, you'll get access to 33 video courses, more than 11 hours of content, summarised PDF notes, special digital wall posters, and live event footage.
Recommendation: Here's The Best Alternative
Who is NLP Mind Mastery Method For?
This course can benefit anyone who wants to improve their communication skills and make a greater impact on others.
So, who exactly can benefit from this course? Well, here are some examples:
Trainers: If you're a trainer, you need to be able to engage your audience and deliver your message effectively. NLP Mind Mastery can help you do just that by giving you the tools to understand and connect with your audience on a deeper level.

Coaches: As a coach, your job is to help your clients achieve their goals. NLP Mind Mastery can help you do that more effectively by teaching you how to communicate with your clients in a way that resonates with them.

Consultants: Consultants need to be able to communicate their ideas and recommendations clearly and persuasively. NLP Mind Mastery can help you do that by teaching you how to craft messages that resonate with your clients.

Presenters: If you're a presenter, you need to be able to capture your audience's attention and keep them engaged throughout your presentation. NLP Mind Mastery can help you do that by giving you the tools to create compelling presentations that resonate with your audience.

Corporate Professionals: Whether you're a manager, a salesperson, or an executive, effective communication is essential to success in the corporate world. NLP Mind Mastery can help you improve your communication skills and make a greater impact on your colleagues and clients.
Recommendation: Here's The Best Alternative
How Much Does The NLP Mind Mastery Method Cost?
Ulysses Wang claims that the course is worth $2965, but he's only charging $37. Sounds like a great deal, right? Well, maybe not.
It's important to remember that marketing tactics can be deceiving. The $37 course may just be the first step in Ulysses' sales funnel. There could be upsells and additional costs down the road.
But, if you're willing to take the risk, the NLP Mind Mastery Method could be worth it. After all, it's designed to help you master your mind and achieve your goals using NLP techniques. And $37 is a small investment compared to the potential benefits.
So, is the NLP Mind Mastery Method worth the hype? It's up to you to decide. Just remember to approach it with a critical eye and be aware of any potential additional costs.
What is Ulysses Wang's Net Worth?
Okay, let's be real here. We don't have any solid numbers when it comes to Ulysses Wang's net worth. However, there are some clues that suggest he's likely doing pretty well for himself.
For starters, the guy sells online courses. And let's face it, online education is a booming industry. So if Wang has been able to carve out a successful niche in that market, he could be raking in some serious cash.
But that's not all. Wang has also been doing a lot of live events in various parts of Asia and the Middle East. And we're not just talking small, local gigs here. We're talking about events in places like Singapore, Malaysia, Dubai, Thailand, Cambodia, and India. That's a lot of travel and a lot of opportunities to make bank.
To top it off, Wang apparently works with some Fortune 500 companies to help them improve their performance through behavior. If he's working with those kinds of clients, it's safe to assume he's not exactly hurting for cash.
All that being said, we don't have any concrete figures to work with. So we can't say for sure what Wang's net worth actually is. But based on what we do know, we'd say it's probably a pretty impressive sum.
Recommendation: Here's The Best Alternative
Praises For Ulysses Wang's NLP Mind Mastery Method
Unconditional Money-Back Guarantee
One bold claim made by Ulysses Wang is his unconditional money-back guarantee. However, it's important to note that this has not been verified in reality.
Learn the Basics of NLP
The course promises to teach you the basics of NLP, which can be helpful if you're just starting out in this field.
Criticisms For Ulysses Wang's NLP Mind Mastery Method
Abstract and Theoretical Content
One downside to the course is that the content can be quite abstract and theoretical, which may not be as useful in real-life situations.
Difficult to Apply in Real Life
Even if you do understand the concepts taught in the course, applying them in real-life situations may be challenging. The course doesn't provide much guidance on this.
No Guarantee of Influence
While the course promises to help you influence others, there is no guarantee that you will actually be able to do so.
Weak Linkage to Making More Money
The course claims that it can help you make more money, but the linkage between NLP and making money is not very strong.
Content Available for Free Online
Much of the content taught in the course can be found for free online, making it difficult to justify the cost of enrollment.
Recommendation: Here's The Best Alternative
Is Ulysses Wang a Scam?
Ulysses Wang's NLP course is not a scam. You can definitely learn about NLP from him. However, if you're hoping to make more money after taking the course, you might want to reconsider.
Ulysses Wang claims that understanding human behaviors is crucial if you want to dominate your market, and he's not wrong. But can you really become an expert in human behavior in just seven days? That's doubtful.
To be honest, the course is quite theoretical, and the techniques taught to influence other people may not be easy to apply in real life. There are many variables to consider, and there's no guarantee that you'll always get people to say "YES" to you.
Furthermore, Ulysses Wang's course focuses more on improving your communication skills, which is a valuable soft skill, but not necessarily a direct path to making more money. You still need to apply those skills in your work to see results, and even then, there's no guarantee that it will translate to more income.
In addition, Ulysses Wang doesn't teach a specific business model or marketing strategy to follow. So, while you may improve your communication skills, you won't necessarily have a clear path to making more money.
Overall, learning soft skills like communication can definitely help in your daily interactions with people, but if you're looking to make more money, especially passive income, Ulysses Wang's course might not be the best investment for you.
Learn more: Make Money Online Scams: How to Avoid Them?
Recommendation: Here's The Best Alternative
Is There a Better Alternative For Making More Money?
Are you interested in making money online but not sure where to start? Affiliate marketing could be the answer you are looking for. It is one of the easiest and most cost-effective ways to start an online business without any risks.
With affiliate marketing, you don't need to create your own products or handle customer service. All you need to do is promote other people's products and earn a commission for each sale you make.
The best part? You can do it as a side hustle and eventually quit your job once you start making enough money.
If you are interested in learning more about affiliate marketing, I recommend checking out Wealthy Affiliate. It is my #1 recommended training platform for affiliate marketing.
Wealthy Affiliate has been around for over a decade and has helped many people succeed in affiliate marketing. One student was even able to earn $7,395 in just one week using free traffic methods and affiliate marketing.
You can check out my full review of Wealthy Affiliate here.
As a starter member of Wealthy Affiliate, you can access the community, live chat, over 500 training modules, 2 classrooms, networking, commenting, 1 free website, and access to the keyword tool – all for free and with no time limit.
If you want to try out Wealthy Affiliate for yourself, you can sign up for a free account with no credit card required. I strongly recommend giving it a shot and seeing how affiliate marketing can help you make more money online.