Most website owners dream of making money while they sleep. Passive income is the holy grail of financial independence, and affiliate marketing can help you achieve it.
When you add affiliate links to your website, you can earn money from it: Your readers can click on these links at any time.
However, if no one visits your website, you won't make money. That is the goal of this lesson: To show you how to earn passive income by creating an affiliate marketing website.
I'm going to use WordPress to build an affiliate site in this course. If you don't know what's WordPress, this lesson is going to give you a clear idea.
Course Outline
What is WordPress?
WordPress is the most popular content management system ("CMS") to build a website, which was released in 2003. Around 39% of all websites on the internet are using WordPress as the website builder.
It's the favorite of both web-savvy users and web novices because of its simplicity and power.
WordPress is easy to use and flexible. It's great for building any type of website, from a blog to an eCommerce store.
Why Use WordPress?
There are many platforms to build a website such as Joomla, Shopify, Magento, Wix, Weebly etc.
However, when comparing with WordPress, these platforms lack flexibility and are mostly used for websites with a specific purpose only. For example, Shopify or Magento are only good for creating an online store.
Here the reasons why you should use WordPress to create your affiliate site:
1. WordPress is Free and Open-Source
WordPress is free to use and open source. It means you can download WordPress and install it without paying a penny.
What you have to pay is your domain and web hosting as the WordPress site is self-hosted. I will talk about this in the next lesson.
Also, you can alter or improve its source code to customise your website's functionality and appearance.
There is a large community of developers worldwide to contribute to the development.
2. WordPress is Search Engine Friendly
This is one of the most critical reasons why you should use WordPress for your affiliate site. Search Engine Optimisation ("SEO") is going to be our most important traffic strategy in this course.
WordPress is known for having SEO built into the platform. That means popular search engines like Google and Bing are more likely to rank your website if you use WordPress. This is because WordPress makes it easy for search engines' spiders to crawl your site content.
WordPress automatically generates title tags and meta descriptions for all of your pages and posts. This allows search engines to know about your content. It will then get you indexed and potentially rank your content higher in search results.
With WordPress, you can also enjoy the benefits offered by WordPress SEO plugins to further improve your website's SEO.
3. WordPress Dominates the Internet
WordPress is the most popular content management system. Its performance, expandability and ease-of-use have appealed to a majority of internet users. Over 74 million websites of all types and sizes are using WordPress.
4. WordPress is Flexible For Building Any Type of Website
While WordPress was developed as a blogging platform at the beginning, it's not just for building blogs after many new releases over the years.
Here are the types of websites you can make with WordPress:
Blogs

Business websites

Portfolios

Forums

Ecommerce sites

Rating websites

Membership sites

Chatrooms

Galleries

Personal websites for self-promotion

Job boards

Business directories

Non-profit websites for collecting donations

knowledge bases

Media-centric sites like YouTube

Auction and coupon sites
5. Easy to Learn and Has a Community Support
WordPress is user-friendly and very easy for newbies to learn. You can learn how to navigate the interface in minutes. In case you have any development questions or technical issues, you can get the answers easily from the huge online community.
6. Easy to Customize Your Website with Themes and Plugins
You don't have to be a web designer or programmer to use WordPress. WordPress is perfect for non-tech savvy people.
You can simply install a WordPress theme you like and use the customizer to adjust the colours, logo, background, layout etc without writing a piece of code. There are also many plugins for you to add any custom functionality you want. For example, you can add features like contact forms, analytics, membership area etc.
The best part is that many themes and plugins are available for free.
7. WordPress Gives You Full Control of Your Website
If you use other website builders like WIX, Squarespace, Joomla, Magento, Shopify, Weebly, and Jimdo, you will not have full control of your website. Because these are not open-source platforms, which means you cannot freely expand the built-in functionality with plugins.
Also, you don't technically have full ownership of your website when using these platforms. When you stop paying for these platforms, you will lose your website and cannot be transferred elsewhere. Some platforms may also remove your website entirely if you breach some of the terms unintentionally.
On the other hand, with WordPress, you own everything on your website. You can move your website files to other web hosts without limitation. You don't have to worry about losing your website.
---
3 Steps to Build A WordPress Website
While WordPress itself is free, you need a domain name and web hosting to install it.
A domain name is the address of your website on the internet. This is what your users type in their browser's address bar to access your website. For example, our domain name is highincomesource.com.
Web hosting is your website's house where all your website files, information and content are stored. These files need to be stored somewhere in order to be accessible on the internet. A hosting provider basically hosts these files for you on their servers. Think of it as the foundation of your website. It's very important to choose a reliable and high-performing web host.
Here are the 3 basic steps to build a WordPress website:
Step 1: Choose and Buy a Domain
Every website needs a domain. Don't use a free domain provided by your web host if any. Having your own domain will lead to better rankings. You can purchase a domain on NameSilo which I highly recommend because it's very cheap but reliable.
However, if you're a member of Wealthy Affiliate and host your websites on the platform, it will be more convenient to buy a domain directly on Wealthy Affiliate. The price difference is negligible.
If you don't know about Wealthy Affiliate, it's the best platform for beginners to build an affiliate marketing business from scratch. It provides everything you need such as domain registration, web hosting, online training, and community support. It's free to register an account with it.
A domain is an asset like real estate. When you purchase a domain, you own it and nobody else in the world can use it.
Your domain name should be the same as your business name. It's your brand. If you cannot think of a name, there is a free tool to help you out. Namelix is a fantastic free tool that can help you brainstorm a lot of creative business names.
Here are some tips for you in choosing a domain name:
Your domain name should be catchy and easy to remember

Use .com as the domain name extension: .com is the most popular domain name extension. You should always aim to choose this extension if possible.

Check trademark infringement: to avoid legal issues, you should avoid choosing a name that is similar to some popular or well-established brands. You can look up

trademark information here

.

Avoid using numbers and hyphens: if possible, your domain name should not include numbers and hyphens. Always keep it simple for SEO purposes.
Step 2: Choose a Web Host
After you have bought a domain, you need to choose a web host for your website.
There are so many factors to consider in choosing a web host, which could overwhelm most people. To help you get started easier, I have picked the best web host that you cannot go wrong with.
We highly recommend using WPX Hosting. WPX Hosting is a renowned Managed WordPress Hosting provider that you can trust. It is one of the fastest WordPress hosting providers that is optimised for performance and ready for any traffic spikes you might throw at it.
In my opinion, WPX Hosting is a better option than other cheap web hosts like Bluehost because of its better performance (uptime and speed), customer support, security and many more.
It is also one of the more affordable options around when compared to other managed WordPress hosts like WP Engine and Kinsta.
However, if you are a member of Wealthy Affiliate, you don't need to spend the extra money on WPX Hosting because Wealthy Affiliate provides first-class Managed Web Hosting service. I personally host a number of my websites on Wealthy Affiliate and it performs very well so far.
Step 3: Choose a WordPress Theme
After you have installed WordPress, you have to choose a WordPress theme. A WordPress theme is a folder of files that work together to create the design of your site.
With a theme installed, you can customize how your site looks on the front-end easily, including the layout, typography, colour, and other design elements.
Choosing a good WordPress theme is very important. It will affect your website attractiveness, functionality and site speed.
There are thousands of WordPress themes to choose from. Most have both free and paid versions. It can be overwhelming to analyse which one is the best for your affiliate site.
I highly recommend using the GeneratePress theme, which is one of the most lightweight and fastest themes on the market. Site speed is very important when it comes to SEO and monetisation because slow site speed will seriously affect your ranking and user experience.
GeneratePress has a free version, but you are highly recommended to get their premium version in order to enjoy more features and flexibility. The price is pretty reasonable and you can use it on unlimited websites for a single purchase.
Tools & Resources
---
Register Your Domain
In this lesson, I'm going to show you how to buy a domain.
Step 1 – Sign Up for an Account at NameSilo
To create an account on NameSilo you can simply fill out the registration form as below:
Step 2 – Check the Availability of a Domain Name
To buy a domain, let's start with an availability search here.
Enter your desired name in the search field. You will be presented with a list of available options for registration. If possible, choose the .com domain extension.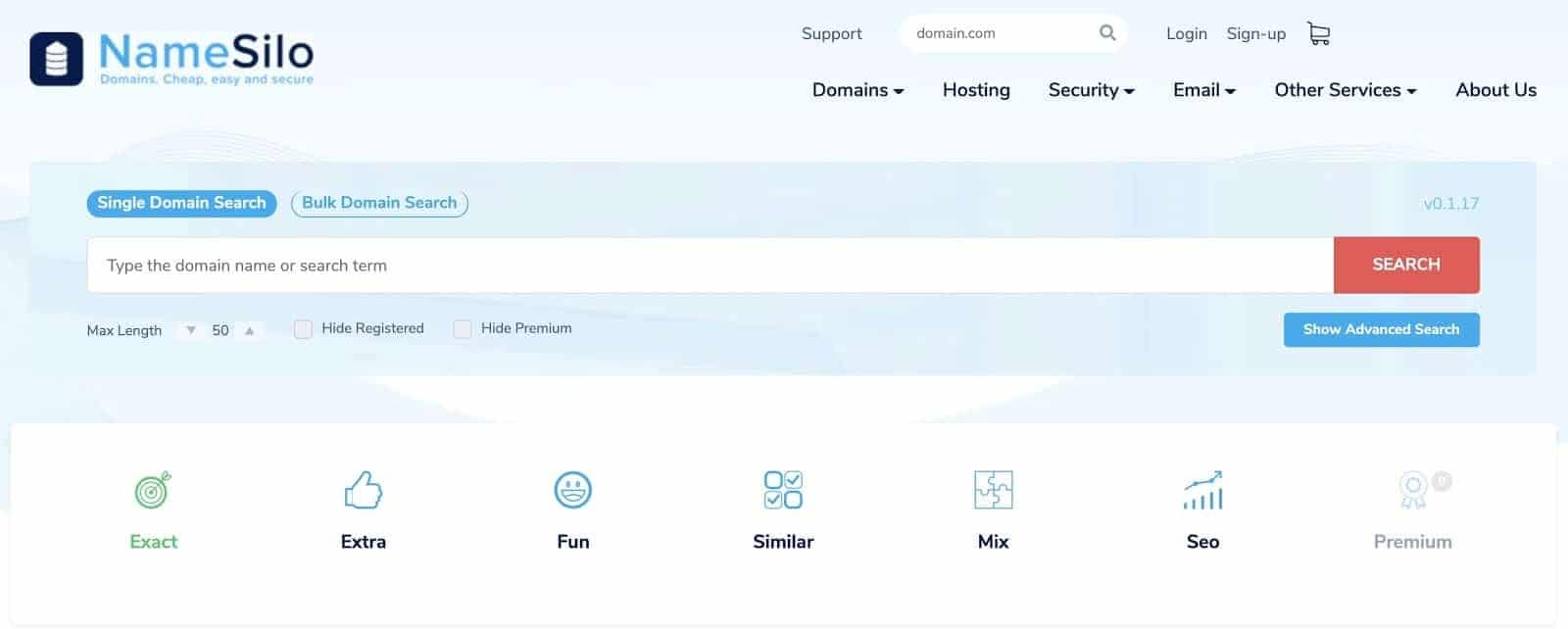 Step 3 – Pick Your Domain
If the domain is available, proceed with the registration by pressing "Add"
Step 4 – Review Your Order at Cart Page
At the cart page, make sure you choose WHOIS Privacy, which is free at NameSilo. This avoids disclosing your personal information to spammers.
Step 5 – Complete Your Domain Registration
Enter your billing information and pay for the domain.
After that, the domain name will be yours and no one can take it away from you.
Note: If you are a member of Wealthy Affiliate, you can purchase a domain easily on SiteDomain.
Tools & Resources
---
Register a Web Hosting Account
In this lesson, I'm going to walk you through how to register a Web Hosting account. You can register an account at WPX and Wealthy Affiliate. You cannot go wrong with either one, which is of very high quality.
For Wealthy Affiliate, you can create and build a free website on the SiteRubix domain. So if you don't want to invest any money yet, Wealthy Affiliate is suitable for your to get a feel.
Anyway, in this lesson, I'm going to use WPX Hosting as an example.
WPX Hosting
1. Go To WPX Hosting
We are going to build our website using WordPress and WPX Hosting is specialised in WordPress hosting.
2. Choose Your WPX Hosting Hosting Plan
WPX Hosting has three web hosting pricing plans you can sign up for: Business, Professional and Elite.
I recommend choosing the Business plan to begin with, which has the best value for the price. The Business plan includes hosting 5 websites, 10GB of storage, free high-speed CDN, free emails, free malware removal etc.
Then you can choose the hosting location. Just choose a location nearest to where your audience is located.
3. Enter Your Domain
If you have bought a domain on NameSilo, you can sign up using the domain without registering a new one at WPX Hosting.
4. Review and Complete Your Order
Just fill out your personal details, your payment information.
Now you have signed up with WPX Hosting and you will receive an email confirming your order. The next thing you need to do is to install WordPress.
Wealthy Affiliate Hosting
If you are not a member of Wealthy Affiliate yet, you may join and host your website on Wealthy Affiliate.
Wealthy Affiliate is an all-in-one platform for affiliate marketing, which I highly recommend for anyone who wants to start an online business. I'm a member of Wealthy Affiliate as well.
They are not just a web hosting company, but also an education platform where you can get access to comprehensive training and community support.
There are three plans: free, premium and premium plus.
Don't go with the free plan if you are serious about building an affiliate marketing business, as it only allows you to host a free domain website (.siterubix.com), which is just for testing purpose.
So you should either choose the premium or the premium plus. For people who are just starting out, the premium plan is sufficient, which allows you to host up to 10 websites.
You can go to register a free account first. After that, you can upgrade to premium for just $19 for the first month.
Tools & Resources
---
Install WordPress
WPX Hosting
If you choose to host your websites on WPX Hosting, it's very easy to install WordPress.
First, log in to your WPX Hosting account.
Then Select My Services > Service Management.
In the Hosting Panel, select the Websites/SSL tab on the left menu. This is where you can manage and add new websites to your WPX account.
Click Install WP button to the right of the website.
Click Install WordPress on website on the popup.
Fill in the website and account details. After that click on Deploy WordPress to complete the installation.
Note: If you host your website on Wealthy Affiliate, installing WordPress is easier. Just go to Site Manager and follow the 4-step process with few clicks.
Tools & Resources
---
Point Your Domain To the Web Host
If you bought the domain on NameSilo, you have to change the nameservers of the domain in NameSilo to your web host's nameservers. Otherwise, you can skip this lesson.
WPX Hosting
It's very easy to do if you host your websites on WPX Hosting.
To change the nameservers, you need to locate them in the WPX account.
Locate WPX Hosting Nameservers
In your WPX hosting account, click on WPX Hosting Dashboard > Service Details at the bottom of the menu, under Server Details. Copy the nameservers.
Locate Name Servers Settings in NameSilo
In your NameSilo account, go to the Domain Manager. Then choose the domain you bought, which will then direct you to the Domain Console.
You will see the default nameservers, which looks like something like this:
NS1.DNSOWL.COM
NS2.DNSOWL.COM
NS3.DNSOWL.COM
Click "Change" and replace the default nameservers with the ones you copied from WPX Hosting.
Usually, it just takes several minutes to take effect and your domain will start serving from WPX Hosting.
After that, since your domain's nameservers are changed to WPX Hosting, all of your DNS records will be managed in your WPX Hosting account.
Wealthy Affiliate Hosting
If you join Wealthy Affiliate, you can point the domain at NameSilo very easily by going to SiteDomain. Scroll down to the "Other Domains", enter your domain name and click "Add Domain".
Then, you can do the same by copying and pasting Wealthy Affiliate's nameservers on NameSilo.
Wealthy Affiliate's nameservers are:
ns1.mywahosting.com
ns2.mywahosting.com
Tools & Resources
---
Install Let's Encrypt Free SSL Certificate
If you see that your website cannot be connected with a non-secure warning, it means you don't have a valid SSL certificate for the domain.
SSL standards for Secure Sockets layer. It's a protocol to encrypt and authenticate the data sent between a browser and the webserver. It ensures secure browsing for a user by securing the user data transmission.
In this lesson, I'm going to tell you how to install the SSL Certificate.
WPX Hosting
WPX Hosting offers a free SSL certificate by Let's Encrypt and you can install it in a few clicks.
1. Log in to your WPX Hosting Account
2. Go to "Service Management"
By default, an SSL certificate is enabled and ready for installation.
You should see the green padlock next to your website.
3. Generate the Free SSL certificate
Then you will see this popup screen, where you need to click on Install.
The installation will take a few minutes to complete.
After that, you can visit your site with HTTPS and the unsecured warning should be gone.
Wealthy Affiliate Hosting
It's much easier to host your website on Wealthy Affiliate, especially if you are not a technical person. Everything is further simplified on Wealthy Affiliate.
If you host your website on Wealthy Affiliate, the SSL certificate should have been installed automatically by the time you install the WordPress website.
In SiteManager, under SitePlus+, you should see the SiteSSL is turned on.
Tools & Resources
---
Install a WordPress Theme
You've installed WordPress. In this lesson, I'm going to talk about installing a WordPress theme.
For any WordPress websites, you need to install a theme.
Go to Appearance => Themes => Add New
There are thousands of themes to choose from.
Install GeneratePress Theme
I highly recommend using the GeneratePress theme, which is super lightweight and easy to customise. Right now, there are over 300,000 installations and it has a 5-star rating.
GeneratePress is free to download. Just type "GeneratePress" in the search bar. Then install and activate it.
The free version of GeneratePress has some limitations. To get all the features of GeneratePress, you are recommended to get the premium version, which is not expensive. And the best part is that you can install it on 500 websites with a single purchase.
Install a Child Theme
A child theme in WordPress would inherit all the functionality, features, and code of the parent theme without making any changes to the parent theme itself.
This allows you to make changes to your site using child themes without ever modifying the parent theme. When a new version of the parent theme arrives, you can safely update it as all your modifications are saved in the child theme.
You can download the GeneratePress Child Theme here. After that, upload it to your WordPress site and activate it.
Tools & Resources
---
Change Permalink Structure
Before you start creating any posts on your website, you should set the permalink structure first.
Permalinks are the technical term for the URLs of your website. Although you can change your permalink structure at any time, it is best to do it at the beginning.
Go to Settings => Permalinks
While you can customise the permalinks structure, choosing "Post name" is the best practice for SEO purpose.
Remember, you should avoid changing the permalinks structure later on, otherwise your posts will need URL redirections which may affect the SEO and hence the traffic to your website.
---
The website menu or the navigation is very critical for user experience and that's where people can find your content. That is very important for SEO because if visitors cannot navigate your website, the bounce rate is going to be high. Websites with proper navigation will rank better on Google.
You can create as many menus as you want. To create a new menu, go to Appearance => Menus
You can add any pages or posts to the menu.
For the main menu, make sure to choose the display location as "Primary Menu".
---
Decide the Color Scheme for Your Website
It's time to design your website, which is part of brand building. In this lesson, I'm going to talk about selecting a colour scheme for your website.
Select a Color Scheme
Brand building is important for the sustainable development of your business.
And colour is one of the most noticeable, tangible components of a brand.
It plays an important role in how a brand is perceived. It helps people recognise and remember your brand, and it has the potential to attract the right kind of customers.
No worries if you are not a designer. Here, you can get some inspiration from other well-designed websites and model the ones you like: https://www.cssdrive.com/
Different colour has a different psychological effect. Here's a great article that talks about the brand colour palette that you can reference:
https://www.canva.com/learn/brand-color-palette/
After you have decided on a colour palette for your website, simply go to Appearance => Customise
You can customise the layout, colour and typography easily without writing a piece of code.
Tools & Resources
---
Design a Logo for Your Website
Every brand should have a logo. As part of the brand building for your website, you have to design a logo. In this lesson, I'm going to talk about how to design a logo for your website.
Create a Website Logo
To create a logo, you can use an online editor like FlamingText.com or CoolText.com which allows you to create pretty awesome and simple logos.
Of course, if you know photoshop, you can create one, but if not, no worries that you can use Canva to make a logo yourself. You don't need any technical knowledge.
But for serious business, I recommend hiring a logo designer. It's not expensive that you can hire a designer at fiverr.com for as little as $5.
Make sure to download your logo in the PNG format with transparent background. JPEG is not ideal for the logo.
Tools & Resources
---
Create Basic Content For Your Website
In this lesson, we're going to set up some basic content and pages for your website. These are the essential pages that every website should have.
1. Install the Classic Editor Plugin
Before creating a page or post, I would like you to install the Classic Editor plugin first. This plugin allows you to use the classic editor of WordPress.
The Classic Editor is easier to use in creating blog posts when compared with the default Gutenberg Block Editor. The Gutenberg Block Editor is a new editor for WordPress platform, which was released in 2018. It allows you to use blocks for creating some fancy web pages.
To install the Classic Editor Plugin, go to plugins => Add New
WordPress has thousands of plugins created by developers worldwide. Plugins are the key to customizing your website's functionality. They are apps that let you add new features and functions to your site. I will introduce some great plugins to you in the coming lessons, which can add some cool functions to your website.
After installing the Class Editor Plugin, you can now create posts or pages like using a Word document. You can change to the default Block Editor when needed by going to Settings => Writing.
2. Set Up Your Homepage
The homepage is the page people see when landing on your website. In WordPress, the default home page is a list of your latest blog posts.
Most websites have a custom static page as the homepage. If you want to design a static page and set as your homepage, you can go to Settings => Reading
You can assign any static page as your homepage there.
3. Create the "About" Page
The "About" page is important. Visitors would like to know who you are. So you should introduce your business to your visitors in order to build relationships and trust. Many businesses ignore this page, which is a big mistake.
4. Create a "Privacy Policy" Page
All websites require a "Privacy Policy". It discloses the ways in which a website collects, processes, stores, shares and protects user data. Having a privacy policy ensures that your website complies with legal obligations.
In WordPress, there is a default privacy policy created. Go to Settings => Privacy
You can select which page to use as the privacy policy.
There are some privacy policy templates online, so you don't have to write yourself. Here is the one that you can use: https://www.privacypolicytemplate.net/
5. Create a "Terms and Conditions" Page
The terms and Conditions page may not be required by law, but it's better to have it. This page can limit your liability should someone take you to court, as well as protect your rights to the content contained in your website. Here is a free template for terms and conditions page:
https://www.termsandconditionsgenerator.com/
6. Create an "Affiliate Disclaimer" Page
In 2009, the Federal Trade Commission decided to regulate the business model of affiliate marketing. They want to make sure that users know about the financial relationship of the site to the products that they link to. So, the FTC mandated that all affiliate links must be clearly disclosed.
Some affiliate programs like Amazon Associate Program have specific requirements for the wordings of the disclaimer.
Here are some sample statements that you can make reference to:
https://www.webhostinghero.com/sample-affiliate-disclaimer-statements/
https://www.disclaimertemplate.net/affiliate-disclaimers/
7. Create a Contact Page
Every website has a contact page. It allows visitors to contact you with any questions. Also, it builds trust and credibility with your audience.
To create a contact page, go to Pages => Add New
I recommend embedding a contact form on the contact page so that visitors can send messages to you without using your email address. You can create a contact form easily by using a contact form plugin.
I recommend using WPForms Lite. It is free for installing. With drag-and-drop functionality, it is easy to set up, configure and style.
If you want to get all the features like conditional logic, integration with other software, you can get their premium version.
Tools & Resources
---
Get Your Website Ready for Search Engines
Now you have made basic design and content for your website. It's time to set your website up for Search Engine Optimization ("SEO"). You aim to get search engines like Google, Bing and Yahoo to find and index your website.
Since Google dominates the search engine market with around 86% market share, our whole SEO strategies will focus on Google.
So you may wonder why you want Google to rank your website. The reason is simple. You want Google to rank your website so that you will get visitors or traffic to your website. With people visiting your website, it means the opportunity to promote your product and make money.
In this lesson, I'm going to walk you through the set-up process of an SEO plugin that is going to make your website search engine friendly.
Install SEOPress Plugin
There are a few SEO plugins on the market like SEOPress, Yoast, All in One SEO, RankMath etc.
I recommend using SEOPress for the robust features and performance.
SEOPress has a free and premium version. You're recommended to upgrade to the premium version to get the most out of the SEOPress plugin
After installing SEOPress, you won't see changes to the front-end of your website as the changes are done behind the scene, which makes your website code friendly for search engines.
SEOPress Settings For Your Reference
Here's the setting for SEOPress for your reference, which you can make adjustment according to your own needs:
For SEO Purpose, it's better to noindex the archives.
For SEO Purpose, it's better to noindex the Taxonomies.
For SEO Purpose, it's better not to include the Taxonomies in the SiteMap.
You can create a schema for your blog posts. Just go to SEOPress => Schemas => Add Schema
Now, your website has done the basic setup for SEO. That means from now on when you create new content on your website, it will be automatically optimised for search engines. You will find your website content being indexed and ranked by search engines faster.
Tools & Resources
---
In the next module, I will continue to talk about how to find the most profitable affiliate programs to join.