If you'd like to start an online business, you might have watched Kevin Zhang's ads on social media platforms like Facebook or Youtube. And you may wonder, "Is Kevin Zhang a scam?"
There is a success story that he repeatedly told you – at the age of 23, he started dropshipping and turned $3000 credit card debt into $20M sales in the first year.
If you joined the course eCommerce Millionaire Mastery, Kevin said he would tell you the secret of building a 6 figure dropshipping business by working 1 hour per day. The price? $1997.
But does the course live up to the hype? Or is Kevin Zhang a scam?
To give you an answer, I've found some of Kevin's students on Reddit and talked to them in private.
Below is what I'll be covering in this review of Kevin Zhang and his course eCommerce Millionaire Mastery.
Who is Kevin Zhang?
Kevin is said to be a serial entrepreneur based in Los Angeles, California.
According to Kevin's official website, he was the youngest member of Forbes Councils and launched multiple eCommerce brands. But there is no record of his profile on the website of Forbes Councils. Is it possible that he was kicked out of Forbes Councils?
In fact, anyone can sign up as a member of Forbes Councils. It costs $2,500 a year.
I wonder if you've seen a picture of Kevin being featured in Forbes Magazine. Because when I examined it more closely, it seems that he just photoshopped his face onto the cover.
If you google his name with Forbes Magazine, you can't really find any relevant result.
Below are some of his brands:
Newport Apparel
Dixon Leather
Dixon Trading
Valor Drones
Grizzle Tactical
Long Horn Leather.
According to Kevin, these brands should have generated around $20M in sales. But how come most of them were shut down? Is it because Kevin has made enough money?
According to Kevin, most of his stores are selling clothing and accessories under Kreator eCommerce group, which he claims to have employed a team of 60 staff members.
But when I searched Kreator eCommerce group, I found that it was a consulting firm.
Kevin also has other companies including eCommerce Incubator, Seer eCommerce and Vanderbilt Consulting Academy. But none of them is related to eCommerce stores.
On Instagram, he is showing you a lavish lifestyle and the image of a philanthropist who set up a scholarship fund to send Native Americans to university.
Does that mean he should have made a fortune from dropshipping? His Instagram account boasts a number of 110k followers but no new post has been published since July 2020.
Kevin's Youtube channel also has a large number of subscribers, reaching 53.6k. But he only published 1 video in July 2020.
What to expect in eCommerce Millionaire Mastery?
This course is promoted as EMM by Kevin Zhang on Instagram and Facebook. After watching a free webinar, you'll be invited to his offer which has a number of price points, the most common of all is sold at $1997.
Another option is to make 5 payments of $499 which is $495 more expensive.
The 20 hour course includes 15 modules and over 200 lessons. Most videos are 10–20 minutes in length and the main focus is Facebook ads training.
In addition, you can get access to a private Facebook group and 52 live calls every year.
The bonuses include his insights into Facebook's algorithm, marketing tactics of his stores (as mentioned above) and a supplier negotiation script in Chinese and legal templates.
Believe it or not, Kevin said the package is worth $37,500 in value.
An Overview of eCommerce Millionaire Mastery
Kevin's course is actually a basic introduction to dropshipping and Facebook ads. If you already have some experience with dropshipping, you might find the course irrelevant. In fact, I can assure you that most of the content can be found on Youtube, completely free of charge.
Below are the modules of eCommerce Millionaire Mastery:
Module 1: Introduction to Ecommerce
This module is a basic introduction to eCommerce and dropshipping.
Kevin will teach you the mindset of entrepreneurs and some skills to launch an online business. Every piece of information can be found on Youtube videos.
Module 2: Branded Niche Dropshipping
In this module, Kevin begins to criticise single product and general stores. As an alternative, he introduces his ways to build a dropshipping brand with the perfect niche.
This idea appears to be a castle in the air. Because most dropship products go out of trend quickly, not to mention that any dropshipper can steal your brand. If you want to safeguard your "brand" from competitors, you have to trademark it. But how can you register a trademark for a store selling generic products?
After that, Kevin will tell you the market trend of dropshipping in 2020, as well as how to set up a Shopify store and connect Oberlo with AliExpress.
Kevin then goes on to show you the alternatives of AliExpress such as Salehoo, a marketplace to find suppliers from the developed countries, and how to import products from AliExpress and link your AliExpress affiliate code with Admitad to earn 8% commission on all sales.
The final lesson looks at how to build a dropshipping brand.
Module 3: Consumer Psychology
This module has 4 videos and briefly introduces the elements of customer psychology. You will learn about different types of consumers and how to find out the target market for the product.
Module 4: Shopify Web Design
This module includes 18 videos. Kevin will show you how to set up your Shopify store in the right way. But there are videos on Youtube that teach the same content.
In the beginning, Kevin will show you how to use Adobe Photoshop and stock image sites for Facebook ad creatives, how to choose a domain name, register it and link it to your Shopify account.
He will then go through the process of importing AliExpress images and turning them into engaging product photos and completing with product descriptions.
Afterwards, you will learn how to set up the trust badges, use multiple tabs, add demonstration videos and reviews to product pages, as well as installing a one click upsell plugin.
The last section is about setting up cross sells and upsells to raise average cart value.
Module 5: Shopify Web Design Mastery
In this module, Kevin goes deeper into theme customization and website building which include banner creation, category pictures creation and setting up homepage collections.
Also, You will learn how to add a tracking page to your website, as well as the essential pages such as contact information, privacy policy, terms and conditions.
The last section includes a guidance on how to increase website loading speed.
But if you want to save the hassle, you can simply choose a theme that comes with all third party plugins to help your site load much faster.
Module 6: Setting up Facebook Ads
This module focuses on Facebook ads. Kevin will teach you how to set up your Facebook business manager account and a Facebook page to display the ads.
Apart from that, you will learn how to install Facebook pixel so that you can retarget those customers who have visited your store. Lastly, there's a video about Trackify that is used for easy catalogs and backup pixels.
In fact, eCommerce Millionaire Mastery only teaches you how to drive traffic from Facebook, despite the popularity of other platforms such as Instagram, Pinterest and Google.
Module 7: Engaging & Profitable Ads
In this module, Kevin will teach you how to create a Facebook campaign, interpret data, and scale your campaign to get more sales and when to stop it from running.
The ads he demonstrated include still images, carousel and videos with step-by-step guidance.
In the end, Kevin will teach you some basic techniques of copy writing.
Module 8: Basic Facebook Ad Strategy
In this module, Kevin will teach you the principles of running Facebook ads.
He will show you three audiences on Facebook and how to use retargeting campaigns to generate sales.
To optimise your Facebook ad campaign, Kevin will also teach you how to analyze data, make use of performance metrics such as ROAS and cost per purchase, and create lookalike ads.
Besides, there are videos on how to use Trackify to make LAAs and Hidden LAAs for retargeting.
In the end, there are videos on exporting customer emails and creating custom audiences.
Module 9: Advanced Facebook Ads
This module focuses on Campaign Budget Optimization (CBO).
Kevin teaches you how to do effective testing on audience, creative and LAA.
The last section includes some advanced re-targeting methods and Facebook ad manager features.
Module 10: Effective Sales Strategies
This module looks at how to leverage order metrics in your basic accounting. You will learn the advantages and when to use a subscription-based model. Besides, Kevin tells you how to use product bundles and when to use a free plus shipping model.
In the end, there is a short video on using sales and when to apply these across your store.
Module 11: High ROI Email & SMS Marketing
This module includes some videos on email marketing and how to automate the process of sending out emails to customers.
The last section is about SMS marketing which might not work for international buyers.
Module 12: Multivariate Testing, A/B & Heat Maps
This module includes three videos on using A/B split testing to increase conversion rates.
Besides, you will learn how to use multivariate testing and implement heat maps to your website.
But the process of testing is laborious and might cost you a lot of money.
Module 13: Bulletproof Customer Support
This module focuses on optimizing customer service. Kevin will teach you how to handle returns and exchanges. You will be provided with scripts on how to deal with customers.
Module 14: Keeping Business Alive
This module specifically focuses on keeping your dropshipping business sustainable.
Of all the contents, the most important thing is how to get back a banned Facebook ad account and there are scripts included.
You'll learn how to protect your own products from copycat dropshippers and report to Shopify or Facebook for DMCA takedown.
Also, there are videos on dealing with the BBB (Better Business Bureau) and other watchdog groups so as to keep the number of negative feedback in check.
In the end, Kevin will teach you how to comply with FTC laws and handle payment processor disputes.
Module 15: Building Advanced Infrastructure
This last module looks at automating the operation of your store.
It begins with finding and hiring virtual assistants on Upwork or Fiverr.
After that, Kevin will provide you with some scripts that claim to help you negotiate with them in Chinese and negotiate a better price.
Is Kevin Zhang a Scam? Is Dropshipping Still a Viable Option in 2020?
After all the modules, can you really get rich quickly like Kevin Zhang?
As an experienced dropshipper, what I can tell you is that you really have to shed some blood and tears to figure out how dropshipping works and scale your business to 6 figures.
Here are a few points why I would not recommend dropshipping:
1. Financial Risk
Your dropshipping store won't sell ANYTHING if you don't ADVERTISE. But the marketing costs from social media marketing such as Facebook ads will eat away your PROFITS. There is also the start-up cost of investing $1,997 in Kevin's course.
You might need weeks or even months to just break even, before showing any profit.
In another word, it is a huge FINANCIAL RISK to start dropshipping.
2. Facebook ads are Pricey and Difficult
After observing most dropshippers' results, at best, the total Facebook ad cost will account for at least 30% of your total sales.
But Facebook ads seldom stay effective for too long. After your targeted audience is exhausted, you will see a much lower conversion rate. Then you will have to increase the marketing budget to keep your ads campaign afloat.
According to Forbes, Facebook saw an increase in Ad costs of 90% year-on-year.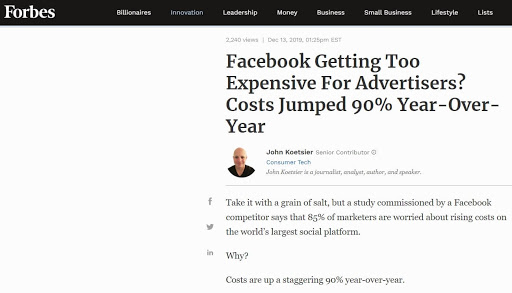 Worse still, the learning curve of Facebook ads is quite steep because Facebook changes its algorithm all the time. You have to invest a lot of time and money in learning and testing Facebook ads.
If you run Facebook ads without any experience, your ad account will be easily banned for violating their strict policies.
Many dropshippers fail to cover their Facebook ad cost and result in net loss.
3. Customer Support Issues

Even though you don't have to manage inventory and logistics, you do have to spend a lot of time communicating with suppliers and dealing with customer service.
If your customer has any issues with the product, you have to wait for your supplier to help you. If your supplier is not helpful, you have to bear the loss yourself. Therefore, many dropshipping stores have poor customer review and have no returning customers. That's why it's never easy to build a sustainable dropshipping brand.
In the worst case, you would expect a lot of credit card chargebacks, which risk getting your payment gateway shut down.
4. A lot of work on product research
For your store to keep making money, you always have to look for a new winning product by testing products with Facebook ads.
In dropshipping, most products reach their peak in 1-2 months or even weeks. This is because many competitors will start selling the exact same product once it becomes popular.
Therefore, you need to keep finding new replacements to keep generating profits.
Most people who succeed in dropshipping are doing it full-time because it requires dedication, consistency, hard work and a lot of patience.
In fact, managing Facebook ads alone can take up your whole day.