If you are interested in eCommerce, you might have heard of Dan Vas who is pitching his course Shopify Freedom.
But when I browsed the official website, it didn't give me a good impression. For someone who claims to be an expert in branding, the landing page doesn't even have a logo.
Can you trust a person who fails to do the basics of brand building? Is Dan Vas actually a Scam?
To help you make a more informed decision on whether you should spend $497 to buy Shopify Freedom, I've spent some time conducting an in-depth research.
Since I'm not affiliated to Shopify Freedom, you can rest assured that my review is genuine and unbiased.
At the end of this article, I'll also tell you another business model that can really help you create passive income at zero risk.
Below is what I will cover in the review of Dan Vas and Shopify Freedom.
Who is Dan Vas?
Dan Vas started his business venture with Amazon in early 2017. After some failures, he made some money and started a dropshipping store in 2018.

Shortly after that, he immediately launched his own Amazon Freedom Course.
What fascinates me is that he spent a year learning about eCommerce on Amazon and suddenly became a "master".
He also claims that he came up with the idea of "branded dropshipping" that offers 2-3 day shipping, high quality products, logos and custom product packaging.
This is a ridiculous claim that will never exist with Shopify Dropshipping. If it really did, Amazon would be bankrupt by now.
That being said, Dan still has over 125 followers on YouTube where he brags about the money he's made from eCommerce. But I'm not sure most of that money comes from selling courses.
Recommendation: Here's The Best Alternative
What Can You Expect in the Shopify Freedom Course?
Shopify Freedom consists of 9 modules, 75 videos just over 10 hours. I don't know if the Dan can deliver his promises, but below is what Shopify Freedom claims to offer you:
Unlimited lifetime 24/7 access
Over 75 step by step training videos
Complete training divided into 10 modules showing you how to start a successful 6-7 figure eCommerce business
Downloadable PDFs + key points below every single course video
Complete plan of action and full expert mentorship + guidance (eCommerce is too complex that no course can be complete)
Unlimited mentorship with Dan Vas via his personal private Facebook to ask any question you have with Shopify & online business (some students complain that Dan only gives a Yes/ No or very curt answers in his replies)
2 hours of bi-weekly live mentorship group calls
Access to private Facebook community to ask questions and receive additional support
Bonus: millionaire mindset secrets course. Access to a complete mindset course with Dan Vas (which is the same content available on Dan's YouTube videos)
Dan always posts his "student results" like this, but never tells you that they are total sales figures. After subtracting advertising costs and product costs, there could be a net loss.
Recommendation: Here's The Best Alternative
An Overview of Shopify Freedom Course
The course includes 9 different modules, 75 videos and over 10 hours of content.
Module 1: Introduction
In this module, Dan gives an introduction to the course and the fundamental steps to build an eCommerce store.
Module 2: Intelligent Product Research
In module 2, Dan teaches you the basics about finding a winning product that can sell for a long time.
Module 3: Finding a High Quality Supplier
Dan teaches you how to find the right suppliers and check with them the quality and shipping.
Module 4: Creating Your Store
In this module, Dan teaches you how to set up your Shopify store from scratch, including how to get a domain name, setting up pages, retargeting, shipping and creating video ads.
Module 5: Zero to Expert with Facebook Ads
Dan shows you how to set up your Facebook Ads account and build a retargeting funnel. Other topics include scaling and setting up Lookalike and Broad Audiences.
Module 6: Facebook Ads
In this module, Dan tells you his hacks of scaling Facebook ads.
Module 7: Elite Influencer Marketing
This module teaches you how to find the right influencers to promote your products.
Module 8: Store Automation & Scaling to 1M/Year
Dan teaches you how to find the best virtual assistants and use some automation tools to scale your business.
Bonus: Millionaire Mindset Secrets
This is nothing more than a rehash of other people's success strategies including Napoleon Hill, Grant Cardone and other motivational speakers.
How Does Dropshipping Work?
How exactly does the dropshipping business model work?
Dropshipping is just another method of managing a company's supply chain.
Managing the production, distribution, and consumption of a company's products is called supply chain.
Material handling is the process of transporting and storing raw materials, WIP, and finished goods from their point of origin to their final destination.
This is the main difference between dropshipping and other types of eCommerce.
It means that the dropshipper does not hold inventory, but forwards customer orders directly to the manufacturer. After receiving the payment from the buyer, the supplier ships the item to the consumer.
Cons and Complaints of Shopify Freedom
1. Not the most comprehensive dropshipping course
Despite the fact that Shopify Freedom seems to offer everything a business needs to thrive, it's missing something.
The discussions on each topic aren't very in-depth. Each of the individual chapters is short and only touches on the larger topics superficially.
Facebook Ads marketing strategy was the most comprehensive part of the report. I hear you say, "But that's a big topic…" And sure, it's an important tactic, but it's not enough on its own or as the only type of advertising to ensure your shop's success.
2. Steep price tag for what you get
In my opinion, the course is not worth the money it costs, especially compared to others in its price range.
3. Too much filler material
Although each new segment may seem interesting and pertinent at first, you soon discover that Dan has run out of material and needs to speed things up.
Instead of giving more in-depth lessons and focusing on his "area of expertise", he's chosen to share his options and philosophies in ad hoc portions using motivational videos and mindset methods.
4. Not the best business model
Based on my observations, I do not think dropshipping is the best business strategy for you in 2022 and beyond.
When it comes to dropshipping, there are far too many issues that come up right away.
Recommendation: Here's The Best Alternative
Pros of Shopify Freedom
1. Dan is a Successful Dropshipper
Dan, despite his boasts that he "invented" dropshipping (his words on the official course website), has had success with dropshipping.
Despite the quips, it seems like he has actually been successful with his Shopify businesses.
Both in the course and on his channel, he gives detailed instructions on how to set up different sections of your online shop.
2. Will Teach You The Basics
Learn everything you need to know to conduct product research, develop a unique brand identity, and successfully launch and promote your online store using Facebook Ads with the help of this comprehensive course.
Unlike the other sections, the Facebook section is quite detailed and introduces you to more than one technique.
The training is useful if your goal is to create a working Shopify store.
3. 24/7 Private Chat Group
Any private support group that actively addresses the needs of its members is invaluable. If you are looking for people who can relate to what you are going through, you will find them.
4. Two Hours of Bi-Weekly LIVE Mentorship Group Calls
A 2-hour live group talk will be incredibly helpful. I imagine there will be an opportunity to submit questions in advance, and if enough other participants have the same request, it can be addressed.
Due to the large number of students/members who will be participating in the conference call, live interaction with the conference call moderator is not expected.
How much does Dan Vas's Course Cost?
At $497, it is not the most expensive course on the market. Dropshipping courses for experts usually cost over $2,000.
So financially, it's not a bad deal.
Although Dan goes through the material quickly, it's not nearly as in-depth as other, more well-known courses.
If, like Dan, you are just starting out and have $500 to spare, you might want to look into this course.
Is Dan Vas a Scam or Legit?
I don't think Dan Vas is a scam. He's just a quick learner who is able to master all the skills and knowledge of eCommerce in a year.
But it's always a question when it comes to his income source. No one knows if he made his fortune from dropshipping and Amazon FBA or just dropshipping courses.
More importantly, is the Shopify Freedom really worth $497? After all, the content itself is not comprehensive enough to help you launch a highly profitable dropshipping store.
If you know nothing about dropshipping, you might be able to learn something from Dan.
But if you want to save $500, you can actually download a free guide of dropshipping from websites like Oberlo to learn the basics of dropshipping yourself.
For me, dropshipping is no longer a side-hustle worth consideration in 2020.
Recommendation: Here's The Best Alternative
Problems of Dropshipping that Dan Vas Doesn't Tell You?
After all the modules, can you really make a full-time income with dropshipping business and live a lavish life like Dan Vas?
As an experienced dropshipper, what I can tell you is that dropshipping is far more difficult than you think.
Here are a few points why I would not recommend dropshipping to beginners:
1. Financial Risk
Your store won't sell ANYTHING if you don't ADVERTISE. But the marketing costs from social media marketing such as Facebook ads will eat away your PROFITS. There is also the start-up cost of investing $497 in Dan Vas'course.
You might need weeks or even months to just break even, before showing any net profit.
In another word, it is a huge FINANCIAL RISK to start dropshipping.
2. Facebook Ads are Pricey and Difficult to Manage
After observing most dropshippers' results, at best, the total Facebook ad cost will account for at least 30% of your total sales.
But Facebook ads seldom stay effective for a long time. After your targeted audience is exhausted, your conversion rate will decline sharply. Then you will have to increase the marketing budget to keep your ads campaign afloat.
According to Forbes, Facebook saw an increase in Ad costs of 90% year-on-year.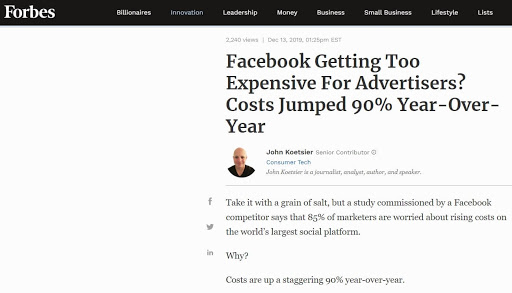 Worse still, the learning curve of Facebook ads is quite steep because Facebook changes its algorithm all the time. You have to invest a lot of time and money in learning and testing Facebook ads.
If you run Facebook ads without any experience, your ad account will be easily banned for violating their strict policies.
Many dropshippers fail to cover their Facebook ad cost and result in net loss.
3. Customer Support
Even though you don't have to manage inventory and logistics, you do have to spend a lot of time communicating with suppliers and dealing with customer service.
If your customer has any issues with the product, you have to wait for your supplier to help you. If your supplier is not helpful, you have to bear the loss yourself. Therefore, many dropshipping stores have poor customer review and have no returning customers. That's why it's never easy to build a sustainable dropshipping brand.
In the worst case, you would expect a lot of credit card chargebacks, which risk getting your payment gateway shut down.
4. A lot of work on product research
For your store to keep making money, you always have to look for a new winning product by testing products with Facebook ads.
In dropshipping, most products reach their peak in 1-2 months or even weeks. This is because many competitors will start selling the exact same product once it becomes popular.
Therefore, you need to keep finding new replacements in order to maintain your sales.
Most people who succeed in dropshipping are doing it full-time because it requires dedication, consistency, hard work and a lot of patience.
In fact, managing Facebook ads alone can take up your whole day.
Recommendation: Here's The Best Alternative
Is there an Easier & Better Alternative to Dan Vas' Shopify Freedom?
If you are new to online business, you may ask if there is a better business model that doesn't need Facebook ads and can do it as a side-hustle.
Yes, I would suggest you getting started with affiliate marketing. It is far easier and less time consuming as you don't even need to handle customer service.
In affiliate marketing, you can run your business almost with zero cost. Most importantly, you don't need to invest in creating and developing any products.
But How Much Can You Earn in Affiliate Marketing?
A 21-year old student from my #1 recommended training platform of affiliate marketing was able to earn $7,395 in just 1 week, which means he made more than $1k a day…all while using free traffic methods and affiliate marketing.
Wealthy Affiliate has existed for more than 10 years and there are many success stories over the years.
To give you more examples, here are some of the other inspiring success stories of Wealthy Affiliate members.
Where to Join Wealthy Affiliate?
Wealthy Affiliate has a very simple pricing scheme. It has free and premium membership.
If you want to feel about Wealthy Affiliate, you can sign up for the starter membership here (no credit card required). You can select to be a free member with no time limit.
And as a starter member, you can get instant access to the community, live chat, over 500 training modules, 2 classrooms, networking, commenting, 1 free website, access to the keyword tool.
You can enjoy all these values without paying a penny.
So I strongly recommend you to register a free account and see it yourself.