Is Indeed.com a scam? Many people are using Indeed.com to find a job online, but does it really work?
Before 2004, it's not very convenient to search for a job online. At that time, you had to go to specific job boards which only have few jobs available. Now, Indeed.com allows you to find all kinds of jobs online.
In this review of Indeed.com, I will cover the following to help you understand what Indeed.com is about and whether you can find a remote job on Indeed.com.
Indeed.com Review
Indeed.com is a job search engine for employers and employees worldwide. It pulls data and aggregates job listings from many different websites, which include job boards, staffing firms, company career pages etc. It was co-founded by Rony Kahan and Paul Forster in 2004 to help people find jobs online.

Currently, Indeed is available in over 60 countries and 28 languages. With over 250 million monthly visitors, it is the #1 job site in the world that allows job seekers to search for jobs and post resumes for free. Job seekers can apply for millions of jobs directly on Indeed.
As a worldwide employment-related search engine, Indeed is also a pay-for-performance recruitment advertising network. They sell premium job posting and resume features to employers, which allow companies to source candidates, manage jobs, communicate with applicants and schedule interviews. With Indeed, it's much easier for companies to explore and hire talents in any field of work worldwide.
How Does Indeed.com Work?
Indeed.com has a lot of useful features for both employers and employees. Below are the core features you can find on Indeed.com:
Google-Like Search Engine
Indeed.com has Google-like search algorithms that allow job seekers to search millions of jobs worldwide and apply for the suitable jobs that match their skills.
Indeed.com has a powerful application tracking system (ATS) that allows companies to manage candidates and track the results.
Organisations can post job listings directly on Indeed.com that are searched by millions of job seekers online. Screener questions can be added to filter unqualified candidates, which saves a lot of time in finding the most suitable candidate for a job post.
Manage Communications between Employer and Job Seekers
Indeed.com allows employers and job seekers to communicate in one place, including store resumes, schedule interviews and send messages.
Employers can set the application statuses as reviewed, interviewed, rejected or hired to notify the candidate.
Job seekers can create a job email alert. Indeed.com will email you with any new matches to your search.
To create a job alert, simply perform a search. And at the top right-hand side of the results page, there is a button "Get new jobs for the search by email". Simply enter your email address and you will be notified on a daily basis when there's new job matches.
Indeed.com allows companies to promote their job listing as a "sponsored" job. Sponsored jobs are paid job postings that would appear higher than free job postings in search results of Indeed.com. That would help increase the number of applicants and hence have a higher chance to hire the most talented people.
The price for "sponsored" jobs is about $5 a day. It will be charged on the "pay-per-click" basis. So if no one clicks the job post ad, there is no charge.
On indeed.com, you can effortlessly create a resume because there are customisable resume templates. Those templates are proven to work. And the best part is that the resume builder is totally free. Having a good resume will increase your chance of being found by suitable employers on indeed.com.
How to Find A Remote Job on Indeed?
As promised, I will talk about finding a remote job using Indeed.com.
To find a remote job that allows you to work from home and has flexibility to fit your schedule, there are many online platforms you can go. For example, FlexJobs, Virtual Vocations, Dynamite Jobs. And Indeed.com is one of the most robust remote jobs platforms.
Since Indeed.com pulls data from virtually everywhere on the internet, you can find a huge database of remote jobs to apply for.
Indeed.com is better than many other big job boards to find remote jobs. You can simply type "remote", "work from home", "home based" or "work at home" in the "Where Field" of the search box on Indeed.com.
If you want to see all remote job opportunities, you can just leave the "What Field" blank. And of course you can narrow it down with certain keywords, job titles or company names to filter out some irrelevant job opportunities.
And then you will get a list of search results listing all the remote job opportunities for you.
Another way to find remote jobs on Indeed.com is that you can use the remote filter option. You can use the remote filter with only the "What Field" filed out. That would give you a nationwide search of remote jobs.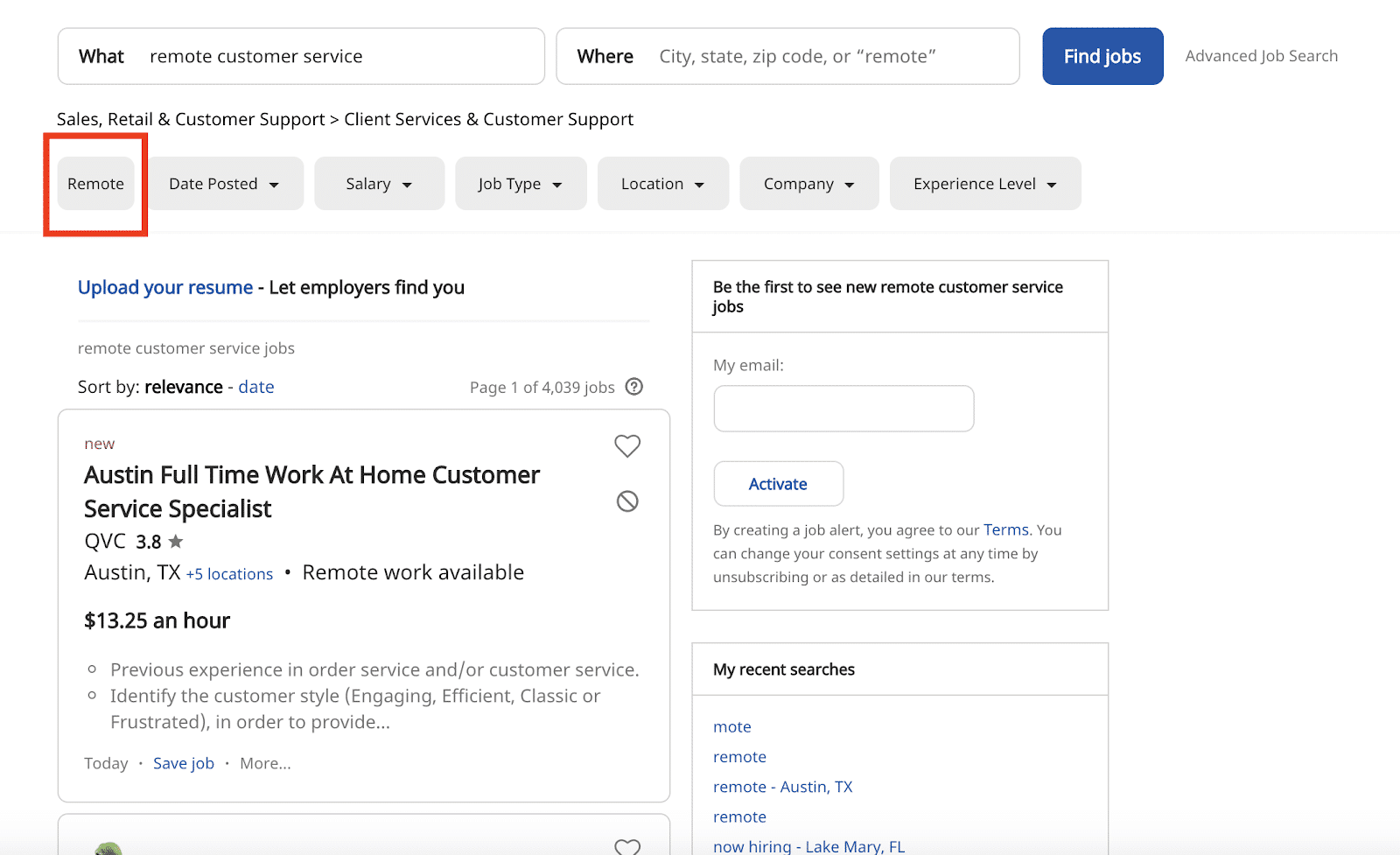 Or you can have the "Where Field" filled out and use the remote filter option. That would give you more targeted remote jobs to
a specific location.

Another cool thing to find remote jobs is that you can see "fully remote" or "temporarily remote" tags on the job description page.
Jobs with a "fully remote" tag means the job is remote 100% of the time.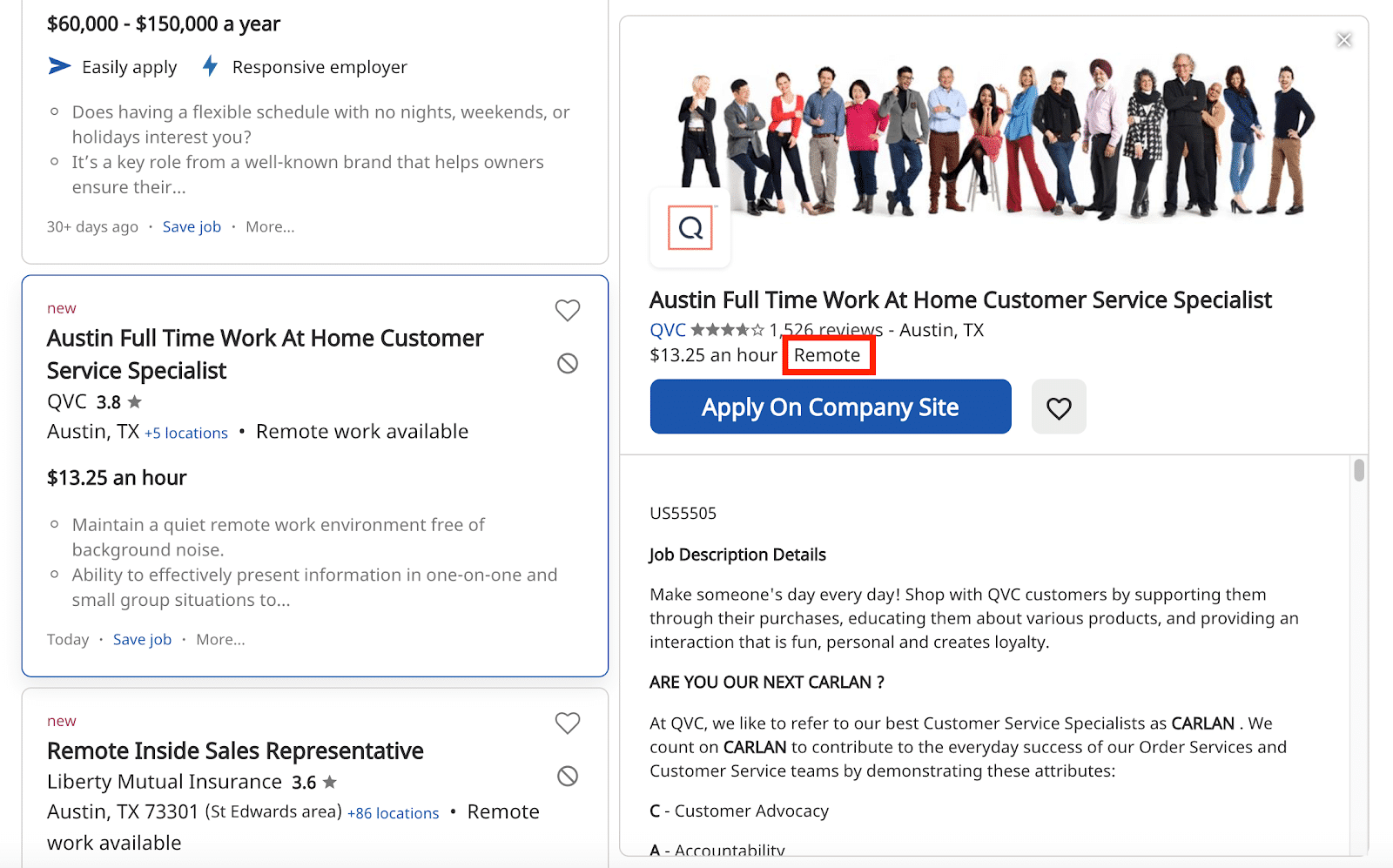 Jobs with "temporarily remote" tag means the jobs are just temporarily remote for some reasons such as COVID-19. So there's a chance that you would have to go back to the office after a certain period of time.

Summary of Indeed.com Pros and Cons For Finding Remote Jobs
Pros of Indeed.com
4000+ full-time remote jobs added each week,

1600+ part-time remote jobs added each week

Powerful google-like keyword search

It's free for job seekers
Cons of Indeed.com
Limited filters that it's a bit time-consuming to find the most suitable job

No search filters for job categories

Jobs tagged with "remote" are not 100% remote sometimes

Some jobs listed are unpaid

Jobs are not verified like FlexJobs did
Is Indeed.com a Scam?
Definitely, Indeed.com is not a scam. It is undeniably a great search engine for finding any jobs online, including remote jobs.
When we want to do research, we always go to Google. But if you want to search for job opportunities, Indeed.com should be your first choice.
Indeed.com basically eliminates the troubles of browsing different company websites for job opportunities.
You can see and compare all in one place. It also saves you a lot of time submitting job applications and resumes to employers.