Are you looking for a FlexJobs review? Should you use FlexJobs to find a work from home job? Or you may wonder if FlexJobs is a scam.
This FlexJobs review is going to answer all your questions.
FlexJobs claims that it helps you find a job that suits you.
With a work from home job, families can raise their children while earning income at the same time. You can work online while traveling as a digital nomad. You can earn money from the comfort of your own home as a side hustler.
I have done thorough research about FlexJobs in the past few weeks, and I have subscribed to FlexJobs myself. So I can tell you everything you need to know about FlexJobs.
FlexJobs Review – Key Takeaways
In this FlexJobs review, I'm going to cover the following topics:
What is FlexJobs?
FlexibleJobs helps people find remote, part-time, and some freelance jobs to earn money from home. Bloomberg, USA Today, Forbes, Time Magazine, and WSJ have all featured it.
According to the company, they offer online resources to help people find jobs that fit their lifestyle.
On FlexJobs you can find a wide selection of home-based jobs in various industries. It is an online job board for finding remote, freelance and part-time jobs
These jobs are found by FlexJobs on company websites and through employment agencies, but they are hand-screened before being posted on the site.
FlexJobs does not offer every job that can be done from home. There are still some companies that do not offer full remote work that is still flexible. Also, the listings are deleted after the job is finished, so you will not waste your time with dead-end jobs.
Besides job listing, FlexJobs offers the following services for members:
Checklists for job searches

There are more than 170 skills tests to assess and promote your skills

Personalized coaching

Help with your resume

Discounts exclusively for members
Recommendation: Here's The Best Alternative
How Does FlexJobs Work?
On FlexJobs you can find a variety of jobs in accounting, finance, education, insurance, eCommerce, travel, data entry and many more.
FlexJobs has reviewed every job posted on the site before offering it to you. FlexJobs does the due diligence for you, and any scams are filtered out for you
In addition, FlexJobs offers other services such as:
Checklists for job searches

Job-seeking coaching on a one-to-one basis

Assistance with resumes

Tests to assess and improve your skills
The job posting includes information such as the posting date, flexibility, remote work level, job type, schedule, career level, education level, travel required, company type, company awards, company location, etc. It has powerful filters to help you find jobs that match your skills.
Without a membership, you can only see the brief summaries of the jobs on FlexJobs. The only way to see a full job description and apply for the jobs is to have a membership.
Learn more: Other legit ways to make money online.
Recommendation: Here's The Best Alternative
What are FlexJobs Features?
FlexJobs is more than a job posting service. You can also take advantage of other features. Let us give you a brief overview of FlexJobs features.
1. Advanced job search filters
FlexJobs allows you to narrow your options by job distance, career level, title, schedule, keywords, etc.
For example, using the advanced filter, I searched for entry-level marketing positions that were 100 percent remote and part-time, and I found 12 jobs. Almost all were fresh, meaning posted within the last 30 days
The number of entry-level marketing jobs increased to more than 60 when I changed the search filters to include full-time positions.
2. Skills tests
The FlexJobs website aims to connect you with jobs. There are skill tests that you can take to see if your skills match the job requirements. On FlexJobs, you can include those on your resume in order to promote yourself.
However, participation in these tests is not free. If you are not a member, it will cost you about $10-$20 to take the tests.
In addition, you can take soft skills tests to find out which jobs best fit your personality.
3. Resume Profile
FlexJobs lets you build a resume, which you can use to apply for jobs on FlexJobs. To increase your chance of getting hired, you can include your work samples on the resume.
4. Email Updates
FlexJobs keeps you up to date on potential job openings. This way, you will be notified whenever new jobs that match your search criteria are posted. This way you can make sure you do not miss out on a great money-making opportunity.
5. Company Guide
You can find some top companies' information on FlexJobs. There are past job listings and some basic information about companies that may interest you. That would enable you to prepare for the interview and write a cover letter.
6. Career Coaching and Resume Review
FlexJobs members receive this service as an added benefit. With FlexJobs, you have access to personal coaching. They also help you improve your resume and increase your job prospects.
While these services are not free for FlexJobs members, they are available at a discounted rate:
$64 for an hour of one-on-one career coaching

A resume review costs $129

A career coach and resume review costs $164

Depending on how advanced your resume needs to be, career coaching will cost between $100-$150 per session and resume reviews and writing will cost between $100 and $400.
7. Member savings partnerships
FlexJobs members receive additional savings and discounts at some of its partner companies, including:
Audible

Grammarly

Sittercity

Costco

VSP Individual Vision Plans

Intuit Quickbooks and Turbotax
8. Ad free
FlexJobs has no ads – only jobs. Ads are an important source of revenue for many websites and apps, but it can be annoying to see ads when you're paying for a service.
Recommendation: Here's The Best Alternative
FlexJobs Pros
1. Career coaching services
FlexibleJobs members have access to discounted career coaching through the platform. Your resume will be reviewed by an experienced career expert, and you will be guided through mock interviews and job search guidance. With your membership, you get 50% off the regular price of this service.
2. Partnership discounts
More than 60 FlexJobs partners offer exclusive discounts to FlexJobs job seekers. According to their website, they currently have the following partners:
Grammarly (20% off subscription cost)

Audible (free 30-day trial)

Dell (30% off Dell computers and tech products)

Costco (free $30 credit for new members)

Turbotax (50% off for 6 months)
3. Advanced job search
The advanced job search is one of the most comprehensive I have seen online. Searching for jobs that require a university degree seems pointless if you are an entry-level employee without a degree
There are a number of search parameters in the advanced search that can help you find exactly what you are looking for.
4. The learning center
In FlexJobs' Learning Center, you'll find valuable information about remote jobs and working from home. There you can download links, blogs and articles, and other useful resources.
Articles cover everything from job search tips to freelance productivity tips to tools and software that can be useful for freelancers.
Furthermore, FlexJobs members have access to exclusive free courses offered in partnership with LinkedIn Learning (but access requires a LinkedIn Learning subscription).
The courses focus on how to build a flexible career and find freelance work, which could be a great resource for those new to freelancing.
5. Skills tests
As a FlexJobs member, you have access to over 170 skills tests, including office skills, web design, writing and publishing, translation skills, and mobile technologies. It takes quite a while to complete the tests.
The freelance writing test took 40 minutes. All questions are multiple choice, including format and grammar questions, content marketing questions, and audience building questions.
The questions were fairly comprehensive and a good way to identify areas where you should further your education.
With your industry-specific certifications, you can show potential employers your skills. Employers can see your score if you score above 70%. Not only is it interesting to employers, but it is also helpful to know what skills you are good at and which ones you can improve.
6. Applicant profile
As a FlexJobs member, you can create an online resume that is visible to employers. If you are interested in different types of work, you can create multiple profiles on FlexJobs. If you are applying for home-based jobs, a targeted search is very important.
7. Email notifications
A home-based job may be the only job category where the early bird catches the worm more than any other. Job postings are usually filled within 48 hours due to heavy competition. Therefore, email notification is critical.
8. Members-only webinars
From time to time, FlexJobs hosts special webinars. In addition to virtual job boards, previous webinars have covered resume writing tips and protecting your career in the age of technology
FlexJobs also offers a weekly Q&A discussion with a FlexJobs career expert where you can ask questions and get advice.
9. Legit Jobs That Are Screened
According to a report by FlexJobs, for every legitimate job posting on the Internet, there are 60-70 cases of fraud.
Due to fraud, almost 20% of job seekers have lost their money.
The problem of fraud is a serious one, and FlexJobs makes sure that every job posting is authentic. It is the research team's job to detect scams, so you do not have to worry about double-checking them.
You will only get the best jobs after the bad ones are weeded out. A FlexJobs researcher verifies the legitimacy of a job by researching the company for up to 30 minutes.
Doing your own research can take hours. This saves you time and energy.
10. FlexJobs Does The Company Research For Y10am
The fact that a company has a remote team does not mean it's right for you.
FlexJobs provides useful information about each company. There is a huge database on the website.
It is sorted by job categories, so you can easily find employers that need your skills. Checking companies on FlexJobs will save you time.
FlexJobs has spent several years researching companies. This includes their remote work history, description, website, and headquarters.
11. Customer service from a real person
More and more companies are using robots instead of human employees to communicate with their customers.
FlexJobs says they are old-fashioned and do not use chatbots or recorded phone operators to solve problems.
In the U.S., there is always someone there to help you.
According to my research, many people have had good experiences with FlexJobs.
Recommendation: Here's The Best Alternative
FlexJobs Cons and Complaints
1. Outdated job listings
It's possible that some job postings are no longer current. Employers may not delete the job posting once they've filled it, so FlexJobs isn't at fault. In any case, it's important to pay attention to the date of the job posting so you don't apply for something that's no longer current.
2. Not all jobs are remote
FlexJobs offers a variety of remote job listings, however not all of them can be worked remotely. FlexJob accepts listings that offer alternative schedules even when they aren't remotely based.
Therefore, you should pay attention to this matter. With the advanced search function you can easily philtre out job offers that are relevant to a specific location.
3. Listings can sometimes be found elsewhere
In addition to FlexJobs, some employers use other platforms to post their jobs. If you move your search to other free platforms, such as Indeed, you may come across the same ad.
Who is FlexJobs for?
FlexJobs is specifically for people looking for flexible remote jobs. Some jobs require an in-person interview, but that will be stated in the ad if it is required. You can also find part-time and full-time positions.
FlexJobs is suitable for the following types of job seekers:
Families that need some extra income but want the flexibility to stay at home with their kids or work from home.

Freelancers seeking more clients.

Travelers who want to keep travelling full time and have their job allow them to do so.

Those who wish to make more money on the side of their day jobs by side hustling.

A person who lost their job because of COVID and wants something that will allow them to work from home in the future.

Anyone looking for some kind of remote work and who needs help searching for a job can find FlexJobs useful.
What Kind of Jobs Can You Find on FlexJobs?
FlexJobs offers jobs in more than 50 fields, including accounting and finance, call centers, education, insurance, e-commerce, transcription, travel and hospitality, and work from home. There are over 30,000 open positions.
It's pretty certain that FlexJobs has jobs for programmers, graphic designers, and others among its 50+ labor categories.
And if browsing through thousands of job listings is too much for you, do not worry – it's not necessary.
If you use the customizable filters or search in one of the main categories under Job Search, you can easily narrow down your search.
The site also lets you sort job listings by subcategories, such as New Jobs, Jobs from Top Employers, and Research Jobs.
The 100 Surprising Jobs section is particularly unique. There are no disappointments here. "Director of Taco Relations" was a recent job posting.
The listing filters are also available for self-employed people, so you will not waste time browsing jobs that are irrelevant to you.
FlexJobs has a high quality selection of companies to choose from. Companies like Apple, Duolingo, Capital One, and more regularly list jobs for freelancers and remote workers through this site.
It should be noted that some of the paid FlexJobs member jobs are available elsewhere. FlexJobs gives you the assurance that the job you're applying for is of high quality.
Recommendation: Here's The Best Alternative
FlexJobs Pricing
Pricing for FlexJobs is tiered in four levels, with a one-week membership starting at $6.95
Three-month, one-year and two-year membership prices are discounted. A one-year membership costs just $0.96 per week.
Here is a breakdown of the pricing for this service, as you can see in the image above:
1 week: $6.95

1 month: $14.95

3 months: $29.95

1 year: $49.95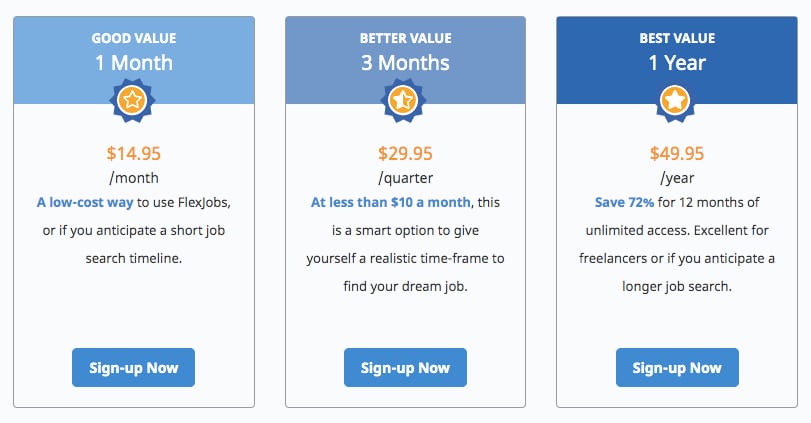 FlexJobs membership can be cancelled at any time, no questions asked. The company will even refund you within 30 days of signing up or renewing your subscription if you are not happy with it.
To find the right job, you may only need a month or even a week. However, they recommend three months as the best value.
As a freelancer, you need to weigh the costs to figure out what's best for your business.
Most freelance websites charge a fee at some point. This cost often comes later in the form of commission fees on other websites.
A $15 upfront fee is worth it if it gets you a good paying job with a reputable company.
At the very least, it will save you an hour (or perhaps several hours) of job hunting that you could spend billing clients instead.
They also offer a number of additional resources and benefits. These benefits help offset the cost of membership.
Recommendation: Here's The Best Alternative
Is FlexJobs a Scam?
FlexJobs is not a scam.
While you can find a job on your own, FlexJobs saves you the time of doing the research. Sometimes it's hard to tell if a job is legitimate without help.
When FlexJobs does the checking for you, you can be sure that the jobs you apply for are reputable and you'll be rewarded for your efforts. You don't have to visit many different websites to find a suitable one.
However, FlexJobs cannot guarantee that you'll be hired. Ultimately, your qualifications for the job will determine how you get paid.
The research is what you pay for. You don't have to dig through traditional job boards, read all the reviews, and find out if a job is reputable. FlexJobs does all that for you. The service you pay for helps you find the most suitable work-from-home jobs.
Recommendation: Here's The Best Alternative
Other FlexJobs Reviews Online
FlexibleJobs has many positive online reviews, including from the Better Business Bureau, which accredited the site in 2008 and gave it an A+ rating:
Flexjobs received an average rating of 4.5/5 stars from 42 Trustpilot reviewers.
FlexJobs Positive and Negative Feedbacks
FlexJobs Positive Feedbacks
More than 800 verified work-from-home jobs are added each week.

All jobs are reviewed before they are listed

There are more than 50 job categories

Easy-to-use philtres to search for jobs

Concise company and job descriptions

No minimum number of jobs you can accept for a flat fee

Both beginners and experts can benefit from these options

There are no advertisements, no spam and no scams

Excellent customer service and career coaching
FlexJobs Negative Feedbacks
Navigating the interface can be confusing.

There are very few job listings from startups

Fees for membership

There is no streamlined application process

There is no portfolio creation feature

There are similar jobs available on other websites

Payment processing is not available on the platform
Recommendation: Here's The Best Alternative
FlexJobs Alternatives
Indeed, Monster, and LinkedIn are the most well-known companies in the job search industry.
Since your needs are different, there is no universal best platform for job search here. For this review, however, let us focus on how effectively these widely used job boards connect candidates with flexible employment opportunities.
One notable feature of FlexJobs is the ability to narrow down your job search results to find only those jobs that allow for the hours and responsibilities you need.
For example, on job boards like Monster, you can find jobs that are only accessible while on the road. Freelance jobs and part-time work, however, are not search criteria.
FlexJobs vs. Indeed
Compared to other websites, Indeed has the most jobs available. They compile job listings from many sources without verifying their accuracy, and update them frequently. Most listings are rather basic, which can result in stiff competition.
It can be difficult to find a job with flexible hours on Indeed.
Indeed requires a user to enter their geographic location when applying for a job:
If you type in "United States," you'll get results from all over the country, but you'll still see a variety of remote jobs (some of which may be temporary or involve travel). Accordingly, you will have to do much of the searching yourself.
FlexJobs vs. Monster
Monster, like Indeed, has one of the largest collections of open jobs on the Internet. The platform also allows users to filter remote job postings.
However, Monster's limited search filter options are a major drawback. You can't narrow down your search results by criteria such as experience, location, or availability.
FlexJobs vs. LinkedIn
On LinkedIn, you can search for remote jobs nationwide. There is a filter that allows you to view only results related to remote work.
There are many different online job boards, but LinkedIn is notoriously expensive for hiring companies to use. That's why there are not as many temporary or entry-level positions.
Using LinkedIn has the advantage that many employers will use your profile instead of a resume. If you have solid work experience, this is a great place to apply.
In general, LinkedIn is useful for connecting with recruiters in your field or finding jobs with specific companies.
Flexjobs vs. Virtual Vocations
The business concept of Virtual Vocations, another job search website, is quite similar to FlexJobs.
Virtual Vocations, like FlexJobs, is a remote job aggregator that quality checks each job listing. You can learn the basics of some jobs by simply signing up for free, but if you want to know everything about them, you'll have to pay.
Virtual Vocations' premium subscription starts at $15.99/month. Weekly billing is not available, and discounts are not widely available. For this reason, the cost is usually higher (though not by much).
As evidenced by its A+ BBB rating, Virtual Vocations is a trustworthy company.
If you compare Virtual Vocations with FlexJobs, the two main differences are:
While Virtual Vocations focuses exclusively on telecommuting jobs, FlexJobs covers a broader range of flexible work options.

While Virtual Vocations only includes listings from U.S. companies, FlexJobs welcomes recruiters from around the world.
FlexJobs vs. Freelance Marketplaces
Freelance positions posted on FlexJobs are usually longer-term engagements that require prior experience. In addition, the majority of freelance jobs posted on FlexJobs are standard activities such as writing, transcription, programming, and design.
On the other hand, jobs posted on freelance exchanges like Fiverr and Upwork are often of shorter duration and more accessible to beginners. There is also a wide range of possible jobs.
For example, the search term "podcast editor" shows only three results on FlexJobs, while it returns 38 results on Upwork. So if you have more unconventional skills, you may get more on Upwork and similar freelancer marketplaces.
Overall, FlexJobs can make it harder for newbie freelancers to land their first contract. An extensive work history is usually required for employment. Those in this position should first gain experience on freelancing platforms before looking for work on FlexJobs.
FlexJobs is a wonderful platform to find contract work if you have experience in a highly sought-after freelance field.
FlexJobs Review: Final Verdict
Now that you know what FlexJobs is.
As helpful as FlexJobs may be, employment isn't guaranteed.
Still, you should be aware of online job posting scams. Work-at-home scams can cause you to waste your time or even lose money.
Since FlexJobs screens employers on your behalf, your risk is basically eliminated. Therefore, being a member of FlexJobs should be a great benefit to you.
Recommendation: Here's The Best Alternative
Best Alternative of FlexJobs to Make Passive Income
If you want to make a stable and secure stream of passive income, I would suggest you start an affiliate marketing business online.
Affiliate Marketing is perfect for anyone who is new to online business.
In fact, of all the online business models I've tried, affiliate marketing is the easiest and most rewarding so far.
In affiliate marketing, you can actually run your business almost with zero cost and achieve a steady and sustainable passive income to pay for your bills. You don't need any initial capital and can even do it as a side hustle.
And if you really want to learn affiliate marketing and build a business from scratch, I'd recommend you to get started with the most reputable platform for affiliate marketing: Wealthy Affiliate.

Wealthy Affiliate is an all-in-one platform for building your affiliate marketing business from scratch. It offers you a free account (including a free website) with comprehensive training on SEO (free traffic methods), which enables you to get started with affiliate marketing right away without paying a penny.
But How Much Can You Earn with Wealthy Affiliate?
A 21-year old student from Wealthy Affiliate was able to earn $7,395 in just 1 week, which means he made more than $1k a day…all while using free traffic methods.
Wealthy Affiliate has existed for 15 years and there are many success stories in the past decade.

To give you more examples, here are some of the other inspiring success stories of Wealthy Affiliate members.

Where to Join Wealthy Affiliate?

Wealthy Affiliate has a very simple pricing scheme. It has free and premium membership.
If you want to feel about Wealthy Affiliate, you can sign up for the free starter membership here (no credit card required). You can select to be a free member with no time limit.
And as a starter member, you can get instant access to the community, live chat, over 500 training modules, 2 classrooms, networking, commenting, 1 free website, access to the keyword tool.

You can enjoy all these values without paying a penny.
So I strongly recommend you to register a free account and see it yourself.
Recommendation: Here's The Best Alternative
FlexJobs FAQs
1. Why Does FlexJobs Charge a Membership Fee?
There are so many scams on many other job search websites because they don't hand-screen every posting. FlexJobs does, and that's why you're paying for it.
A member can access over 32,000 flexible jobs from over 49,000 companies, according to the company's website.
To make sure that you find only the best jobs, FlexJobs' research team reviews companies and jobs for over 100 hours a day. There are no scams!
2. How Much Does FlexJobs Cost?
FlexJobs offers several membership options. The cost is $14.95 per month, $29.95 per three months, and $49.95 per year.
From time to time, FlexJobs offers promo codes on their Facebook and Twitter pages.
3. Does FlexJobs Have a Guarantee?
The FlexJobs website gives a satisfaction guarantee even though it can't promise that you'll find a work-at-home job.
To cancel your subscription and get a refund, simply request it within 30 days if you aren't satisfied with the quality.
4. Is it worth it to pay for job listings like FlexJobs?
You can find free job listings on other websites by signing up and paying for a FlexJobs membership.
Listings on FlexJobs aren't exclusive to FlexJobs members – these are listings that are available publicly online. You can find these listings on company websites or other job boards.
Nevertheless, paying for access is worthwhile for some people, as FlexJobs aggregates job listings and only includes those that qualify as flexible or remote work.
FlexJobs also screens each job listing and reviews the company for you, which is very useful since there are a lot of scams out there for work-from-home jobs, remote work, basically anything that's very flexible because there's such a need for it.
However, you will not automatically be hired for remote work if you take a magic pill. There is no such thing, and anyone who tells you there is is lying.
It is great that FlexJobs helps you find a job, but you have to do some work on your own as well. It means you need to make use of its features, submit high-quality applications, and search its listings regularly.
Imagine it as a gym membership: joining the gym will not immediately help you to lose weight or build muscle, but taking full advantage of the equipment there and prioritizing your time there can.
There are plenty of work-at-home jobs out there, but you need to hunt them down. FlexJobs handles some of the work for you if you are willing to invest a little of your own money.
The small subscription fee for FlexJobs might be worth it if it finds you a decent job.
5. What makes FlexJobs different from other freelance job boards
There's a problem some freelancers face: it's not difficult to find freelance work, but knowing where to search can be difficult.
Jobs boards are a popular choice for freelancers, but they charge a fee as well, and that can be more than you'd pay to find freelance work on FlexJobs.
You are charged 20% of your first $500 on Upwork, then 10% for any additional fees over $500, and 5% over that.
When working for freelancers, you will be charged 10% of your earnings for hourly jobs and 10% of your earnings for fixed rate jobs.
Fiverr does not charge a membership fee, but they take 20% of each transaction.
FlexJobs gives you the option to pay a membership fee and then cancel your subscription once you get hired. If needed, you can re-up.
6. What is the Quality of Jobs on FlexJobs?
FlexJobs' job listings are one of its strongest features. As I scrolled through the job listings, I saw positions at companies like Apple, Xerox, Dell, Capital One, United Healthcare, and many more.
As a freelancer, you will find all the information you need regarding the job listings, such as the weekly time commitment and the duration of the project.
There is also a detailed breakdown of responsibilities, education requirements, and skills required.
Many freelance jobs, however, do not list the salary or wage, which I assume is to give both employer and applicant the chance to negotiate.
By clicking on the company name, you'll be taken to FlexJobs' hub page containing a lot of useful information about it. You can also read reviews of other freelancers and learn more about the company itself. On FlexJobs you can also see all the current job postings from each company.
Listings are highly curated, so only true, fair, and compatible work opportunities are allowed through.
7. How is the recruiting process on FlexJobs?
FlexJobs seems pretty straightforward in terms of how to apply. Users can navigate easily through the platform due to its user-friendliness. Employers can search for you in the same way you can and contact you directly if you fit their needs.
In order to begin the process, you need to register. Choosing your tier and paying the fee will give you access to the platform.
The first thing you should do after signing up is creating your resume profile. Employers can locate you more easily if your resume profile is complete.
Go to "My Dashboard" and click "Resume Profiles" to begin. Complete the summary questionnaire, select a picture, and describe your experience, education, and skills. You can also select your industry, preferred schedule, type of job, etc.
You can seek a job once you have completed your profile. After finding a job that interests you, you can click onto it to read through the description and job requirements. There will be an "Apply" button at the bottom of the page.
If you click on that, you'll be directed to the application. In most cases, job applications will be submitted through a third-party website, either the employer's own website or another job posting site.
8. How much can you make on FlexJobs?
It varies greatly how much money you can expect to earn through FlexJobs.
Factors to take into account include entry-level position, long-term position, part-time employment and all the differences between the two.
You will earn the most as a freelancer if you take on lots of projects and present yourself well to each client.
You may also be able to land a future contract if you establish a good working relationship with a client.
The sky is really the limit in that regard.
Generally, freelance jobs at Flexjobs are either paid per hour or per project.
As examples, freelancing jobs are listed for a UX designer making $70 an hour, a graphic designer making $38 an hour, and a medical writer at $125-500 per article.
9. Does FlexJobs Offer a Free Trial?
No, free trials aren't available with FlexJobs.
10. Who Owns FlexJobs?
FlexJobs was created in 2007 as a natural extension of Sara Sutton Fell's entry-level employment service. Having struggled to find freelance, remote, and flexible jobs, Fell used her staffing expertise to match telecommuters with companies seeking employees.
A sharp increase in the number of people looking for remote jobs and more flexible work wasn't something she had anticipated.
Several companies also wanted to reduce the costs of maintaining a full-time workforce, as they were surprised at the number.
11. How To Cancel FlexJobs?
You can cancel FlexJobs by clicking your name in the upper right-hand corner, then clicking on "Account Settings." From there, you can click on "Subscriptions.".
You can upgrade your subscription to a three-month or annual membership from there.
Your membership or subscription can also lapse or be cancelled immediately, meaning you will lose the remaining time you have already paid.
When you do a search for jobs, you will see some useful information for each job post, including, the date posted, flexibility, remote work level, job type, schedule, career level, education level, travel needed, type of company, company accolades, company location etc. And it has powerful filtering tools to help you search the jobs that suit you.
It's free to do a search on FlexJobs but you can only see the short summaries of job listings without a membership. To see a full job description and apply for the jobs, you would have to sign up for the membership.