Are you looking for a Doodle Maker review? Is DoodleMaker a scam? Should you buy it for creating doodle videos?
This comprehensive review is going to answer all of your questions.
Doodle Videos are a type of video animation. By combining the advertisement message with the hand drawings you keep viewers engaged and fully absorbing your points.
You need to keep viewers' attention by doing something different these days as they consume so many marketing messages.
It would cost $300 to $500 for a 30-second doodle explainer video if you hired an expert to make it, much like high-end companies and studios.
Doodle Maker claims to help you make doodle videos without spending hundreds of dollars. It uses Artificial Intelligence to let anyone, regardless of technical capability, age, or design skill, create fantastic, realistic, and accurate doodle videos in over 60+ languages within minutes.
But you may wonder if it sounds too good to be true.
To help you make an informed decision, I have done thorough research about DoodleMaker in the past few weeks, so I can tell you everything you need to know.
DoodleMaker Review – Key Takeaways
Product Name

: DoodleMaker

Website: https://doodlemaker.com/
Special Offer: Get A Special Offer Here
Overall Rank

: 4.7/5

DoodleMaker Scam or Legit

: It's not a scam. It's a legit software for video marketers.

Who is it For

: Newbie to Expert in video marketing
In this Doodle Maker review, I'm going to cover the following topics.
What is DoodleMaker?
The Doodle Maker is the world's first tool that easily transforms doodles into professional video clips using artificial intelligence.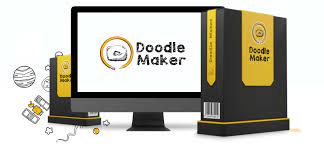 Artificial intelligence will turn your images and text into different colours as soon as you choose the type of video.
There are more than 300 video templates pre-installed with the software, covering the hottest niches and industries.
With the stunning templates, real human voices, audio effects, and animations are already included.
You can fully customize your doodle and have complete control over it with this software. In this way, you can doodle exactly as you wish for either personal or commercial purposes.
You can also convert your audio into over 100 voices in 30+ languages with the Doodle Maker, which will take things to the next level by adding the pre-populated human voiceovers or your own audio.
Doodle Videos are popular and influential ways to share marketing messages. You can create doodles on a whiteboard, blackboard, or glass board using DoodleMaker.
The use of stories has been proven effective as a way to help consumers consider details such as product features and benefits.
The mind automatically predicts the second letter of a word after drawing the first. Drawing cartoons is also like this. It will be interesting to see what follows. Watchers continue to watch your video clip as a result of this excitement.
These videos are perfect for education, sales, engagement, and inspiration to audiences around the world.
Since the DoodleMaker grants you commercial rights, you can sell the videos created for clients for $300 to $500 each using the commercial license included in the pack or offer your clients Doodle Creation services.
If you are not using video marketing for your business a the moment, here's the YouTube video that explains why you should start doing it:
Get A Special Offer And Instant Access Here
Doodle Maker Features Review
You can completely customise your doodle with Doodle Maker because it gives you total control. In this way, the doodle will be original and customized according to your requests.
Let's take a look at the core features of Doodle Maker below.
300+ Video Templates
DoodleMaker is a powerful software that creates animated videos using Artificial Intelligence.
With one app, you can create blank, blackboard, and glass board videos within minutes – no need to download multiple applications. All of your current videos are being converted into animated doodle videos with DoodleMaker.
Over 300 video templates for whiteboards, blackboards, and glass boards can be customized for hot industry niches. In addition, they included realistic voice-overs, animations, and effects!
The wide choice of templates available here allows anyone to choose the right template for their needs without the pressure of creating their own. DoodleMaker was developed with the goal of serving non-technical creators by providing doodles and templates. Users don't have to go through the pains of making a template all by himself.
60+ Languages Available
With DoodleMaker, you don't have to film your speech, pose in front of the camera, or hire expensive voiceover musicians.
There is no need to develop complicated animated skills with the AI system. You can choose more than 300+ lovely models.
High-quality Images
With just a post, text script, or material, DoodleMaker can generate a professional Doodle video in seconds without any additional work on your part.
You can conveniently import millions of icons, photos, and content into the app to create even more HD-quality images.
Also, you can customize your masterpiece with the included library of doodle images, Pixabay / icon finder integration, or by uploading your own.
Image To Sketch Converter
DoodleMaker allows you to instantly create sketch style doodles out of any image. Make any scene unique by adding unlimited variety.
You can download videos in 720P or 1080 Full HD to share on any platform, including YouTube and Vimeo.
Built-in Professional Transitions
DoodleMaker allows you to add a professional touch to your videos with the doodle style transitions. Create fade-ins, slideshows, left-to-right slideshows, or hand painting effects with 1-click.
DoodleMaker makes it easy for users to convert photos to sketches without having to make a sketch and spend hours recreating a photo from scratch.
Uploading a picture and converting it into a sketch is all the user has to do to easily add it to the video according to their needs.
Text to Speech by ​​DoodleMaker
Text-to-speech allows you to produce a beautiful voiceover in your selected language. You can also translate the original text into the language of your choice.
With the text-to-speech and speech-to-text functionality, one can easily convert a video to meet their requirements and comfort without any problem or hassle.
Because the feature is easy to use, users don't have to spend hours taking notes.
Full HD Quality Videos
As 4K videos become more popular, no one will be interested in watching a video with low pixels; instead, they will choose the best quality and display video available.
With Doodle maker, the user can easily make high-quality videos in full 1080p without any issues with uploading or distorting the video when it is viewed on a large screen.
Colour Doodle Videos
Depending on the user's preference, the video can be black and white or colored. Users have the option of creating a fully colorful doodle video that will not bore the audience.
Get A Special Offer And Instant Access Here
Who is the Creator of DoodleMaker?
DoodleMaker was founded by Paul Ponna and Sid Diwar.
Entrepreneur and software developer Paul Ponna helps companies and individuals from all walks of life forge a more lucrative future by strategizing and implementing cutting-edge technology.
DoodleMaker is one of his most successful software developed over the years.
How Does DoodleMaker Work?
Just enter any piece of content you'd like, be it an article, an ebook, a script, or anything else.
When the AI has finished working, it instantly matches the text keywords to the relevant doodle image after scanning your content.
In addition, Icon finder, a Pixeaby API integration, and a library of thousands of high quality doodle images provide unlimited possibilities for customizing the images.
This means you can create endless doodles and, more importantly, no two will ever be the same.
Get A Special Offer And Instant Access Here
Doodle Maker Pricing
DoodleMaker is powerful but not expensive. You can purchase DooleMaker for $49 via this special link (Commercial Rights Included).
DoodleMarker will be worth every penny you spend, especially if you have been spending hundreds or even thousands of dollars on doodle videos
DoodleMaker offers you access to a variety of easy and great tools you can utilize to improve your business.
The best thing is that it comes with a 30-day money-back guarantee. So if you are not satisfied with DoodleMaker, you can request a refund without questions asked.
Get A Special Offer And Instant Access Here
DoodleMaker Pros
1. Increase your conversion rate
DoodleMaker allows your marketing campaigns to reach more audiences and engage them better. Your website visitors are more likely to stay longer on your website and hence you will see a higher conversion rate overall.
2. Boost Your Video ROI
Using doodle videos created by DoodlMaker allows you to capture a wide audience of foreign speakers & hearing-impaired viewers. So you will see a higher ROI on your videos.
3. DoodleMaker is User-Friendly
DoodleMaker is designed to be quick and easy to use for both newbies and tech savvy people alike. There are several in-built and ready-made tools that can make a high-quality video for anyone, with 720p quality as well as 1080p.
4. No special skills or experience needed
With 300+ stunning templates that come with incredibly realistic human voice overs, you can translate, transcribe, and add captions in over 50 different languages with 150 unique voices with no effort.
With ​DoodleMaker, anyone can create doodle videos.
5. Make Money by Selling Doodle Videos
Your doodle video can be sold to your clients and you can earn a handsome amount of money from your service. With DoodlMaker, you can offer a professional service without any expertise.
Get A Special Offer And Instant Access Here
DoodleMaker Cons and Complaints
1. DoodleMaker Cannot Make You Become Rich Quickly
DoodleMaker doesn't mean to be a shortcut to make you rich quickly. DoodleMaker is a tool that can save you a lot of time and effort in creating doodle videos.
You cannot expect to make a lot of money immediately after using DoodleMaker. Because ultimately, it depends on the popularity of your product and services. You still need to promote your products that meet the needs of people in order to make money.
2. DoodleMaker Does Not Offer Free Trial
DoodleMaker doesn't offer a free trial. Many software offers a free 14-day free trial, but not DoodleMaker.
I'm a bit disappointed about this. It seems that DoodleMaker is not so confident in its product.
However, you do get a generous 30-day money-back guarantee. So you don't like it after using it, you may request a refund within 30 days. So still you have no risk to give it a try.
Who is Doodle Maker For?
Whiteboard videos are easy to comprehend. With the AI Video Conversion Engine, you can now connect with consumers worldwide in their native language.
No matter if you are an advertising or marketing firm or an independent contractor who wants to increase income, you can produce doodle videos easily.
If you hired a professional to make fun of animated doodles, you'd have to spend $300-$500 for a 30-second video.
Actually, anyone and any type of business can use DoodleMaker.
These are a few of the businesses and professions that can use DoodleMaker:
Teachers

Content creators

Free Lancers

Coaches

Digital Marketers

Bloggers

Online and Offline Businesses

Youtubers

Affiliate Marketers

Authors
Get A Special Offer And Instant Access Here
Doodle Maker Positive and Negative Feedbacks by Real Users
DoodleMaker Positive Feedbacks
Within minutes, you can create videos on the blackboard, whiteboard, and glassboard – no extra apps required.

You don't have to record your voice, be in front of the camera, or hire a voice talent to create studio-quality videos in any language.

Choose from over 300 beautiful templates and animate as a professional.

You can easily turn an article, script, or content piece into a Doodle whiteboard video in seconds without doing any additional work.

You can import tens of thousands of high-quality images, icons, and videos into the app to create even more high-quality videos.

Using a library of soundtracks, you can create a doodle video with all the bells and whistles.

Studio-quality whiteboard and doodle videos don't require expensive hardware or extensive animation experience.

The videos are created on Google's and Amazon's enterprise-grade servers.
DoodleMaker Negative Feedbacks
An internet connection is required to access all data stored on a cloud server. There is no offline version of DooleMaker.
Also, only 720p and 1080p video formats are available. But the team is working on software that will support more formats, including 4K.
Get A Special Offer And Instant Access Here
Is DoodleMaker a Scam?
DoodleMaker is certainly not a scam. It's legit software that has been used by hundreds of thousands of people worldwide for creating doodle videos.
You may have wasted a lot of money on cheap tools or scams, only to be disappointed and frustrated in the end. But DoodleMaker is different.
Doodle Maker is great software when it comes to creating & selling wonderful doodle videos in a fast and easy manner, regardless of whether you are just starting out or have no experience.
Also, with Doodle Maker, you're able to do business all over the world and crush linguistic barriers, opening up areas of the market that were previously nearly impossible to penetrate.
It is clear that Doodle Maker will revolutionize your marketing efforts without sugarcoating anything. With its low cost and quick production, it is drastically changing how videos are made.
Get A Special Offer And Instant Access Here
DoodleMaker Review: Final Verdict
I would recommend Doodle Maker to every professional engaged in internet marketing. Using it will save you time and money.
Doodlemaker is an app that helps you to create Doodle videos of the highest quality using ease. It has many in-built tools, which allow one to make unlimited videos with minimal effort and hassle, and can outperform the competition.
The software is ideal for Online Business owners, Freelancers, Agency owners, Marketers, Education Institutes, Coaches, or Consultants.
With all the benefits of using the software and the opportunity to earn huge amounts of money, I recommend giving DoodleMaker a try. It's risk-free given the money-back guarantee.
Get A Special Offer And Instant Access Here
DoodleMaker Alternative: Make Passive Income Online
If you don't have an online business yet, you might not be able to make a lot of money by using DoodleMaker. You need to decide on a business model first before you start doing video marketing.
As an experienced Internet entrepreneur, I'd say affiliate marketing is the best and the easiest way to make money online.

Why? Because it's been proven to work for many people and you can do it as a side hustle.

In affiliate marketing, you can run your business almost at zero cost without any trouble from sourcing products or managing inventory.

More importantly, it allows you to enjoy a steady stream of passive income while going on vacation or working a full-time job.

Warren Buffet once said, "If you don't find a way to make money while you sleep, you will work until you die."

The easiest way to make money while you sleep is getting started with affiliate marketing.

And since the world is full of uncertainty, I'd always choose a business model that has the lowest risk.
But How Much Can You Earn in Affiliate Marketing?
A 21-year old student from my #1 recommended training platform of affiliate marketing was able to earn $7,395 in just 1 week, which means he made more than $1k a day…all while using free traffic methods.
Wealthy Affiliate has existed for more than 15 years and there are many success stories over the years.
To give you more examples, here are some of the other inspiring success stories of Wealthy Affiliate members.
DoodleMaker Review FAQs
What makes Doodle Videos useful for online marketing?
It can be time-consuming, distracting, and expensive to describe a professionally colored doodle video.
Using artificial intelligence, Doodle Maker produces whiteboard videos, crystal-clear videos, and blackboard videos using a human-like voiceover in a matter of minutes. Additionally, the feature allows translation in every language of video scripts for doodle videos.
Why Do You Need Doodle Maker?
Educating, selling, engaging, and inspiring audiences can be accomplished using Doodle whiteboard videos.
There is nothing to beat whiteboard videos in ensuring your students or clients understand the concepts, ideas and training you provide.
Using DoodleMaker, you can effectively communicate with customers globally in their native tongue without having to use a camera or your own voice.
How can DoodleMaker Improve Your Business?
DoodleMaker enables you to tell a story with the power of cartoons.
It will be interesting to see what will be drawn next. It is this curiosity that attracts people to your video clip.
Stories have proven to make audiences remember key information, such as the features and benefits of your products. The longer prospects spend on your website, the more likely they are to visit multiple pages, which lowers your website's bounced rate
The moment they aren't captivated by anything on your website, visitors leave it immediately.
Therefore, it is wise to capture their interest with a Doodle Video, allowing you to build a relationship with the viewer and increase the likelihood that they will purchase from you.
Is There a Money Back Guaranteed?
Yes. If you are not satisfied with DoodleMaker for any reason, please contact them at [email protected] for a full refund.
Is DoodleMaker Step-by-Step Guide Available?
There is a step-by-step video tutorial that walks you through the entire process of making your videos and getting results. This includes how to sell your videos for extra money.
Can DoodleMaker create videos longer than 15 minutes?
Yes. DoodleMaker allows you to create an unlimited number of videos. To make a video longer, you can create more than one and attach them together. A video tutorial will walk you through this step by step.
Can I upload my own images and videos?
Yes! All images, photos, logos, and other content can be easily uploaded to the app, their backgrounds detached automatically, and they can instantly be transformed into doodle style videos.
Do I need to pay a monthly or yearly subscription fee for DoodleMaker?
No. There is a one-time payment for all the features and unlimited usage of DoodleMaker. There are never any monthly or yearly fees.
Does DoodleMaker have any upsells?
Yes. DoodleMaker offers the following Upsell packages. With them, you can add more tools and features and choose the one that suits your business or service the best. But they are not necessary.
UPSELL 1: Doodle Maker Whitelabel Unlimited – $97 – $497
Whitelabel Enterprise (Unlimited Accounts) – $497 One-Time and Whitelabel Agency (50 Accounts) – $97 One-Time
Whitelabel Agency has 50 Whitelabel Accounts for agencies, teams, freelancers and small businesses, while Whitelabel Enterprise has Unlimited Accounts for large scale software resellers, enterprise clients, and large corporations:
Brand the app with your own logo and branding to make it your own.

Unlimited Sub-accounts

Set your own price

Sell the app as your own with a done-for-you VSL

Done-for-you Sales Page – graphics and copywriting created to convert leads into sales

They handle app hosting and software updates

There are no monthly or yearly fees
UPSELL 2: Doodle Maker Deluxe Upgrade ($49 One-Time)
With Doodle Maker, you pay just once and get access to the fantastic features.
This Package includes:
Monthly Templates for One Year (Unlimited): New customizable whiteboard, glassboard, and blackboard templates added to your account each month for 1 year (No monthly subscription charges)

All New Templates Include Man and Woman Voice Overs (Male and Female)

Ready-made video scripts written by a copywriter for all new templates (modify as you wish)

Addition of 56 Premium Text-To-Speech Voices in 29 languages

Download royalty-free music for doodle videos (for your videos)

Google Cloud Server – Priority Video Rendering (Get your videos rendered faster than other customers without waiting in line)

Getting future feature updates before others. Deluxe members have priority access to future applications and can stay on top of current technology.
UPSELL 3: Toon Video Maker Video Maker App ($39 One-Time)
You can make videos more appealing for your viewers by using Toon Video Maker with this Package.
It adds more fun to your videos and makes them more memorable. Small and large businesses alike use cartoon maker videos to promote their products. Upgrading to this package will give you access to that tool.
This Package includes:
Unlimited Text-to-Speech

Create Unlimited Videos

Unlimited Video Length

Blank Canvas To Make Custom Videos

100+ Animated Characters

Eye Popping Character Animations

HD Animated Backgrounds

200+ Music Tracks

Commercial License and more!

Create Videos in ANY Language

Desktop app works on both Windows & Mac!

Install on 10 computers
UPSELL 4: Client Engine App ($29 One-Time)
Client Engine helps you find Clients who are willing to pay great sums for your Doodle videos.
Doodle Maker brings you the clients with the help of this app and upgrade without having to visit a variety of websites.
With this upgrade, you can choose from the top 5 job sites from within the app itself.
This Package includes:
Unlimited Searches

No Limits / No Monthly Fees / Unlimited Usage

Find Unlimited Paying Clients – Sell videos or anything other service

Search on Top 5 Job Sites – PeoplePerHour, Craigslist, Freelancer, Project4Hire and Guru

Keep 100% of the profit.

No monthly fees, pay once, use for lifetime.

Stop chasing clients, find them in minutes!

No cold calling, no face-to-face meeting.

Close BIG-TICKET deals online