Are you looking for a Commission Academy review? If you want to make money online, you might have heard of Commission Academy. But you may wonder if it is a scam.
As someone who is experienced with blogging and affiliate marketing, I'm in a good position to share with you everything I know about Commission Academy.
As a disclaimer, I'm not affiliated with Dale's Commission Academy. It means I'm not paid to write this review. So you can be sure that my words are unbiased.
At the end of this article, I'll also tell you the best alternative to Commission Academy.
Commission Academy Review – Key Takeaways
Course Name

: Commission Academy

Course Instructors

: Dale & Simon

Price

: Free

Pros

: Free training; step-by-step instructions; Dale is a real affiliate

Cons

: Some videos are really short; no testimonials from students;

upsells hidden under the Commission Academy dashboard

Overall Rating

: 2/5

Verdict

: A basic course that teaches you how to build an affiliate website that generates passive income.
In this Commission Academy review, I'm going to cover the following.
What is Commission Academy?
The Commission Academy is a free affiliate marketing training program created by Dale.
It claims to teach you about affiliate marketing and how to get started. It is completely free of charge for you to get started.
If you have never done this before, Dale will guide you through the process of getting started once you join Commission Academy.
Since I joined Dale's commission academy course over 6 months ago, I am a real user of the course. I can tell you what you can expect to learn from the course.
The goal of the Commission Academy training is to help you get started, so you'll be guided step-by-step from:
The best way to earn an income online these days is through affiliate marketing courses, so I enjoy reviewing them.
Affiliate marketing is a relatively straightforward method of making money, and it requires no special skills to get started. Furthermore, there is no limit to the amount of money you can make thanks to affiliate marketing.
There is, however, one thing you must realize: affiliate marketing is not a get-rich-quick scheme.
It is not possible to make money fast by joining Commission Academy.
Recommendation: Here's The Best Alternative
Who created Commission Academy?
Commission Academy was founded by Dale and Simon. Both have been working in affiliate marketing for quite some time.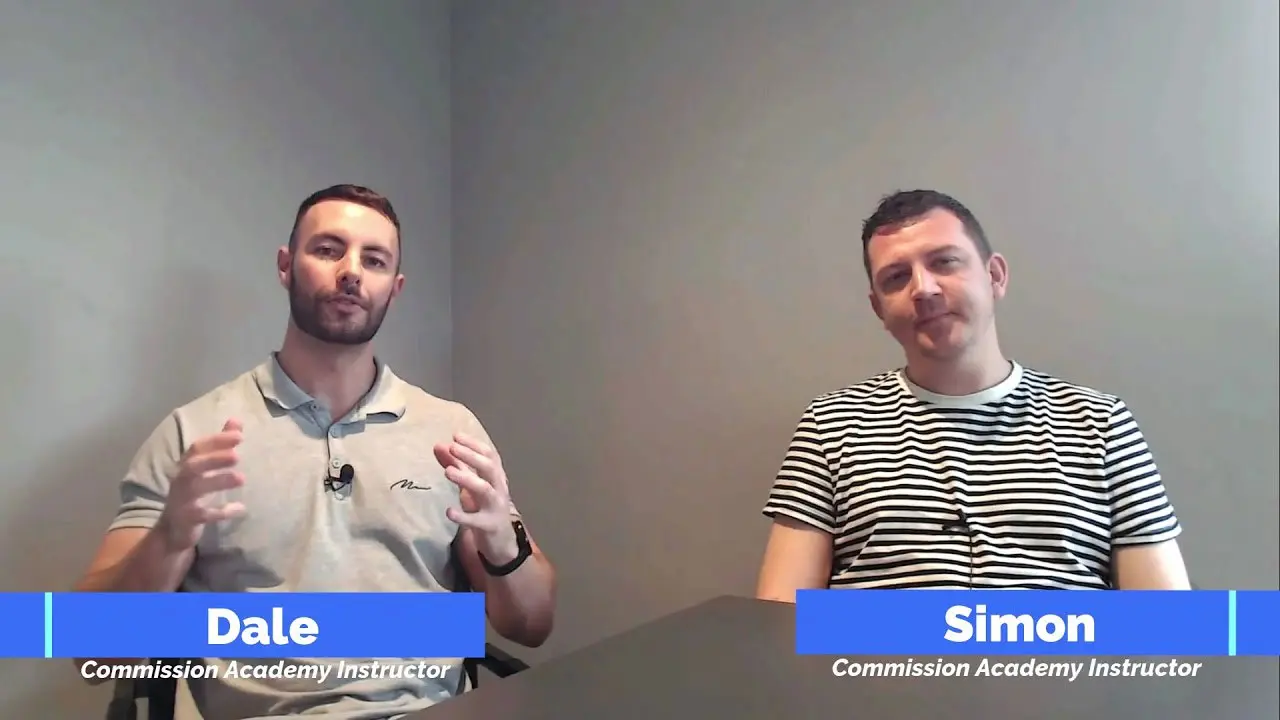 Dale
Dale is a super-affiliate who owns Commission Academy. Dale worked as an electrician and wasn't particularly happy with it.
After doing a little online research, he found out about affiliate marketing and decided to do some testing.
He quit his dead-end job in less than six months and began a new career in affiliate marketing after earning $10,000+ from his affiliate website.
Dale now shares information on his website LivingMoreWorkingLess.com about many of the ways and means of making money online. You may also know Dale from his website, "How I Make Money Online.".
The Commission Academy is Dale's way to encourage you to get started fast so you can achieve the success he is experiencing today.
He seems to be a legit guy who is easy to follow. He shares tips and tricks easily and is informative.
It is not possible to make money fast by joining Commission Academy.
Simon
Simons' life mirrors that of Dale. In Britain, Simons had a series of jobs in banking, insurance, and customer service. But he could always imagine living in Thailand as a full-time volunteer. However, financial constraints prevented him from pursuing this venture full-time.
He would spend six months in Thailand and then return home to earn enough money to fund another trip.
Then, like Dale, he learned about affiliate marketing and his life changed drastically. He can now devote himself to his dream job in Thailand.
Now he works alongside Dale to spread the word about affiliate marketing and help others achieve their dreams.
Recommendation: Here's The Best Alternative
What's inside Commission Academy?
The first step is to open your free account for which you need your email address only.
Quick Set-Up Wizard (3 Videos)
Upon completing a simple registration process, you will gain access to the training that will teach you how to choose your niche and create a free affiliate website.
Before you can continue Dale's training, you must complete these three simple steps.
Upon finishing the quickstart, you will get access to 13 video lessons in two training modules demonstrating how to turn your website into a lucrative affiliate marketing business.
Start-Up Module (5 Videos)
Dale is going to guide you through five videos that show you how to create your own affiliate website from scratch in Commission Academy's Start-Up module.
This module consists of the following lessons:
Laying The Foundation For Success

Customizing Your Website

Creating The Initial Content

Leveraging The Email List

Preparing To Make Money
The main purpose of this training module is to help you create one of the free websites that you get with the Set-Up Wizard module of Commission Academy.
Make Money Module (8 Videos)
After completing the Start-Up Module, the Make Money Module will be available to you, which contains eight video tutorials.
It's also easy to follow these videos since they're so straightforward.
Here's a breakdown of what you'll learn in this module:
Finding Profitable Keywords

Creating Content That Ranks

Integrating Affiliate Links

Leveraging The Product Reviews

Creating Income On Demand

Scaling With Videos

Outsourcing Content Production

Congratulations & Your Next Steps
All of these lessons are free of charge. His training is quite similar to the beginner-level free training on Wealthy Affiliate.
Recommendation: Here's The Best Alternative
How does Commission Academy work?
You will see the training area once you've created your free Commission Academy account. Click the blue Fast-Start Training button to access it.
There are 16 video lessons in total in Commission Academy's Fast-Start training, which explains how to make money online in three simple steps:
Step 1. Create Content
This course will teach you how to create a professional website and how to create valuable, high-value content based on your passions, hobbies, and interests.
Step 2. Attract Visitors
Dan will walk you through the process of optimizing your website in search engines so that it can be seen by thousands of potential customers per day.
Step 3. Earn Revenue
In order to start earning commissions on a daily basis via affiliate marketing once you have completed that step, you will need to find affiliate programs with relevant products or services you can promote to your audience.
Can you make money with Commission Academy?
Commission Academy is a program that teaches you how to make money online via affiliate marketing.
Dan's training is quite similar to the free training of Wealthy Affiliate. Wealthy Affiliate teaches an effective way to make money online that is sustainable and real.
If you apply the lessons, use the recommended resources, and choose a topic you genuinely enjoy discussing, you might be able to make some money.
Putting in time and effort will give you the results you're looking for, and those first few commissions will eventually start trickling in until you have a business that generates more revenue than you're getting in your paycheck every month.
Who is Commission Academy for?
Commission Academy is perfect for beginners who are just starting to learn about affiliate marketing. But don't expect to make a ton of money overnight – it takes a little bit of work.
Dale, the creator, is upfront about the fact that it typically takes a few months of putting in the effort to earn $1000 or more in commissions.
Who is Commission Academy NOT for?
This course is pretty basic, so it's not really for those of us who are already running our own affiliate marketing biz. It's missing some of the more advanced SEO strategies.
How much does Commission Academy cost?
Commission Academy offers free, step-by-step training. Upon joining, you receive full access and unlimited usage for life for free.
The course really is 100% free (because most of the materials come from Wealthy Affiliate), but why is Dan offering you free lessons?
Dale may be using this platform for other hidden purposes, as it appears to me. Commission Academy is not a charitable organization, so you shouldn't expect Dale to be selfless.
Recommendation: Here's The Best Alternative
Green Lights
1. The training is easy to follow
With its practical and actionable training, Commission Academy equips students with the knowledge and skills to get started.
Throughout the course, Dale explains the basics of building and growing a thriving online business.
2. Commission Academy is free of charge
Those of you who have watched the sale video already know how understated Commission Academy is. Clickbank earnings won't be plastered all over the screen, and you won't see a Ferrari or private jet.
The point of Commission Academy is more about providing people with quality training than cheap gimmicks, which you often see from scammers like Anthony Morrison, Jamie Lewis, and Jason Fulton.
3. Video + Text Lessons
With Commission Academy, you can learn either through reading or watching, as Dan offers both text and video lessons.
Red Flags
1. There are additional costs
Though Dale is offering all this training completely free, you'll still need to register a domain, host your site, and purchase a few select tools.
Actually, you will see some upsells by Dale inside the platform, which is how Dale makes money.
2. The training is very basic
Dale's Commission Academy offers very basic training. It is very kind of Dale to offer this course free of charge.
However, it seems that the course materials are quite basic. Commission Academy does not teach any unique SEO strategies. You won't gain an edge over other affiliates.
Personally, I don't invest my precious time in something that cannot help me make money even though it is free.
3. There are upsells in Commission Academy
What on earth is the point of someone offering you free training? He must have charged you for it if it's that powerful.
There is no such thing as a free lunch in this world. The same goes for videos on YouTube of business training.
Leaders in marketing don't offer their courses for free because their methods can bring you financial success. This is why they charge a fee. In business, everything has a price.
Dale wants you to help him market his platform, which is why he is offering you free training.
What does Dale do to make money? As part of his training, he asked you to do other programs as well. Once you have signed up for those programs, he will be compensated with a commission.
4. No community support
Commission Academy does not offer community support. Dale only has a small number of students and most of them are not active.
You cannot expect to get help from your fellow students by joining this program.
5. Suspicious testimonials
Dale's sales page has three testimonials, but they seem so suspicious. Under their avatars, there is no name. It was impossible to find out who they were.
In other words, there is no way to verify the success stories of the commission academy.
Actually, since the training at Commission Academy is so basic, it's hard for you to make any money from it. That's probably the reason why Commission Academy is free of charge.
Recommendation: Here's The Best Alternative
Is Commission Academy a scam or legit?
Commission Academy is not a scam. It is a legitimate course. However, as I said earlier, the whole training has some hidden purposes.
In this case, Dale is just using the commission academy in an indirect way to earn commissions. At the end of the day, you might end up working for Dale in exchange for a small commission.
In addition, Dale's training is quite similar to the free training you can find on Wealthy Affiliate. If you are interested in Dale's training, why not join Wealthy Affiliate directly?
With Wealthy Affiliate, you get much more comprehensive and advanced training on affiliate marketing as well as high-quality hosting. You can also get help from thousands of other WA members.
Therefore, I don't recommend Commission Academy if you are serious about making money online.
Is there a better alternative to Commission Academy?
To make money with affiliate marketing, my #1 recommended platform is called Wealthy Affiliate.
Wealthy Affiliate is an all-in-one platform for building your affiliate marketing business from scratch.
When you join Wealthy Affiliate, you can get access to the first-class web hosting service, keyword research tools, community support, comprehensive training, writing tools, and other software to help you build an online business step-by-step.
You can register a free account with Wealthy Affiliate, which enables you to get started with affiliate marketing right away without paying a penny.
If you like the platform, you can then upgrade to the premium membership to get access to everything on the platform. There are no upsells afterward.
But How Much Can You Earn with Wealthy Affiliate?
A 21-year-old student from Wealthy Affiliate was able to earn $7,395 in just 1 week, which means he made more than $1k a day…all while applying what is taught inside Wealthy Affiliate.
Compared with Authority Hacker, Wealthy Affiliate has a much longer history, which has been established for 15 years and there are many success stories in the past decade. Actually, Wealthy Affiliate has more than a million members so far, so you can see how popular this platform is.
To give you more examples, here are some of the other inspiring success stories of Wealthy Affiliate members.
Where to Join Wealthy Affiliate?
Wealthy Affiliate has a very simple pricing scheme. It has a free and premium membership. The premium membership only costs $49/month or $395/year.
If you want to feel about Wealthy Affiliate, you can sign up for the free starter membership here (no credit card required). You can select to be a free member with no time limit.
And as a starter member, you can get instant access to the community, live chat, over 500 training modules, 2 classrooms, networking, commenting, 1 free website, and access to the keyword tool.
You can enjoy all these values without paying a penny.
So I strongly recommend you register a free account and see it yourself.