Are you looking for a review of Your Income Space? Are Brett and Ashley Nobles scam?
I have a passion to help people explore money-making opportunities online. Over the years, I have reviewed many programs like Your Income Space courses.
In the past week, I have done thorough research about Your Income Space courses so I can tell you more about it.
As a disclaimer, I'm not affiliated with Brett and Ashley Nobles . It means I'm not paid to write this review. So you can be sure that my words are unbiased.
At the end of this review, I'll also tell you a better alternative that has enabled me to make a full-time passive income online.
In this Your Income Space review, I'm going to cover the following.
Who Are Brett And Ashley Nobles?
Brett and Ashley Nobles are an attractive young couple with a successful career.
There's not much information out there about Brett and Ashley Nobles.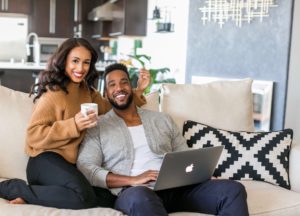 Their claim is that when they got married they were both broke and drowning in debt. They eventually rented out their space and turned that into making tens of thousands of dollars a month.
So can you do the same by learning from them?
In the next section, I will talk about their Your Income Space courses.
Recommendation: Here's The Best Alternative
What is Your Income Space?
Your Income Space is created by Brett and Ashley Nobles. There are two different programs offered by Your Income Space: Six Figure Location Rental Business and Advanced Webinar Secrets.
The first one teaches you how to get bookings in your apartment by offering photoshoots and TV shows and the second teaches you how to use webinars to earn money.
Let me talk about each course in detail below.
Six Figure Location Rental Business Overview
This is a course that teaches you how to make money by renting out your space outside of AirBnB.
The concept is to rent an apartment in a high demand area and offer the space for booking by film, TV, photo, and workshop productions.
They claim that this can work anywhere, but I doubt if it really works. I believe this might be a good idea if you are in a large metropolis.
The course is not very long. These are the topics you'll learn about in this course:
Module 1: Rental Utilizations And Your Space
This module goes into detail about the 4 types of rental use you can do with your space, including production, events, off-sites and co-working.
Furthermore, you'll learn how to attract more bookings by making your apartment appealing.
Module 2: Setup And Marketing
This module will teach you all you need to know about getting your space ready and marketing it. You will learn how to arrange your space depending on what is booked. You will also learn how to gain attention for your apartment by using interesting headlines and photos.
Module 3: Host Development
The module discusses how to prepare for common problems and how to manage your apartment. You will receive training on what to do in advance, during, and after bookings.
Module 4: Business Management
Module 4 covers everything you need to do to keep your business operating smoothly. This includes tools for staying organized, tax information, and any legal documents you might need to protect your business if it suffers an accident.
Bonus 1: The Agency Method
The Agency Method is for people living in small apartments or small apartments that cannot offer bookings in their current living space. This bonus will teach you how to find and rent spaces where you can make money from.
Bonus 2: Master Marketing Manual
This marketing manual has a variety of resources that you can use to reach a wider audience.
This includes websites, marketing agencies, campaigns, etc.
Bonus 3: Custom Calendar And Profit Planner
This tool is tailored specifically to people interested in a rental income business model. You can keep track of your income, manage bookings, and more.
Bonus 4: Perfect Close Customer Response Scripts
This bonus will give you scripts on how to address common customer questions you'll encounter. Customers will ask questions, and you'll need to know how to answer them.
Bonus 5: Location Rental Legal Package
You get access to an assortment of legal templates and 8 different documents from this bonus.
Advanced Webinar Secrets Overview
Advanced Webinar Secrets will cost you $1397. This seems excessive given that there are a lot of other webinar courses out there. And the information taught in this course is not unique. You can find a lot of free information online.
This course basically teaches you how to make money with a webinar sales funnel, using an automated method.
Your Income Space Pricing
As mentioned, Your Income Space offers two courses: Six Figure Location Rental Business and Advanced Webinar Secrets.
Six Figure Location Rental Business costs $997 while Advanced Webinar Secrets costs $1397. The courses are not cheap, especially the Advanced Webinar Secrets course, which is too expensive in my opinion.
There is a 30-day return policy, but I am not confident that there are no questions asked. It appears that you will have to apply the training and prove it doesn't work before you get your money back.
Your Income Space Pros and Cons
Pros
The course Six Figure Location Rental Business is quite unique. It talks about a business model similar to AirBnB.

Brett and Ashley Nobles seem legit and earn a living from what they teach.
Cons
Advanced Webinar Secrets course is too expensive: There are many other cheaper webinar courses and training available

In the training, Brett and Ashley Nobles claim that you can live anywhere and make money as a home-based business owner. But in reality you need to live in specific parts of the country in order to be able to earn real money.

Not the best business model for passive income

The earning potential is limited
Is Your Income Space a Scam?
I cannot say Your Income Space by Brett and Ashley Nobles is a scam. There is no evidence to prove this. Also, it seems that they are really making money with this unique business model.
However, it's not the best online business model. Your earning potential is limited by the physical space you have to offer.
Also, it involves capital risk if you have to rent an apartment for doing this. What if you rent an apartment but cannot get bookings? You also have to arrange a lot of stuff before you can get people to rent your space, so it's much more difficult than you thought.
Therefore, I don't recommend Your Income Space courses if you want to make passive income. There is a better business model that is more sustainable and has higher earning potential.
This alternative business model has enabled me to make a full-time passive income. I'm making money while I'm sleeping.
Let me tell you more about this alternative in detail in the next section.
Recommendation: Here's The Best Alternative
Is There A Better Alternative To Make Passive Income?
If you really want to make a stable and secure stream of passive income, I would suggest you starting an affiliate marketing business online instead.
Affiliate Marketing is perfect for anyone who is new to online business.

In fact, of all the online business models I've tried, affiliate marketing is the easiest and most rewarding so far.

In affiliate marketing, you can actually run your business almost with zero cost and achieve a steady and sustainable passive income to pay for your bills. You don't need any initial capital and can even do it as a side hustle.

And if you really want to learn affiliate marketing and build a business from scratch, I'd recommend you to get started with the most reputable platform for affiliate marketing: Wealthy Affiliate.

Wealthy Affiliate is an all-in-one platform for building your affiliate marketing business from scratch. It offers you a free account (including a free website) with comprehensive training on SEO (free traffic methods), which enables you to get started with affiliate marketing right away without paying a penny.
But How Much Can You Earn with Wealthy Affiliate ?

A 21-year old student from Wealthy Affiliate was able to earn $7,395 in just 1 week, which means he made more than $1k a day…all while using free traffic methods.
Wealthy Affiliate has existed for 15 years and there are many success stories in the past decade.

To give you more examples, here are some of the other inspiring success stories of Wealthy Affiliate members.
Where to Join Wealthy Affiliate?
Wealthy Affiliate has a very simple pricing scheme. It has free and premium membership.
If you want to feel about Wealthy Affiliate, you can sign up for the free starter membership here (no credit card required). You can select to be a free member with no time limit.
And as a starter member, you can get instant access to the community, live chat, over 500 training modules, 2 classrooms, networking, commenting, 1 free website, access to the keyword tool.

You can enjoy all these values without paying a penny.
So I strongly recommend you to register a free account and see it yourself.