If you want to start a dropshipping business, you might be thinking about Biaheza's dropshipping course.
Biaheza runs several successful dropshipping stores and has a popular YouTube channel with over 900,000 subscribers.
On his channel, he covers a range of topics, but the main focus is dropshipping. Whether it's going from zero to $100k per month at 18, attempting a 24-hour Shopify challenge, or discussing topics like buying a rental home, owning a supercar, bitcoin, and stock options trading – it's a mixed bag.
Just a heads up, I'm not connected with Biaheza in any way. No affiliations, no payment for this review. Just sharing my thoughts without any strings attached.
As a disclaimer, I'm not affiliated with Biaheza. It means I'm not paid to write this review. So you can be sure that my words are unbiased.
At the end of this review, I'll also tell you a better alternative that has enabled me to make a full-time passive income online.
How Does Biaheza's Dropshipping Course Help You Make Money?
Biaheza's course is designed to help you make money online via dropshipping. However, it's actually an introductory course that total around 1.5 hours in viewing time.
The course is broken down into 11 short lessons. In these lessons, Biaheza shows you how to build online stores and use software to find out trending products.
You'll also learn how to build a social media presence for your store and run ads on Instagram and Facebook.
If you want to get a taste of his teaching style, you can watch the video below:
Who is Biaheza?
Biaheza is a YouTube sensation with over 120 million views on his videos. But does his popularity mean he's a dropshipping guru, or is it just top-notch YouTube marketing?
He's got a whopping 1.34 million subscribers since kicking off his channel "Biaheza" in 2014—a commendable feat. His videos, ranging from 4 to 20 minutes, total 178, and he's consistent, dropping a video every week.
While he's a big deal on YouTube, the effectiveness of his lessons is a bit hit-or-miss. Results often don't match the expectations he sets. But hey, he's not just about dropshipping; Biaheza dives into stock trading and crypto mining, perhaps because the audience for investments is broader.
Beyond YouTube, he's got a following of over 162k on Instagram. Oddly enough, he's not very active on Facebook, which seems a bit off since that's where he makes his dropshipping money. Strange, right?
Recommendation: Here's The Best Alternative
Who is Biaheza's Dropshipping Course for?
If you're looking for a crash course and want to learn the basics so you can experiment with a quick business, this could be the one for you.
If you already have a great product and are looking for a straightforward guide to setting up a Shopify store and building a following on social media platforms like Instagram and Facebook, this could also be a good option for you.
Biaheza does a good job of keeping things simple, but there are better options for the same or less money.
Biaheza Dropshipping Course Overview
Biaheza's Dropshipping Course is broken down into 9 modules. Most modules have just one video, except for module 9.
If brevity is your thing, you're in luck. This course feels more like an extended YouTube video on dropshipping. The videos range from under a minute to a max of 18 minutes.
The longest video I've watched is 18 minutes and the shortest is shorter than a minute.
Here is a breakdown of the modules:
Module 1: Finding Winning Products
Biaheza kicks things off by stressing the importance of smart product selection.
He advises picking products that solve a problem and aren't easily available elsewhere. Instead of traditional research, he leans on software like Dropship Spy, Ecom Hunt, and Alishark.
While he vouches for these tools, keep in mind that manual research can also uncover hidden gems.
Module 2: Creating a Shopify Website
This module is all about setting up shop on Shopify. Biaheza walks you through the process of creating a website for a single product.
The catch here is that you're essentially putting all your eggs in one basket, relying heavily on the success of that sole product.
If you're a fan of diversity and testing multiple products, this approach might not align with your strategy.
Module 3: Company Social Media Pages
In this module, Biaheza guides you in creating a polished Instagram company page. He advises filling it with at least 9 images and even suggests acquiring followers—though he throws in a caution about buying them.
The goal is to give your store a professional and appealing look. While the advice is sound, it's worth noting that obtaining followers through purchase may not align with everyone's ethical standards.
Module 4: Creating Viral Ads
This video delves into the art of crafting advertisements that have the potential to go viral. Biaheza shares tactics like sending products to influencers for video reviews or piecing together clips from different suppliers.
For those willing to invest, he suggests hiring a professional on Fiverr to create a video. However, the module lacks practical demonstrations, leaving much of the application up to the viewer.
Module 5: The Facebook Pixel
This module introduces the Facebook pixel, explaining its purpose, installation, and using it to create lookalike audiences.
A quick, sub-3-minute video, it covers the basics.
However, similar information is readily available for free with a simple online search or by exploring YouTube tutorials.
Module 6: Full Instagram Theme Page Marketing Strategy
In this module, Biaheza dives into the strategy of marketing on Instagram theme pages. The goal is to find pages that frequently make it to the explore page.
Biaheza explains the process and suggests reaching out to influencers with a simple, attention-grabbing message.
While the advice is solid, the module lacks practical examples and hands-on guidance.
Module 7: Full Facebook Ads Marketing Strategy
Biaheza suggests you can kick off your online store using only Facebook Ads, bypassing the Instagram theme pages strategy. He highlights the predictability and analytics of Facebook Ads but doesn't provide detailed guidance for beginners.
Instead, he recommends referring to YouTube videos for a deeper understanding. The module is the longest in the course at 18 minutes, offering basic information for starting with Facebook Ads.
Module 8: How to Fulfill Orders
This module focuses on order fulfillment using Dsers.com, an AliExpress dropshipping tool. Biaheza demonstrates how to set it up using one of his single-product stores as an example.
However, for beginners, this might not be an immediate concern, as fulfillment becomes relevant once your store gains traction. The tool is specific to AliExpress, limiting its use to that platform.
Module 9: Things You Need to Know
The final module is a multi-video section covering various topics such as taxes, legalities, and outsourcing customer support. Biaheza addresses common questions and offers advice on hiring a customer support team through Upwork.com.
This module is more focused on the business aspects that become relevant as your venture grows, making it less immediate for beginners
Recommendation: Here's The Best Alternative
How Much Does the Biaheza Dropshipping Course Cost?
The Biaheza Dropshipping Course will set you back $294—a one-time payment.
If you're feeling lost in the sea of free dropshipping info online or just overwhelmed by the abundance, this course might seem tempting.
But here's the catch—the course's duration kinda pokes fun at the whole dropshipping business model.
Sadly, I couldn't uncover any discounts for this course.
Quick tip for future dropshippers: aside from the course fee, set aside a budget for advertising, starting at a minimum of $5 a day. Oh, and don't forget the $39 for your Shopify store after the 14-day free trial, and maybe a little extra for add-ons like a theme. Some folks even shell out for video creation to jazz up their ads.
Refund Policy
There is absolutely no way to request a refund once you have purchased the course.
Praise for Biaheza's Dropshipping Course
1. Straightforward Advertising Approach
Biaheza's course simplifies the advertising game, especially understanding the financial limitations faced by beginners.
Covering crucial areas like Instagram theme pages, product testing, clickbait ads, and Facebook ad setup, Biaheza breaks down the complexities of advertising.
From assessing a product's viability through advertising to crafting original content, the course provides actionable insights.
Biaheza's focus on using Instagram influencers and creating engaging content adds practical value to the advertising strategy.
2. Beginner-Friendly Kickstart
What makes Biaheza's training stand out is its hands-on approach from the get-go. The course swiftly guides beginners in opening a Shopify store and initiating product testing, offering a practical starting point.
Unlike courses that delve into abstract concepts like mindset and philosophy, Biaheza skips the lengthy discussions, making it an ideal choice for those eager to make quick progress.
This beginner-friendly approach caters to individuals who thrive on getting hands-on in the world of dropshipping.
3. Simplified Product Research
Biaheza's course cuts through the indecision fog, making product research a breeze.
It speeds up the decision-making process by guiding you through the ins and outs of researching popular AliExpress products, finding reliable creatives, and pinpointing specific items.
While it's a solid starting point, Biaheza emphasizes the ongoing need to enhance your research skills, especially in the fiercely competitive world of dropshipping.
4. Motivational Drive
Biaheza's success story and infectious charm infuse the course with a motivational punch. His enthusiasm is downright contagious, pushing participants to set lofty goals and chase after them.
From his journey into real estate to amassing a $2 million fortune at a young age, Biaheza's tale serves as a potent motivator. He encourages others to dream big, drawing inspiration from his own remarkable path.
Criticism of Biaheza's Dropshipping Course
After completing all the Biaheza dropshipping course modules, can you really build a 6 figure dropshipping business?
As an experienced dropshipper, what I can tell you is that dropshipping is far more difficult than you think.
Below are the reasons why I don't recommend Biaheza dropshipping course:
1. No Refund Policy
Biaheza's Dropshipping Course doesn't offer a safety net in the form of a refund policy.
If you find the course unsatisfactory, there's no way to get your money back.
2. The Untold Financial Risk in Dropshipping
Dropshipping isn't just about the initial course fee. The unspoken financial risks become apparent as marketing costs, especially through platforms like Facebook ads, can quickly eat into potential profits.
Coupled with the upfront investment of $294 for the course, it might be a while before you see any returns.
3. Brief and Surface-Level Training
For beginners, the Biaheza Dropshipping Course may fall short in providing comprehensive guidance.
It's brief and covers the basics, but lacks specific examples and detailed explanations on crucial aspects like SEO, funnel building, and Google ads.
Ad bidding strategies are also lacking. His Facebook ad strategy is too basic to help you increase conversions.
4. Too Much Focus on Software
Biaheza tends to emphasize and recommend various apps excessively, and it's not just for your benefit.
The concern is that many of these recommended apps come with affiliate programs. So, when he suggests them to you, there's a chance he's more interested in earning affiliate income himself.
The downside for you as a learner is that you might end up using tools that may not be the best fit for your needs but are beneficial for his wallet.
Recommendation: Here's The Best Alternative
Is Biaheza a Scam?
Rest assured, Biaheza is not a scam.
If you're testing the dropshipping waters and want a quick overview, this course could work for you. It's a simple intro to dropshipping with some helpful marketing tips, but it's not super detailed. Biaheza is more known for his marketing and YouTube game than the course itself.
His success comes from both dropshipping and a big YouTube following. The course, though, falls a bit short on content and insider tips. Biaheza's strength lies in being an Instagram and YouTube star.
Let's be real—the course is pretty basic. You can find similar stuff for free on YouTube. If you're aiming for a seriously profitable dropshipping biz, this course might lack the depth you need.
One downside is the speedy lessons. Biaheza isn't hard to understand, but slowing down the pace could make the content easier to grasp.
3 Biggest Issues with Dropshipping
While it's possible to make money with dropshiping, it's crucial to recognize the hurdles that stand between you and a profitable store.
Here are some common challenges I've encountered as a dropshipper:
1. Facebook Ads are Pricey and Difficult to Manage
After observing most dropshippers' results, at best, the total Facebook ad cost will account for at least 30% of your total sales.
But Facebook ads seldom stay effective for a long time. After your targeted audience is exhausted, you will see a much lower conversion rate. Then you will have to increase the marketing budget to keep your ads campaign afloat.
According to Forbes, Facebook saw an increase in Ad costs of 90% year-on-year.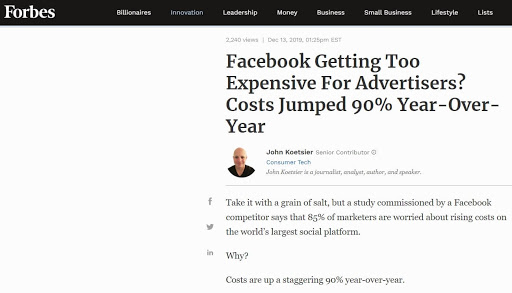 Worse still, the learning curve of Facebook ads is quite steep because Facebook changes its algorithm all the time. You have to invest a lot of time and money in learning and testing Facebook ads.
If you run Facebook ads without any experience, your ad account will be easily banned for violating their strict policies.
Many dropshippers fail to cover their Facebook ad cost which results in a net loss.
2. You Have To Handle A Lot of Customer Complaints
Even though you don't have to manage inventory and logistics, you do have to spend a lot of time communicating with suppliers and dealing with customer service.
If your customer has any issues with the product, you have to wait for your supplier to help you. If your supplier is not helpful, you have to bear the loss yourself. Therefore, many dropshipping stores have poor customer reviews and no returning customers. That's why it's never easy to build a sustainable dropshipping brand.
In the worst case, you would expect a lot of credit card chargebacks, which risk getting your payment gateway shut down.
3. A Lot of Work on Product Research
Biaheza says his dropshipping course can help you build an automated dropshipping business, with money constantly flowing into your bank account while you sleep on the beach. This is clearly a lie!
For your store to keep making money, you always have to look for a new winning product by testing products with Facebook ads.
In dropshipping, most products reach their peak in 1-2 months or even weeks. This is because many competitors will start selling the exact same product once it becomes popular.
Therefore, you need to keep finding new replacements to keep generating profits.
Most people who succeed in dropshipping are doing it full-time because it requires dedication, consistency, hard work, and a lot of patience.
In fact, managing Facebook ads alone can take up your whole day.
Alternatives to Biaheza's Dropshipping Course
If you're really interested in dropshipping, you might want to check out some alternatives:
Ecom Empires
With over 20 hours of content, this course by Nick Peroni provides a substantial learning experience at no cost. It's a great option for those on a budget, offering valuable insights into the world of dropshipping.
Oberlo 101
Boasting over 7 hours of material, Oberlo 101, created by Oberlo, comes at an affordable price. The course focuses on essential dropshipping concepts and tools, making it a practical choice for those looking for a structured learning experience without breaking the bank.
Cost: $39.92 or $49.90 (depending on promotions)
Ecom Elites
Franklin Hatchett's Ecom Elites is a comprehensive course, offering over 32.5 hours of in-depth content. While it comes with a price tag, the course covers various aspects of dropshipping, making it a solid investment for those willing to spend a bit more for a thorough and detailed learning experience.
Is There A Better Way to Make Money Online?
If you want to make a full-time passive income, I'd suggest you to start an affiliate marketing business online.
In affiliate marketing, you can run your business almost at zero cost without any trouble from sourcing products or managing inventory.
Also, since you don't need to spend hours after hours selling things over the phone, it can save you a lot of time.
If you want to learn affiliate marketing, I'd recommend you to get started with the most reputable platform for affiliate marketing: Wealthy Affiliate.
Wealthy Affiliate is an all-in-one platform for building your affiliate marketing business from scratch. It offers you a free account (including a free website) with comprehensive training on SEO (free traffic methods), which enables you to get started with affiliate marketing right away without paying a penny.
But How Much Can You Earn with Wealthy Affiliate?
A 21-year old student from Wealthy Affiliate was able to earn $7,395 in just 1 week, which means he made more than $1k a day…all while using free traffic methods.
For more information, you can check out our full review of Wealthy Affiliate.